10 Family-Friendly Restaurants in Nassau Paradise Island
Discovering new restaurants is one of the most enjoyable parts of a vacation. Nassau Paradise Island is packed with great restaurants that serve delicious, unique fare and offer fantastic ambiance and stunning views.
As anyone with children can attest, dining out with children can be a challenge at the best of times. Many kids have very particular palates and younger children are still developing good table manners.
Luckily for our visitors with kids, there are plenty of family-friendly restaurant options in Nassau Paradise Island.
To make meal planning easier during your Nassau Paradise Island vacation, we've rounded up 10 of our favorite family-friendly restaurants that are loved by kids and adults alike. Bon appétit!
Anthony's Grill
Located across from Marina Village at Atlantis, Anthony's offers a variety of fun and flavorful fare, such as thin-crust pizzas, authentic Bahamian conch dishes, and delicious breakfast options to start your day on the right note. Anthony's has a kids' menu and tons of options to choose from, making it an excellent choice for families and groups. Must-try item: Anthony's famous Baby Back Ribs.
Carmine's
Savor classic Italian recipes in a lively atmosphere at Carmine's, a New York institution! Located at Atlantis Paradise Island's Marina Village, Carmine's serves up huge portions that your group can share, family-style. Choose from an assortment of pasta dishes, fine Italian wines, and tantalizing desserts! Must-try item: Save room for dessert! Carmine's Titanic is a chocolate torte topped with ice cream – the perfect sweet conclusion to your meal.
The Village Burger Shack
Gourmet burgers, fresh salads, tasty seafood, and delicious vegetarian options are all on the menu at The Village Burger Shack, the newest restaurant in Marina Village at Atlantis Paradise Island. After an afternoon strolling the Marina Village boardwalk, pop in to refuel with an all-American burger or a healthy veggie dish! Must-try item: Pair your meal with a frosty milkshake for the ultimate treat to beat the heat.
Marina Pizzeria
When you're busy taking in everything Nassau Paradise Island has to offer, sometimes it's easier to eat on the go. Stop into Marina Pizzeria and order a traditional pizza with your family's favorite toppings for a quick, portable meal you can enjoy on the run. Choose from pizzas by the slice or a full pizza pie, and make it a full meal with a fresh salad, appetizer, or dessert. Must-try item: For a twist on a traditional pizza, order the Bahamian spice & meat.
El Jefe
Kids love tacos, burritos, and nachos - and El Jefe delivers in a unique fashion! If you're a guest at Baha Mar, head to the pink Airstream trailer on the beach and choose from fresh and tasty tacos, sopes, chips and salsa, and more, and enjoy authentic Mexican cuisine with your toes in the sand! Must-try item: You can't go wrong with an order of crispy corn chips and a bowl of the house-made guacamole!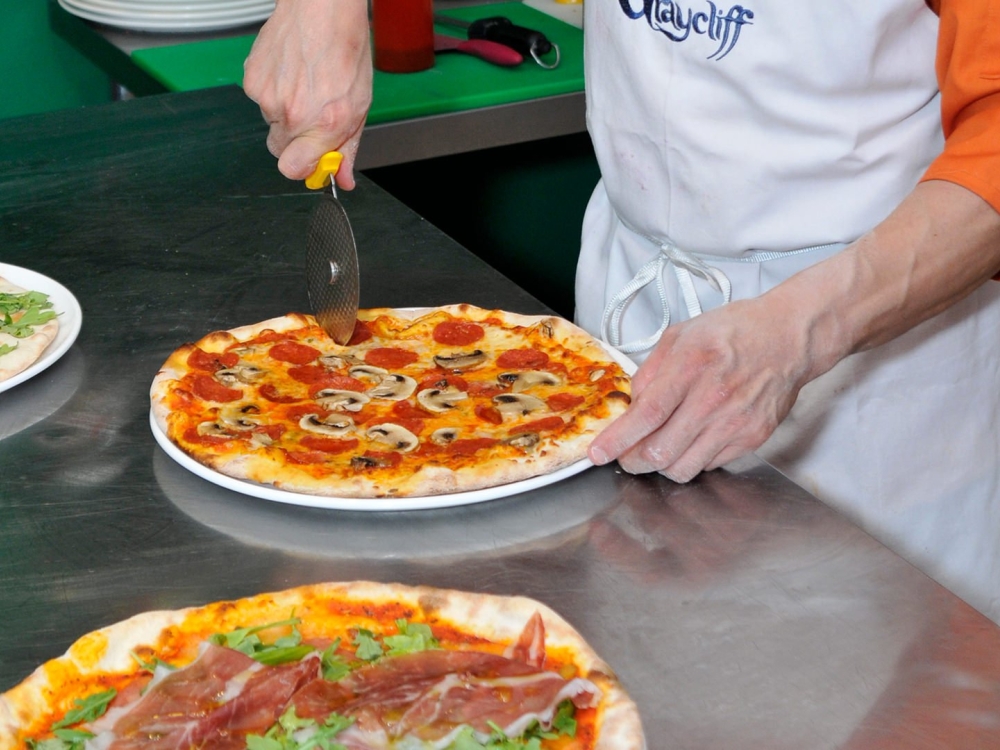 Murray's Deli
If you love nothing more than an authentic New York-style deli, head to Murray's Deli at Atlantis. Enjoy the views of the Paradise Island Marina as you feast on deli favorites like fresh bagels with lox, challah French toast, or deli sandwiches piled high with sliced meats and cheeses. Murray's has a kids' menu with smaller portions perfect for younger guests. Must-try item: You can't go wrong with a classic Reuben, served on rye bread with sauerkraut, Swiss cheese, and Russian dressing.
Feeding Frenzy
From signature burgers, hot dogs, fresh salads, and fish tacos, Feeding Frenzy is the perfect poolside dining option for the whole family. Must-try item: Signature cocktails & frozen drinks.
Poseidon's Table
Perfect for hungry kids (and parents!),  Poseidon's Table serves a full breakfast buffet, Sunday brunch, and dinner daily. Here you'll find international fare inspired by cuisines around the globe – something for everyone! Must-try item: the Mexican Grill Station, featuring freshly-made tortillas.
Giotto Pizzeria
Who doesn't love pizza? Giotto Pizzeria is located at the Humidor Piazza in the Graycliff Hotel and serves up mouthwatering pizzas daily, including traditional thin-crust varieties and pies with a Bahamian twist, such as the Tropical pizza topped with shrimp and mango. Add a side salad and drinks from neighboring restaurants for a full meal to satisfy everyone in the family. Must-try item: Treat yourself to the Nutella dessert pizza to cap off your meal.
The Fish Fry
Everyone loves The Fish Fry! Colorful buildings, upbeat music, and a lively vibe correspond perfectly with the Fish Fry's fresh seafood delicacies and tempting side dishes. Enjoy your meal in an open-air restaurant complemented by a warm Bahamian breeze. Head to Arawak Cay for a lunch or dinner you'll never forget! Must-try item: Conch! Cracked conch, conch salad, conch fritters…you might have to come back more than once.