Miles of pristine coastline, hundreds of species of marine life in our waters, lush plants, and colourful flowers: the vibrant and varied natural resources of The Bahamas create a naturally beautiful landscape unlike anywhere else in the world. And that's all the more reason why conservation and sustainability are important for Nassau Paradise Island. Learn more about the people, programs, and partners who are working to preserve Paradise for future generations.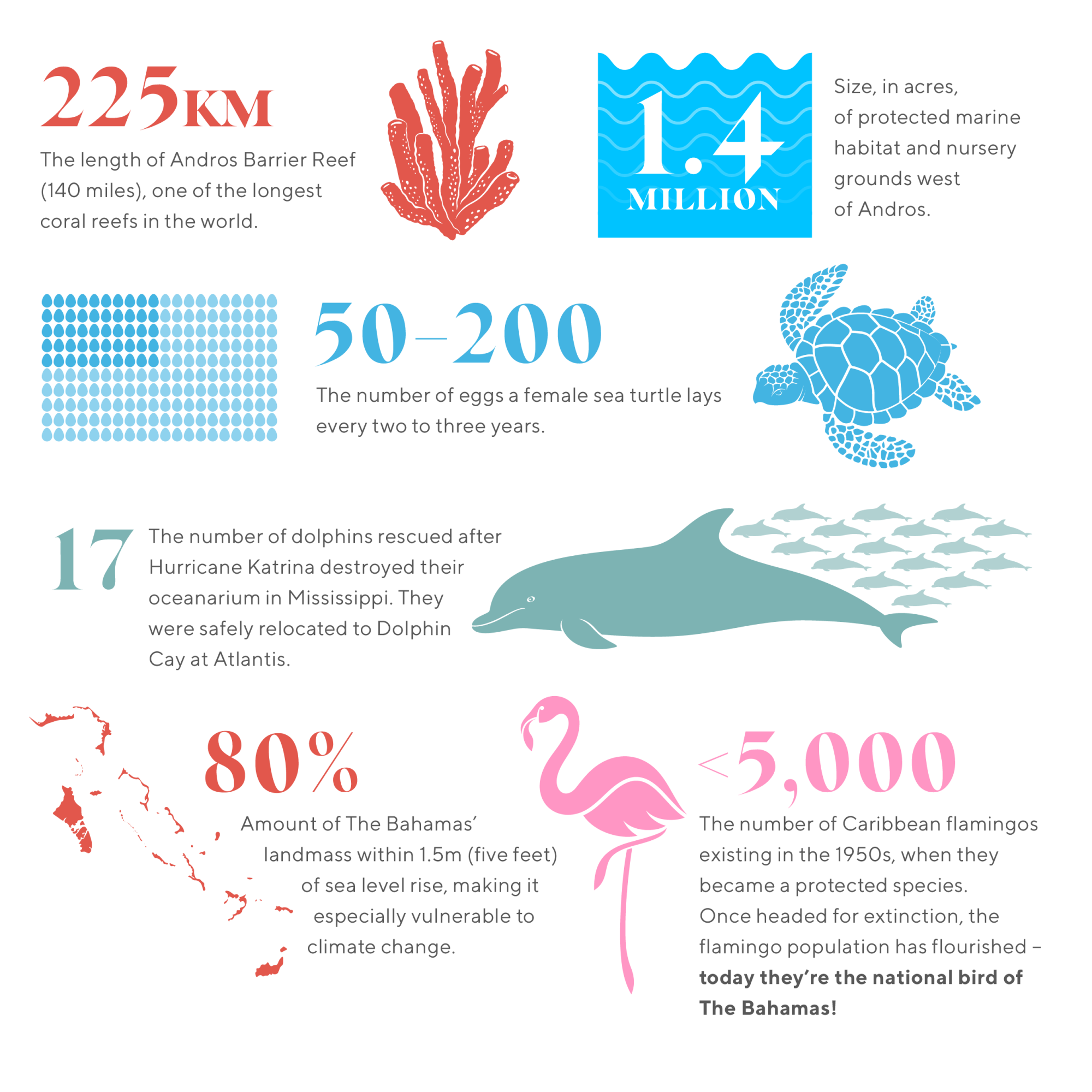 Our Partners In Action
Many of our hotel and resort partners are involved in eco-friendly initiatives to help protect and preserve The Bahamas' environment. Here's a sample of what they're working on and how they're helping to keep Nassau Paradise Island clean and green.
The Atlantis Blue Project Foundation is a private nonprofit organization committed to protecting and preserving Bahamian coral reefs, marine species, and ecosystems through scientific research, education, and community initiatives. Working in partnership with The Bahamas National Trust and The Nature Conservancy, the Blue Project Foundation helped establish 1.5 million acres of Marine Protected Areas (MPAs) on the west side of Andros Island. Coral grown in Atlantis' coral nurseries helped to replenish reefs damaged during Hurricane Matthew. 
Founded on the pillars of Community, Culture, and Conservation, the Baha Mar Foundation leads sustainable conservation efforts, celebrates authentic Bahamian traditions and arts, and works to strengthen the community through improvements to education. One of their sustainability initiatives, The Sanctuary, allows Baha Mar guests and visitors to participate in hands-on activities such as safe animal encounters and feedings in a fun, educational environment. At the Conservation Center, guests learn about the challenges facing the Bahamian environment as well as exploring possible solutions to common environmental concerns. 
The Sandals Foundation strives to protect Nassau's breathtaking ecosystem by empowering guests, communities, and Sandals Resorts team members to effect conservation practices. The philanthropic organization aided the development of the island's very first environmental science curriculum for primary schools and partners with organizations such as the Bahamas National Trust to protect conch fisheries and national parks that contribute to coastal protection. Through continued involvement in active invasive species management, sea turtle conservation, and coral restoration, the Foundation remains committed to ensuring our Caribbean waters will be vibrant with generations of stewards to lead the charge.
The Ocean Club, A Four Seasons Resort, the Bahamas is committed to preserving and regeneration the environment through sustainable operations practices and programming. Guests are invited to explore eco-friendly options like bicycle transportation and vegan/vegetarian menu items, while local, sustainable, and responsibly sourced seafood and eggs are always on the menu. The Ocean Club employees lead quarterly beach cleanups, and the resort supports organizations such as Bahamas National Trust, a nonprofit, nongovernment organizations dedicated to protecting the Bahamian environment. 
Rosewood Baha Mar participates in the Rosewood Sustains brand initiative – a commitment to delivering memorable experiences with a positive impact on the environment and climate. Rosewood Baha Mar has aligned with Baha Mar's overall conservation efforts, including protecting the coral reefs surrounding The Bahamas through BREEF, providing guests the opportunity to offset their carbon footprint during travel with the resort's CHOOOSE partnership, and recycling all glassware and aluminum from the F&B and Culinary departments. 
Eco-Friendly Experiences & Tips