A Luxurious Island Oasis
Welcome to a world filled with Hollywood glamor and European elegance at the all-new Sandals Royal Bahamian. A Caribbean retreat more than 70 years in the making—from its days as the famed Balmoral Club in the 1940s to today's impressive beachfront resort. A sanctuary so beguiling that it was once the personal retreat of the Duke and Duchess of Windsor. Sandals Royal Bahamian Spa Resort & Offshore Island is a couples-only haven where guests are treated like royalty, every moment of every day.
Indulge at the award-winning Red Lane Spa and see why Condé Nast Traveler readers voted Sandals Royal Bahamian a "Top Caribbean Spa Resort". Experience the royal treatment at this glamorous adults-only resort featuring the all-new Crystal Lagoon Swim-up Suites with butler service. Enjoy the seclusion of a private isle on an exotic offshore island – Sandals' all-new Barefoot Cay –  which features two breathtaking beaches—one for snorkeling and sunbathing, the other for high-energy water sports. Taste flavors from around the world, with 10 brand-new dining options and three food trucks perfect for casual, on-the-go eats. 
At the end of the day, retire to your refreshed guest room or spacious suite, featuring four-poster king-sized beds, West Indian mahogany furnishings, Roman tubs, French silk rugs, plasma-screen TVs, 24-hour room service, and more. All-new swim-up suites bring the poolside vibe right to your room. Sandals Royal Bahamian Spa Resort & Offshore Island offers a luxurious all-inclusive resort experience. Its combination of European elegance and island romance make for one unforgettable vacation.
Sandals Island: Exotic Offshore Adventure
Paradise is not lost: You can find it minutes away on the secluded white-sand beaches of our private isle, Sandals Island. Take our boat transfer, kayak, or sail to this offshore oasis. Enjoy a freshwater lagoon-style pool with swim-up bar, delicious seafood, shaded hammocks, private cabanas, cozy fire pits and some of the Bahamas' best snorkeling. Choose your own adventure or settle in for plenty of rest, romance, and relaxation—and experience an exotic escape without ever leaving the comfort of Sandals Royal Bahamian resort.
Red Lane® Spa
Indulge yourself with the best European-style spa treatments infused with tropical Caribbean flair. At Red Lane® Spa, natural island botanicals soothe and invigorate the body, mind, and soul for a journey of relaxation, restoration, and rejuvenation. Discover for yourself why Condé Nast Traveler readers named Sandals Royal Bahamian "Top Caribbean Spa Resort." For a unique treat, escape to Sandals Island and enjoy a salt scrub on the secluded beach or a massage on a sea raft.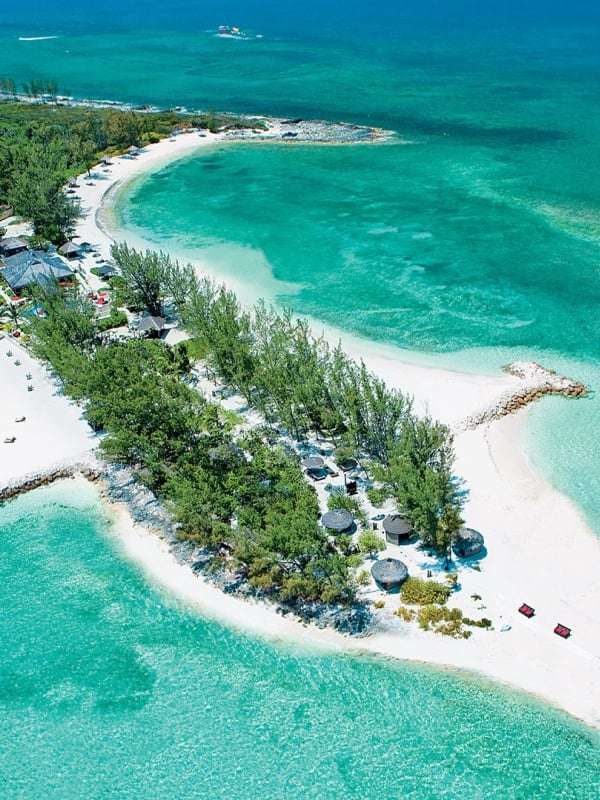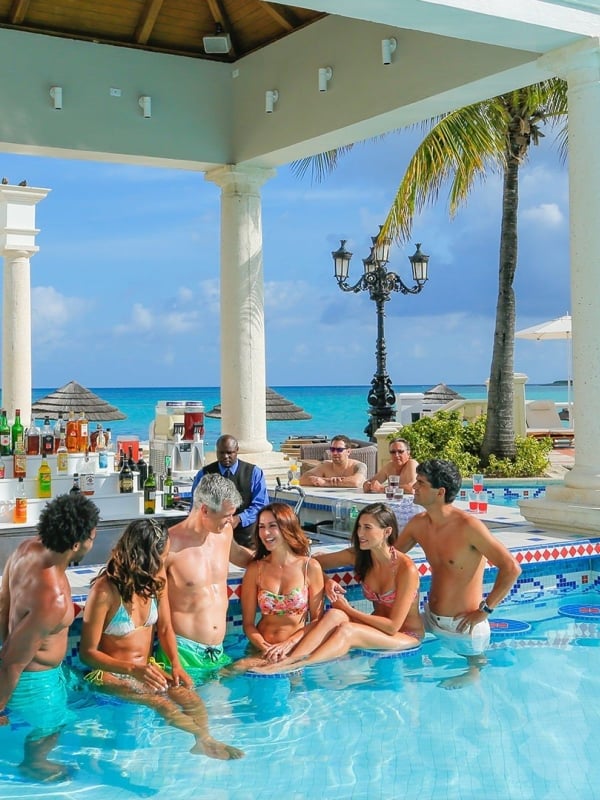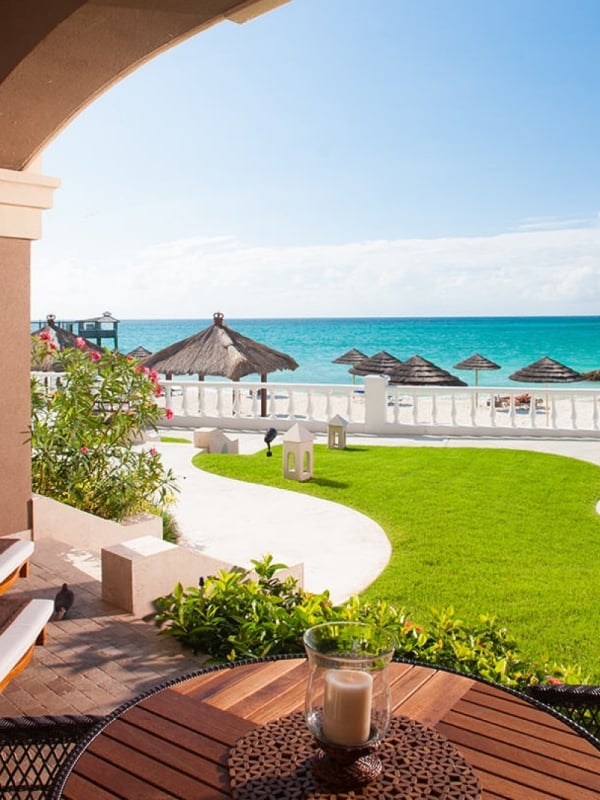 Water Activities
Make a splash at Sandals Royal Bahamian, with an entire kingdom of water-based adventures. Canoe, kayak or sail on our famed turquoise sea, snorkel among pristine coral reefs, or try your hand at windsurfing. Explore the surrounding area by Hobie Cat, hydrobike, or water trike or simply relax at one of our seven pools, six whirlpools, and two swim-up pool bars–perfect after a day fit for royalty.
Scuba Diving
Only Sandals offers inclusive scuba diving and the Caribbean's most comprehensive resort diving program. Certified divers can take two all-inclusive dives daily, and choose from unforgettable dive experiences such as private or night dives. Beginners can take a resort course (additional cost) in a special pool and dive the same day, or enroll in a PADI certification course (additional cost)—then explore nearby wreck sites and coral reefs and discover what lies beneath the world's clearest waters.
On Land Activities
From billiards and bocce ball to table tennis and shuffleboard, there's no shortage of land-based activities at Sandals Royal Bahamian. Enjoy a spirited game of beach volleyball or basketball, workout in our modern fitness center, or relax with a low-key board game. Looking to improve your golf or tennis game? Lessons with a professional Sandals golf or tennis instructor will improve your skills, and are available for an additional cost.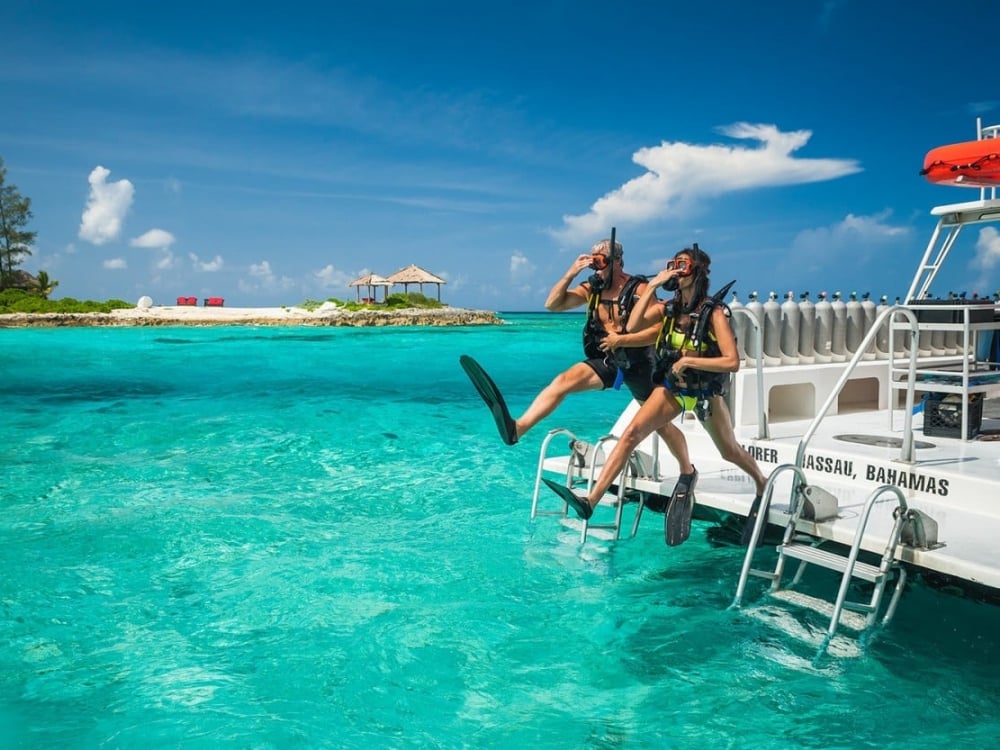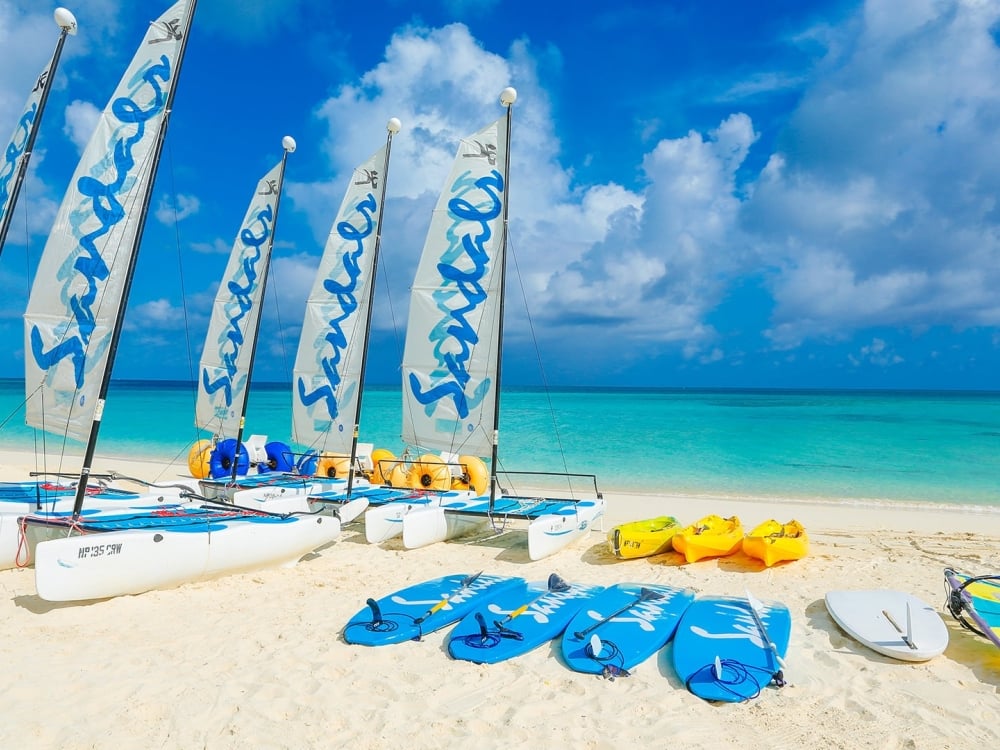 Nightly Entertainment
Your activities don't have to stop with the setting of the beautiful Bahamian sun. Sip a cocktail at the Sandals Royal Bahamian Night Club, or cozy up at the Piano Bar. Look for special live bands and themed nights, such as Black & White Night, Motown Night and the entertaining Junkanoo Parade. For a really special after-dark adventure, head to Sandals Island and watch tiki torches flicker across comfortable chaises and private beachside cabanas, while blazoning fire pits light up the starry night.
Fitness Center
While on Nassau Paradise Island, keep up with your regular fitness regime, or try out a new one. The Fitness Center at Sandals Royal Bahamian offers a range of cardiovascular and weight equipment, including elliptical machines, exercise bikes, stair climbers, state-of-the-art Life Fitness equipment, and Universal weights, all with panoramic views of the resort, our signature turquoise waters, and Sandals Island, in the distance.
Deals from Sandals Royal Bahamian
Save up to 65%, plus get up to a $1,000 instant Booking Credit
Expires: December 31, 2023
Sandals Luxury
Our Luxury Level Rooms are refined, elegant spaces for an indulgent vacation. Located in Royal Village or Balmoral Tower these rooms feature breathtaking views of the ocean, tranquil Zen garden, French courtyard or pool.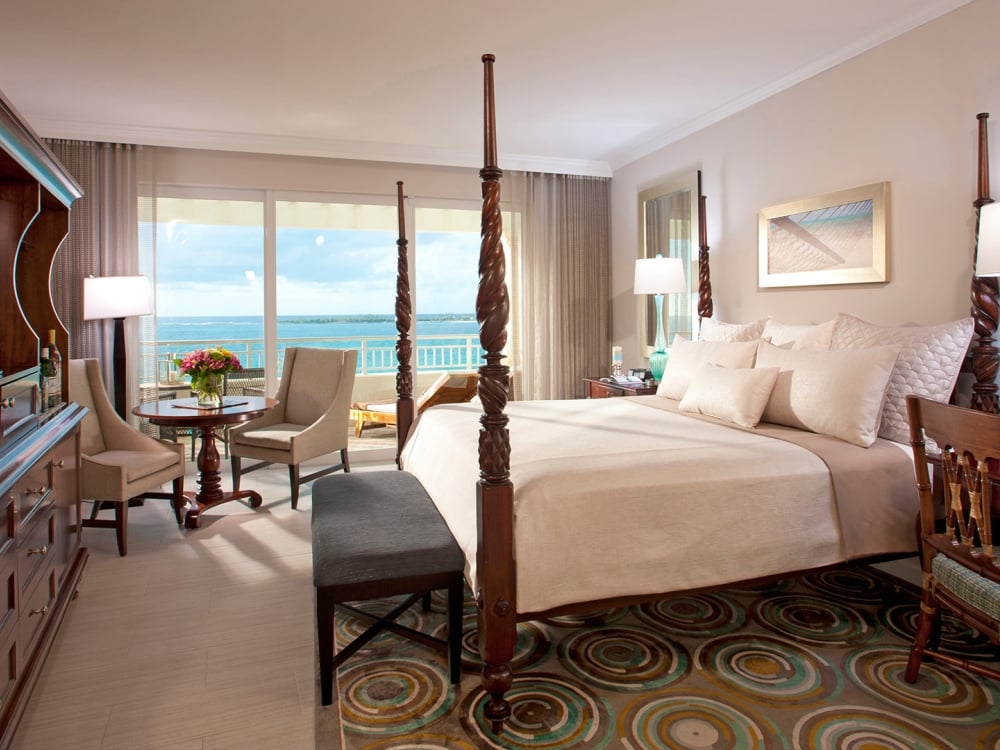 Club Sandals
These beachfront rooms and suites offer breathtaking balcony views or walkout patios. Enjoy all the amenities of our Luxury Rooms & Suites along with extraordinary privileges, insider opportunities, and exceptional Club Level service.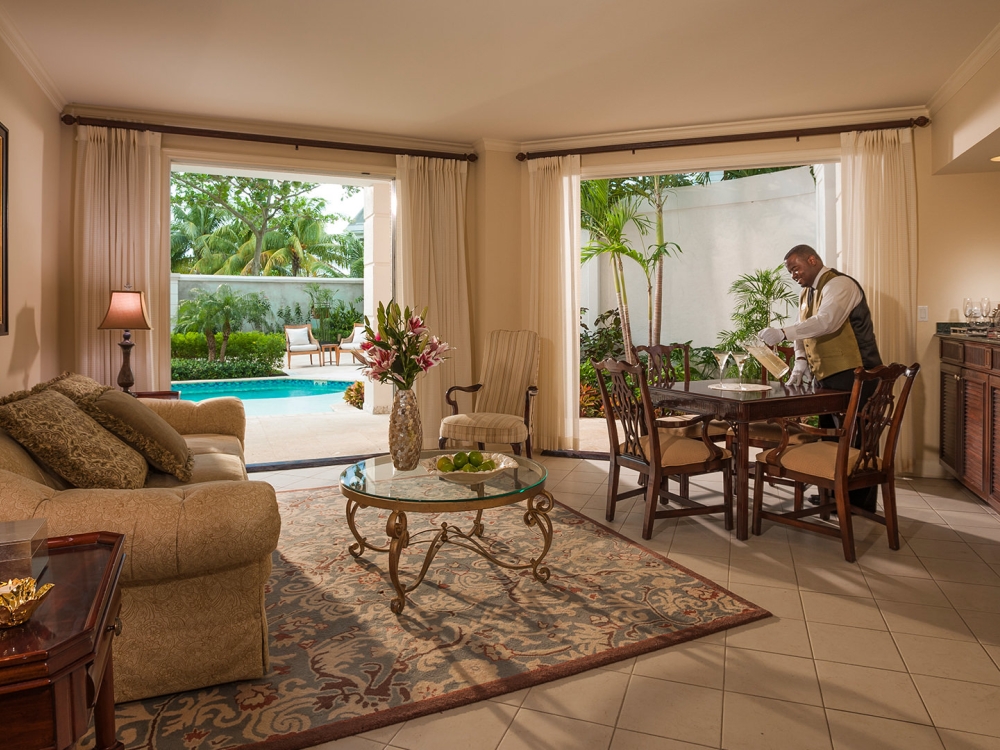 Butler Elite
For the highest level of regal luxury, choose our top-tier Butler Level Rooms & Suites. These outstanding accommodations include the flawless services of a personal butler, exclusive resort access, and much more.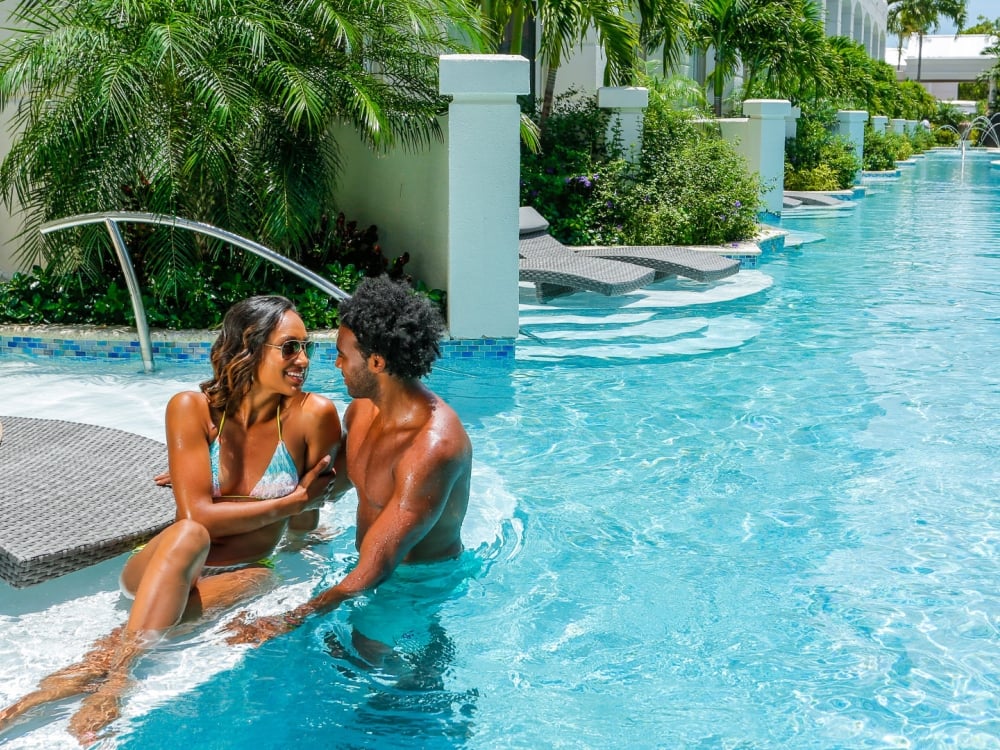 Love Nest Suite
Lovebirds looking for the ultimate romantic escape will adore the Love Nest Suites at Sandals Royal Bahamian. Enjoy the same exclusive amenities offered to our Butler Level guests in the luxury of your own private oasis.
A World of Flavor
Savor 5-Star Gourmet dining at 10 specialty restaurants.
Sandals Royal Bahamian All-Inclusive
Cable Beach, Nassau
More than a meal, Teppanyaki is a dramatic, entertaining experience—especially at Kimonos at Sandals...
Sandals Royal Bahamian All-Inclusive
Cable Beach, Nassau
Discover the heart of France at this Parisian-inspired restaurant. A delicate balance of the flavors...
Sandals Royal Bahamian All-Inclusive
Cable Beach, Nassau
Specializing in Northern Italian dishes, Tesoro features an open exhibition stone pizza oven...
Sandals Royal Bahamian All-Inclusive
Cable Beach, Nassau
At Coco Queen, indulge in delicious, Bahamian fusion cuisine under the shade of swaying palms...
Sandals Royal Bahamian All-Inclusive
Cable Beach, Nassau
Choose from your favorite classic sushi dishes or try something new and delicious at Soy Sushi Bar...
Sandals Royal Bahamian All-Inclusive
Cable Beach, Nassau
Start your morning or break up your day with Sweets 'N' Tings grab-and-go treats and coffee drinks...
Sandals Royal Bahamian All-Inclusive
Cable Beach, Nassau
Caribbean-accented eats featuring fresh seafood from boat to table. At Aralia, enjoy local Bahamian...
Sandals Royal Bahamian All-Inclusive
Cable Beach, Nassau
A cut above the rest. Butch's serves up only the highest quality beef and the finest seafood. On the...
Sandals Royal Bahamian All-Inclusive
Cable Beach, Nassau
Gordon's On The Pier restaurant is an upscale eatery that takes grilled meat and seafood specialties...
Sandals Royal Bahamian All-Inclusive
Cable Beach, Nassau
The Queen's Pearl offers a menu filled with authentic and traditional British classics. Enjoy good...
Sandals Royal Bahamian All-Inclusive
Cable Beach, Nassau
Savor the spice at Kanoo. Enjoy Pan-Caribbean dishes infused with colorful culture that brings...
Sandals Royal Bahamian All-Inclusive
Cable Beach, Nassau
Stop by Calico Cafe throughout the day to munch on delicious grilled fare such as burgers and fresh...
The Luxury Included® Experience
With more quality inclusions than any other resort in the world—your group will enjoy Sandals' impressive services and amenities.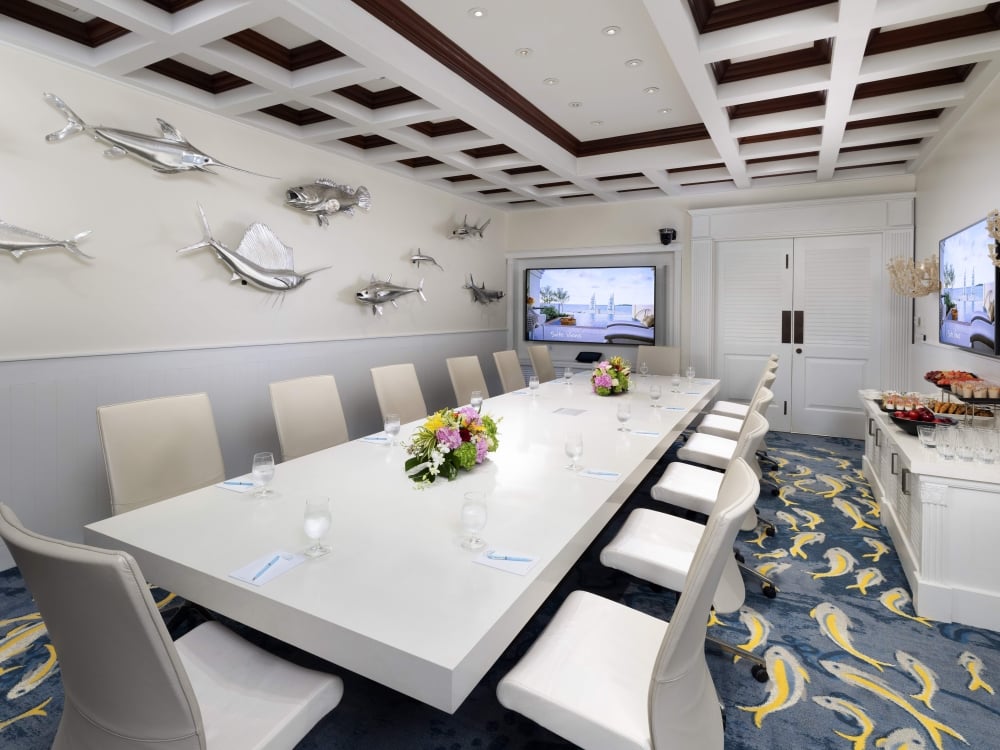 Weddings at Sandals Royal Bahamian
This couples-only retreat is perfect for weddings, with an award-winning spa, a postcard-worthy beachfront location, an offshore private island, and amenities fit for royalty. Enjoy the atmosphere of a sophisticated European resort infused with the warmth and spirit of the Caribbean, creating a destination wedding experience straight from the pages of your favorite magazine.