A Legendary Caribbean Hideaway
Set along an 8-km (5-mile) pristine stretch of white sand beach on Paradise Island, nestled between tranquil waters and lush Versailles-inspired gardens, sits The Ocean Club. It all started in 1962 when this vivid paradise first became a playground for celebrities and a haven for the world's most discerning travelers. Thus, began a legend of timeless glamour that today, is still possible to experience through The Ocean Club, A Four Seasons Resort. Here, connect with Bahamian beauty in an enclave of seclusion and cherish the simple pleasures of a luxurious island lifestyle, all while reveling in the romance of its storied history. 
Renowned Relaxation & Adventure
A private oasis, intimate low-rise buildings are immersed across 14 hectares (35 acres), offering guest rooms and suites with tropical garden and ocean views in contemporary beach chic or traditional Caribbean appeal. Plunge Pool Villas and Beachfront Villa Residences are the ultimate option for serenity and luxury with a dedicated Villa Residence Staff. Five restaurants and bars include DUNE by Michelin-starred chef Jean-Georges and the glamorous Martini Bar and Lounge, showcased in the 2006 James Bond movie, Casino Royale. Find your paradise on the expansive beach or at one of three distinct pools; the enchanting adults-only Versailles pool, the Family lagoon pool accented by a waterfall and beach style entry and the Infinity Ocean Pool with endless Atlantic Ocean views to match.
In the Versailles Gardens, stone pathways lead you through the multi-tiered landscape and statues, where bougainvillea blooms and every corner beckons a quiet interlude. A sanctuary of its own, discover the Spa, where centuries-old Asian traditions come to life with Bahamian hospitality in each of the eight Balinese-inspired treatment villas embraced by its own private garden. From spontaneous romantic rendezvous to memorable family escapes, explore an iconic destination through new eyes and discover The Ocean Club's graceful allure.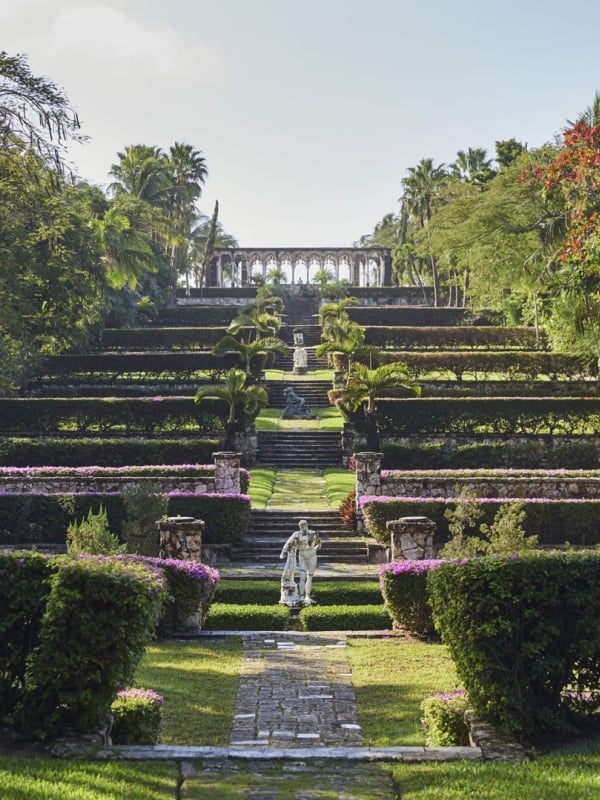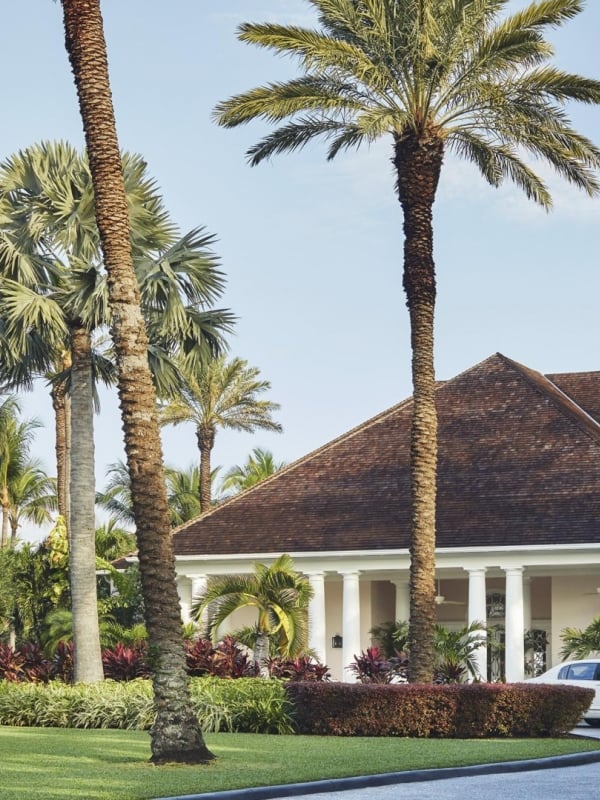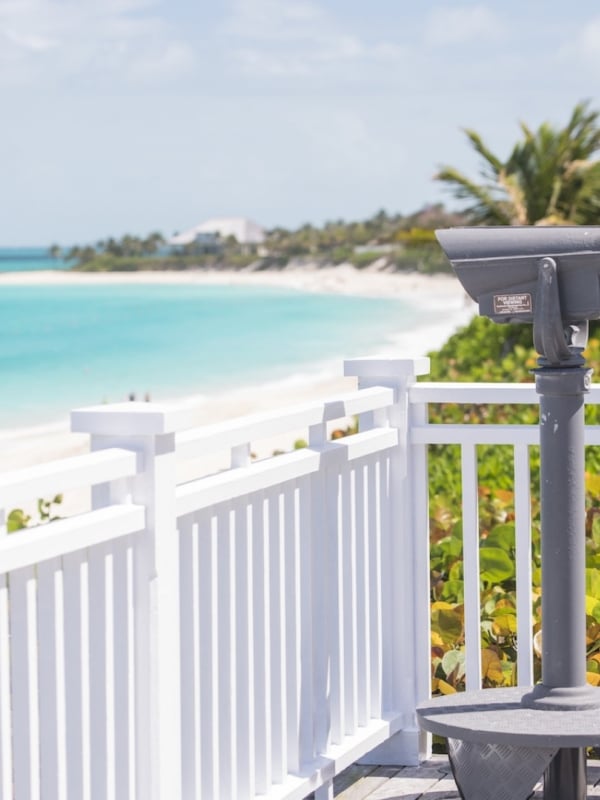 Ocean Club Golf Course
Skillfully designed by renowned architect Tom Weiskopf—and recently recognized as the one of the Top Ten Resort Courses in the Caribbean by Golf Digest Magazine—this championship course offers every element for the perfect game. With spectacular ocean views and breathtaking signature holes, this course has earned its reputation as a challenging course with a multitude of doglegs, sand traps, and water hazards.
Ocean Club Spa
Discover serenity at the award-winning Ocean Club Spa, a luxurious retreat where centuries' old Asian traditions combine with the charm of Bahamian hospitality. Pamper yourself in the tranquility of a private Balinese-style spa villa, featuring teak massage table, cascading waterfall shower, day bed, and hydrotherapy bath. Indulge in facials, massages, and enriching salon treatments, and then savor a Japanese Tea Ceremony—a beautiful ritual of herbal teas and fresh fruit—in your villa's private open-air garden.
Fitness Center
The fitness center features state-of-the-art cardiovascular training equipment, Pilates Balance Body Reformer, and Kinesis™ systems and resistance machines from Technogym®. With our outstanding variety of equipment and services—including personal trainers, dedicated rooms for stretching, cardiovascular workouts and circuit training, and a uniquely designed outdoor free-weights training platform—you'll be able to maintain any fitness regime at The Ocean Club.
Yoga
Experience the many rewards of yoga amid gorgeous tropical surroundings. Enjoy a complimentary one-hour class daily on the pool deck overlooking the calm turquoise sea, or book a private session personalized to suit your needs. Choose from an extensive roster of yoga classes—including introductory classes on basic postures, relaxation and breathing techniques—and advanced courses practicing the classic Sivananda postures.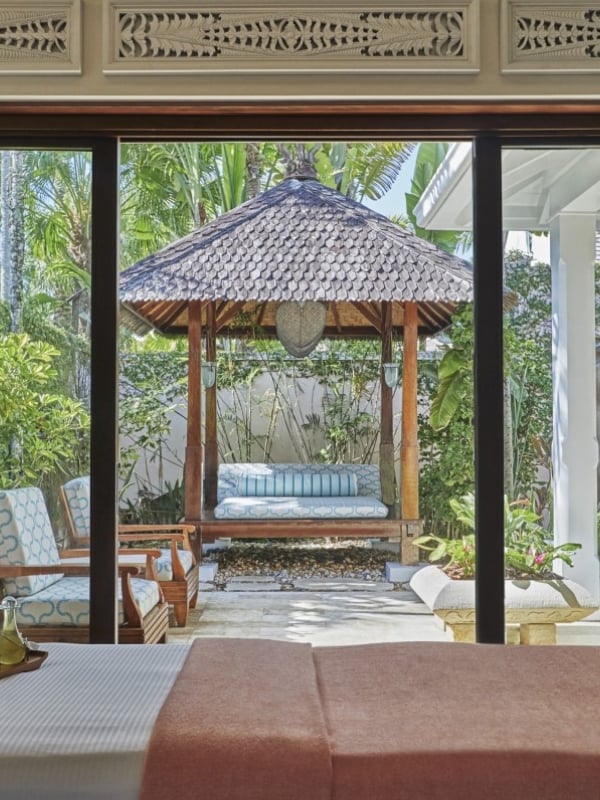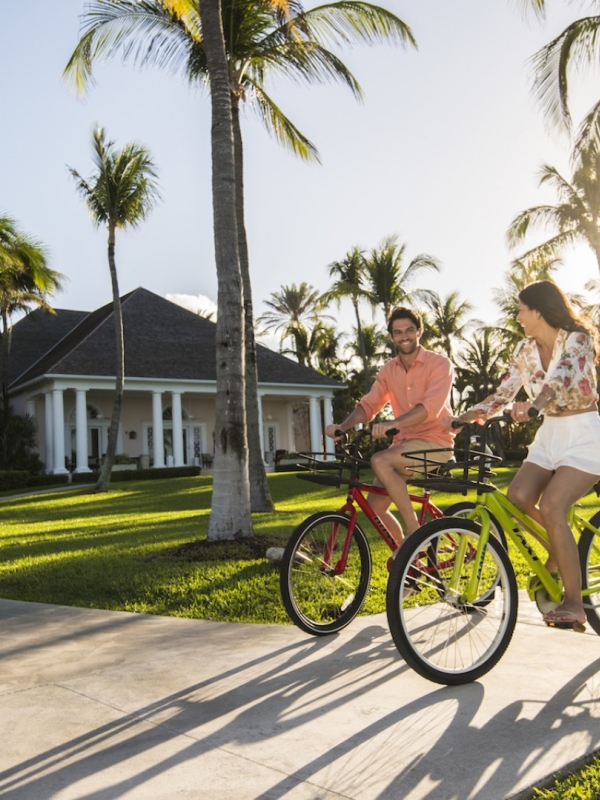 Tennis
Perfect your swing day or night at one of The Ocean Club's six floodlit Har-Tru tennis courts. Join in on one of the special clinics, games, or round-robin tournaments organized by resident tennis professionals, or, take lessons from our skilled, seasoned pros. Tennis equipment is available at the fitness center, while private instruction is offered for an additional fee.
Excursions
Set sail on a catamaran cruise, or discover an underwater world teeming with multi-colored fish on a snorkeling or scuba adventure. Embark on a deep-sea fishing excursion, or see the sights on a leisurely and complimentary bike ride around the island. The staff at The Ocean Club will exclusively arrange a charter just for you.
Access to Atlantis
Guests of The Ocean Club not only get to enjoy all of the luxurious amenities a Four Seasons vacation provides, but you have complimentary access to all the attractions of Atlantis Paradise Island including its 141-acre waterscape Aquaventure, 11 swimming pools, private beaches, and much more!
Sunning & Swimming
Our miles of white sand beach are described as some of the most beautiful in the world, with varying hues of blue—from shallow turquoise to the deepest indigo. Take a relaxing swim in the Versailles Pool, sun by the spectacular Ocean Pool, or play with the kids in the family pool, complete with waterfall and aqua toys. Wherever you are, concierges take care of your every need, including complimentary water, sorbets, fruit, periodicals, chilled water-misters, and sunglass cleaning services.
Kids For All Seasons
The Ocean Club's Kids For All Seasons program will keep the younger set entertained with a full slate of activities every day. Guests ages 4–12 will enjoy complimentary gifts and plenty of fun and games to keep them busy! Discover the computer and technology area, arts and crafts center, movie and video game room, and library and game room. Play beach or sporting games and explore the marine habitat at nearby Atlantis, Paradise Island.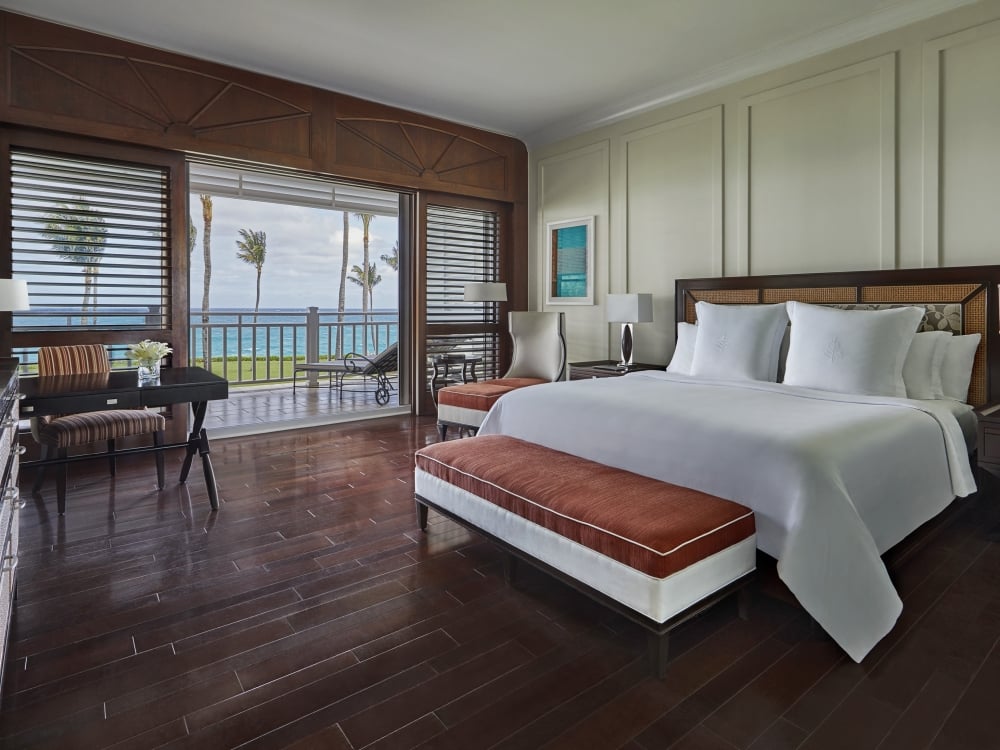 Crescent Wing
With interiors by famed designer Adam D. Tihany, all guest rooms and suites enjoy a spectacular beachfront setting. Hardwood louvered doors open onto private patios and balconies with breathtaking views of an endless blue ocean.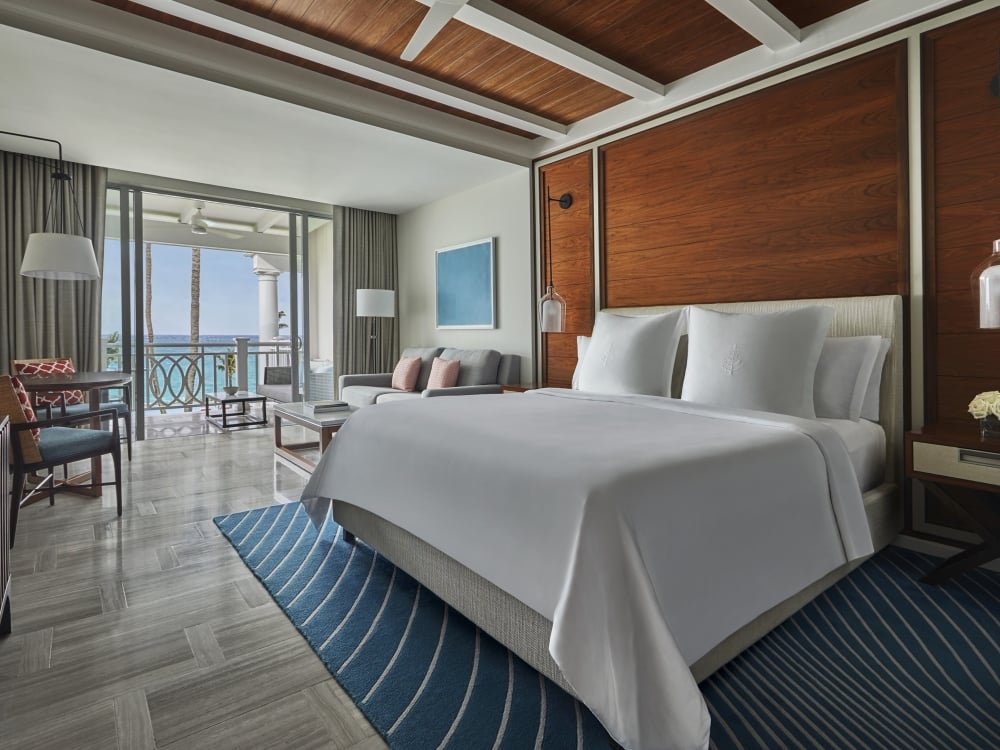 Hartford Wing
The Hartford Wing has been reimagined with enlarged rooms and suites designed by Jeffrey Beers. All rooms feature views of the gardens or the ocean and Ocean Pool, whilst evoking the original glamour of this oceanside estate.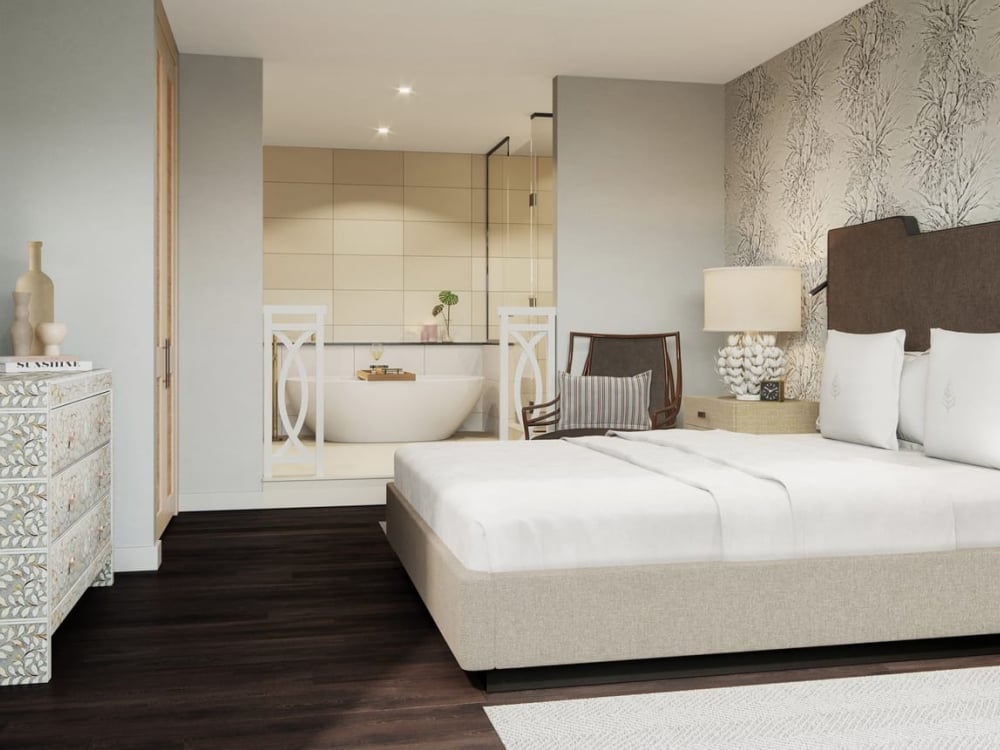 Bungalows
Built to accommodate up to 8 people, the two-bedroom plunge pool bungalows are perfect for a private friends or family retreat. The bright and airy interior are spaciously appointed, each enhanced by oversized outdoor patio and living areas.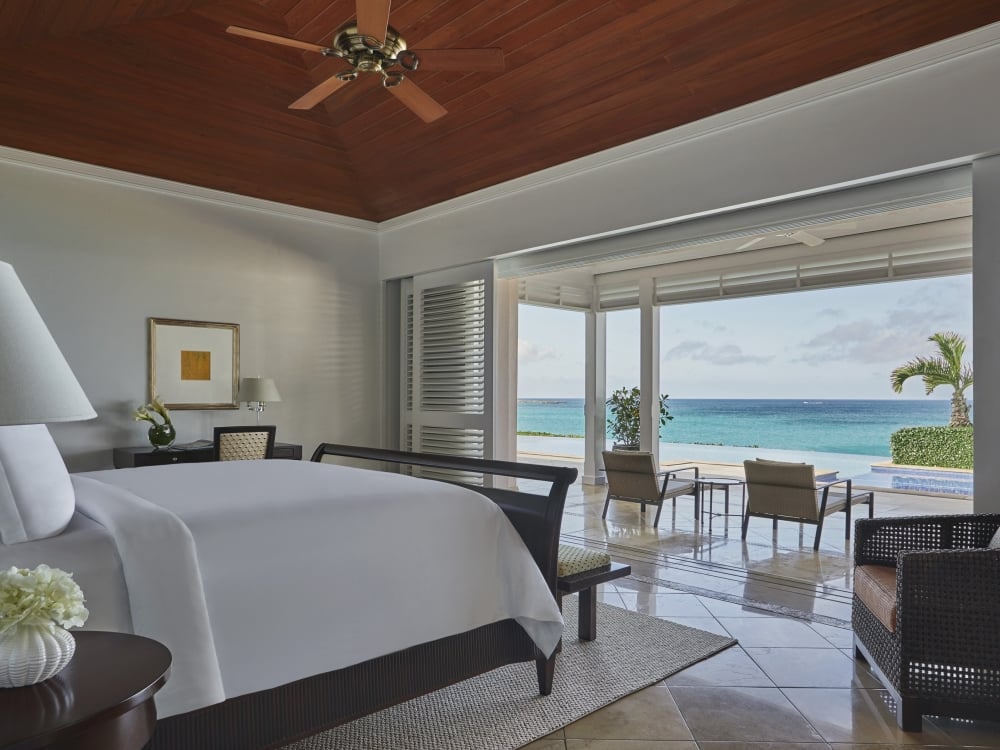 Villa Residences
Villa Residences offer the refined elegance of an island home with ample living space and a private pool. Each of the Villas offers resplendent space to enjoy life's most precious moments with family and friends.
Award-Winning Restaurants
Panoramic views and luxurious libations await.
Paradise at Your Fingertips
Make the most of your luxurious island getaway with unique and memorable activities on Paradise Island.
Understated Elegance, Unforgettable Events
This exclusive property has hosted heads of state and the world's elite for more than 50 years. Bringing associates to The Ocean Club is the consummate reward and incentive. The understated elegance sets the perfect tone for a high level corporate retreat, while the ocean setting is both an inspirational contrast to the business environment and conveniently accessible.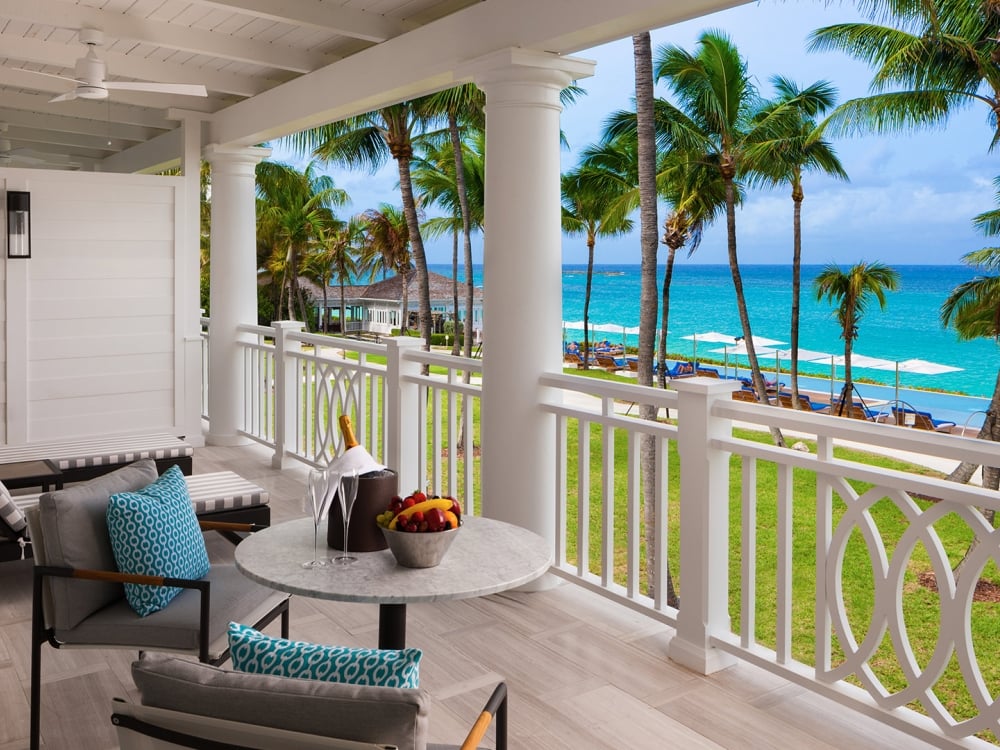 Weddings at Ocean Club, A Four Seasons Resort, Bahamas
If "understated elegance" is your dream destination wedding vibe, look no further than The Ocean Club, one of The Bahamas' most exclusive locations. Modern conveniences and superb amenities make you and your guests feel completely pampered, while the resort's colonial grandeur, breathtaking grounds, and pristine beachfront create the perfect backdrop for celebrations both intimate and extravagant.