Aquaventure at Atlantis
Paradise Island
Atlantis Paradise Island
Over 20 million gallons of water, 20 swimming areas, 11 pools including three kids pools, thrilling water slides, a mile-long river ride with high intensity rapids and wave surges. Are you ready to experience the Caribbean's biggest water-themed attraction? Welcome to the 141-acre waterscape of Aquaventure, the incredible centerpiece of Atlantis, Paradise Island. It's home to dozens of pools, rivers and slides—like the six-story Mayan Temple where you plummet down into a shark-filled lagoon—that will take your body, mind and spirit on a wild ride. Or take things a little easier at a lazy river ride, at the Royal Baths or a zero-entry pool, all with easy access to the sugar white-sands of Paradise Beach. Whatever your aquatic-loving heart desires, you can find it here at Aquaventure at Atlantis!
The Power Tower
The Power Tower at Aquaventure is a 120-foot tower with four adrenaline-inducing slides: The Abyss, which features a 50-foot near vertical drop and a 200-foot-long body slide; The Drop, a single or double inner tube ride that begins with an ominous "drop" through darkness; The Falls, where you're propelled through a water roller coaster; and The Surge, an inner tube ride with a drop into a cavern followed by white-water rapids.
The Mayan Temple
The Mayan Temple at Aquaventure features five slides: the five-story corkscrew Serpent Slide; the Jungle Slide, where kids can take a thrilling safari slide through jungles and caves; and two Challenger Slides for challenging friends to a splashdown. Then there's The Leap of Faith, offering the daring an almost vertical drop of 60 feet—followed by a high-speed ride through a clear acrylic tunnel submerged in a shark-filled lagoon.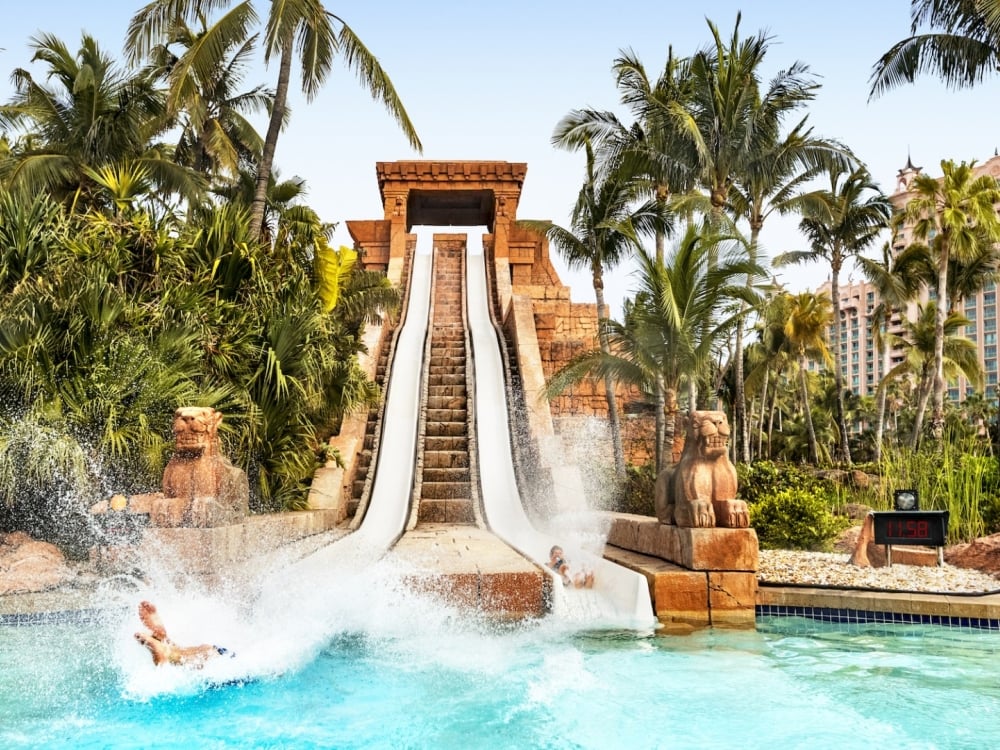 Rapids River
Surrounding the Power Tour is the Rapids River, the longest river in The Bahamas.  Through the river's mile-long meandering loop are wave surges, elevations, and drops of up to 7 feet, including a section with powerful white water rapids, all pushing riders through the scenic landscape. 
Poseidon's Playzone
Poseidon's Playzone, our new water-play fort, replaces the resort's Splashers pool. This new kids' water-play zone within Aquaventure features 40 action-packed water-play elements designed for little adventurers under 54 inches tall.
The 30-foot-tall, 9,000-square-foot water-play fort is bursting with color, excitement, and Atlantean adventures. The Greek god of the sea reigns over the splash-tacular island of watery fun, including interactive water-play elements, water cannons, fountains, buckets, four kid-sized slides, bubbling jets, overhead bridges, tipping cones, and a water wheel.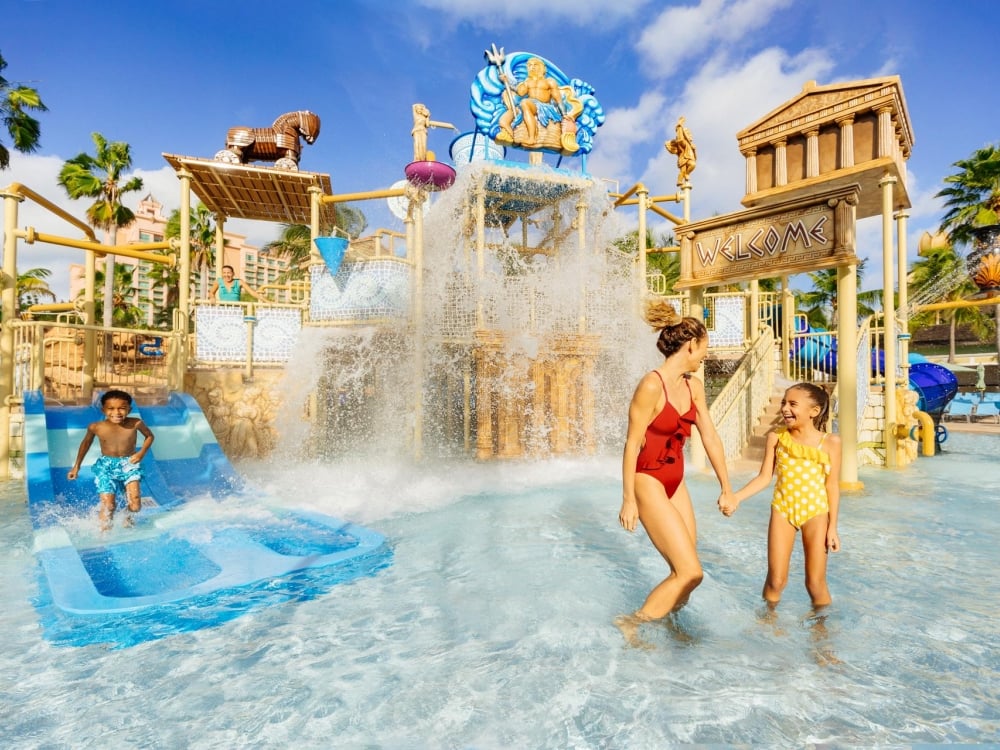 Swimming Pools
With more than 20 swimming areas and 11 refreshing and distinctly different pools—including three kids pools—Atlantis is truly a swimmer's paradise. Whether you're looking for an exclusive adults-only pool like The Cove Pool, wish to relax in the Royal Baths, keep up with your fitness regime at the Lap Pool or want to head to the Blu Pool for a festive mood that's hip and fun: Atlantis, Paradise Island has the pool for you.