An Oasis of Style & Sophistication
Nestled between two private beaches, this sensorial retreat is made for anyone looking to indulge in Bahamian splendor. The Cove is an elegant hotel perfect for couples seeking a romantic getaway all the way to families in need of a relaxing oasis. 600 luxury suites with French or full balconies elegantly situated between two magnificent beaches with floor-to-ceiling ocean views. Exclusive to The Cove, an adults only pool offers 20 private cabanas, outdoor dining and gaming. The Cove's Ocean Suites offer Atlantis guests a haven and redefined beach vacation experience. Enjoy a refined level of comfort featuring a host of designer amenities.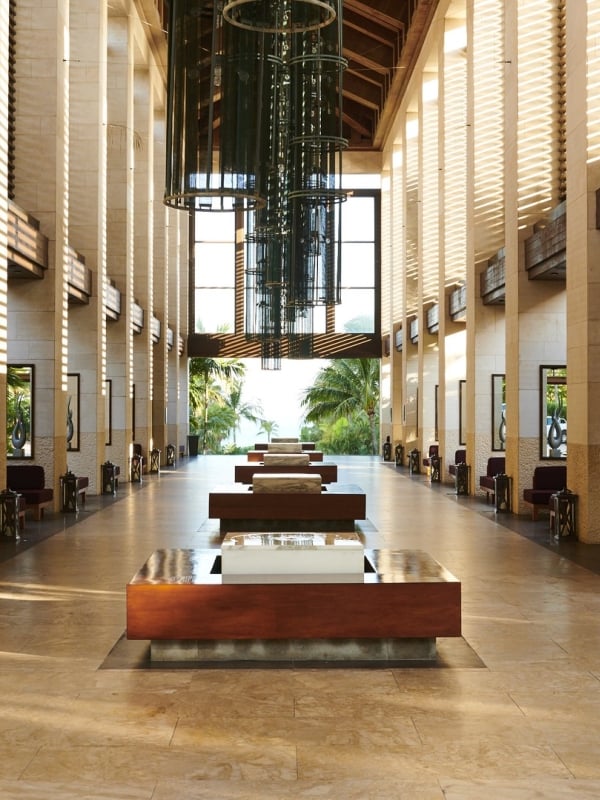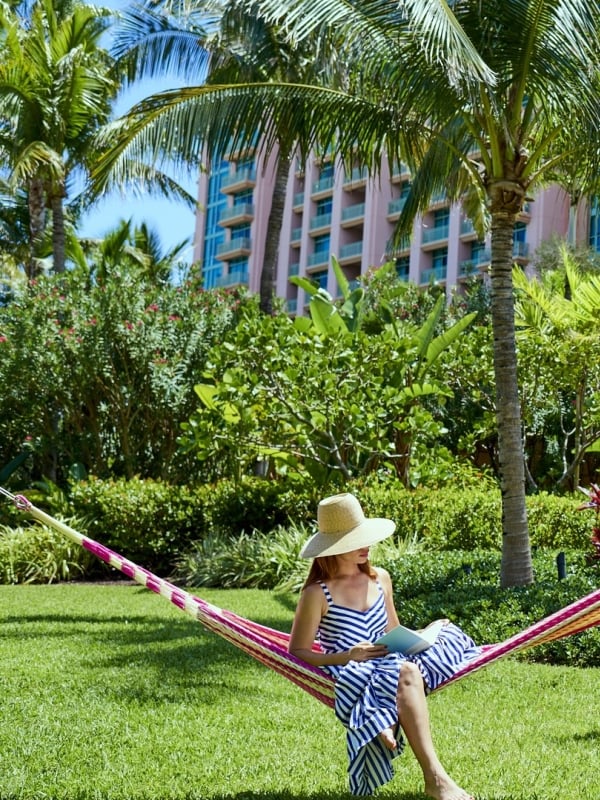 The Cove Pool
Guests of The Cove can enjoy the exclusive adults-only Cove Pool - a colorful oasis where Bahamian art and culture seamlessly intertwine. Recently redesigned by Lulu deKwiatkowski, The Cove Pool's 20 cabanas integrate art and designs from both the nature and culture of The Bahamas. Dedicated cabana butlers offer guests spa treatments, complimentary tea, coffee, both flat and sparkling water, and a daily copy of the New York Times.
Nightlife
For adventures after dark, The Cove Atlantis is the alluring place to be—especially at the seductive Sea Glass lounge. Featuring a casual, upscale environment, with an outdoor patio and spectacular ocean views, it makes for an enticing spot at all hours of the day. Sea Glass offers light lunch options and a tapas-style menu in the evening. Guests can enjoy a game of blackjack or roulette and the latest in slot machines. For live entertainment and tropical libations check out  Dragon's Ultra Lounge and Atlantis' newest bar, Plato's. No matter where you decide, you'll have a fantastic night to remember at Atlantis.
Atlantis Casino
Spanning a seven-acre lagoon—with skylights and windows to bring the outdoors inside—the Atlantis Casino is an innovation in casino design. It's also the Caribbean's largest casino, featuring 85 table games, over 700 of the newest slot machines in denominations from one cent to $100, tournaments and events, and a race and sport book, as well as a range of exceptional gaming experiences.
Mandara Spa
Combining ancient Balinese healing techniques, traditional European therapies, and natural Bahamian elements, Mandara Spa Atlantis is a feast for the senses, a haven for the body, mind and soul. It features 24 treatment rooms, two tropical rain showers, warm and cold plunge pools as well as steam and sauna rooms in both the women and men's private lounge areas. Choose from an array of signature treatments, rejuvenating therapies, and pampering services—then lie back, close your eyes and simply enjoy.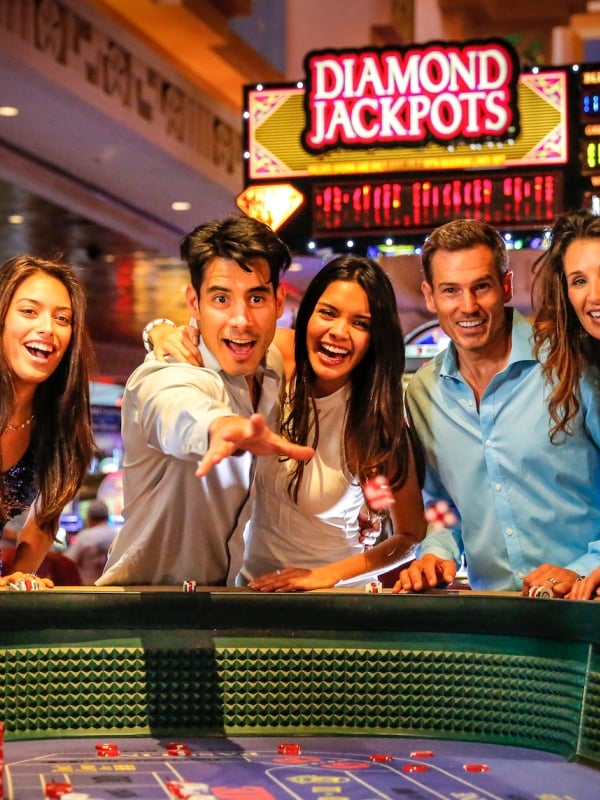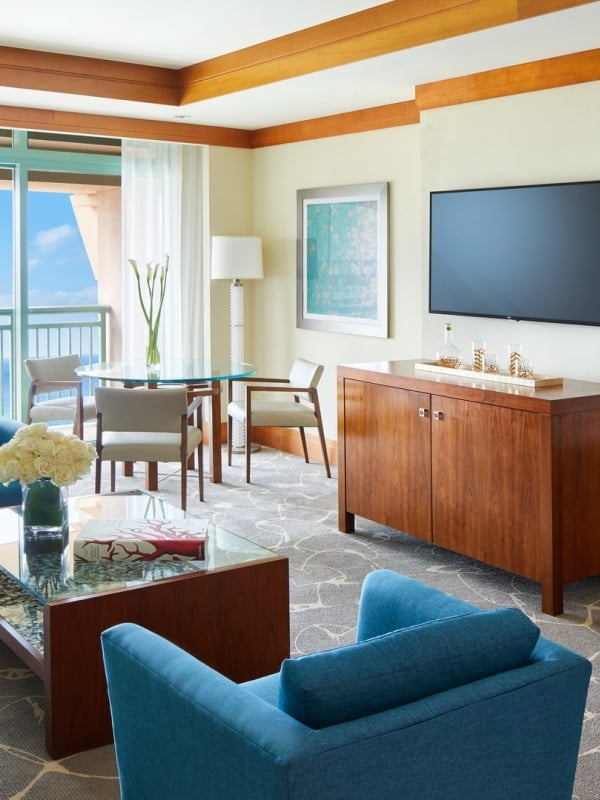 Deals from The Cove at Atlantis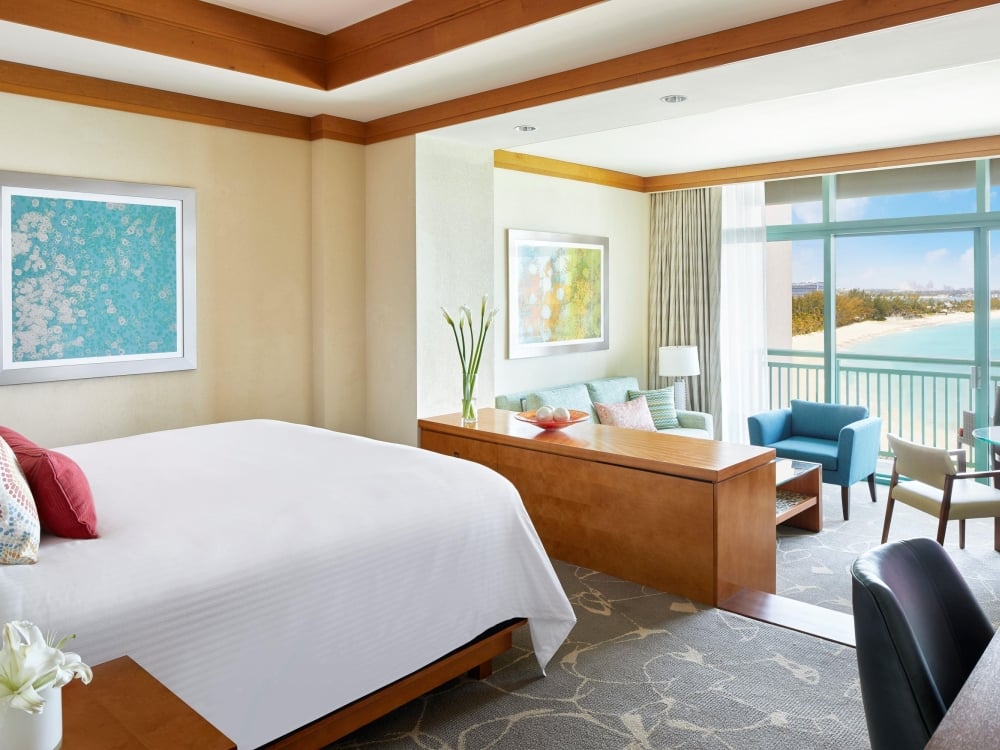 Ocean Suites
Private and exclusive, these suites will redefine your beach vacation experience. Enjoy refined comfort and a host of designer amenities in Paradise.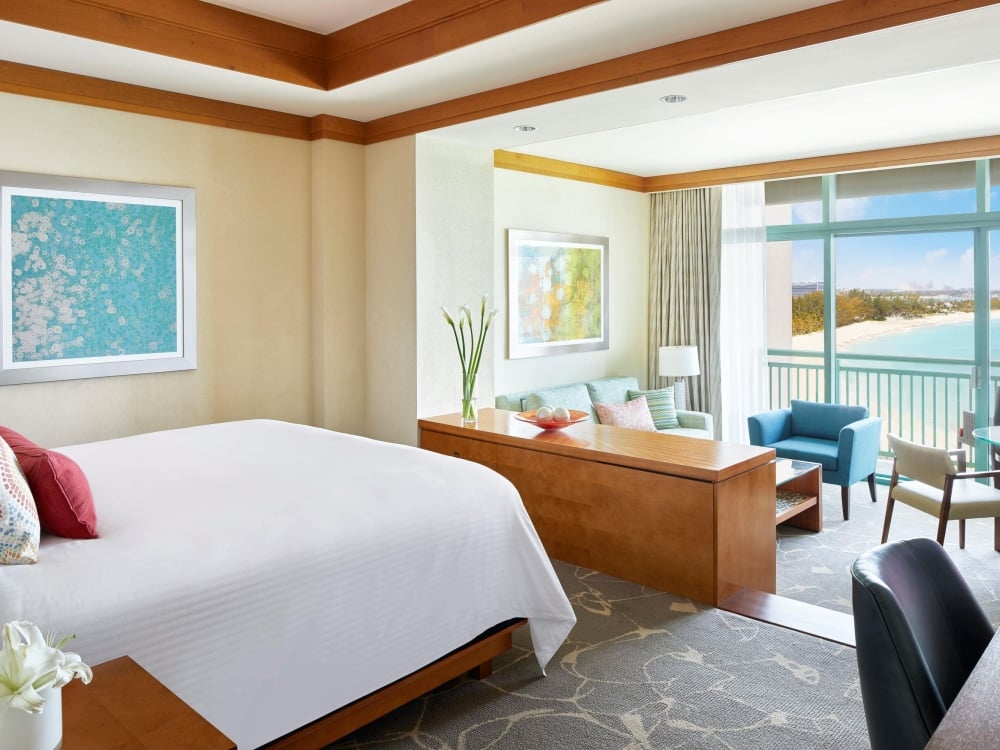 Deluxe Ocean Suites
Revel in chic and contemporary ambiance while taking in spectacular ocean views. Our deluxe suites offer a relaxed atmosphere for your luxury escape.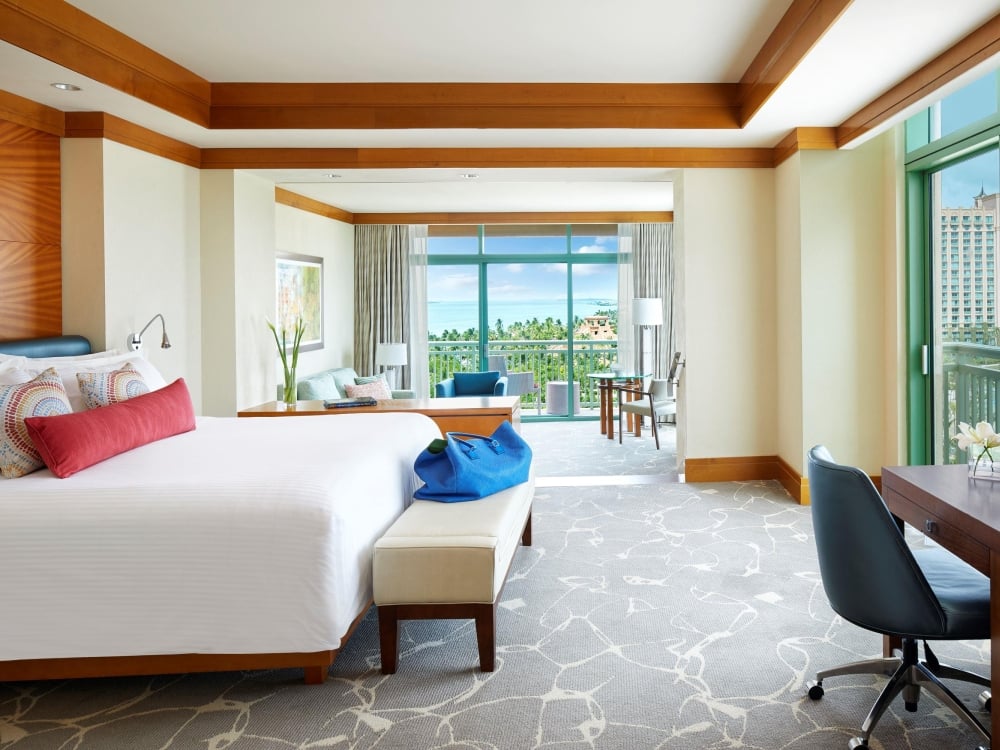 Indigo Suites
The Indigo Suite boasts larger floor plans and tranquil ocean views to offer couples a unique luxury resort experience in the comfort of Paradise.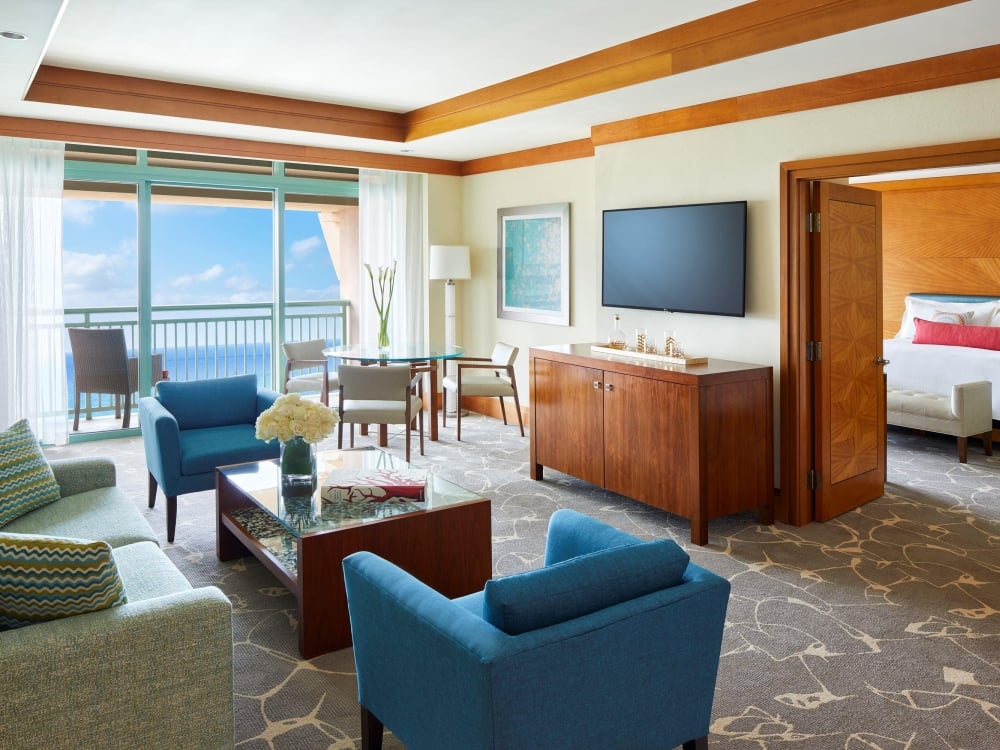 Azure Suites
The Azure Suite is a heavenly island escape for discerning travelers. Enjoy furnished balconies, deep soaking tubs, and floor-to-ceiling water views.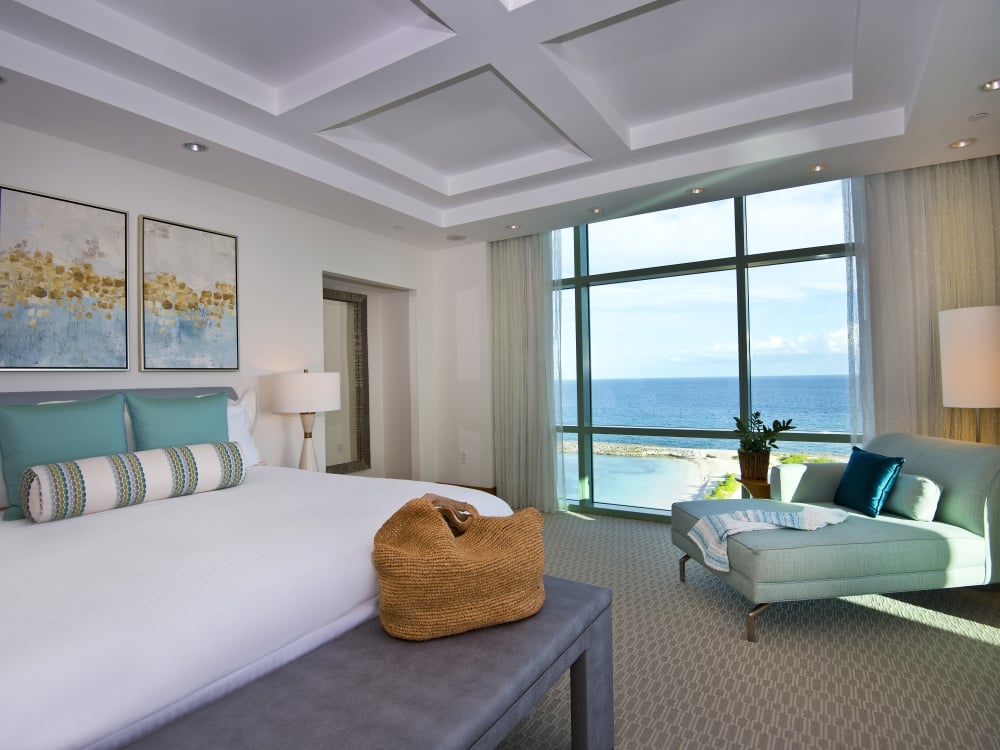 Sapphire Suites
Marvel at the endless vistas with views of the azure Caribbean beaches in your expansive suite. Just steps from the Mandara Spa and Atlantis Casino.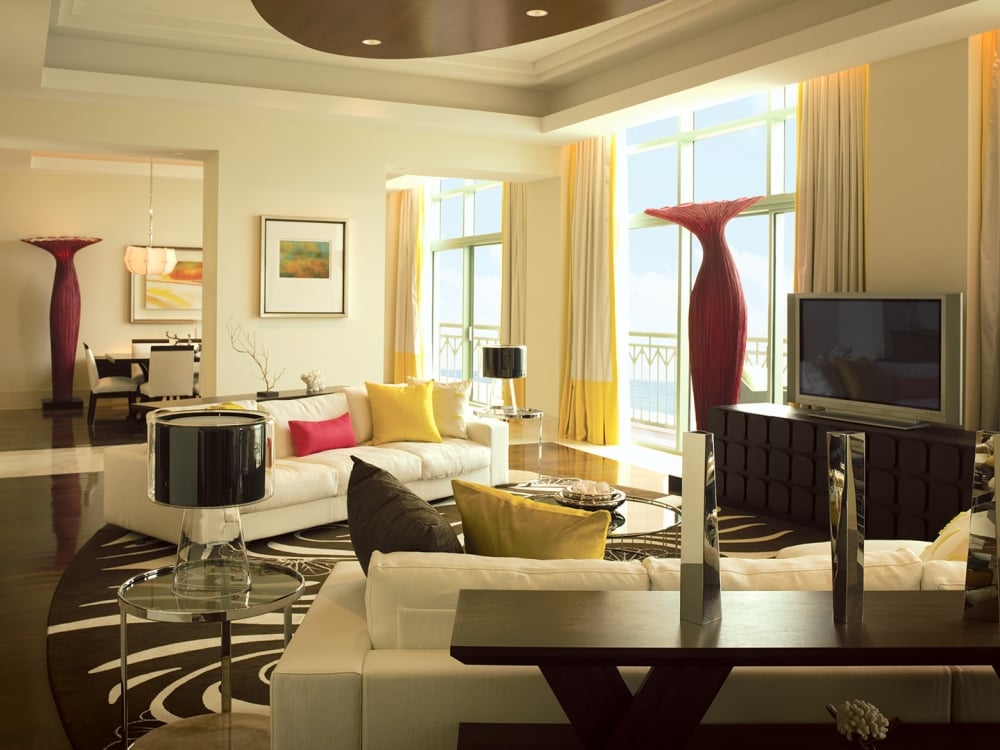 Presidential Suites
Feel like you're floating above Paradise Island's crystalline skyline, from your expansive terrace, when staying in one of our dreamlike Presidential Suites.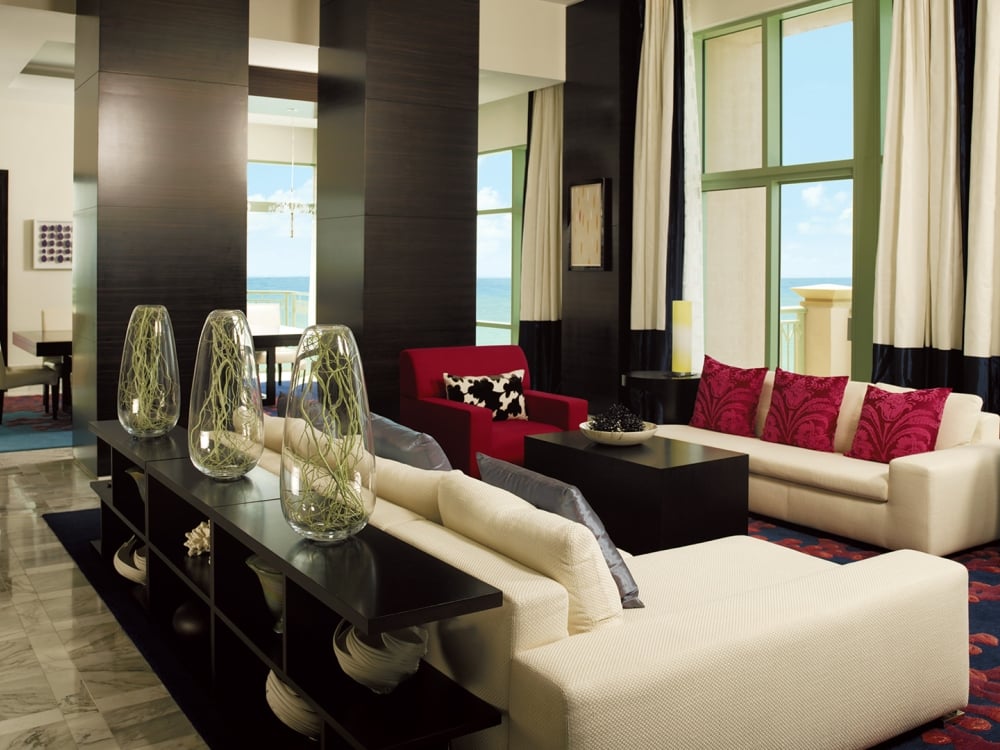 Penthouse Suites
This is the pinnacle of opulent Bahamian luxury. Wraparound ocean views, large parlors and a full-service kitchen combine for the best of vacation living.
A Food Lover's Paradise
Island getaways never tasted so delicious.
Bars & Lounges of Atlantis
Premier Caribbean Event Destination
Atlantis' Conference Center features facilities small and large, customizable to your event no matter the size.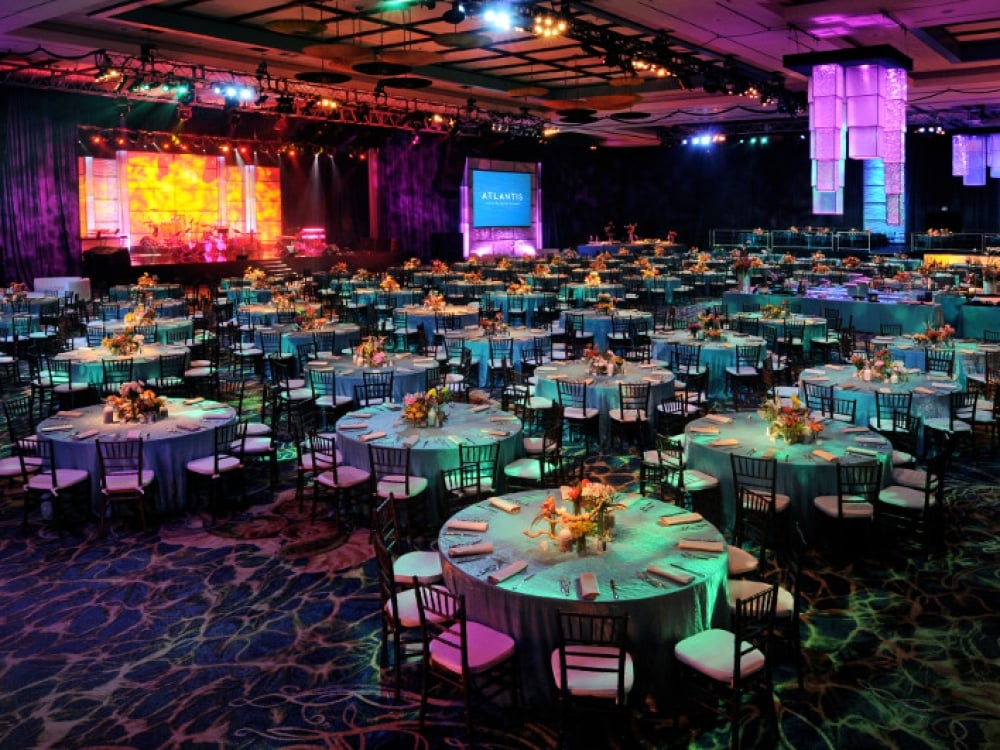 Weddings at Atlantis Paradise Island
At Atlantis Paradise Island, you'll find everything you need for an unforgettable destination wedding. From pre-wedding activities and rehearsal to the ceremony and reception and, finally, your honeymoon, Atlantis' restaurants, bars and lounges, pools, and numerous indoor and outdoor venues guarantee a memorable experience that exceeds your expectations.