All-inclusive and oh-so-easy: A guide to all-inclusive stays in Nassau.
Craving a long-overdue vacation in the sun, but not sure where to start? If you're feeling overwhelmed by options – or just want to make the trip-planning process as easy as possible – an all-inclusive getaway might be great for you! 
All-inclusives are the perfect stress-free escape, with accommodation, dining, amenities, and activities all covered under one convenient price. Many all-inclusives have optional add-ons to customize your vacation – for example, excursions or spa treatments – but the standard option generally comes with plenty of great entertainment, activities, and experiences, too! 
When an escape to Nassau Paradise Island is all you've got on your mind, an all-inclusive resort is an excellent option for a worry-free vacation! For travelers looking for an easy, breezy, zero-hassle getaway, Sandals Royal Bahamian is a wonderful option. Luxe finishes, fine dining, and premium accommodations make every visit special, and with an award-winning spa and offshore private island, your getaway will be anything but cookie-cutter! 
Sandals Royal Bahamian Spa Resort & Offshore Island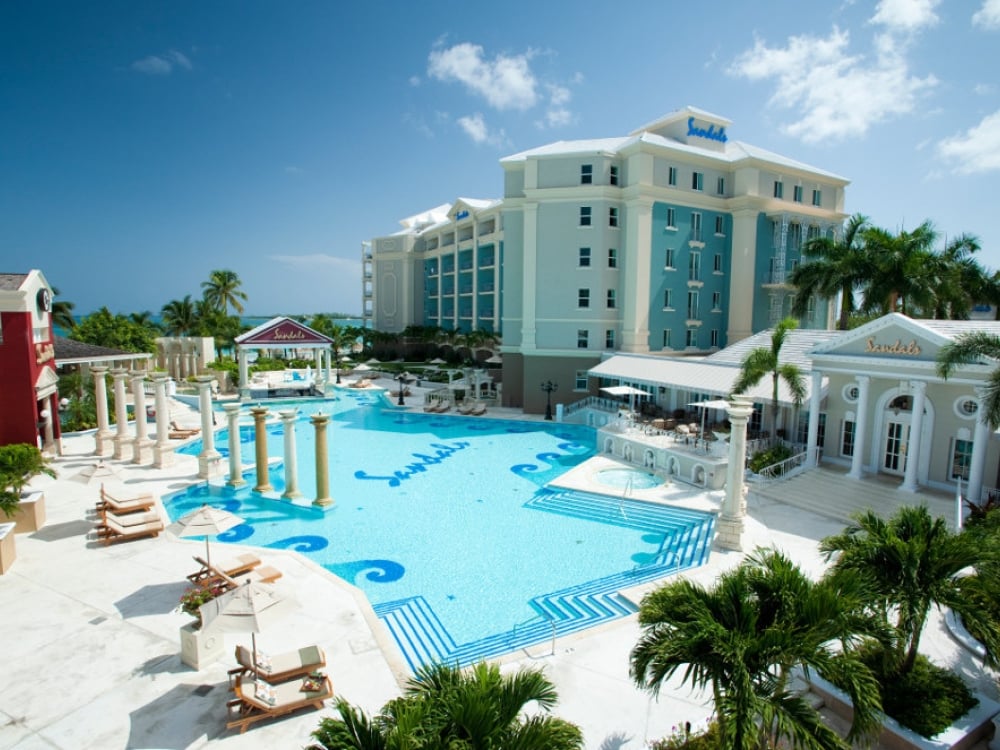 A luxurious, romantic escape awaits you at Sandals Royal Bahamian Spa Resort & Offshore Island. This elegant, couples-only resort offers gorgeous beachfront access, an incredible array of on-site activities, ten dining options, and a private island for secluded adventures.
Fun in the Sun: When you travel to The Bahamas, spending a day unwinding on our beautiful, powdery-soft beaches is an absolute must, and relaxing in a poolside lounger with a great book and a frosty beverage is a wonderful way to pass an afternoon. But what about those days when you want to try something new or be a little more active? At Sandals Royal Bahamian, you're in luck – with so many activities and water sports available on the resort, including waterskiing, there are countless ways to keep your vacation fresh and fun. Guests at Sandals Royal Bahamian can choose from canoeing, kayaking, snorkeling, windsurfing, water trike, hydrobike, and more! 
Carefree: There's nothing like the simplicity of an all-inclusive Bahamas vacation and Sandals is a great place to go when you just want to escape and truly relax. Don't believe us? Sandals Royal Bahamian was voted "Top Spa Resort" by readers of Condé Nast Traveler! If a day spent relaxing on Sandals' private offshore island doesn't loosen you up, a beachside massage courtesy of the on-site Red Lane Spa sure will!
Choice: With 10 specialty restaurants to pick from, there's a menu to suit absolutely every mood, appetite, and occasion. Dine on fine French cuisine at Baccarat, mix and match your favorite fresh sushi rolls at Soy Sushi Bar, or savor dinner and drinks with a view at Gordon's on the Pier. 
Memorable: Planning a destination wedding or an unforgettable honeymoon? Or need to make a splash with a corporate event? Sandals Royal Bahamian offers plenty of venues – both indoor and outdoor – that are customizable for events and celebrations of all types and sizes. And since it's an adults-only resort, it's ideal for a romantic getaway for two. 
Don't forget to share photos of your Bahamas adventures using #InstaParadise. If you're looking for an all-inclusive Bahamas vacation, check out our travel deals. An all-inclusive vacation is an easy and enjoyable way to enjoy all that Nassau Paradise Island has to offer.