Basketball is Better in The Bahamas: Battle 4 Atlantis is Back!
This Thanksgiving, trade turkey and football for conch and basketball! Join us in Nassau Paradise Island for the ninth annual Battle 4 Atlantis tournament, where eight of the country's top collegiate basketball teams will go head-to-head at Atlantis, Paradise Island from November 27–29, 2019.
Battle 4 Atlantis is considered one of collegiate basketball's most challenging preseason tournaments, and it offers an exciting preview of the upcoming basketball season—not to mention a fantastic opportunity to check out some of the sport's rising stars in a beautiful tropical destination—The Bahamas! This year's schools participating in Battle 4 Atlantis are UNC, Oregon, Michigan, Gonzaga, Iowa State, Seton Hall, Alabama, and Southern Miss. Check out this year's bracket and pick your team!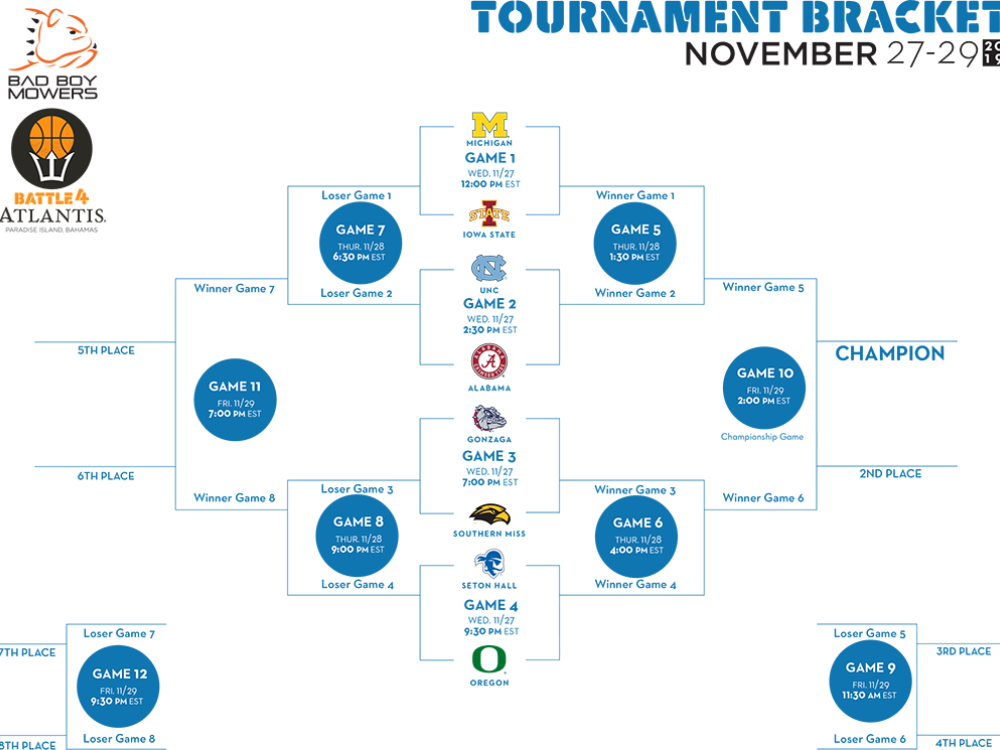 With quick nonstop flights from many major US airports, it's easy for basketball fans to zip to paradise for Battle 4 Atlantis—but since you're here, why not add a couple of extra days to your trip and make it a long weekend? There's so much to see and do in Nassau Paradise Island you'll have a trophy-worthy trip in and out of the sports arena. Here are some of our suggestions for making the most of your Battle 4 Atlantis experience.
Before the Games
Most of the Battle 4 Atlantis games don't start until the afternoon, so there's plenty of time to enjoy Nassau Paradise Island in the morning! If you're staying at Atlantis, grab a quick breakfast at Plato's or enjoy a leisurely morning meal at Olives, then start your day with a stroll on the beach, a dip in one of the 11 refreshingly unique pools at Aquaventure or, for a totally unique way to spend the morning, check out Sunrise Fitness at Dolphin Cay, a session of paddleboard yoga where you get to tone and stretch as dolphins swim beneath your feet!
After the Games
There's plenty to do after the courtside action wraps up. Try your luck at Atlantis Casino! With 85 table games, more than 700 slot machines, a Race and Sports Book, and a huge range of gaming experiences available 24 hours a day, the Casino is the place to be after dark at Atlantis. Make a night of it at Dragons Ultra Lounge, a high-energy club just steps from the casino floor, or head to decadent Aura Nightclub—with two bars, two VIP sections, and some of the best DJs in the world spinning beats until sunrise, it's the perfect place to dance the night away!
If you prefer a more low-key way to unwind after a day courtside, head to Marina Village for the casual Bahamian vibes of Frankie Gone Bananas  or chat about your Battle 4 Atlantis bracket picks at Moon Bar, a sleek, elegant lounge with a mellow atmosphere and extensive drink list. 
Saturday and Sunday
There's more than enough to keep you busy long after the Battle 4 Atlantis title has been claimed! After the high-energy tournament, you'll probably be in need of some R&R. Indulge in a restorative massage at Mandara Spa, where massage therapies combine Eastern and Western methods. For an extra-soothing experience, choose the Alfresco Massage option on the beach, where you can listen to the ocean waves as you feel your stresses melt away.
Before you head home, spend some time strolling through Marina Village. With more than 20 designer and retail shops as well as a great selection of restaurants and cafés. It's the perfect place to choose a souvenir, a gift, or something special for yourself.
Check out our super fall travel deals and discover why basketball is better in The Bahamas! See you on the court!