Five Ways to Save Money on Your Bahamas Vacation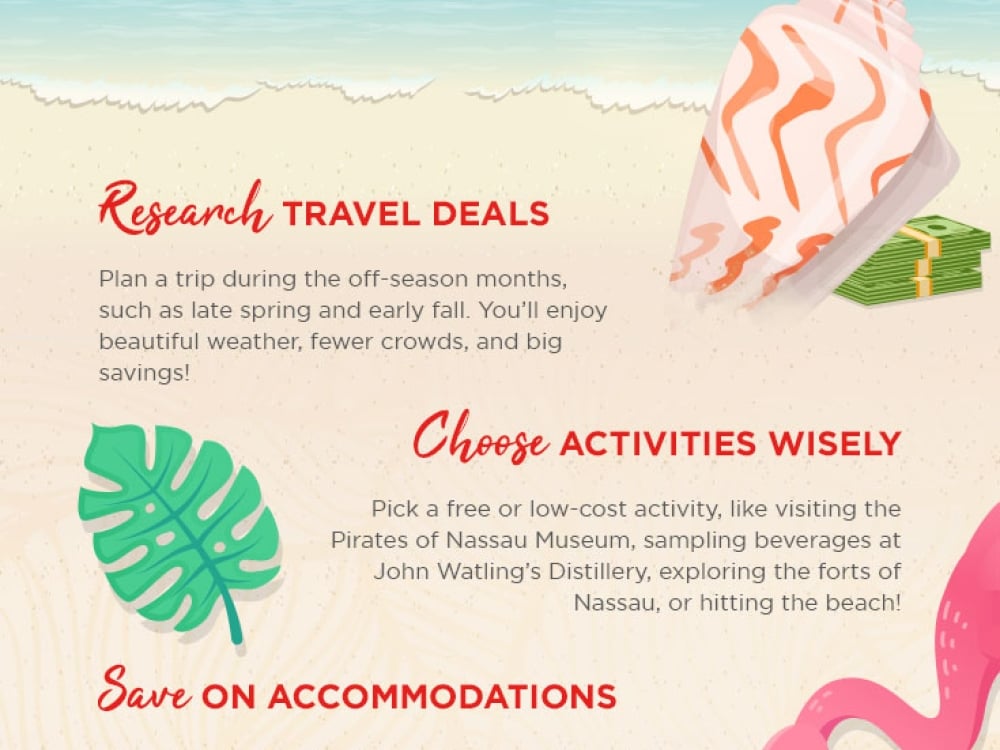 Nassau Paradise Island is truly a dream destination. World-famous hotels and one-of-a-kind experiences guarantee that your vacation in The Bahamas will be one you won't soon forget.
But what if you're traveling on a budget? Luckily, it can be more affordable to visit Nassau Paradise Island than you might imagine! With a little bit of careful planning and research, you'll be able to enjoy savings on everything from your accommodations to your flights and even food, beverages, and activities during your trip.
Here are five easy ways to save money on your next Bahamas vacation:
Research travel deals
Although Nassau Paradise Island has incredible travel deals throughout the year, it's no secret that Caribbean travel can be the most economical during the off-season months, usually late spring and early fall. Not only are you more likely to get an excellent rate on accommodations, but airlines may be offering discounted airfares during these times of year. Even if you are planning your vacation for the height of travel season, you might still save some money if you can be a bit flexible in your planning – for example, traveling the week before or after a major holiday, or traveling midweek versus over the weekend can provide savings.No matter what time of year you choose to visit, your best advice when it comes to snagging a great deal is to do your homework.
Choose your activities wisely
With so many amazing activities and experiences to pick from, it's easy to overbook yourself. Remember, you're on vacation to relax! Before your trip, do some research and pick the excursion that excites you the most – not only will you feel rested and be able to enjoy your adventure, you'll save some money at the same time.
There are tons of low-cost or free activities that deliver a lot of fun for just a few dollars, such as a visit to the Pirates of Nassau Museum or a tour and rum tasting at John Watling's Distillery. And, of course, soaking up the sun poolside or on one of our spectacular beaches is always free!
Look for accommodation savings
Bookmark our travel deals page and check it often for great deals on Nassau Paradise Island accommodations, sign up for our e-newsletter to receive updates about special rates and savings, and plan ahead when it comes to booking your flight: experts say you'll generally get the best rates when you book at least 25 days in advance, rather than booking at the last minute.
Eat and drink like the locals
One of the best things about traveling is trying new tastes and flavors! We know that nothing says vacation quite like your favorite cold refreshing drink by the pool or at the beach, but to save money on your bar tab, consider switching to local libations during your trip. Imported alcohol tends to be costly in the Caribbean, so go for regional rum and local beer, such as Kalik or Sands, and your bar bill will add up to a lot less.
The easiest way to save money on food on any vacation – and enjoy an authentic travel experience – is to choose local menu items that are in plentiful supply. Bahamian favorites like conch and fresh seafood are definitely worth a try, and heading to the Fish Fry at Arawak Cay means you'll not only get to sample these classic dishes, you'll do so for less! Want to know how to find the Fish Fry? Ask any local and they'll be able to point you in the right direction.
Another great way to cut down on food and beverage costs is to book accommodations with kitchens or kitchenettes. Purchasing groceries and preparing breakfast or lunch in your room is one way to save money on vacation. Plenty of Nassau Paradise Island accommodations offer kitchens, including Harbourside Resort at Atlantis, The Reef Atlantis, Sunrise Beach Club & Villas, Paradise Island Beach Club, and Best Western Bay View Suites.
Pack like a pro
Avoid surprise costs and sticker shock by taking everything you'll need with you. Common toiletry items such as sunscreen, after-sun lotion, and acetaminophen often cost more in the Caribbean than they will if you purchase and pack them from home, so take the time to make sure you've packed every essential, and save your shopping money for a fantastic souvenir! Don't worry if your packing isn't quite up to par – we've got the perfect packing list for you to make sure you don't forget a thing.
Traveling on a budget can be tricky, but when you plan ahead and make smart choices you'll be able to have the Bahamas vacation of your dreams, for less than you'd expect. Just think of all the extra money you'll save for your next getaway to Nassau Paradise Island!