"Fore" Reasons to Go Golfing in Paradise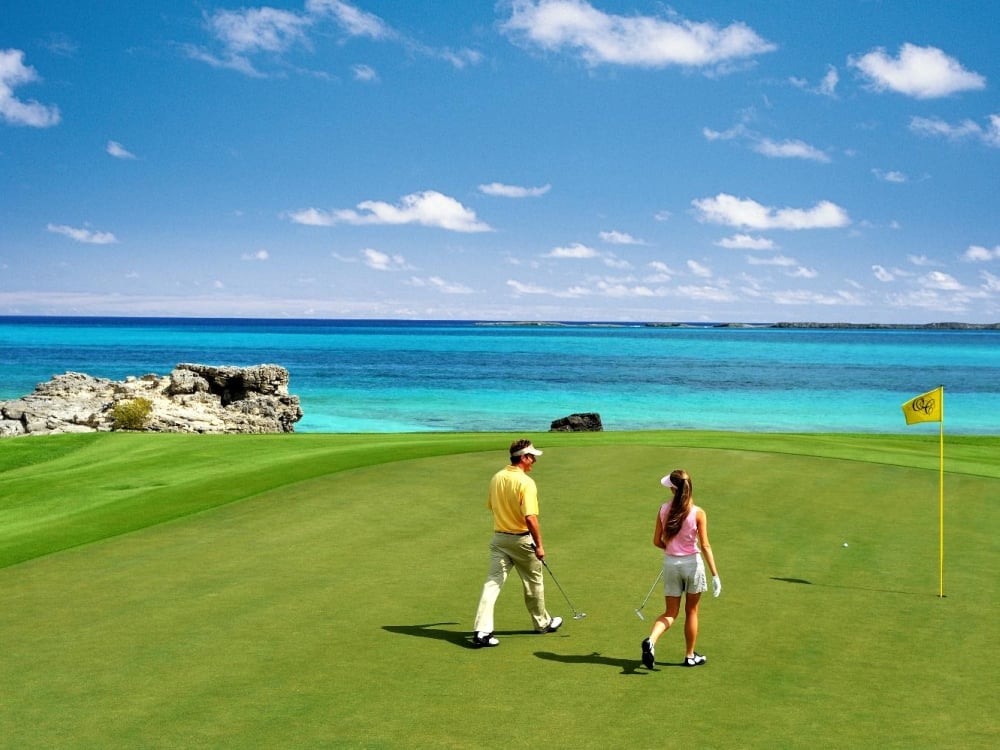 White sands, lush greenery, vibrant blue waters…No, we're not talking about one of our beautiful Bahamas beaches, we're talking about the championship golf courses on Nassau Paradise Island! Get ready for creative bunkers, challenging ocean-side holes, and brilliant views! Here are "fore" reasons why you'll love golfing in Paradise.
1. Two Championship Courses
You'll find an impressive 18-hole, par-72 golf course in Nassau and on Paradise Island. Each is open year-round and suitable for golfers of all experience levels. Not only that, you can improve your golf game with lessons and clinics.
Royal Blue Golf Course is unique in that it was designed to offer two golf course experiences in one! Jack Nicklaus, the "Golden Bear" of golf (and one of the game's greatest players), created a challenging course that spans 7,189 yards at Baha Mar.
Ocean Club Golf Course has hosted championship and invitational tournaments for decades. It's been Michael Jordan's favorite place to golf (and was home to his Celebrity Invitational Charity Golf Tournament for years) and every January the best female golfers travel to Paradise Island to compete in the Pure Silk Bahamas LPGA Tournament.
2. Pristine Greens and Beautiful Blues
If there's one thing the golf courses in The Bahamas have in common, it's their beauty. At the golf course at Baha Mar, you'll spend the front nine taking in scenic ocean views and traversing fairways and changing elevations while combatting rolling white sand dunes and bunkers. But once you get to the back nine you'll be treated to "moonscapes" and descend through lush tropical greenery. 
The Ocean Club was designed by Tom Weiskopf, who has been designing golf courses since1983. Weiskopf is known for courses that blend into their natural surroundings, and nowhere is this done to a more spectacular degree than at the Ocean Club course. Take, for example, the 17th hole that stretches along the water's edge.
3. Top Quality Equipment
Don't worry about taking all of your golf gear with you to paradise! The golf courses in Nassau Paradise Island both have impressive golf shops as well as the highest quality gear available to rent. Whether you prefer Callaway or Titleist, or have been dying to take a set of Itobori clubs out for a swing, we think you'll agree that the best equipment can only help to improve your game.
Speaking of improving your game, did you know that Royal Blue and Ocean Club golf courses both offer private instruction? Certified golf professionals are available to help you nail every swing and putt, take strokes off your scorecard and improve all aspects of your golf game!
4. A Never-Ending Season
Best of all, it's always golf season in Nassau Paradise Island! With more than 300 days of sunshine, and courses open year round, you can enjoy playing on impeccable greens come spring, winter, summer, or fall. Direct flights to Nassau's Lynden Pindling International Airport allow you to escape for the weekend, or, take advantage of all that The Bahamas has to offer an enjoy a longer stay.
Plan your golf trip and see for yourself why golf is better in The Bahamas.