Guide to the Ultimate Summer Vacation
There are only 85 days until summer is officially here! (Not that we're counting…) If you're dreaming of hot, sunny days and warm summer nights, hazy summer getaways and family fun, you're in luck! Nassau Paradise Island is the perfect place for a summer vacation. Read on for some of our favorite summer vacation ideas and start planning!
Why visit in the summer?
Even though the warm tropical sun shines throughout the year, summer really is an incredible time to visit Nassau Paradise Island! Don't believe us? Here are some of our top reasons to plan a trip to The Bahamas this summer:
Outstanding Weather
It's no secret that the weather is better in Nassau Paradise Island, but during the summer months, it really shines! The temperature averages 82 degrees, you get an average of ten glorious hours of sunshine per day and the water is gloriously warm for swimming.
Fun Events
There are always fun events happening in The Bahamas and in summertime it's no different. Grab a stunning souvenir at the weekly Authentically Bahamian Marketplace at Pompey Square in downtown Nassau. Take some time to appreciate the bustling local arts scene by checking out the latest art exhibits and local art on display throughout Nassau, Baha Mar, and Atlantis, Paradise Island. Celebrate 45 years of Bahamian independence on July 10, Bahamas Independence Day, with a ceremonial flag raising, changing of the guard, and Junkanoo rush out.
Great Deals
Of course, we offer excellent deals throughout the year, but in the summer you'll find deals for the entire family! Sign up for our newsletter to be among the first to hear about new Bahamas travel offers.
An Easy Escape
One of the things that makes Nassau Paradise Island so well suited to a summer getaway is just how easy it is to get to here! Many airlines offer nonstop flights, and with some lasting two hours or less, it can take less time to get to The Bahamas than it would to drive to the beach! So pack your carry-on with some summer beach essentials, and hop on a plane to paradise.
What to Do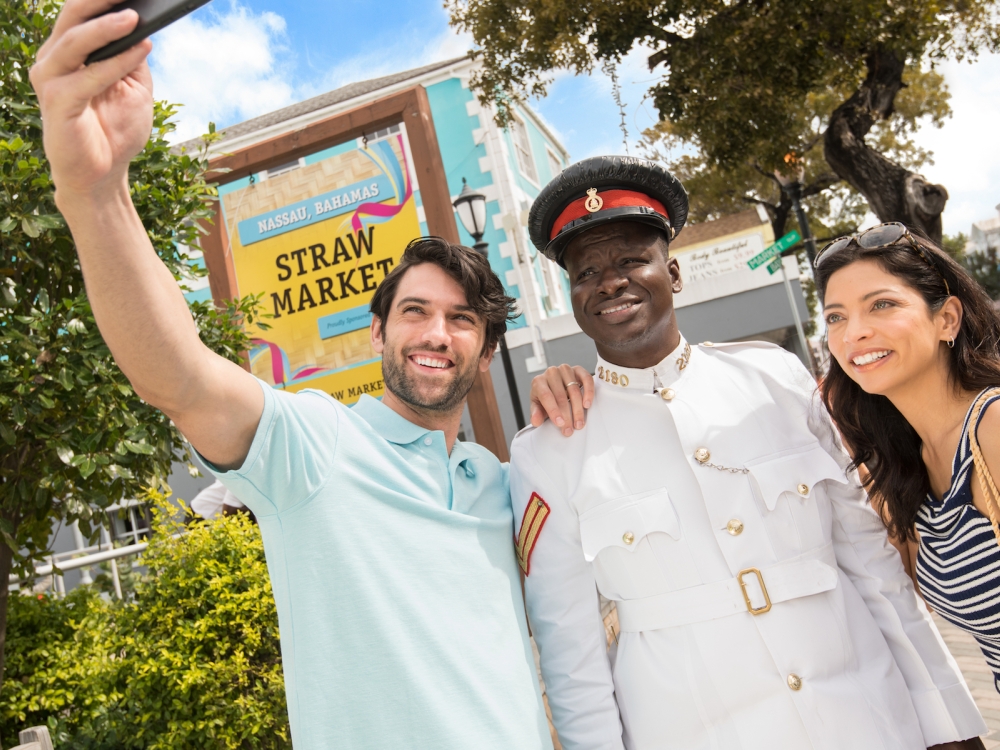 There's never a shortage of things to do in Nassau Paradise Island, but there are some quintessential activities that just scream summer. Here are some of our favorite ways to inject some summer fun into your Bahamas getaway:
For Families:
When it comes to family fun in the sun, it's gotta be a splashing good time on the coolest of water slides. In Nassau Paradise Island, that means one thing: Aquaventure! If you're staying at Atlantis, Paradise Island, take advantage of everything this famous waterscape has to offer, one thing is for sure: you and your kids are in for a day of summer fun you won't soon forget!
For The Adventurous:
Is there a more classic summer adventure than setting sail out onto the open water? Ask the concierge at your resort if there are complimentary onsite water sports available, or, if you're craving an adventure that's further afield, charter a boat for an afternoon of exploring on the high seas!
For Couples:
When we think of summer romance, we think of warm summer nights! Whether you're cozied up by a bonfire, catching each other's eyes across the dance floor at a rockin' summer party, or basking in the simple joy of a stunning sunset, making summer memories together is a breeze when you're in The Bahamas! You've got your choice of stunning patios, happening nightclubs, and of course, incredible stretches of beautiful beaches to enjoy.
For Gal Pals:
When you're surrounded by your best girlfriends, you need little more than some sun and white sand for a good time. In Nassau Paradise Island, you've certainly got your pick of spectacular white sand beaches for lounging, strolling, swimming, and having a laugh. See how many Bahamas beaches you can check off your list, or plop yourself on a lounge chair and do nothing but relax—when you're on vacation, it's up to you! 
For Food Lovers:
There's something idyllic about eating outdoors in the warm summer air. If you're a food lover, we guess that picnicking or a good old-fashioned barbecue is high on your summer to-do list. Well, you're in luck! Arawak Cay offers easy outdoor summer eating with all of the casual, friendly vibes of your neighborhood barbecue. Cool down with a refreshing conch salad or frozen daiquiri and fuel up with a classic Bahamian lunch just like a local, down at The Fish Fry. Don't forget to try one of Nassau's local libations, be it Bahamian beers like Kalik or Sands, handcrafted Bahamas rum from John Watling's Distillery, or the new craft beer from Pirate Republic Bahamas—the first craft brewery in the country!
How to pack:
Dressing for summer fun is a breeze when you're vacationing in The Bahamas! With a few casual essentials, some sunscreen, and sunglasses, you'll be ready for anything! Here are our some of our must-have pieces for a summer vacation:
A Sunny Swimsuit
Don't let our beautiful turquoise waters be the brightest thing on the beach! Pack a colorful swimsuit to stand out as you swim. We recommend packing at least three for a week-long vacation.
Sunglasses
When your sunglasses look this chic, it's hard to believe they provide helpful benefits, too! It's always a good idea to don a pair of UV-blocking lenses when you're planning on being out in the bring summer sun.
Sunscreen
Why not stroll to the pool or the beach in style? We always pack at least one.
A Pair of Walking Shoes
We know that flip flops are ideal summer footwear, but a comfy pair of walking shoes should definitely be on your packing list—especially if you plan on signing up for a walking tour or active adventure.
When to Book
The summer season provides the perfect opportunity to take advantage of some of the year's best travel deals, so if you're looking to save money on your Bahamas vacation, you're in luck! Browse our deals to get inspired and start planning. With spring just around the corner, the time to book your summer getaway is right now! What are you waiting for?