Honeymoon in Paradise: Your Guide to The Ultimate Couples Getaway
Do you know one of the best parts about getting married? You've got a travel companion for life! The first vacation to celebrate a new life together should be to the ultimate Paradise. Luckily, we know just the place. 
Stand on beaches so picturesque that you'll swear you dreamt them up. Yet there you two will be — strolling hand-in-hand along the beach's edge, sipping colorful, tropical cocktails as you look out to the sparkling water. Relax on a beachfront lounge bed made for two as you breathe in the warm Bahamian breezes. Snorkel together through glittering waters or wander through historic Caribbean communities. 
Can you see it? Your honeymoon in Nassau Paradise Island is waiting!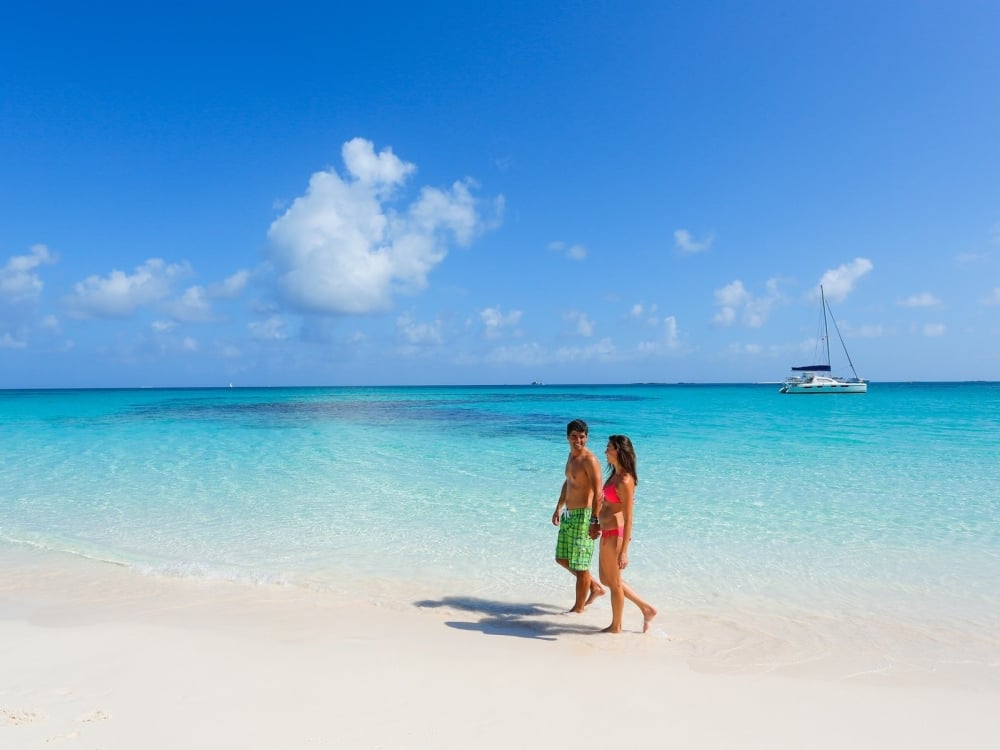 Breathtaking Accommodations
When you think of a romantic vacation, two ideas come to mind: Intimate settings and exotic experiences. And in The Bahamas, there's plenty of both! Let's start with the former and discover luxury island honeymoon suites. With a wide range of stunning beachfront properties in Nassau Paradise Island, no matter where you stay, you'll wake up to spectacular views of white sandy beaches, turquoise waters, and clear blue skies. 
Arguably the most iconic island resort and rightly named, Atlantis Paradise Island truly is a Utopia in Paradise. With twenty-one restaurants, nineteen bars, eleven swimming pools, a 141-acre water park, a championship golf course, a variety of spacious room options, a casino – well, do we need to say more? Here, there's excitement around every corner. So, when you're ready to book, don't forget to ask about their honeymoon packages! 
There's a place for every budget in Paradise. And for the best bang-for-your-buck, the Bay View Suites is a no-brainer. Here, there's no shortage of luxury boutiques and cafes, watersports, and must-see attractions. As the perfect couples escape located in the heart of Nassau Paradise Island and a stone's throw away from the beach, Bay View Suites is home to expansive accommodations, all-inclusive villas, and amenities. This tropical resort is the ideal place to lay your sunhat after a day of honeymooning! 
Newlyweds will love the Margaritaville Beach Resort, a luxury and adventurous accommodation! Escape the everyday with a tropical getaway. Here, you'll find the everything you need on the resort or just around the corner – a full-service spa, salon, and fitness center, as well as a high-tech entertainment complex, wide choice of restaurants and bars, shopping, and a 45-slip private marina. After a day packed with leisure and adventure, savor a delicious meal at JWB Prime Steak and Seafood, an upscale restaurant for those looking to enjoy fresh local seafood, prime steaks and world-class wines.
A Day of Relaxation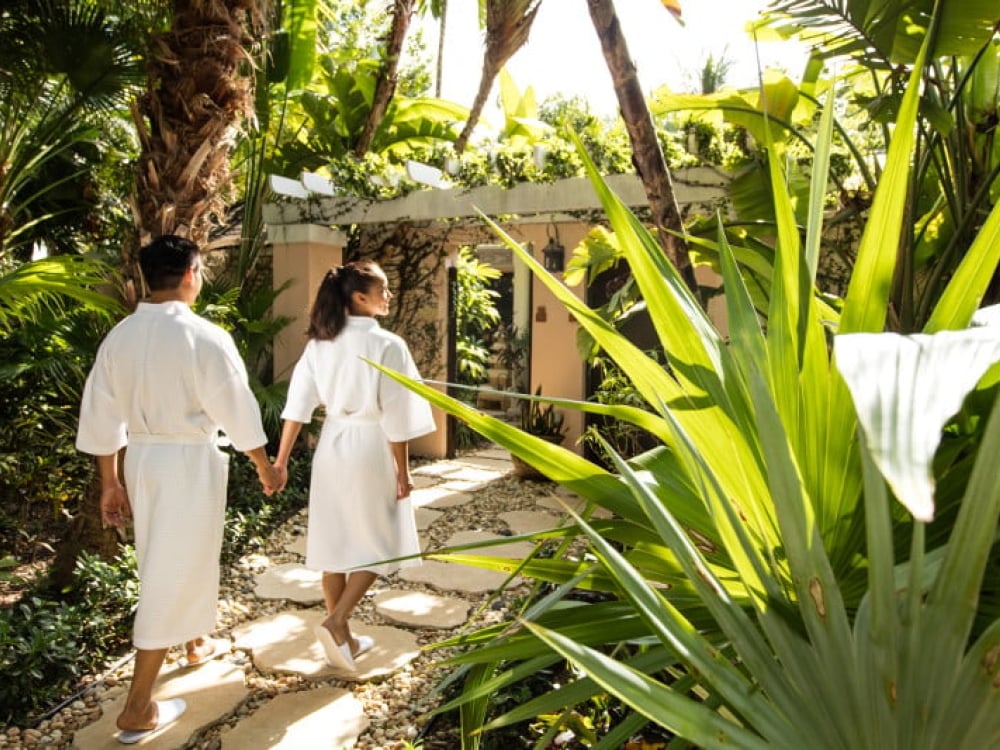 Nassau Paradise Island and romance go together like beautiful beaches and umbrella drinks – both of which you'll find in abundance here! Appreciate miles upon miles of beautiful beaches because this Paradise is the dream honeymoon destination. 
What's a romantic getaway without a visit to the spa? Choose from an array of signature treatments, rejuvenating therapies, and pampering services at the Ocean Club Spa. Then, connect with your partner on a deeper, spiritual level as you take in a relaxing couples massage. Not a spa person, but still looking for a way to relieve stress and relax? Join in on a complimentary one-hour yoga class offered daily on the beach deck at the Ocean Club Four Seasons Resort. 
Is golf your relaxation game? When you golf in Paradise alongside your new partner, it can be a little challenging to keep your eye on the ball with all the romance in the air! Choose from either the Royal Blue Golf Course — a Jack Nicklaus Signature Course, or the Ocean Club Golf Course, a championship design with a challenging layout and breathtaking views. 
Celebratory Dining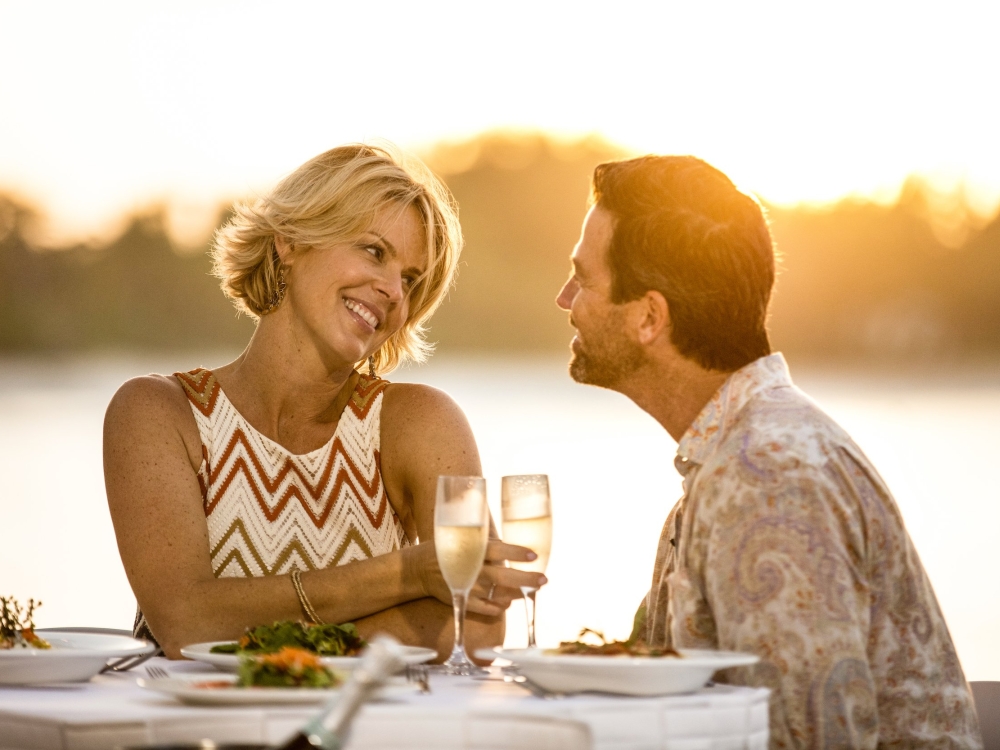 When looking at pictures of couples in Paradise, as they raise a glass of sparkling wine on a restaurant deck overlooking the crystal-clear waters, your heart will surely skip a beat. From casual to fine dining, bars and lounges to beachfront bistros, there's a dining option fit for everyone's tastes in Nassau Paradise Island! 
When you need some quiet time for just the two of you, head off to a romantic gourmet restaurant for an exquisite meal. Whether you're looking to enjoy French, Italian, Asian-fusion, Spanish or Bahamian cuisine – there's no shortage of flavor and fine dining in Nassau Paradise Island. 
Experience an evening of culinary excellence when you dine at the Graycliff Restaurant. This internationally celebrated, five-star restaurant offers an expansive menu with tables overlooking vibrant gardens, intimate spaces, and even a table in the kitchen — a unique experience for the culinary enthusiast. If you're a wine lover, then you must ask to see their award-winning cellar that hosts over 250,000 bottles!  
For a dose of the local cuisine, culture, and entertainment, enjoy a night savoring traditional Bahamian flavors and tasty tapas at The Sea Glass Lounge. With a seductive atmosphere, the club-like interior, and gaming tables backdropped by amazing seascapes, you'll have a hard time leaving! 
What food pairing goes best with romance? Italian, of course! Pasta, pizza, and wine write their love story to you when dining at Fi'lia, a restaurant filled with delightful aromas and comforting dishes. Their attention to detail shines in every aspect of your experience here. They go above and beyond to make you feel as special as possible while under their care. 
If you're in the mood for a quick bite between moving from the beach to the pool, head over to the lobby and order a delicious smoothie or pastry from Plato's at Atlantis Paradise Island. A great place to adventure for a light snack, coffee, or drink!
Romantic Sunsets
How can you plan a romantic honeymoon getaway without knowing the noteworthy spots to watch the sunset? It's hard to narrow down just a few locations to enjoy a beautiful evening, as nearly everywhere you turn, there's a stunning view. Simply walk out on your private balcony for an intimate dinner, or head down for a twilight walk on the beach – it's the picture-perfect way to end the day. 
Nassau Paradise Island is home to some of the most picturesque sunsets in the world, and the Catamaran Cruises are designed to help you witness one of your very. Embark on an incredible sunset cruise, take in Nassau from the water, watch the sun slowly sink into the ocean, and see golden hour fall over Paradise. 
We just may have saved the best for last! Head on over to the only rooftop lounge in New Providence for an intimate and romantic atmosphere. With one of the most incredible views in Nassau, the Skybar at SLS BahaMar is the place you'll want to be when the sun sets on Paradise. As the sun goes down, the music surges. Designed to play on your senses, this is a must-see experience that should be on every couple's itinerary. 
The Adventurous Couples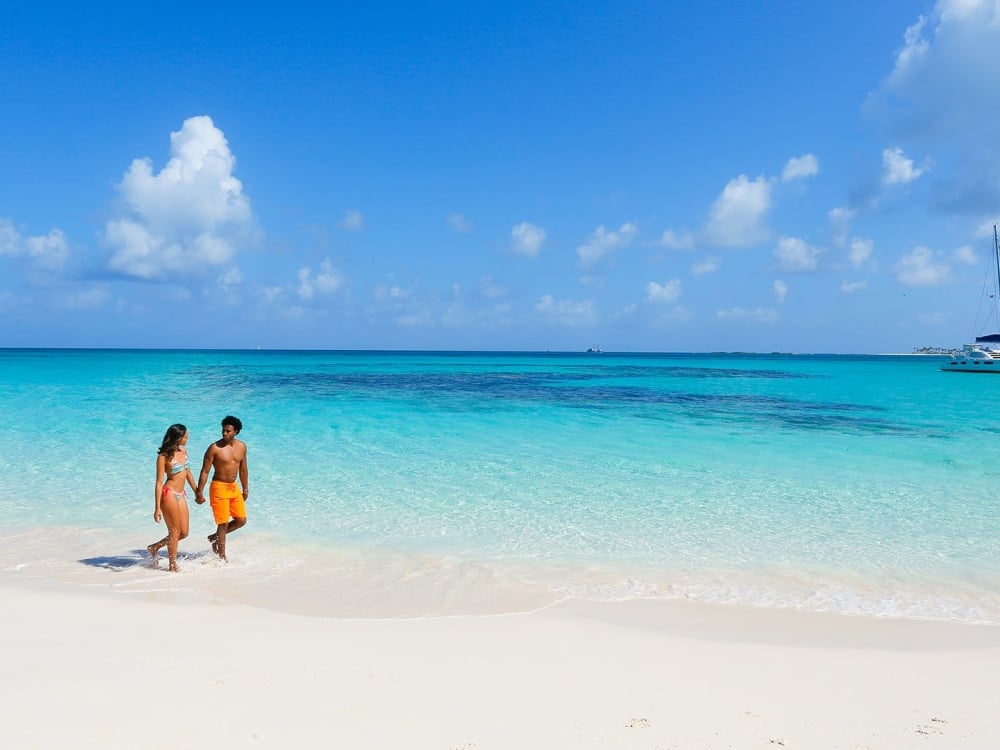 This is an all-encompassing Paradise with something to offer every type of couple. In addition to having blissful beach days and relaxing afternoons in the sun, you'll find unforgettable, romantic, and adventurous excursions while visiting Nassau Paradise Island. These exciting and challenging seascapes are a great way to explore yourself and your relationship while participating in a once-in-a-lifetime experience. 
Sailing, snorkeling, and sunshine. That's what awaits you onboard a Catamaran Cruise over the dazzling turquoise waters of The Bahamas. Dive into Island life together with this excursion, a remarkable way to spend your day! Sail at sunset and enjoy a romantic dinner on the water — a magical experience every couple will cherish. 
Explore The Bahamas from both above and below the water while snorkeling and sailing through the Ruins of Atlantis. This full-day excursion will leave you speechless, as it truly is hard to find the words to describe the wonders found beneath the waters of Nassau. From the vibrant coral reef to the breathtaking sea turtle stop and remarkable Rose Island Beach, you'll feel like you're falling in love all over again — but this time, with Nassau! 
If your version of romance is a thrilling adventure under the sea, then join the Bahamas Divers for an adventure you'll never forget! Choose from a list of exciting and unique diving experiences. Swim at the edge of the Tongue of the Ocean, a canyon created during the last Ice Age, or explore a deep wreck dive followed by an astonishing reef site. Uncover the famous Lost Blue Hole of the Bahamas — an underwater sinkhole with all types of colorful marine life, from fish to lobster, stingrays, and even sharks! 
Nassau Paradise Island knows romance. With comforts like high-end resorts, spas, and breathtaking adventures, honeymooners have been falling in love here for years. Now, it's your turn. Learn more about Honeymoons in The Bahamas here.