How to Plan a Multigenerational Family Vacation
Family vacation planning season is here – and now, grandparents are getting in on the fun, too. Multigenerational family travel is becoming more popular, as more people are reaching retirement age and eager to spend quality time with their loved ones. After a year when many gatherings were put on hold, families are looking to make up for lost time and make their reunions and celebrations even more memorable and exciting.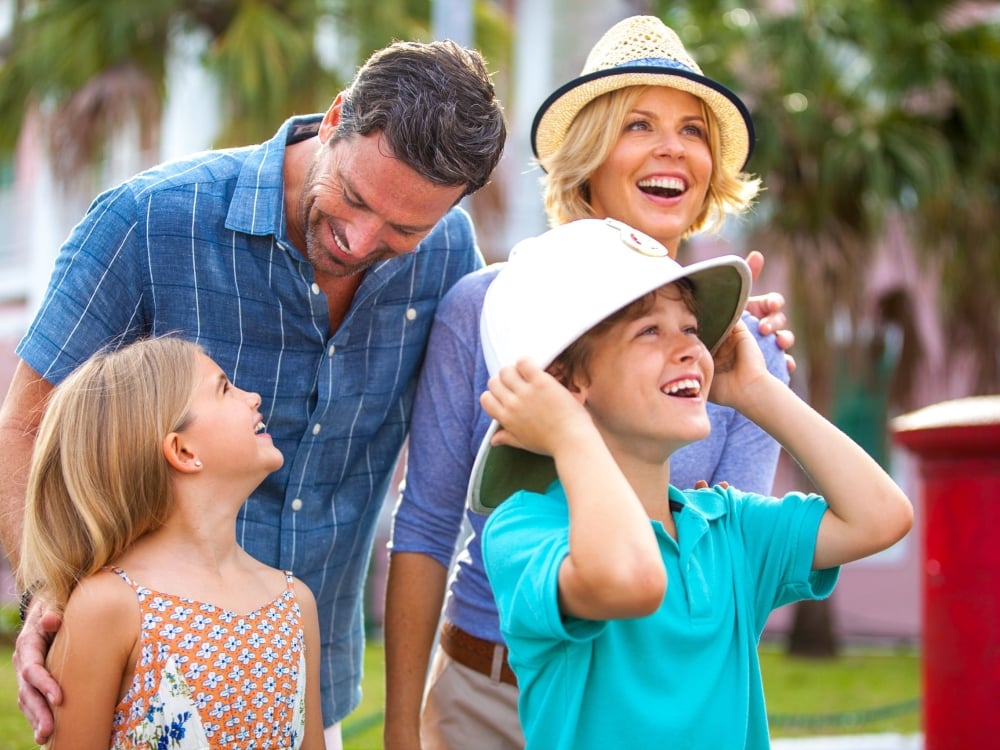 If a multigenerational family trip is on your calendar this year, Nassau Paradise Island is the perfect destination to consider. Easy to get to and get around, plenty of accommodations to host families of all sizes, and fun activities for everyone to enjoy – there are plenty of reasons multigenerational family vacations are better in The Bahamas! 
We're sharing our top tips for planning a family getaway that everybody will love. Let's get started!
Make It Easy
If you're traveling with a big family, simplicity will be key – especially when it comes to getting everyone to your destination. Nassau Paradise Island is a great choice because getting here is a breeze, with non-stop flights from many major airports. In many cases, you can head to the airport in the morning and be having lunch in Paradise! When you're traveling with multiple generations, including babies and kids, there's nothing like a quick, one-and-done flight to get you to your destination. a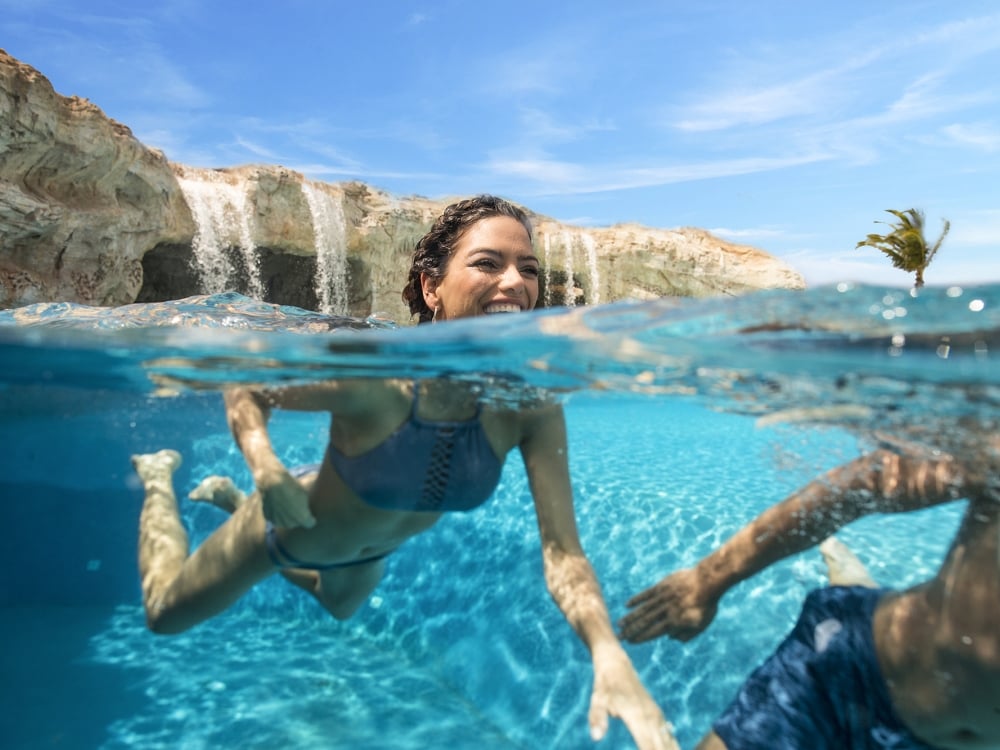 Once you land, getting to your hotel or resort is also speedy, with many hotel properties located within a 30-minute taxi ride. Everyone will be itching to get the fun started, and luckily, you won't need to worry about a long drive to your hotel. 
Room for Everyone…
If togetherness is what you're seeking, there are plenty of residential-style accommodation options in Nassau Paradise Island that can comfortably host families large and small. 
Harborside Resort at Atlantis features one-, two-, and three-bedroom villas that seamlessly blend the comforts of home with the convenience of a full-service resort. At Bay View Suites, two-bedroom townhomes and villas provide a comfy home-away-from-home for the whole family. 
Need even more room? The villas at Sunrise Beach Club have up to five bedrooms to accommodate everyone, plus a gorgeous stretch of beach perfect for family sand-castle competitions. Or, kick back and relax in style in one of Paradise Island Beach Club's spacious and stylish two-bedroom villas. 
...Or Space to Get Away! 
Ever heard the saying "Too much of a good thing is not a good thing?" Sometimes, even during the best-ever family getaway, you just need a little space of your own! And grandparents might welcome a private respite from the high-energy kiddos in your family.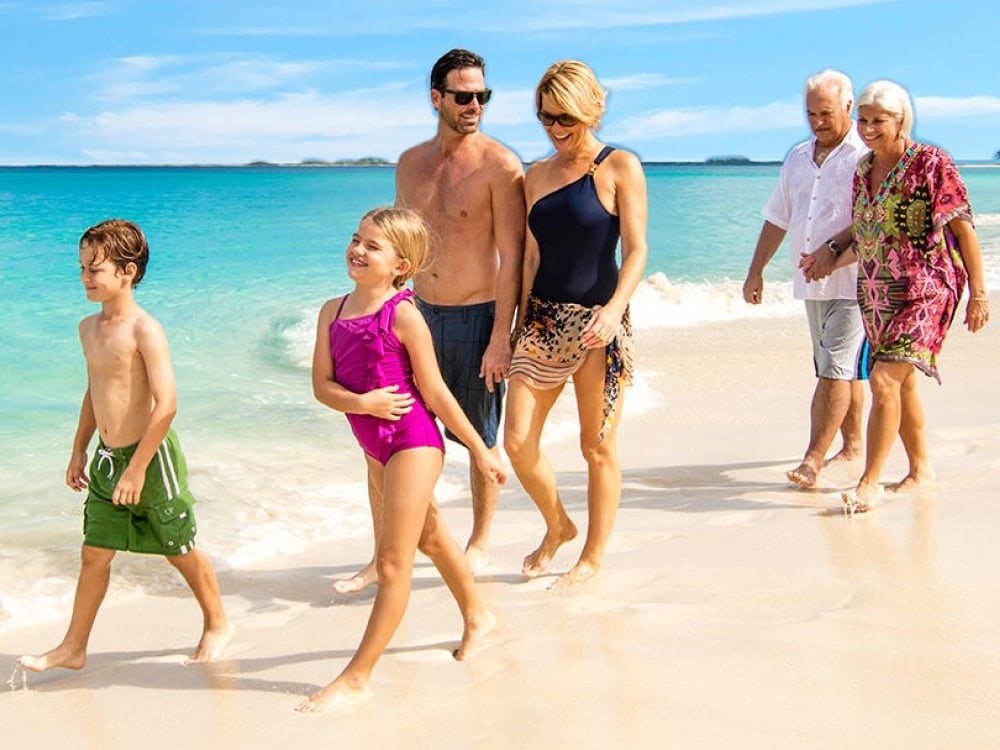 A perennial family favorite, Atlantis Paradise Island offers a variety of accommodation options, while attractions aplenty will keep everybody entertained (more on that below!) Or check out Baha Mar, where three luxe hotel properties, six pools, and numerous dining options are all located just steps from downtown Nassau. 
Another great option for families is Comfort Suites Paradise Island, where kids stay, play, and eat free, and everyone has access to the amenities of Atlantis Paradise Island. Don't worry about getting from the hotel to Atlantis – it's just a few steps away - a short jaunt for grandparents and little legs alike. 
Family-Friendly Fun
One of the biggest challenges when it comes to planning a multigenerational trip is choosing a place everyone will enjoy. Young and old alike will love a beach day on one of Nassau Paradise Island's powdery-soft, white sand beaches. Or make it a pool day – rent a roomy cabana and spend the day splashing and floating your cares away. At Aquaventure at Atlantis' expansive 141-acre waterscape, there are plenty of slides to keep the kids busy while the adults lounge poolside or take a leisurely spin down the lazy river.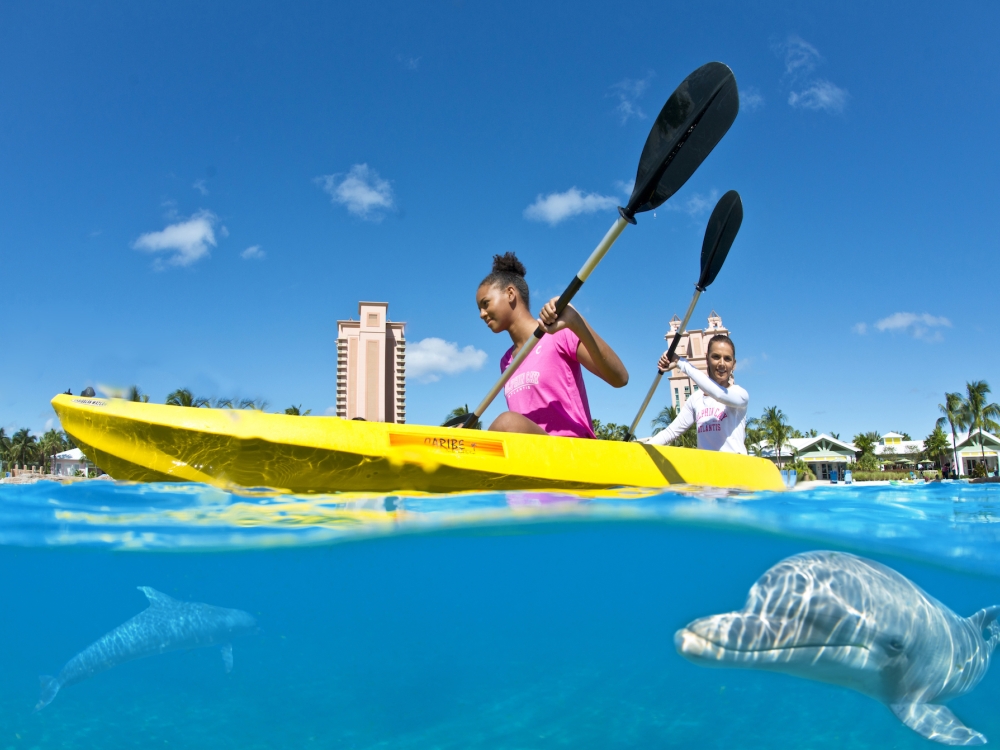 Dolphins are beloved by people of all ages. Head to Dolphin Cay to witness one the world's largest and most sophisticated marine habitats and animal rehabilitation facilities. Best of all, every visit to Dolphin Cay supports the Atlantis Blue Project Foundation, which works to protect and preserve fragile ecosystems and marine species in decline. 
Another great family bonding idea? A fishing charter! First-time fishers and experienced anglers alike will enjoy reeling in the catch of the day from The Bahamas' sparkling turquoise waters. 
Planning Tips and Reminders
Think about accessibility: does anyone in your group require equipment to help them get around easier? What about a stroller? Plan well in advance to book or reserve any gear you'll need at your resort – or plan to bring these items with you. 

Speaking of planning ahead, be sure to make reservations for any tours, excursions, or special dinners well in advance, especially if you're a larger family or require special equipment like high chairs or car seats. 

Keep your agenda light. It might be tempting to squeeze as much fun as you can into your trip, but often the best memories are made in the downtime between big activities! 

Take lots of photos – and not just of the kids! They'll love looking back on this vacation, and they'll want to see their parents, grandparents, aunts and uncles in the photos, too. 
Your trip doesn't need to cost a fortune! Check out our current hotel and resort deals for big savings on stays.