Nassau Paradise Island Outdoor Dining Guide
Warm breezes, mood-boosting sunshine, and those picture-perfect turquoise waters...in Nassau Paradise Island, days are better spent outside. And when mealtime rolls around, you'll have your choice of outdoor dining options so you don't have to miss a single second of our beautiful days! Grab a quick bite to go, or linger over a leisurely multi-course meal – whatever's on the menu, we've rounded up some of our favorite outdoor dining experiences. Hope you're hungry! 
Casual Eats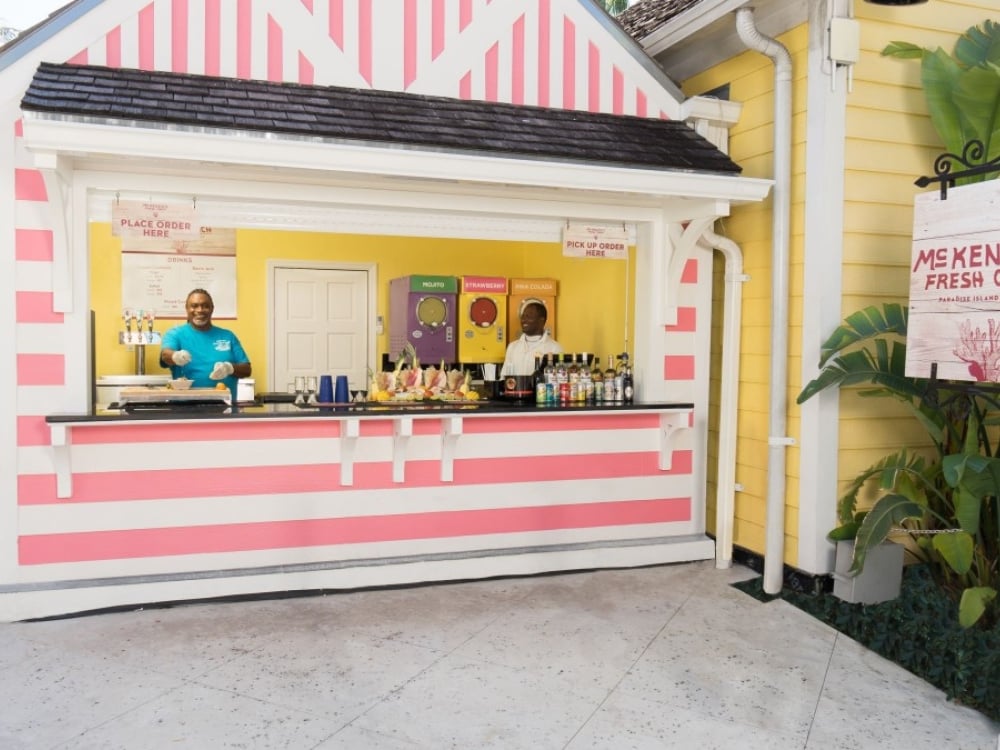 McKenzie's Conch Shack, Marina Village
Conch salad is a staple in The Bahamas. Fresh, light, and flavorful, this concoction of tasty conch and bright, juicy citrus is the perfect lunch to enjoy in the sunshine. The original McKenzie's, located in Potter's Cay, is a favorite amongst locals, and the Marina Village location brings this delicious dish to guests of Atlantis Paradise Island.
Sip Sip, The Cove at Atlantis
Committed to supporting local fishermen and farmers and created with locally-sourced ingredients, Sip Sip's signature "Caribterranean" flavors make a casual meal extraordinary – and the beachy view is a nice touch! Grab a table overlooking the beach and enjoy a delicious lunch of Spicy Conch Chilli or Lobster Quesadillas. Thirsty? Pair your lunch with a refreshing Sky Juice...after all, you're on vacation.
Dinner With a View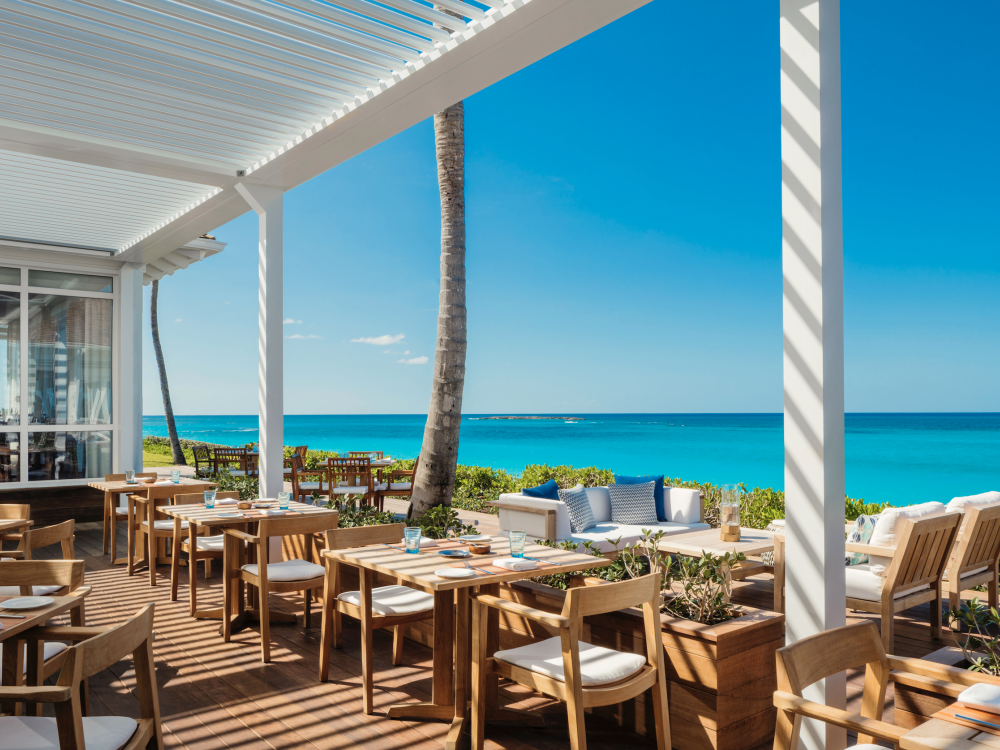 Dune by Jean-Georges Vongerichton, The Ocean Club, A Four Seasons Resort
While Dune has a large indoor dining room, you'll want to snag a seat on the deck overlooking an absolutely gorgeous stretch of Paradise Island beach. It's the perfect place to enjoy French-Asian cuisine infused with Bahamian influences created by internationally-renowned Chef Jean-Georges Vongerichten. Dine at Dune for breakfast, lunch, or dinner – no matter what time of day you visit, you're sure to be delighted. 
Costa, Rosewood Baha Mar
Craving Mexican? Slide into one of Costa's open-air communal cabanas and enjoy your favorite traditional dishes with a unique coastal twist. From small plates and fresh ceviches to tacos and churros, Costa's lively atmosphere is perfect for lingering over lunch or savoring a fabulous dinner. 
Lunch and Learn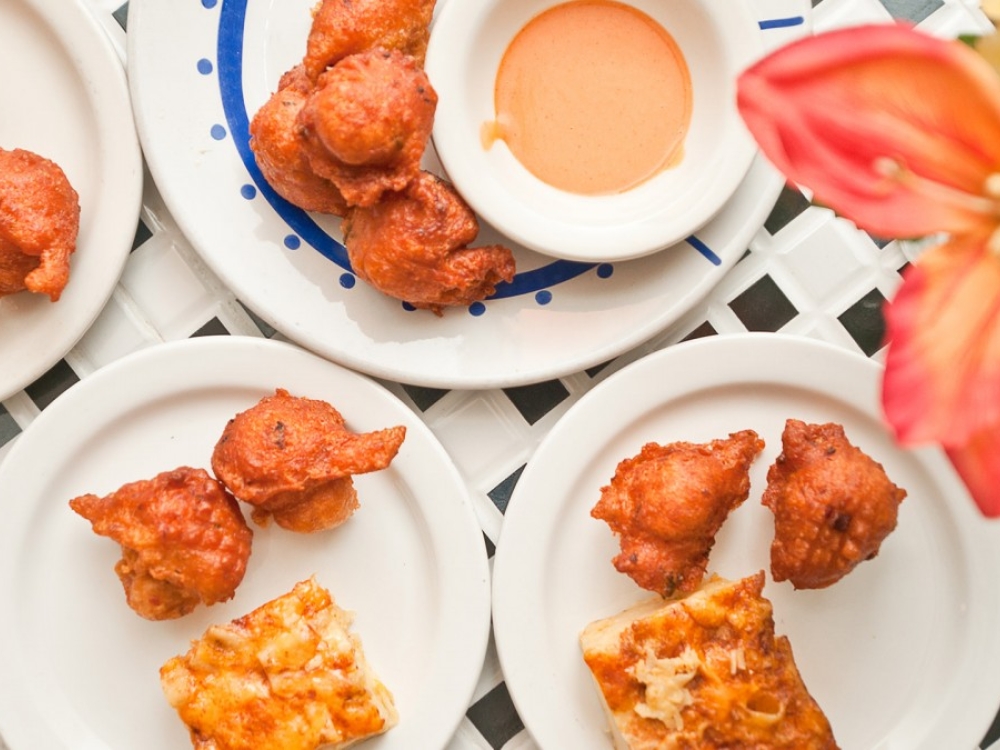 Bites of Nassau Food Tour, Downtown Nassau
If sampling authentic Bahamian dishes is on your vacation must-do list, there's no better way to try a little bit of everything than the Bites of Nassau Food Tasting and Cultural Walking Tour. Your knowledgeable and friendly guide will show you some of downtown Nassau's most important historic and cultural sites. Along the way, you'll stop at six renowned local restaurants and specialty food shops, trying a different dish at each one. At the end of this three-hour tour, you'll not only be stuffed with delicious Bahamian goodies, but you'll have a much deeper understanding of the local history and culture, too. And it's a great way to enjoy a sunny day! 
Beach Bites and Poolside Snacks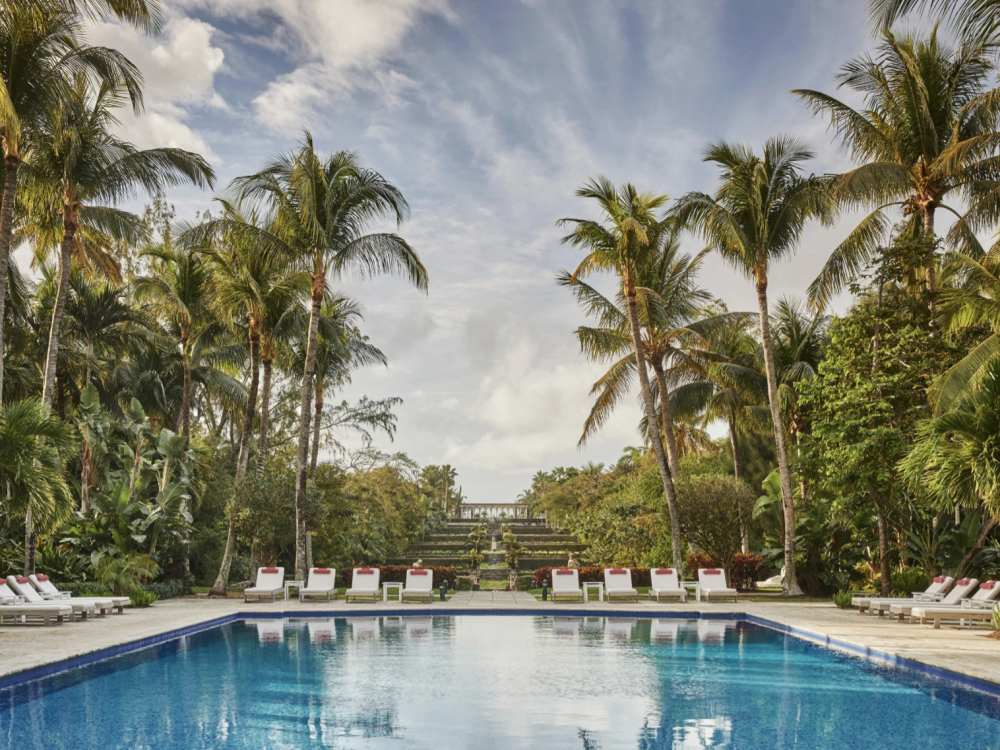 Versailles Terrace, The Ocean Club, A Four Seasons Resort
The Versailles pool at The Ocean Club is an absolutely stunning place to spend the day, and luckily you don't have to leave when you get hungry. The Versailles Terrace serves a variety of local and international cuisines, like Bahamian chowder, cracked lobster, and decadent rum cakes. Linger by the sparkling pool under the magnificent terraced gardens for a leisurely lunch, or sip on a nightcap as evening approaches. 
Sandy Dog, Baha Mar
There's something about a day at the beach that can make you absolutely crave a hotdog! Good news if you're at Baha Mar: just steps from the sand, you can grab a grown-up twist on this childhood favorite at Sandy Dog. Pile your dog high with premium toppings and pair it with tasty sides. And if a hot dog is not your speed, check out the other Airstream trailers next to the beach – you're sure to find a snack or light lunch that will satisfy! 
Are You Hungry Yet?
Check out all of our delicious dining options – and don't forget to browse our current travel deals if you've got an appetite for a vacation in Paradise!