Nassau Paradise Island's Guide to Family Vacations: Exploring
There are few things better than a Bahamas vacation for bringing a family together, and our Family Vacation Guide will make planning your family trip as easy as a Bahamas breeze. Now that you've planned, packed, and checked into your family-friendly accommodation you're ready to get out and explore!
Read on for everything you need to know about family-friendly activities in Nassau Paradise Island.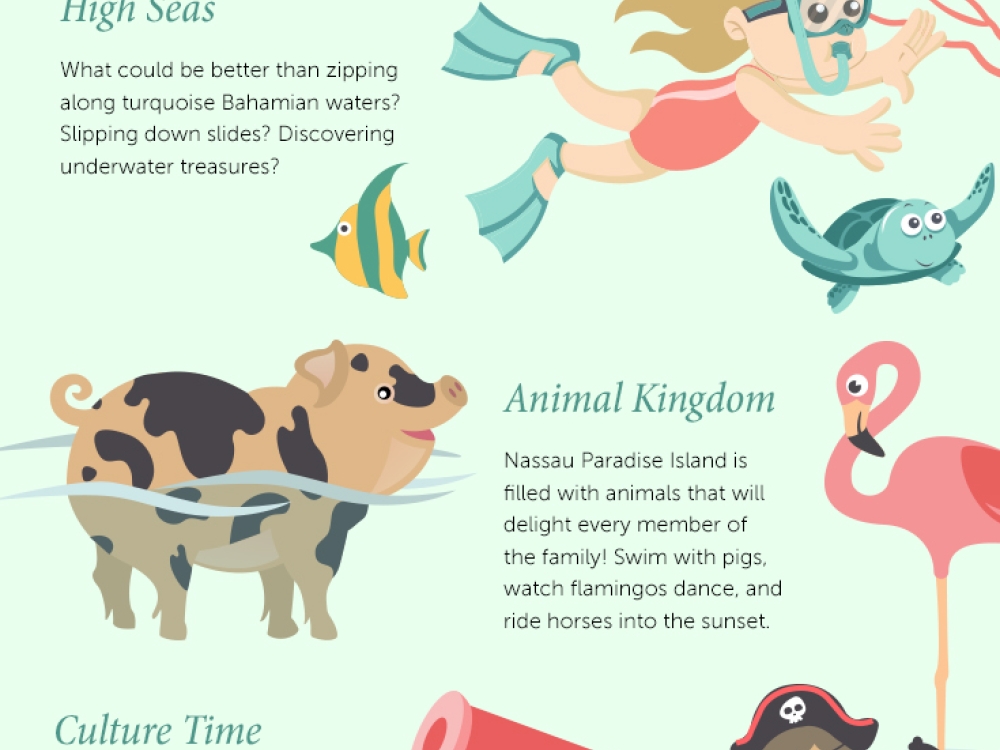 Adventure on the high seas
When you're surrounded by pristine turquoise waters, the only thing to do is dive in and enjoy aquatic adventures for the whole family.
Animal Kingdom
Nassau Paradise Island is home to a rich array of wildlife, so introduce your family to The Bahamas' animal kingdom with these fantastic tours.
Culture Time
The Bahamas is about more than just beaches. It has a rich history and vibrant cultural life. Open your child's eyes to a new perspective with family-friendly cultural experiences.
Family Food Fun
Nassau Paradise Island is filled with mouthwatering food and delectable dining experiences for the whole family!
A family vacation is a wonderful way to make family memories together, so don't forget to preserve those memories with photos and souvenirs along the way! Check out local shopping like The Straw Market, or head to Marina Village for a unique souvenir that will always remind your child of his or her Bahamas vacation.
Planning a family vacation in the Bahamas can be almost as fun as the vacation itself when you involve your kids, rely on family travel tips during your flight and choose a family-friendly hotel that's right for you. Once you've explored all that Nassau Paradise Island has to offer, all that's left to do is start planning your next Bahamas family trip!