Q&A: Your Perfect Bahamas Honeymoon
White sand beaches, warm turquoise waters, rustling palm trees, superior service. Nassau Paradise Island was built for romance so no wonder it is so popular for destination weddings and honeymoons.
Whether you're looking to sit back and relax, get out and have an adventure, dine like royalty, or a combination of all three, Nassau Paradise Island has endless options for the honeymoon of your dreams. To help decipher all of the honeymoon information we asked the experts, the wedding specialists at two of our incredible resorts, their tips for planning the perfect Bahamas honeymoon. Here's what they had to say.
Q: What's the biggest advantage of taking a honeymoon in Nassau Paradise Island?
"The biggest advantage is the beauty of the island and the warm and welcoming people", says Jena Conway of Atlantis, Paradise Island. We have to agree! A sunset stroll along one of our stunning beaches or romantic dinner with a stunning view is sure to be relaxing as you transition from the excitement of your wedding to the quiet romance of your honeymoon. Here are some of our favorite beautiful Bahamas views: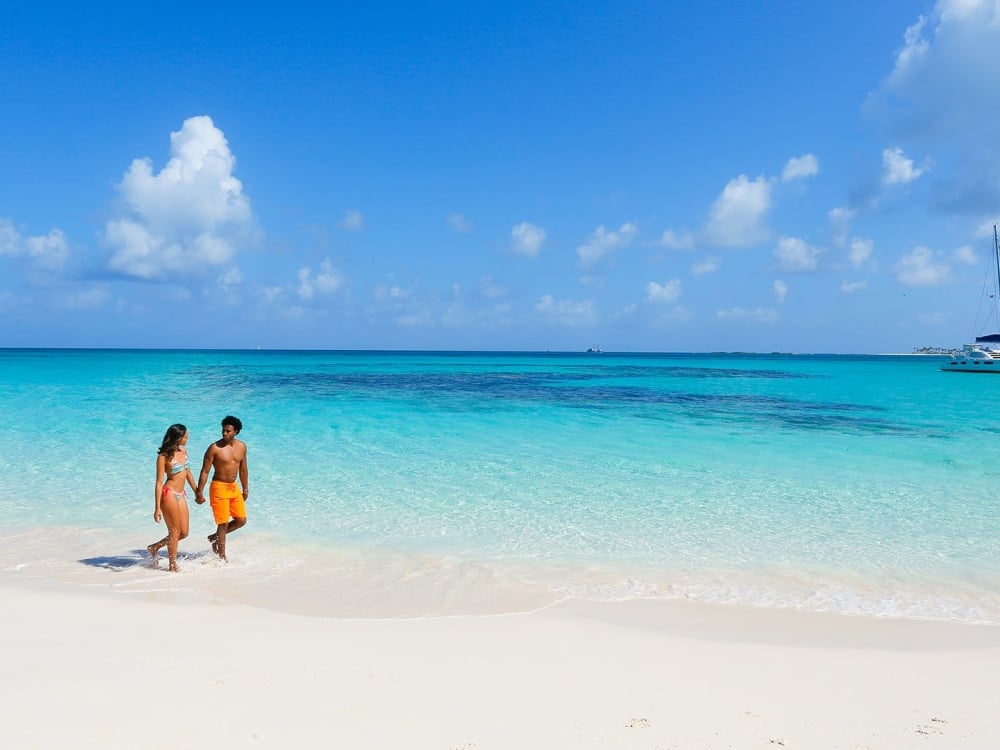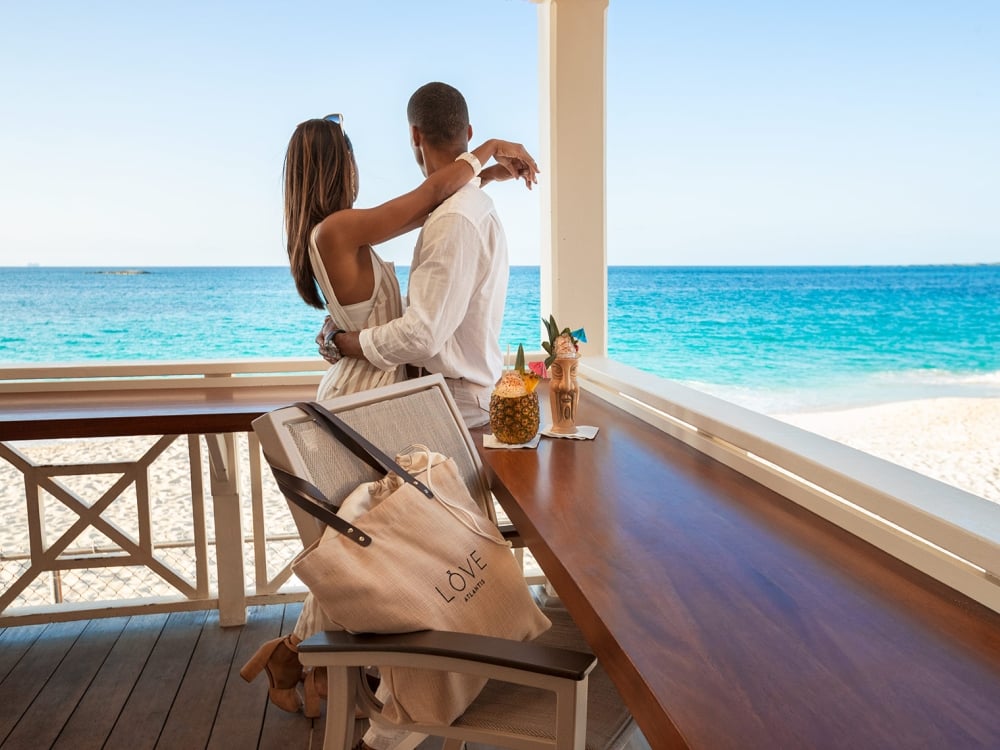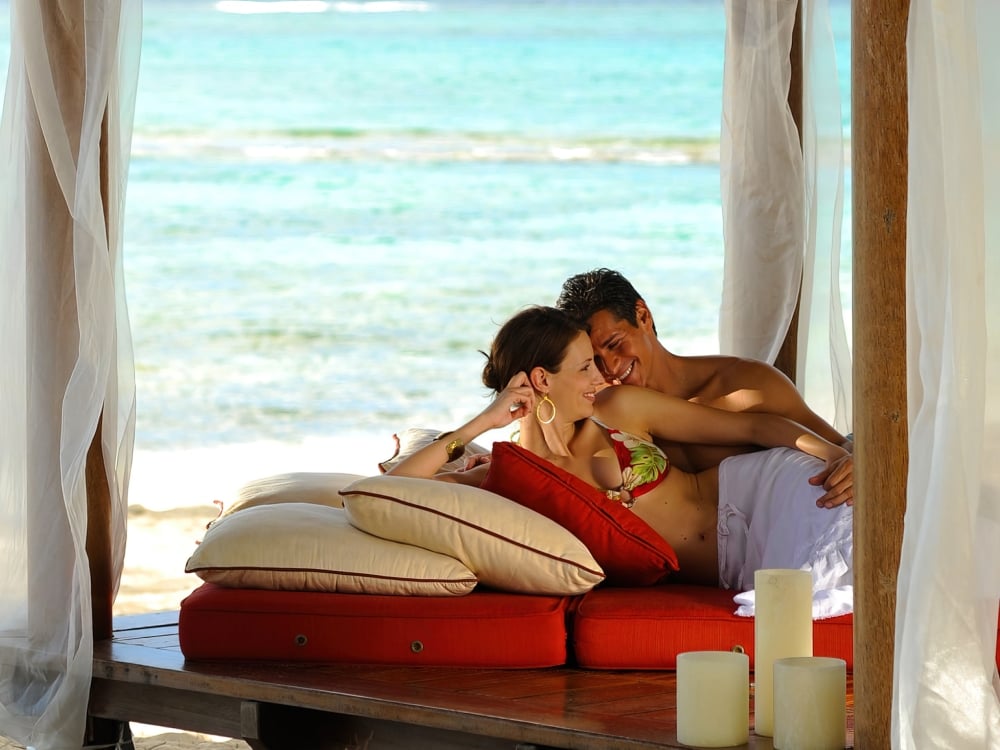 Of course, one of the things that's so great about being surrounded by so much natural beauty is you don't have to do anything to enjoy it! Find a hammock, pull up a beach chair, or simply sit out on your hotel room's balcony and soak it all in with your new spouse.
Q: What's the question you get asked most by newlyweds looking to plan a honeymoon in paradise?
At Atlantis, it's all about romance, with "what is the most romantic thing for us to do?" being the question their experts get asked the most. Of course, with a beautiful spa, private beach cabanas, fine dining restaurants, and more, it's easy to find romance in Atlantis, Paradise Island!
"Atlantis offers fun for all occasions, as well as a more adult, romantic side. The Cove guests have access to an adult-only pool and can also arrange private dinners for two In our beachfront cabanas at the Cove Pool" says Conway. "We are such a large physical property so even when we are busy, there are many romantic nooks for our couples to explore."
For Vanessa Lerouge and her team at Sandals Royal Bahamian, it often starts with the basics. "Destination wedding couples frequently ask "where do I start?"," she says. "It's such an exciting time, and so much to plan, that it can become somewhat overwhelming. At Sandals Royal Bahamian & Offshore Island, we make the planning journey convenient and easy from start to finish."
Q: Do you find that couples who have a destination wedding in Nassau Paradise Island typically stay on for their honeymoon? Is this something you would recommend?
The answer to this was a resounding "yes!" from our experts—and who can blame them? Nassau Paradise Island's beautiful white sand beaches and warm turquoise waters not only provide the ideal backdrop to say, "I do", but they're also a wonderfully romantic setting to start your marriage off right.
"At Sandals, once you say "I do" the honeymoon begins," explains Lerouge. After all, Sandals Resorts coined the phrase WeddingMoon®. "Our wedding couples enjoy having all of the romantic luxuries of a honeymoon at their fingertips," says Lerouge. "Sandals is the ultimate way to enjoy your destination wedding and honeymoon at one location."
Conway agrees, saying "Many of our [wedding] couples extend their stay as a mini-honeymoon after their wedding guests have departed. I would definitely recommend this so that they can enjoy the property and indulge in marital bliss."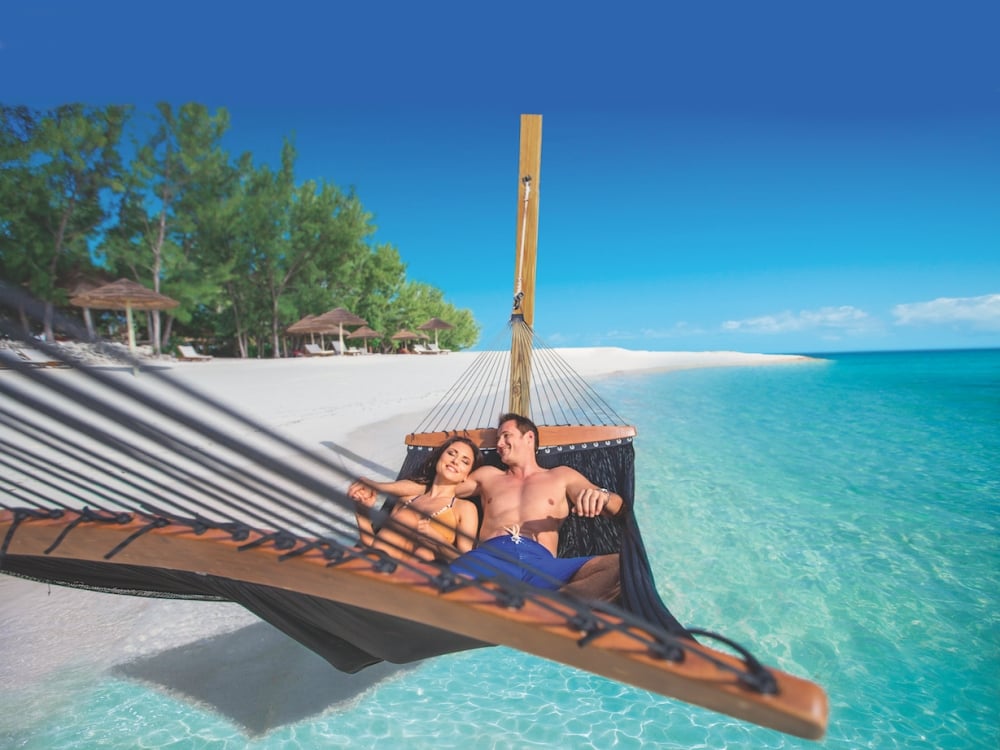 Q: What's the most romantic thing to do at your property?
Our experts had to stop and think about this one as there are so many romantic options to choose from in Nassau Paradise Island. For Conway, it's either watching the sunset together from your balcony at Atlantis, Paradise Island or The Cove at Atlantis or enjoying a couples massage. "This is subjective," she concedes, "depending on what you and your new spouse consider to be romantic."
For Lerouge it's all about creating the ultimate romantic moment. "From beautiful beach venues to enchanting garden gazebos, Sandals Royal Bahamian offers the perfect backdrop. [We] even offer an intimate over-the-water pier gazebo for couples."
Q: What's your advice for someone looking to plan a honeymoon in Nassau Paradise Island?
The answer to this question is to indulge. It's your honeymoon, after all! "I would advise to stay for a good length of time and experience the amazing culture and food of The Bahamas," says Conway, adding "Sky juice, fritters, and conch salad are a must!" Try some Bahamian cuisine at Atlantis by dining at Frankie Gone Bananas or Sip Sip. Or, venture to Arawak Cay, on West Bay Street in Nassau, to dine alongside locals and watch your conch salad get prepared right before your eyes.
Lerouge has three steps for the perfect Bahamas honeymoon: "Treat yourselves! You can finally escape the stress of wedding planning and enjoy a private moment together." Once you've indulged in a couples massage, mimosas in bed, or a candlelight dinner on the beach, Lerouge advises trying something new, pointing out that "a new destination means a new adventure." 
Lerouge's final piece of advice is to make the most of your stay. "Upgrade to Butler Elite Service at Sandals, book a couples massage, dine at every restaurant during your stay". It's your honeymoon and in Nassau Paradise Island you can celebrate in style.
Check out some of our honeymoon packages and special rates
We're always doing our best to make sure that your Nassau Paradise Island getaway is the best ever—and that means getting you the best deal on your romantic Bahamas honeymoon.
Atlantis, Paradise Island
Honeymoon packages can be booked through their call center and added on to any stay of three nights or more. The rates and packages can be found at atlantisbahamas.com/celebrations/honeymoons/honeymoonpackages.
Sandals Royal Bahamian & Offshore Island
Sandals Royal Bahamian offers a complimentary honeymoon package for those that register online for a honeymoon taking place within 30 days after their wedding date. Couples receive a bubbly welcome with a bottle of chilled sparkling wine arranged in your suite to toast the beginning of your adventure, a romantic turndown on the first night of your honeymoon and a decadent breakfast in bed on a morning of your choice. Visit sandals.com/honeymoons for full details.
Baha Mar
Experience true wedded bliss with dozens of five-star dining and nightlife options, a flagship ESPA, and one of the most beautiful beaches in the Caribbean all at your doorstep. Learn more at bahamar.com/events/romance/
The Ocean Club, A Four Season's Resort, Bahamas
Create a custom honeymoon package designed to balance romantic relaxation with unforgettable adventures on land or at sea. Visit fourseasons.com/oceanclub/weddings/honeymoon/