The Bahamas' Best Sweet Treats and Cool Eats
Is there anything more irresistible than a holiday in the sun? We sure don't think so — unless, of course, you combine it with all the tasty treats, decadent desserts, and one-of-a-kind confections to be found here in The Bahamas. Our island Paradise may be best known for its sugar-white sand beaches and turquoise-blue waters, but it's also home to a celebrated culinary community with a decidedly sweet tooth. And since vacation is the perfect time to indulge in a little local flavour, we thought we'd treat you to a mouthwatering roundup of some of the scrumptious snacks and melt-in-your-mouth morsels found here in Nassau Paradise Island.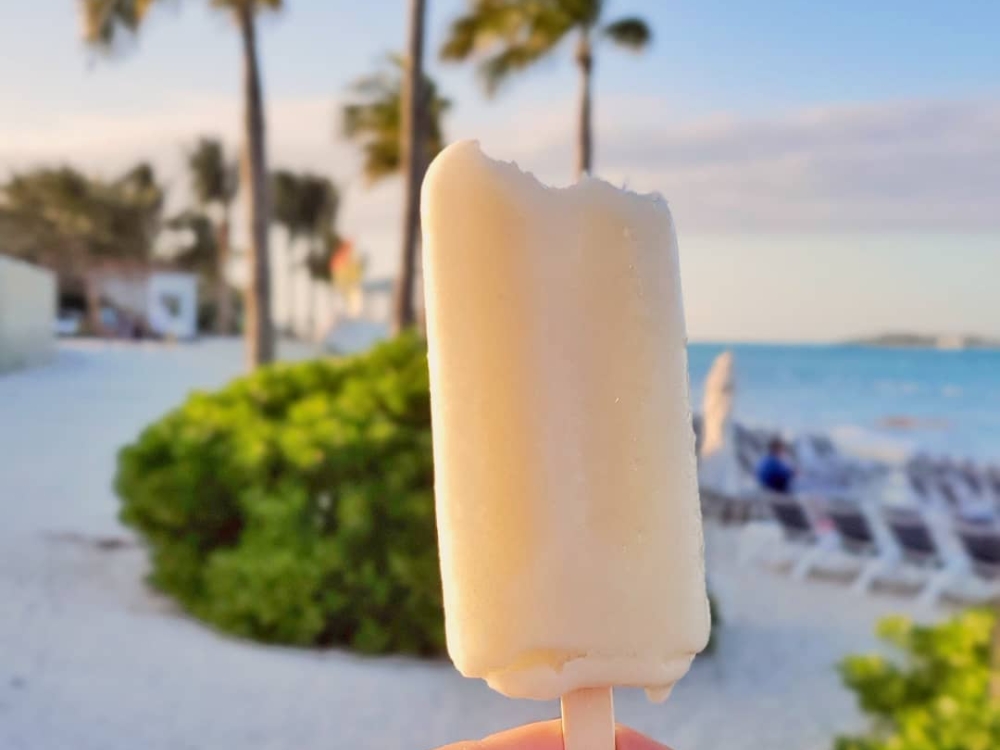 Chilled Confections to Beat the Heat
The Bahamas is blessed with a warm, tropical climate and more than 300 sunny days a year, so it's perhaps not surprising that one of our most well-known culinary creatives has a taste for frozen goodies. The brainchild of celebrated local Chef Wayne Moncur, Sun & Ice offers a refreshing ice cream, gelato, and sorbet experience in The Coral lobby lounge at Atlantis Paradise Island.
The authentic Bahamian ice cream parlour creates one-of-a-kind, seasonal, and handcrafted batches that spotlight Moncur's favourite locally grown fruits, herbs, teas, seeds, and spices. Enjoy an only-in-The-Bahamas experience you won't find anywhere else, with unique options like Soursop and Caramelized Sugar Banana, Allspice Potato Bread and Coconut Candy, and the simple-yet-sublime Mango Skin Gelato. Did someone say seconds?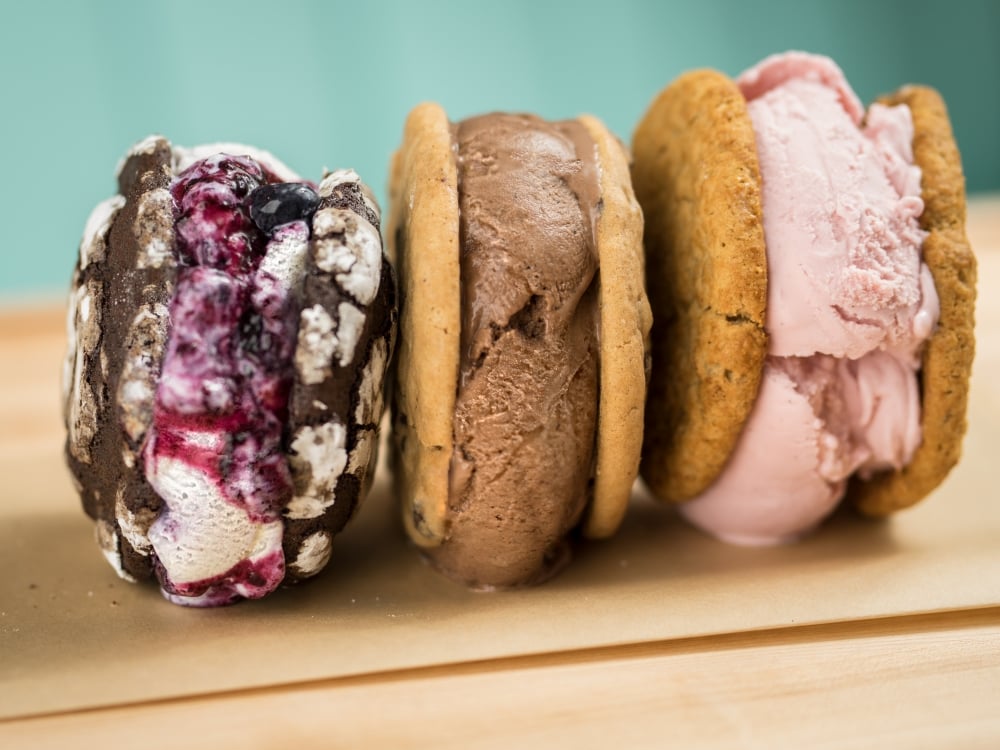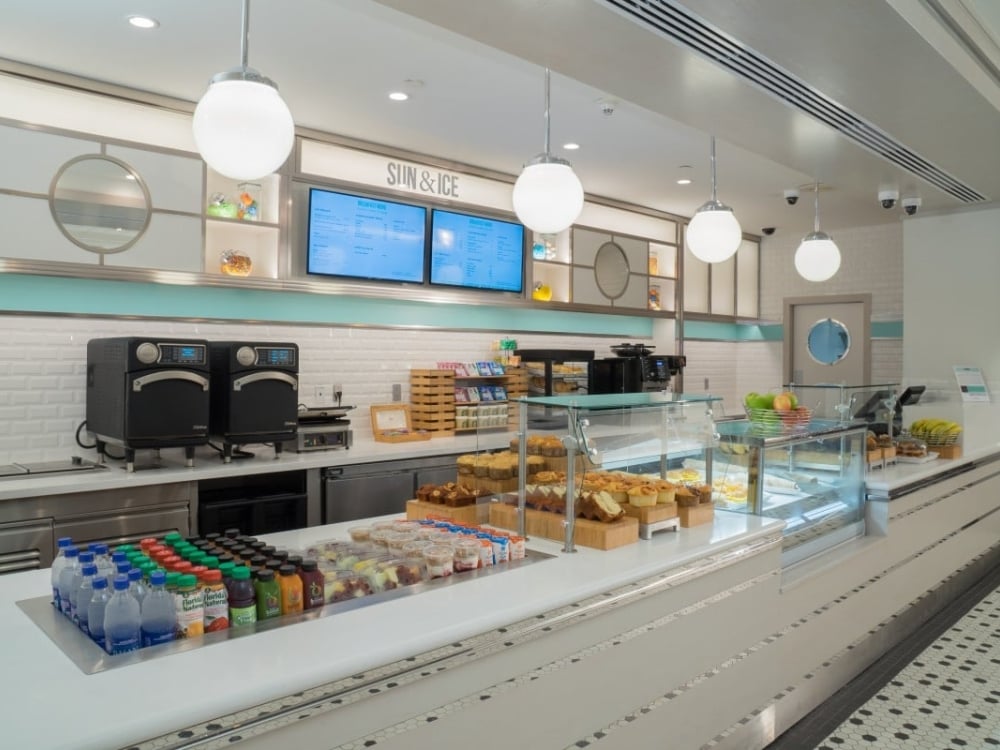 Bucket List-Worthy Baked Goods
Wayne Moncur is more than just the mastermind behind the sugary delights at Sun & Ice — he's also one half of an acclaimed husband-and-wife culinary duo with his partner Ivana Moncur, founder of Bakehouse.
This artisanal bakery and coffee shop began as a pop-up operation offering doughnuts, cookies, and café-style drinks. Now firmly installed at a permanent location on Chesapeake Road, the wildly popular dessert destination has since expanded into specialty pastries like coffee cakes, cinnamon buns, blueberry muffins, and savoury quiches.
Moncur's creative confections play on traditional Bahamian staples, with mouthwatering menu items like her guava-strawberry cream cheese doughnuts, bite-size key lime pies, and brown butter toasted pecan pastries that are sure to get your stomach rumbling.
Scrumptious Scoops
I scream, you scream, we all scream for Mudda Freeze! Sharing a storefront with Bakehouse, Mudda Freeze is Wayne Moncur's second foray into the world of premium artisanal ice cream. Choose from an extensive, ever-changing menu of outrageously delicious varieties, including classics, coconut milk-based vegan options, pup-friendly flavours, and outside-the-box limited-edition seasonal batches. Friendly staff, generous portions, and plenty of indoor and outdoor seating make this the perfect option to beat the afternoon heat — in the sweetest way imaginable.
Classic Caribbean Confections
If there's one drink that captures the spirit of The Bahamas, it's rum. White, dark, aged, or spiced, this staple Caribbean export has indelibly shaped the history, culture, and cuisine of The Bahamas — and not just where cocktails are concerned! The storied spirit has also found its way into some of the islands' best-loved recipes, including a traditional Bahamian favourite: rum cake.
Dense and buttery with a pound cake-like texture, these bundt-style confections are doused in premium Caribbean rum for a subtle-yet-complex taste, topped off with a scoop of mouthwatering ice cream. For an authentic version of this must-try local dessert, head to Atlantis Paradise Island's Bimini Road, where you can enjoy a scrumptious slice with a side of live Caribbean music and gentle ocean breezes.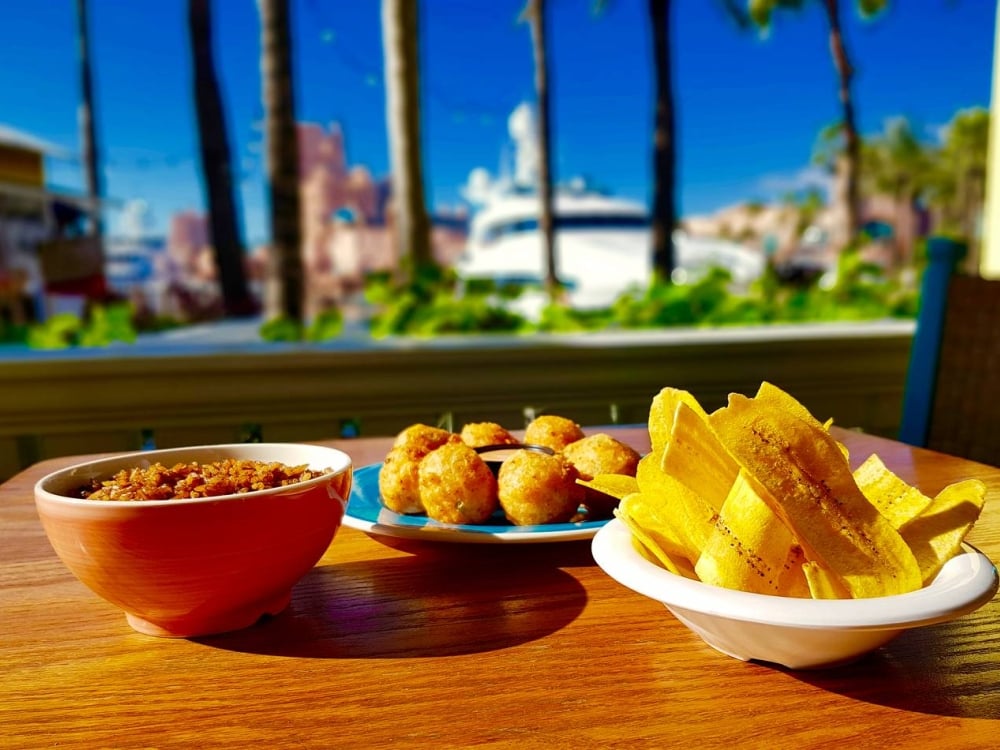 French Decadence With a Bahamian Twist
Looking to add a dash of continental elegance to your Caribbean culinary adventure? Nestled in the heart of Grand Hyatt Baha Mar, Café Madeleine serves up a delightful menu of both savoury and saccharine French fare.
Start your morning with a fresh-brewed coffee and pain au chocolat, baked on-site in an authentic steam oven. Savour a French twist on classic local cuisine with their brioche guava french toast. Or sink into sumptuous sofas as you enjoy a Parisian-style luncheon of quiche, tartine, and croque monsieur while you gaze out over the sparkling waters of gorgeous Goodman Bay. If you have the room for it, their house-made gelato and sorbet options make for one truly tasty dessert.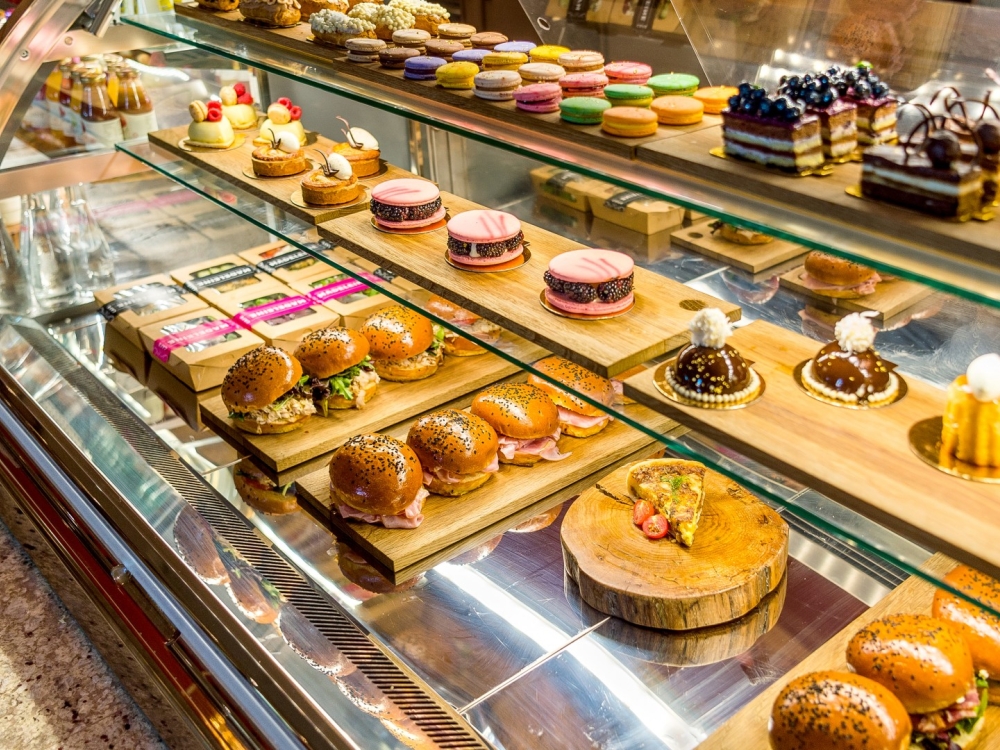 Locally Crafted Chocolates
Ice cream, pastries, and rum-infused goodies are all well and good, but there's a certain kind of craving that only chocolate can satisfy. If that sounds like you, Graycliff Chocolatier is an absolute must-visit while you're here.
Nestled in an 18th-century colonial mansion in the heart of downtown Nassau, Graycliff isn't just the place to find some of The Bahamas' finest gourmet chocolates and truffles — it's also where die-hard chocoholics can get a rare, behind-the-scenes look at what goes into crafting these sinful delights.
Embark on an immersive (and delicious!) bean-to-bar journey through the chocolate-making process on a guided tour. Learn about how Graycliff's expert chocolatiers put a distinctly Bahamian spin on their craft, using unexpected elements like mango, lime, sweet-tomato basil, and bacon. Or book their Chocolate & Spirits Pairing, where you'll sample a curated selection of artisanal chocolates, expertly paired with premium spirits like rum, whiskey, and port.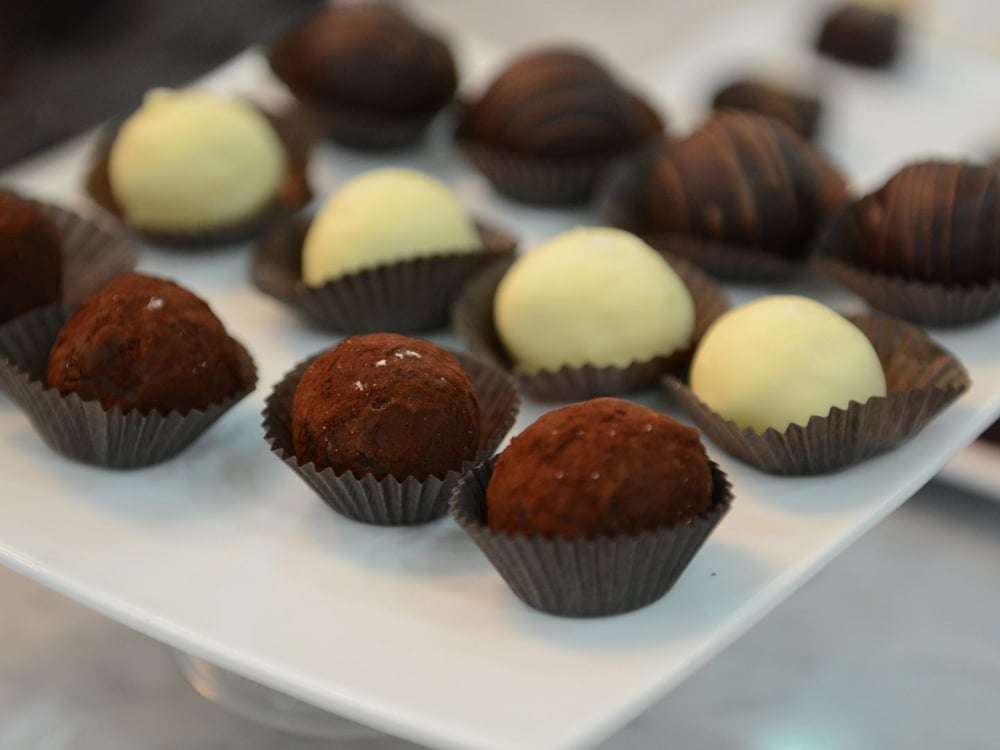 'Gram-Worthy Goodies
If a picture is worth a thousand words, then the tasty temptations at The Sugar Factory call for one whopper of a caption. The waterfront location at Baha Mar is famous for its highly Instagrammable confections, from marshmallow chocolate fondue and strawberry cheesecake-stuffed waffles to old-fashioned sundaes and over-the-top iced coffees.
The restaurant also offers an impressive menu of equally photogenic cocktails infused with classic island ingredients like coconut, guava, passion fruit, and pineapple. Raise a glass to your adventures in Paradise with an irresistible Ocean Blue Margarita — inspired by The Bahamas' tranquil turquoise waters, it's a tropical drink truly worthy of the grid. Cheers!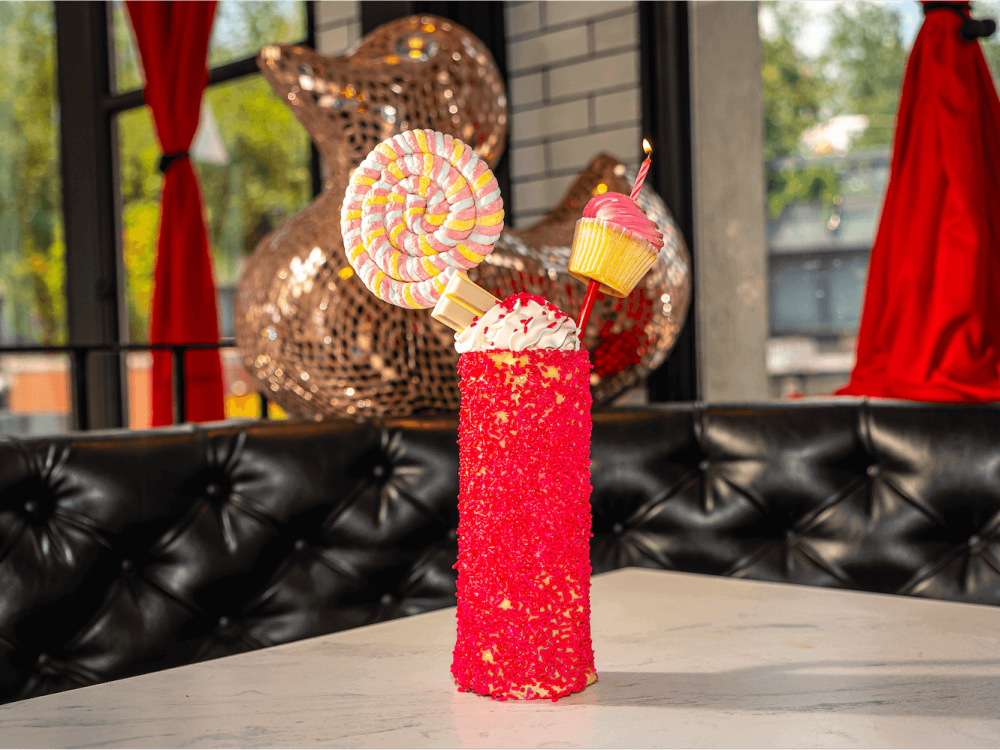 A Taste of Paradise
From artisanal ice creams and specialty doughnuts to oven-fresh pastries and classic Caribbean desserts, The Bahamas offers something to satisfy even your most indulgent cravings. Has reading this left you hankering for an epic culinary adventure? Explore the inviting accommodations, unforgettable experiences, and seemingly endless dining options of Nassau Paradise Island, and start planning your sweet escape today!