A Guide to Nassau Paradise Island With Kids
For decades, The Bahamas has been a top family vacation destination, and it's easy to see why. Sunny skies, warm temperatures, and miles of pristine, powdery-soft beaches make it perfect for splashing in the sea and building sandcastles. Add in family-friendly attractions like waterslides, live daily encounters with all kinds of sea creatures, a pirate-themed museum, a zoo, and so much more – kids of all ages love Nassau Paradise Island! And since it's easy to get to, with convenient nonstop flights from many major US airports, it's a hassle-free destination to visit. After all, when you're traveling with kids, you've got enough to think about – getting there should be as painless as possible, and Nassau Paradise Island delivers.
You may also like: Five Reasons Your Next Family Vacation Should Be in The Bahamas
If you're planning a family vacation or simply starting to brainstorm about a future trip with your kids, here's our guide to Nassau Paradise Island for children of all ages!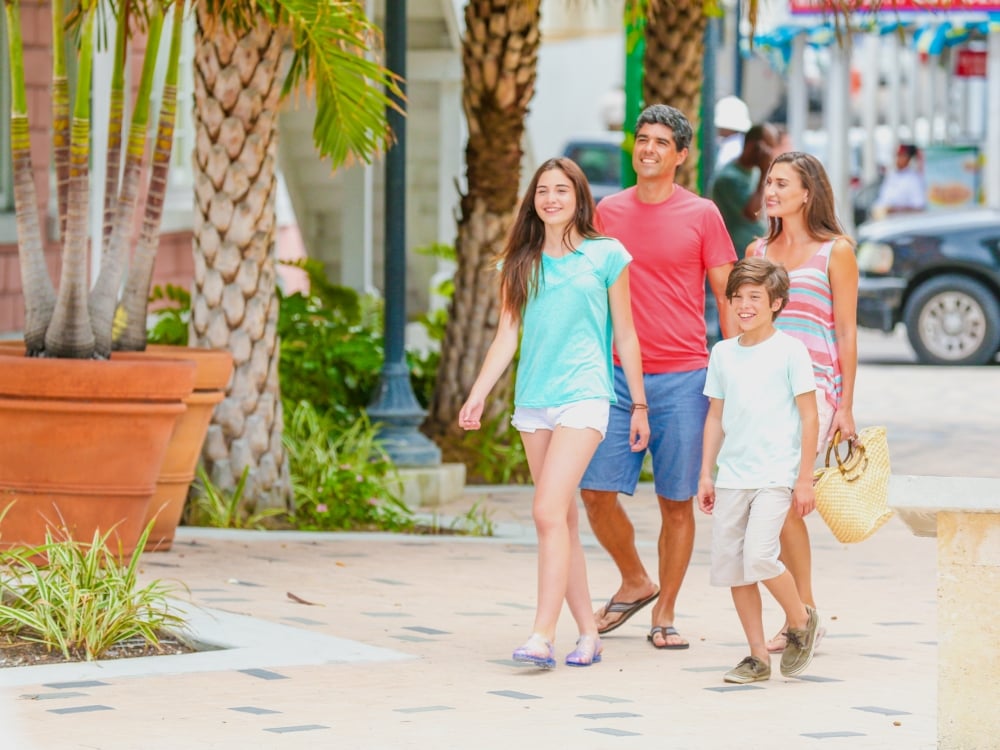 Travel Tips For Visiting The Bahamas With Babies
Don't balk at the idea of traveling with a baby – in fact, the infant stage can be one of the best times to take a trip with your little one! Babies in laps fly for free and often stay for free at hotels and resorts. Depending on the age of your infant, they may eat for free or for very little cost. And what's cuter than photos of a baby on the beach?
Depending on your sleeping arrangements, you may need a crib, a playpen, or a bassinet in your room. Call the hotel or resort to make those arrangements directly. Ask about crib bedding, too – it should be provided but you'll want to double check.
Some hotels provide baby amenities, such as shampoo, soap, and lotion. Check with your hotel or resort in advance. You may not need to pack these items!
Make sure to pack adequate diapers and formula (if using). These items are available in The Bahamas, but they're more affordable in the US.
Don't forget to bring baby-friendly sunscreen, sunglasses, protective clothing, and a sun hat that covers baby's ears. Many hotels and resorts also have umbrellas or shaded cabanas in beach or pool areas.  
If your baby is eating solids, pack a couple of snacks in your carryon bag. You'll also be permitted to bring bottles of milk or formula in your carryon for a baby.
What about bringing a stroller to The Bahamas? It's a matter of personal preference. Some parents travel with strollers while others opt to use a baby carrier or sling. Your hotel may also have strollers available to rent or borrow. Again, it's best to call ahead and confirm.
Travel Tips for Visiting The Bahamas With Toddlers and Preschoolers
Not unlike babies, traveling with small children to The Bahamas can be a lot of fun. If your little one is a fan of the water, you're in luck – wide, sandy beaches with calm, clear waters are perfect for children to play on. Here's how to ensure your vacation with a toddler or preschooler in tow is a fun one.
If your kiddo is still napping in a playpen or crib, call ahead to the hotel or resort to make sure you can have one set up in your room. And while many older children don't use strollers anymore, it might be worthwhile to borrow one from the front desk in case you're planning a day with a lot of sightseeing on foot, so ask the concierge if this is possible. If not, consider picking up an affordable umbrella stroller that's easy to pack – it just might save your back on vacation!
Remember to pack sunscreen, sunglasses, protective clothing, and a hat to help keep your little one safe in the warm Bahamian sun. Also, bring medicine cabinet items – anti-nausea medications, kids' ibuprofen or acetaminophen, band-aids, and so on. These products are available in The Bahamas but will be more affordable to bring from home.
Toddlers are unpredictable at the best of times. Add a flight or a lengthy airport wait into the mix and who knows what could happen? Keep the peace by stocking your carryon with lots of snacks and small toys or games – even a baggie of small, inexpensive plastic animals or cars could save your sanity (and that of everyone sitting around you on a plane). Kids are fascinated with toys they've never seen before, so the novelty of having something new to play with could keep them occupied for a blissful 20 minutes or more, if you're lucky!
Travel Tips for Visiting The Bahamas With School-Aged Kids
Older kids will love all the activities and attractions Nassau Paradise Island has to offer! Building sandcastles, zooming down waterslides, learning about sea creatures and pirates – there's plenty to do to keep your school-aged children busy until bedtime. Many hotels and resorts offer kids' programming, so they can spend a few hours with others their own age while Mom and Dad get to enjoy a little downtime.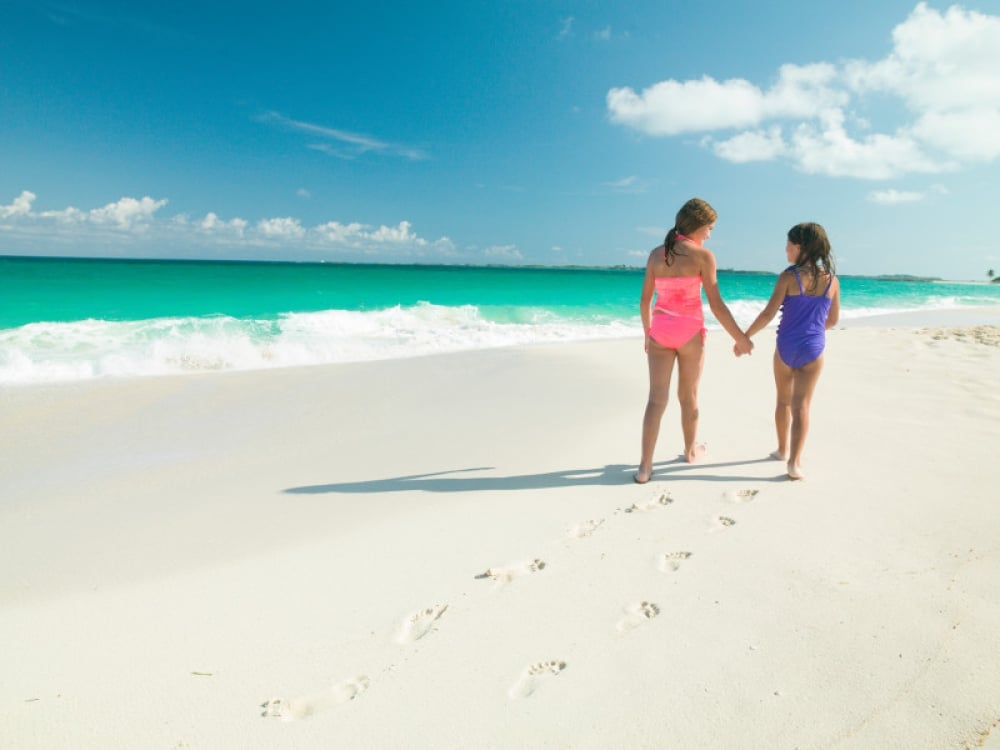 Get your kids involved in capturing memories from the trip. Pick up a waterproof digital camera and let kids take some photos at the beach and in the pool. When you return home, they can put together a digital album or print off some of their favorite photos for a scrapbook at home.
Don't forget children's ibuprofen or acetaminophen, an anti-nausea medication, band-aids, and plenty of sunscreen, as well as sunglasses and protective clothing and hats.
Stock your carryon bag with fun and engaging activities for kids – coloring books and activity books, travel puzzles, or small toys – or charge up the tablet with beloved movies, shows, or games to help make the flight "fly" by. (Check out our guide to flying with kids for more ideas!)
If your schedule and budget allows, let kids pick out one must-do activity or adventure for the family to take in during your trip. Kids will love being part of the planning process!
Try to stick to a regular bedtime and wake-up time to keep everybody on schedule.
If your child will be missing school, check in with his or her teacher beforehand about making up for missed assignments or tests.
Travel Tips for Visiting The Bahamas With Teens
We guarantee that a vacation in The Bahamas will put a smile on anyone's face, including your teenager. Endless water activities, new experiences to try, beautiful beaches…Nassau Paradise Island has something for everyone to enjoy. No "lame" family vacations here!
If your kid needs his or her space, considering giving your teenager a little freedom on vacation. If you're staying on a resort, maybe they could spend an afternoon at a pool separate from the rest of the family, for example.
Let your teen choose an activity for the whole family to try. They're more likely to be on board with the idea of a family trip if they're able to have input into the planning.
Make sure to check in with teachers about catching up on any tests or assignments if your child is missing school.
Try not to worry if your teen seems glued to the phone during vacation – they might be missing friends or perhaps just Instagramming all the cool things they're seeing in The Bahamas! Before you leave, make sure to purchase a Caribbean roaming or data package to avoid any surprise cell phone bills upon returning, and take advantage of free WiFi wherever it's available.
Check out even more suggestions on traveling with teens!
Resorts in The Bahamas With Babysitting or Kids' Programming
Maybe you want to have an afternoon to yourself. Perhaps your kids are clamoring to hang out with others their age. Or, just maybe, all this family time is getting to be a little too much and everyone could use a break! Don't worry, Mom and Dad…there are all sorts of children's programs and organized activities for kids and teens. They'll have fun and make friends in a safe, supervised environment, and you'll get to head to the spa, go shopping, nap by the pool – whatever you like!
Atlantis, Paradise Island
Children aged 3-12 can take part in Atlantis Kids' Adventures each day, which include interactive games, arts and crafts, cooking classes, theater, outdoor play, and more. Morning and Afternoon adventures are available for kids aged 3-5, while kids as old as 12 can participate in evening adventures until 10:30 p.m. Childcare is also available for an hourly rate. Teens can also spend the evening at CRUSH, a 14,000-square-foot nightclub exclusively for 13-17 year olds, which features an Internet lounge, dance floor, video games, snacks, and drinks!
Baha Mar
Kids aged 3-12 can take part in the Explorer's Club, where daily activities and challenges will teach them all about Bahamian culture, conservation, and the biodiversity of The Bahamas. It's a fun and educational program where kids can make friends and indulge their inner explorers.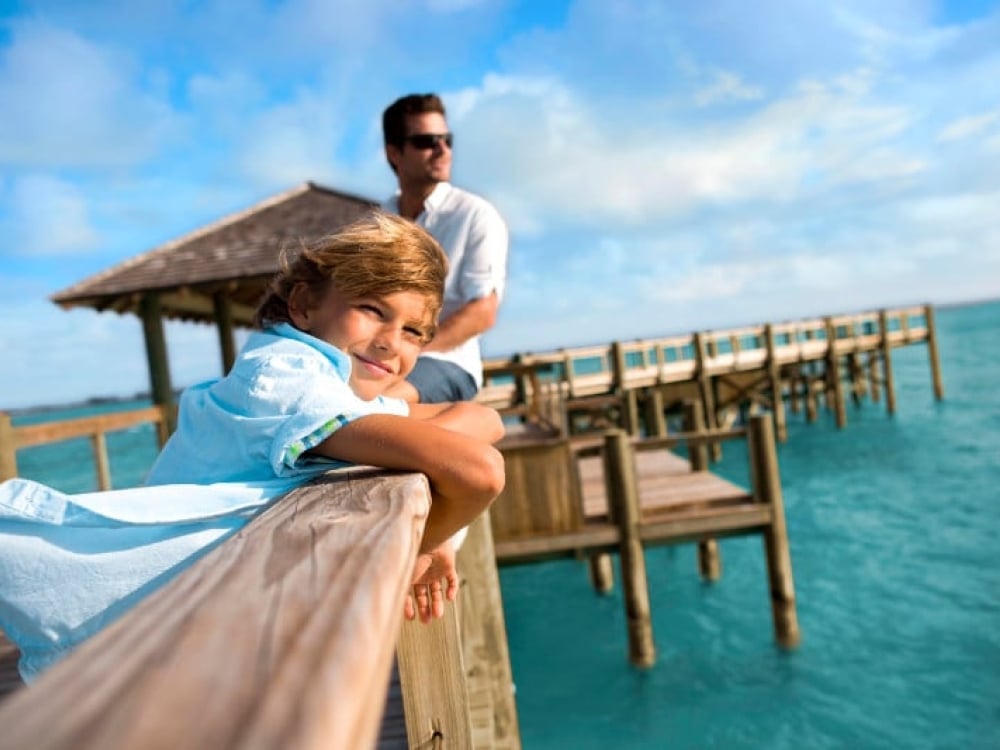 Ocean Club, A Four Seasons Resort
Guests ages 4-12 will love The Ocean Club's Kids for All Seasons program! Complimentary gifts, computer and video games, arts and crafts, and sporting games – kids will be busy and having fun all day long. A team of certified counselors creates a fun, educational programming schedule for each day.  
Margaritaville Beach Resort, Nassau
Arts and crafts, pastry decorating, dance contests and more – the Parakeets Kids Club at Margaritaville promises a great time for kids! Morning and afternoon sessions are available for kids ages 5-9, and parents are welcome to accompany younger children. 
Top 10 Fun Family Activities in The Bahamas
Aquaventure (all ages)
This 141-acre waterscape in the heart of Atlantis, Paradise Island is a beloved destination for kids of all ages. Bigger kids can zoom down the waterslides or take a ride on the lazy river – just watch out for the rapids! Babies and toddlers can splash to their heart's content in the three shallow kiddie pools. Snack bars are conveniently located nearby for midday refueling. Aquaventure is accessible to all guests of Atlantis and Comfort Suites Paradise Island.
Graycliff Chocolatier (age 6 and up)
Wine, spirits, cigars – many of the vices at the Graycliff Hotel are strictly adults-only. Not so when it comes to chocolate! A visit to the Graycliff Chocolatier is fun for the whole family. Kids will have a blast seeing how chocolate is made and making their own sweet treats.
Pirates of Nassau Museum (age 4 and up)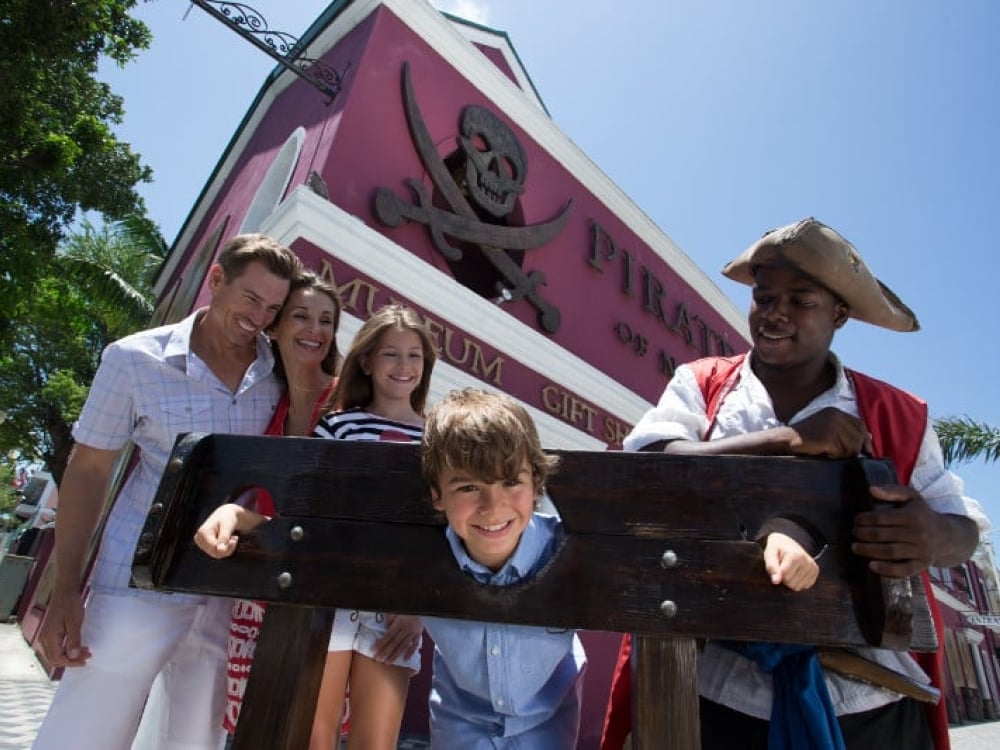 Ahoy, mateys! Kids are fascinated with pirates, so your little buccaneers will love spending an afternoon at the Pirates of Nassau Museum. Climb aboard a replica pirate ship and learn all about The Bahamas' colorful past as a hotbed of pirate activity!
Happy Trails (age 12 and up)
Tweens and teens can get in touch with nature on horseback! Happy Trails Stables offers guided trail rides that are suitable for beginning riders – no experience necessary. Enjoy a leisurely ride and breathtaking views. 
Dolphin Cay (all ages)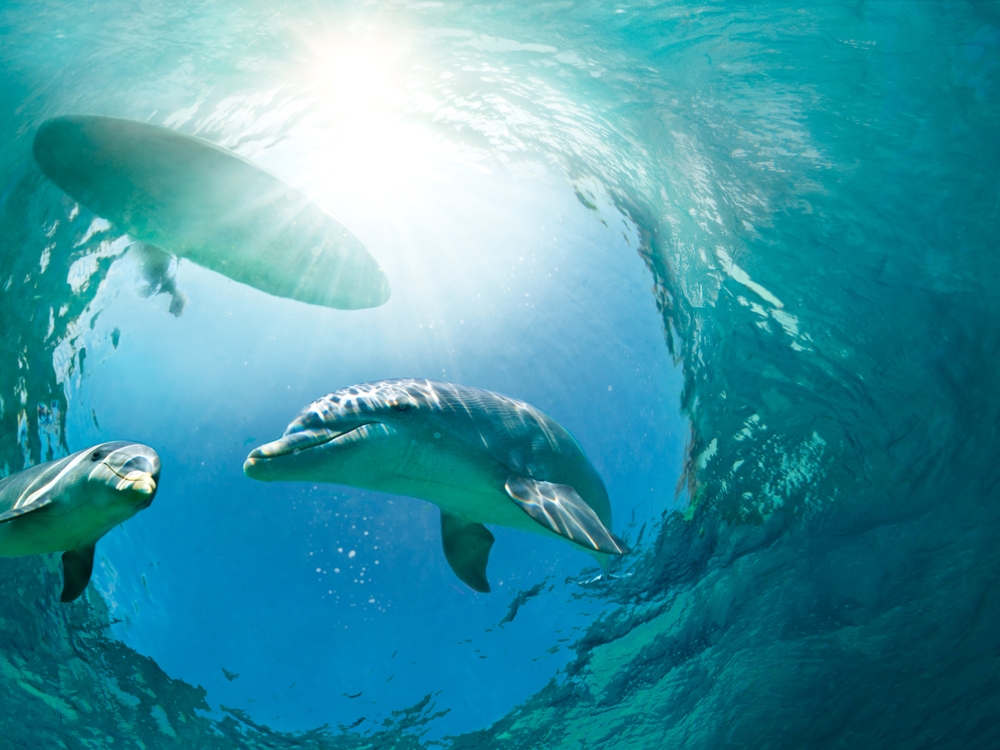 Dolphin Cay is one of the world's largest open-air, man-made marine mammal habitats and was opened in 2007 in response to the need to provide a safe haven for the rescued Katrina Dolphins and Sea Lions after the hurricane tore through their home in Gulfport, Mississippi. The 14-acre environment includes an 11-acre lagoon complete with coves and sandy beaches, 7 connected "residential" pools, a state-of-the-art education center, an animal rescue-rehabilitation hospital, an animal pharmacy, a quarantine and a separate sea lion center. The Bottlenose Dolphins are cared for by a full-time team of experienced Marine Mammal Specialists, Behaviorists and Veterinarians. Guests are introduced to these astonishing animals through creative, non-disruptive interactions. Every guest who participates in any Dolphin Cay program supports the Atlantis Blue Project Foundation, which creates and promotes solutions for a wide range of marine conservation challenges from coral reef degradation to marine species in decline. 
Ardastra Gardens & Wildlife Conservation Centre (all ages)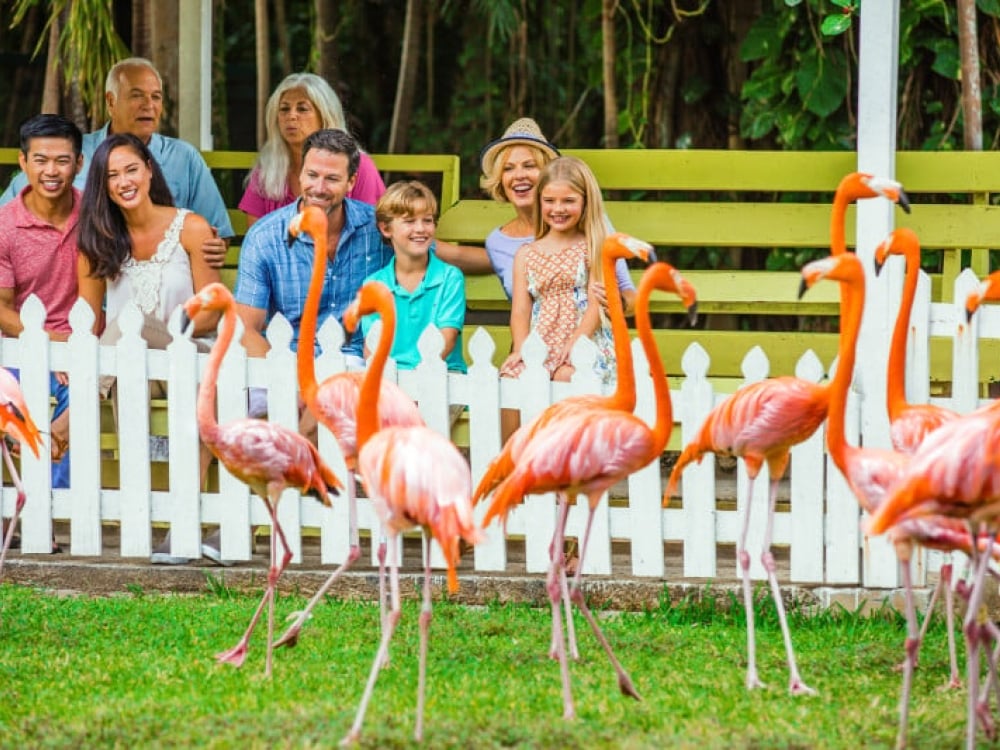 Head to Ardastra Gardens & Wildlife Conservation Centre for a peek at some very colorful critters! Kids can march with the flamingos and learn all about animals from around the world, including some that are native to the Caribbean. The zoo is relatively small in size, so it's perfect for little legs to navigate.
Forts of Nassau (age 4 and up)
Take a break from the beach and spend some time discovering Nassau's forts, which date back to the 1700s and have been entertaining children for years! They're open to the public every day.
The Dig (all ages)
The Dig (located at The Royal) allows guests to come face to face with over 250 species of fish ranging from 1,000 pound Manta Rays to Goliath Groupers and Seahorses. Guests will embark on a journey through the streets and tunnels of the "Lost City of Atlantis," as they observe venomous lionfish, spiny lobsters, long tentacle jellyfish and six-foot moray eels. The Dig also features an interactive touch tank, filled with conch, sea urchins, sea cucumbers, starfish and horseshoe crabs.
BEACH Sanctuary (all ages)
Guests of Baha Mar can swim with sting rays, see nurse sharks and sea turtles, and so much more at BEACH Sanctuary! BEACH (Baha Mar Ecological Aquatic Conservation Habitat) Sanctuary lets visitors get up close and personal with Bahamian fish, animals, and birds while educating about conservation.
Ready to go?
No matter what time of year you visit – spring break, summer vacation, or any season at all – family fun awaits in Nassau Paradise Island. We can't wait to help you and your kids make special memories here in The Bahamas! Check out our current travel deals at family-friendly resorts and start planning your next unforgettable adventure.
Here are some more helpful resources for planning your family vacation in Nassau Paradise Island!