Chartering a Boat in The Bahamas
With over 700 islands in The Bahamas, we can understand why you'd want to get out and explore! Fishing adventures, sailing the turquoise seas, finding your own private island, celebrating something special, or simply spending quality time together; when it comes to boat charters in The Bahamas, the sky—or should we say the sea—is the limit!
Sport Fishing vs. Tackle Fishing vs. Bottom Fishing
Our warm tropical waters are teaming with marine life. Choose from the relaxation of line fishing or the thrill of sport fishing. Eager to try fishing, but are not sure where to start? Here are the most popular kinds of fishing in The Bahamas and what you can expect.
Sport Fishing, also called offshore fishing, targets large fish in deeper waters. Vessels used for sport fishing are more sea-worthy and the equipment is more heavy-duty. Fish you're likely to catch while sport fishing include billfish (swordfish, marlin, sailfish), large tuna (bluefin or yellowfin), and even sharks.
Tackle Fishing, also called light tackle fishing, refers largely to the type of equipment you use—lighter rods and thinner fishing line. Fish you're likely to catch include barracuda, grouper, mackerel, and yellowtail.
Bottom Fishing is, rather simply, fishing the bottom of a body of water. To do this, weights are tied to the end of your fishing line, with the hook and bait tied a few inches up. Fish you're likely to catch are snapper, catfish, bream, and other groundfish.
Fishing Charters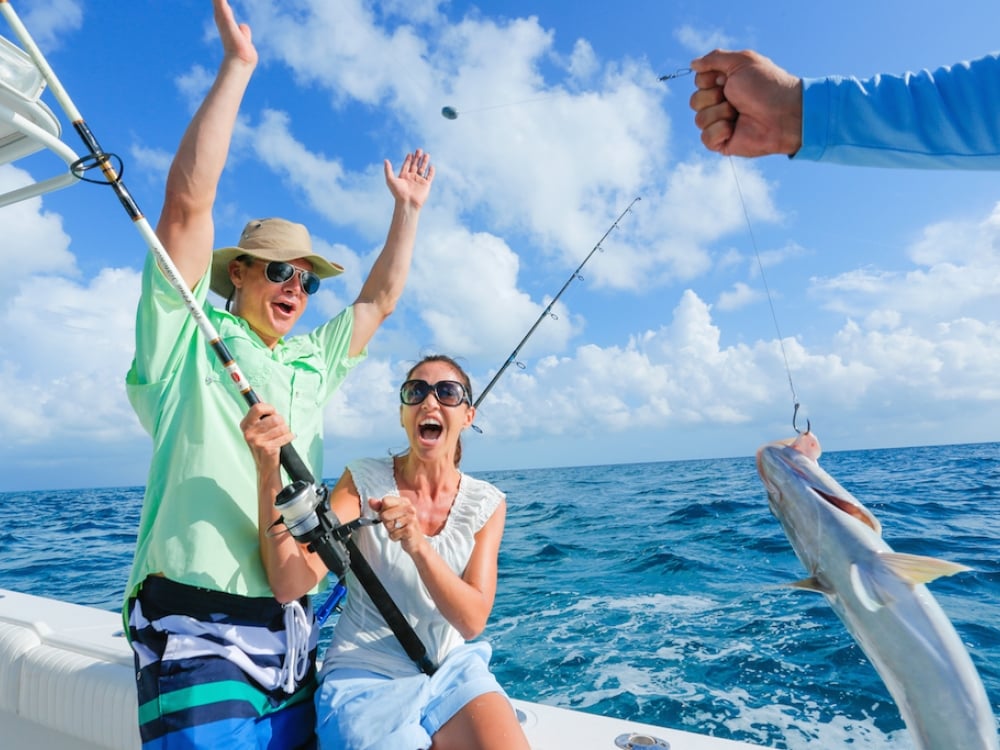 Here are some of our favorite fishing charters in Nassau Paradise Island.
Pieces of 8 Tours
Guests of Atlantis, Paradise Island have their choice of more than 40 stunning yachts and fishing charters so they can experience the beautiful islands of The Bahamas and some secret fishing spots, all with the exclusivity of a private yacht charter with Pieces of 8 Tours.
Bahamas Marine Adventures
For over 45 years, Captain Stephen Rolle and his crew at Bahamas Marine Adventures have been fishing the waters of the Bahamas, and they are ready to help you catch a big one! They know all the best spots for hooking a blue and white marlin, sailfish, tuna, or wahoo. Head out on either their 28-foot Betram or 44-foot Hatteras, both of which provide comfort, entertainment, and all of the equipment you need to reel in a prize catch.
Born Free Fishing Charters
Hop on one of the six fully-equipped boats in Born Free Fishing Charters' fleet and head out for deep-sea fishing, bottom fishing or even just some sightseeing and swimming—the choice is up to you! Born Free Fishing Charters offers half and full-day tours that will be fun for the whole family. The staff at Born Free are so good at fishing, that if you don't catch something on your full day fishing charter, it's on them!
Chubasco Fishing Charters
Set off from Nassau Harbour with Chubasco Fishing Charters and head out on an angling adventure. This family owned and operated company are pros at light tackle—catching smaller fish from over reefs and wrecks—and also know of a few good spots to reel in a big catch if sport fishing is more your style. Their "no splash, no cash" policy means that you're guaranteed fish on all full-day charters or you don't have to pay.
Hunter Charters
Hunter Charters specializes in sport fishing, so get ready to reel in a marlin, mahi-mahi, tuna, sailfish and more big catches! The Hunter Charters fleet consists of five boats, each decked out with all of the equipment you need for sport fishing on the blue Bahamas waters.
Reel Dreams Bahamas
Set sail for Exuma and the National Land and Sea Park of  the Bahamas National Trust with Reel Dreams Bahamas. The Exuma Sound is plentiful with fish for you to reel in and the experts at Reel Dreams Bahamas are there to help you do it.
Boat Charters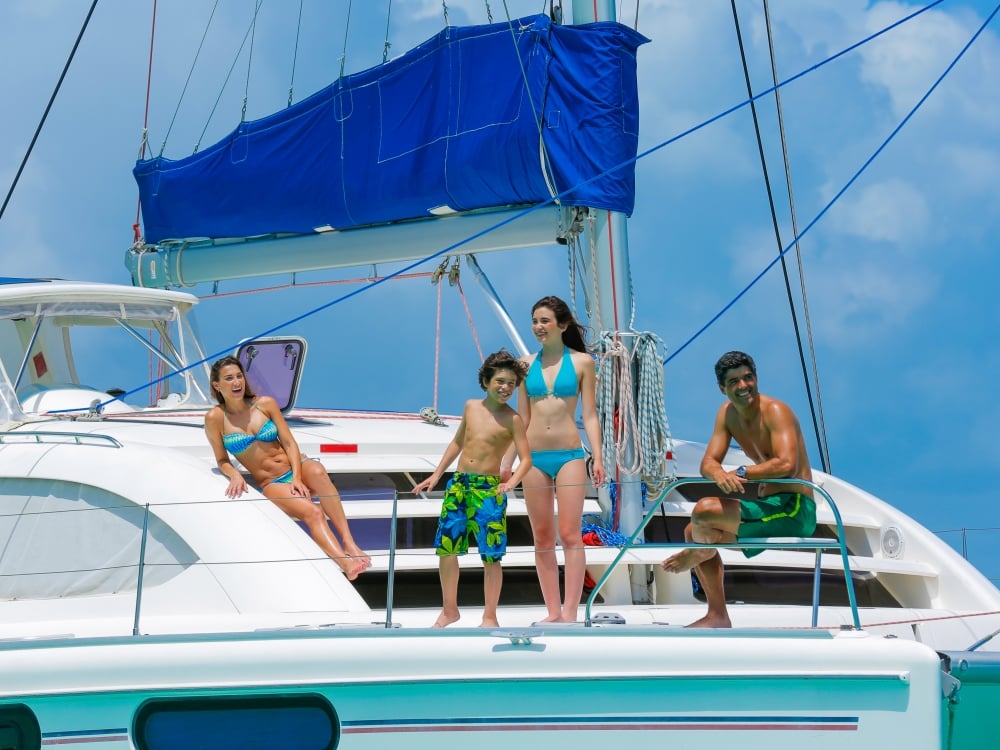 Just because fishing isn't your thing doesn't mean you can't escape dry land for a high-seas adventure! There are a number of boat charters you can choose from that will take you snorkeling, island hopping, and more.
Pieces of 8 Tours at Atlantis
Hop aboard a 38-foot speedboat and zip through the turquoise waters of The Bahamas on your way to sun and water fun with Pieces of 8 Tours, available exclusively to guests of Atlantis. Head for the Exumas or just enjoy the thrill of speeding along at a brisk 45 mph.
Barefoot Sailing Cruises
Enjoy the feeling of the salty Bahamas sea air blowing through your hair on a sailing charter with Barefoot Sailing Cruises. Half day cruises last between 3-4 hours and will include a good one and a half hours of "turn off the engine" sailing time. If you've got some sailing experience, or want to learn, let your crew know and they'll show you how to hoist the jib, man the mainsail, or take the helm.
Flying Cloud Catamaran Cruises
Picture this: sailing through the clear turquoise waters of The Bahamas on a 57-foot catamaran. Make it happen with Flying Cloud Catamaran Cruises. This beautiful two-hulled sailboat sets sail from the Paradise island Ferry Terminal daily on excursions like 3 ½ hour half-day cruises, full day cruises, and dinner cruises.
Paradise Island Sunset Cruise
Experience the stunning beauty of a Bahamas sunset in a brand new way with a Paradise Island Sunset Cruise. Wednesdays, Fridays, and Saturdays, hop aboard a sailboat for dinner and cruise at sunset. Dine on BBQ ribs, lemon pepper chicken, peas & rice, salads and more as you take a leisurely tour through Paradise Island Harbour.
Island Escapes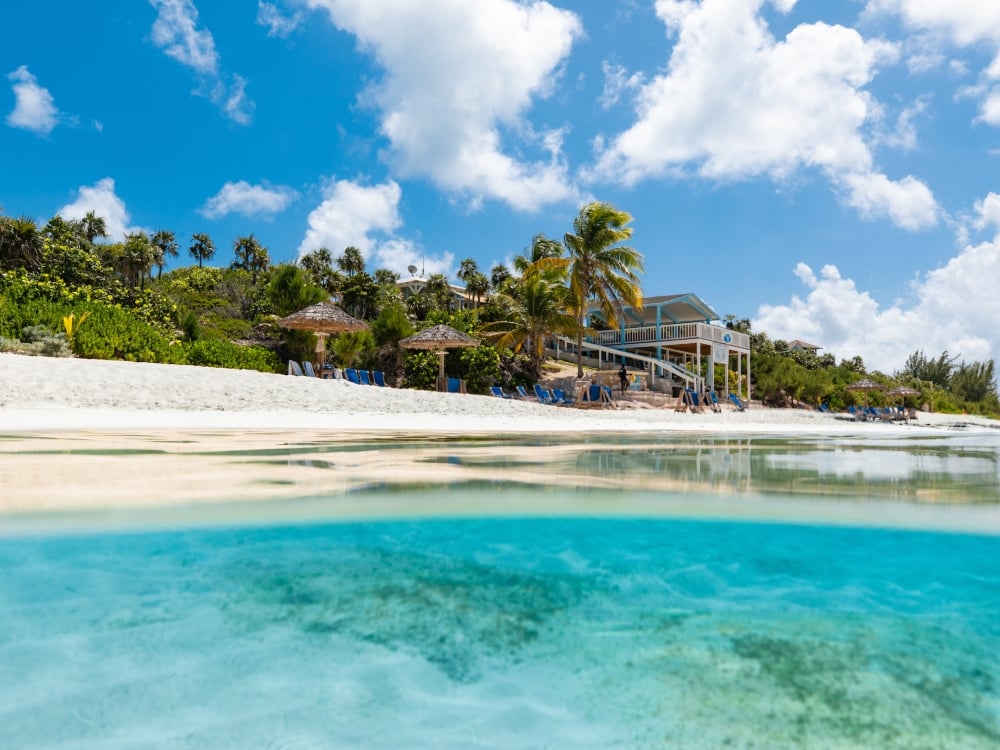 Nassau and Paradise Island provide the perfect backdrop to a tropical beach vacation, but with so many islands to choose from in The Bahamas, why not check out a couple more? These complete island excursions will take you from our shores to experience new islands for the day.
Pearl Island Adventures
Just 30 minutes from downtown Nassau is the perfect island retreat! Set sail with Pearl Island Adventures and before you know it you'll be on your own island paradise, complete with white sand beaches, fresh buffet lunch, shaded decks and comfortable beach chairs, stand-up paddleboards and other water sports, and much more.
One thing is for certain, our stunning turquoise waters are just begging to be explored! So whether you cast a line and reel in a fish, hoist a sail and set to sea, or charter a boat to a deserted island, there are plenty of ways to get out on the water in Nassau Paradise Island. Which will you choose? Don't forget to share photos of your adventures with us on social media—tag @nassauparadiseisland. Anchors away!