Dining in Nassau Paradise Island
Discover a world of one-of-a-kind dining at the amazing hotels and resorts around Nassau Paradise Island. Whether you are a guest at one of the hotels or simply looking to indulge in the exquisite Bahamian dishes, this guide will give you an inside look at the world-class culinary scene around The Island.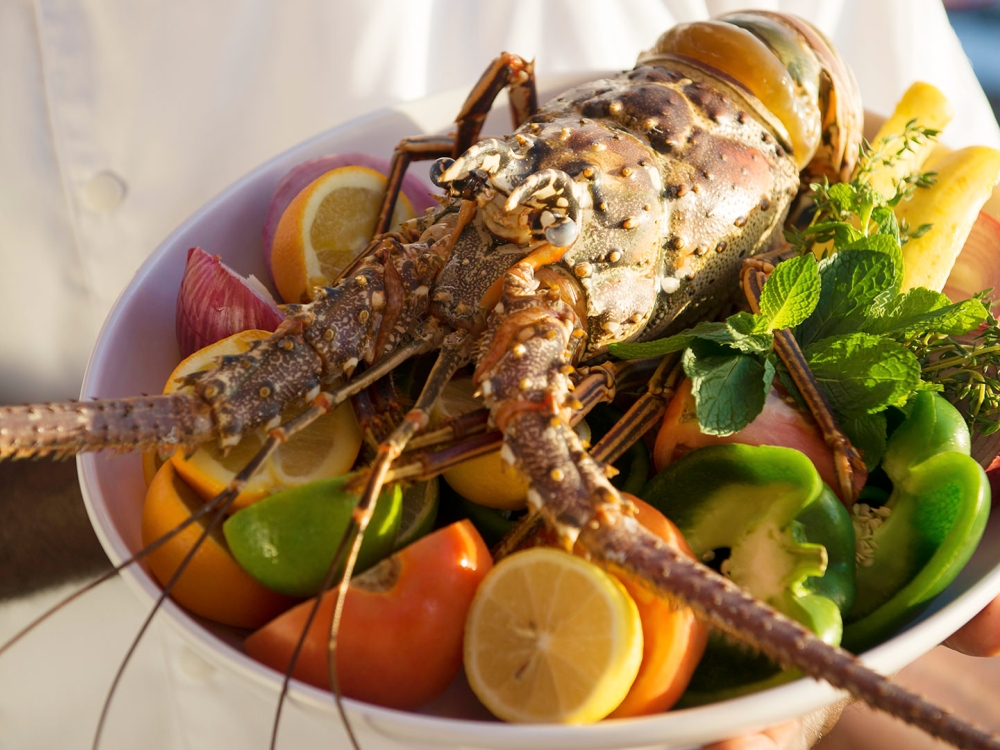 Atlantis Paradise Island
Atlantis Paradise Island is a beautiful oceanside resort here in Paradise Island. This destination has so much to offer with its five distinct hotels, including The Royal, The Coral, the waterside villas at Harborside Resort, The Cove, and residential-style living at The Reef. With casual dining, bars & lounges, cafes, and fine dining with celebrity chefs, there is something for anyone to enjoy at the Atlantis.
If you're looking for casual dining, Atlantis Paradise Island serves up dozens of options all over the resort. Poseidon's Table offers buffet dining  at the resort, with fresh and flavorful choices for breakfast, brunch and dinner and a variety of foods from around the world. If you're looking for a family restaurant with Southern Italian cuisine, Carmine's has a lively New York-style ambience, serving delectable Italian dishes, from shrimp scampi to Tiramisu. Or, awaken your taste buds with contemporary Chinese cuisine at Chop Stix — the complete package for a big group to embark on a culinary adventure with traditional favorites or more innovative choices. Another casual dining option featuring Bahamian food on the menu is found at Bimini Road, a restaurant famed for its authentic Bahamian cuisine, like conch salad and delightful freshly caught seafood.
Atlantis guests and visitors can also find an array of bars and lounges to suit their style, from luxe and low-key lounges to lively patio bars. Many bars and lounges offer succulent appetizers or full menus to explore while you sip on tropical refreshments. The Sea Glass Lounge features an outdoor patio, gaming tables and slots, and spectacular ocean views, serving a selection of appetizers like charcuterie, poached shrimp, and braised ribs, to name a few. There's also a wide variety of luscious cocktails, martinis, and assorted refreshments. For more casual drinks and a bite to eat, catch sports events on the flat-screen TVs or the nightly entertainment at Plato's. The patisseries offer quick bites any time of the day, signature cocktails, and other beverages. The Dilly Club is a new upscale coffeehouse by day and craft cocktail lounge by night. They serve espresso, coffee drinks, and an impressive list of cocktails with a unique twist and tiki-themed libations.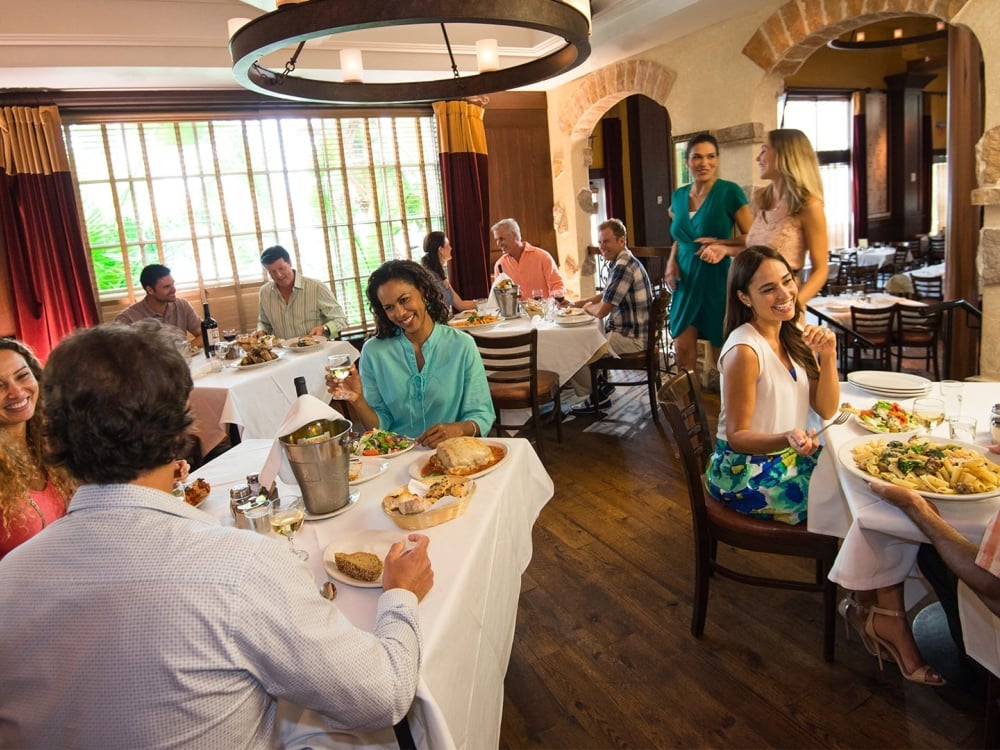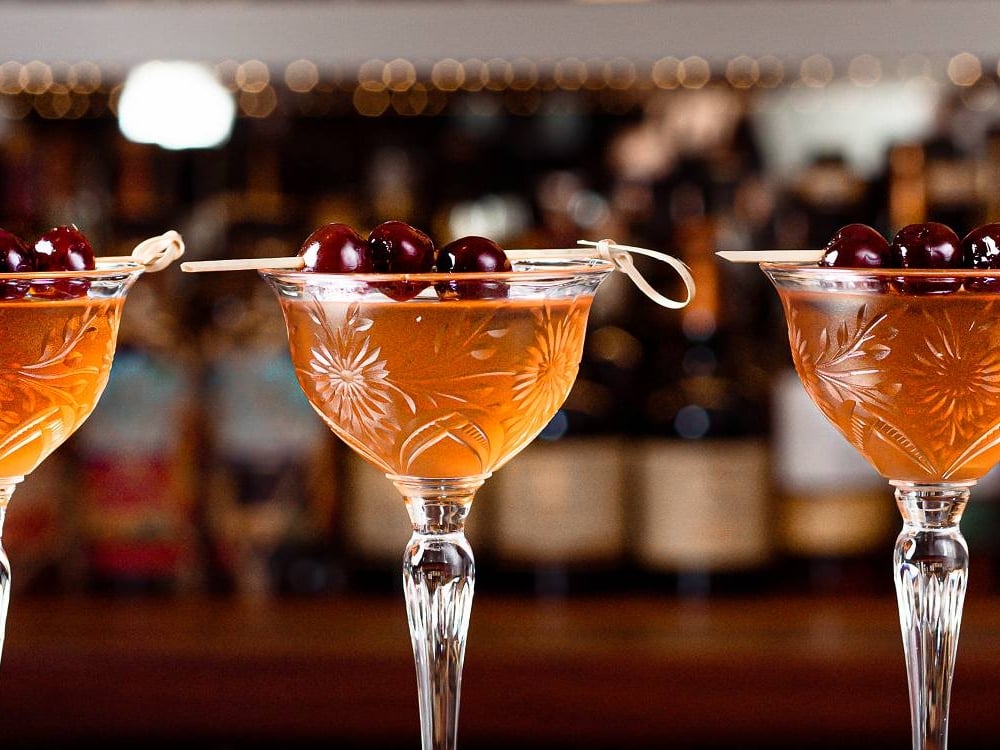 Atlantis Paradise Island has many tasty options throughout the resort for quick bites to eat — whether you're soaking up the sun and lounging around the pool or looking for a snack between meals. One of the newest additions to the resort is The Burger Shack. This family-friendly indoor and outdoor eatery serves up classic All-American meals with a Bahamian twist. If you're looking for something more authentically Bahamian, look no further than McKenzie's at Marina Village. You will love the local cuisine and laid-back Bahamian spirit. If you're lounging by one of the pools near Harborside, Sunset Point is just steps away — serving everything from sandwiches and salads to seafood right off the boat, all topped off with stunning harbor views. And what would be a sunny vacation without ice cream? Cool down at Sun & Ice, the resort's new ice cream, gelato, and sorbet cafe created by Bahamian Chef Wayne Moncur.
End your day at one of Atlantis Paradise Island's delectable and upscale specialty restaurants with foods from all over the world made by world-class Chefs. Café Martinique offers Atlantis guests and visitors a refined gastronomic adventure with reimagined French classics that will please even the more discerning palates. This world-class restaurant is an idyllic backdrop for special occasions, thanks to its old-world elegance and creative cuisine. Next, visit Nobu and try their acclaimed Japanese cuisine for a unique ambiance and intimate dining setting. Here you can encounter the chef's legendary spin on traditional dishes like Bahamian lobster, Nobu-style ceviche, and much more. Or, get a taste of the resort's flagship seafood display highlighting Bahamian seafood with upscale and innovative dining at Fish by José Andrés. Master Chef José Andrés incorporates diverse ingredients, from crustaceans to tuna, lionfish to conch. Dine in a modern ambiance set for almost every occasion at Seafire Steakhouse. Seafire's extensive menu includes smoked, seared and grilled flavors you'll love, including the finest cuts of prime beef that will satisfy all preferences.
At Atlantis Paradise Island, a world of unforgettable dining experiences are at your fingertips. Discover more of the impressive collection of restaurants, bars, and lounges at Atlantis Paradise Island.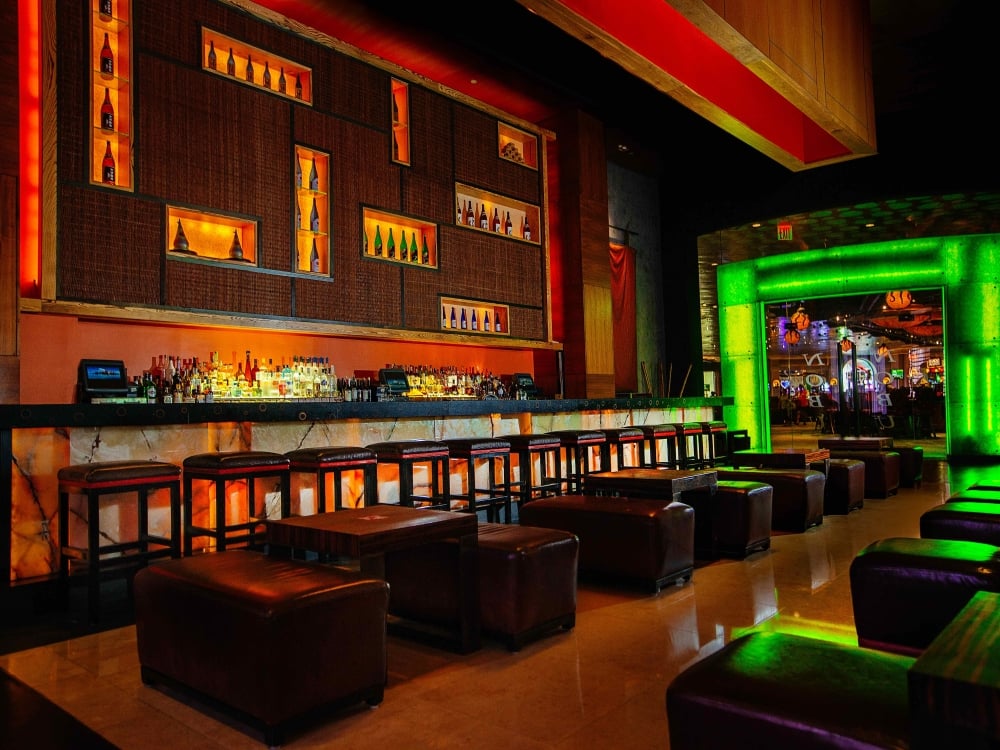 Baha Mar
Baha Mar is home to grandeur and elegance, with three luxurious hotel accommodations, including Grand Hyatt Baha Mar, Rosewood Baha Mar, and SLS Baha Mar. Their impressive assortment of celebrity chef restaurants and international cuisine delivers exceptional dining for everybody. 
The casual dining at Baha Mar is impressive, with everything from burgers to woodfired pizzas, international favorites to street food staples. Start your day in Paradise at Café Madeleine, a French café and bakery that serves creamy lattes and light menu items like sandwiches, salads, and decadent desserts. Or, take a seat at the Regatta Buffet for easy-going dining, offering an assortment of global cuisine in an upscale buffet setting any time of day. For a the taste of Mediterranean street food and casual dining, make your way to Cleo Grill. They serve marinated meats, seafood, and vegetables prepared over smoking fire for mouth-watering Mediterranean flavors paired with healthy salads and sides. Fi'lia is another excellent Italian restaurant that everyone is sure to love. Indulge in their rustic wood-fired oven pizzas, freshly–tossed Caesar salad or pasta.
When it comes to bars and lounges, Baha Mar has it all. Enjoy one of their elevated lounges, or find your way to a sunny patio bar. One of the more popular destinations at Baha Mar is The Swimming Pig — named for one of The Bahamas' iconic animals. The pub offers many drinks to quench your thirst, along with pub favorites around the clock. If you're looking for a classy, low-key night filled with soothing beats, the Jazz Bar is the place to be. They serve up small-plate menu items and globally inspired cocktails — from negronis to Bahamian Sky Juice — all while you listen to live jazz music and the elevated atmosphere.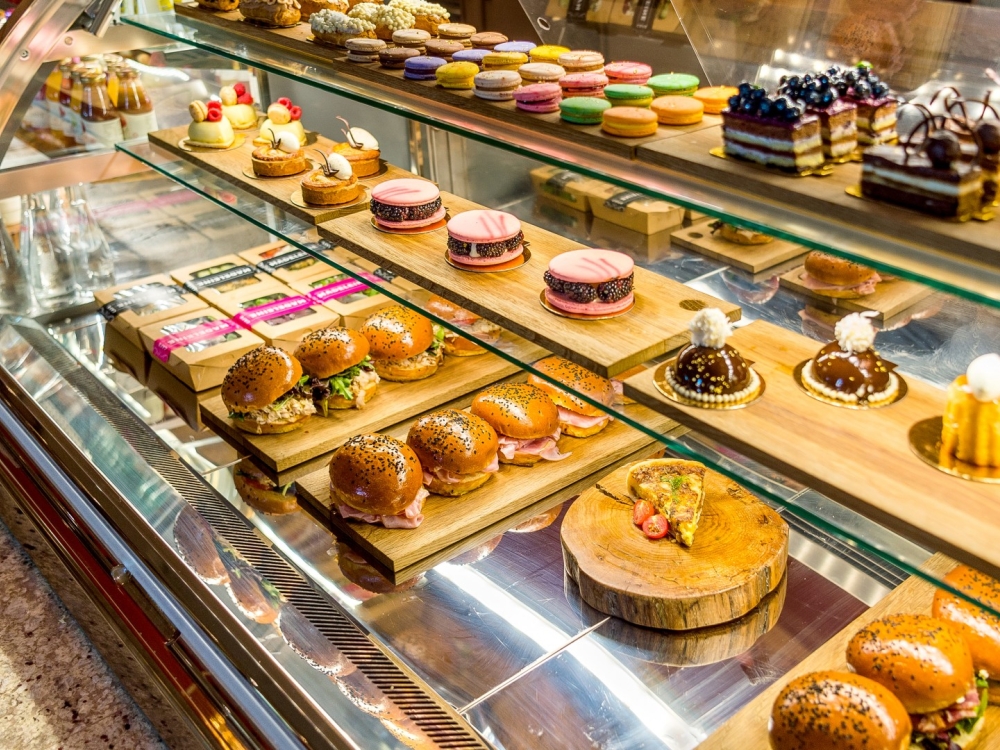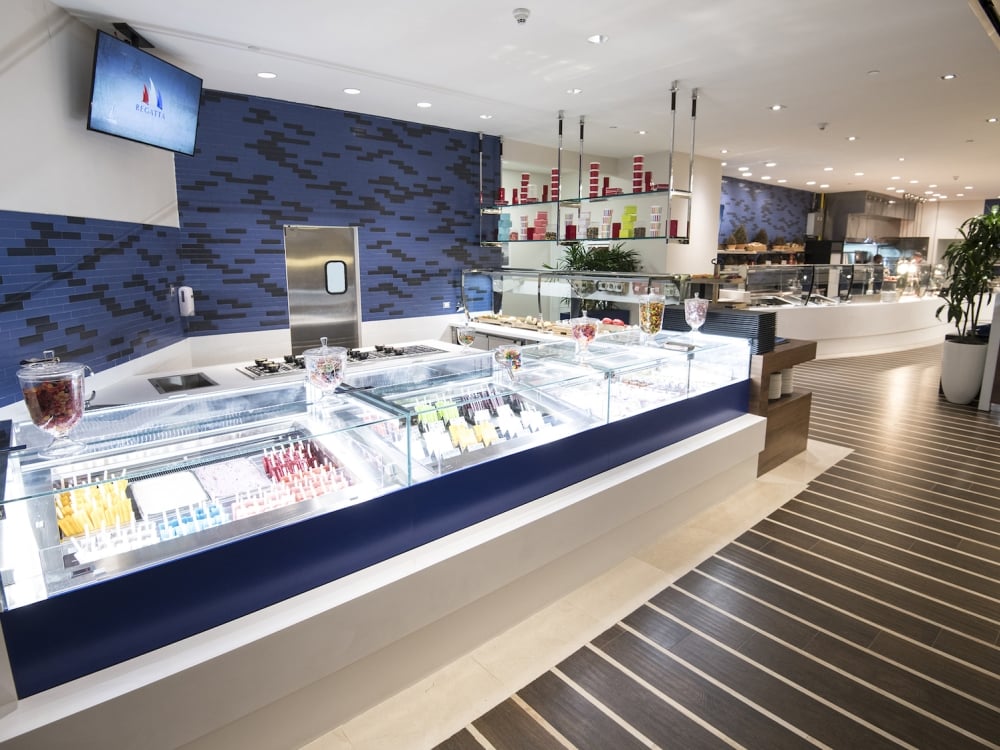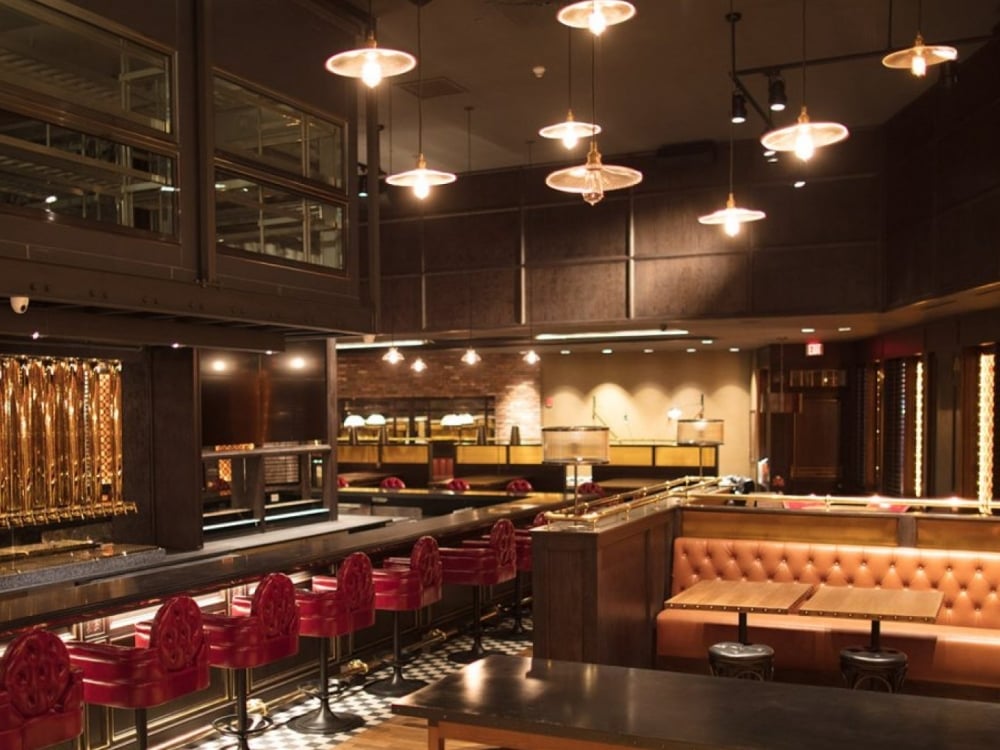 Quick bites to eat are easy to find around Baha Mar, with a selection of food trucks and poolside shacks. Knosh is The Bahamas' newest beachfront food truck that offers an array of appetizing cuisines from around the world. This quick stop focuses on healthy food that will satisfy and refresh you with their selection of flatbreads, bowls, sandwiches, and more! The perfect poolside snack awaits at Da Poke Bowl Shack, serving up healthy and delightful poke bowls steps away from the Baha Mar beach. Finally, find all of your sunny day classics at Umami Burger. Originally from LA, these must-try burgers are now available for the first time in the Caribbean — offering craveable burgers and sides with a unique twist.
Specialty dining always impresses at Baha Mar, with some of the best restaurants in Nassau. Café Boulud The Bahamas brings the celebrated seasonal French cuisine of internationally distinguished Chef Daniel Boulud to the Caribbean. Featuring classic French influences with a focus on flavorful local seafood and savory vegetables unique to Nassau. Indulge in a one-of-a-kind dinner at Cleo Mediterráneo with Mediterranean-infused sharing plates, mezzes, flatbreads, and cocktails, all adapted with local Bahamian ingredients. Carna is another of Baha Mar's excellent specialty dining restaurants, featuring a contemporary steakhouse concept led by the renowned butcher, Dario Cecchini.
With everything from casual and quick bites to laid-back lounges and outstanding restaurants, Baha Mar has so much to offer when dining around Paradise Island. Discover more restaurants, bars & lounges at Baha Mar.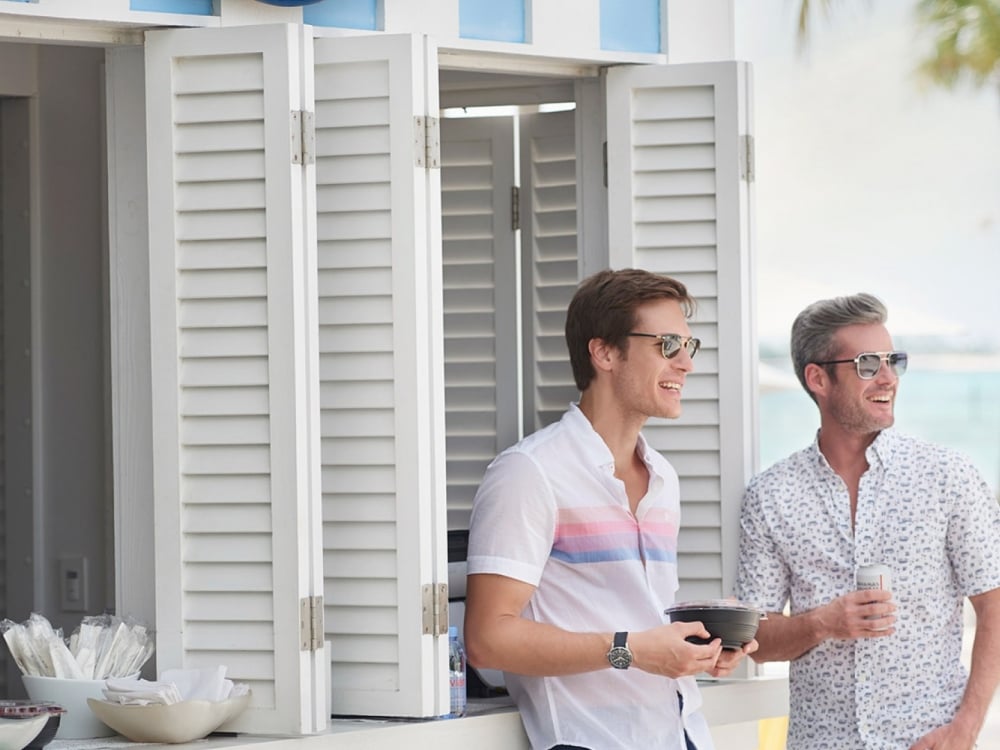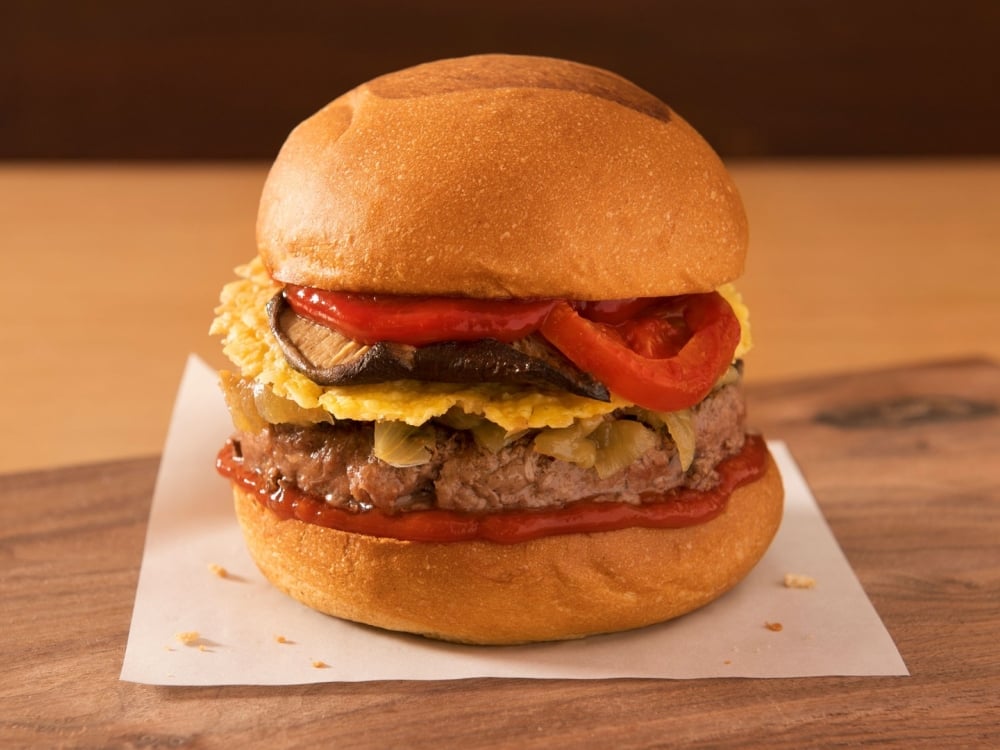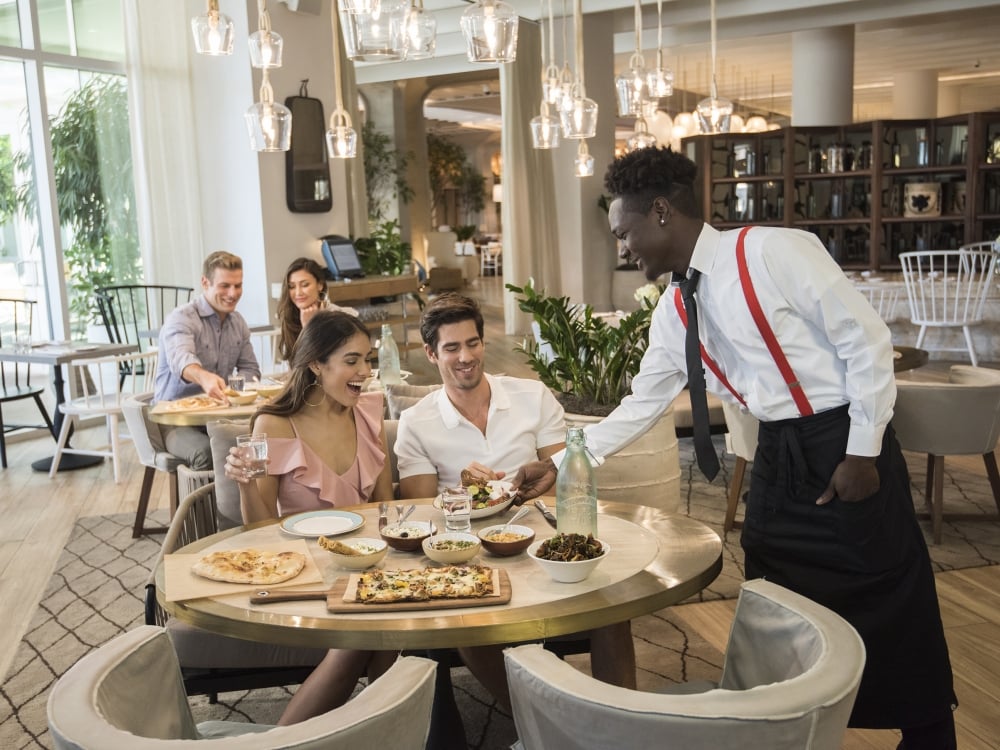 Sandals Royal Bahamian
Sandals Royal Bahamian offers a variety of casual dining that will leave you satisfied with every bite. Visit Aralia to revel in some Caribbean-style eats, including seafood from boat to table, and local Bahamian eats that deliver the flavors of Paradise. Or, try something new and at Soy Sushi Bar, featuring fresh nigiri, sashimi maki, and other seafood delicacies. Another option at Sandals Royal Bahamian is Tesoro, which specializes in Northern Italian recipes that the whole family will love.
Stop for a quick bite to eat at any of the cafes and restaurants around the resort. Calico Cafe offers great grilled essentials like burgers, salads, and pub-style sides served right by the beach. You can find a grab-and-go one-stop spot at Sweets N Tings, as well as crepes, snacks, coffee, and drinks. Suppose you're on the hunt for some local Bahamian cuisine. In that case, Coco Queen is a quick stop in the shade offering tacos and seafood that will leave your mouth watering.
There are many dining locations offered at Sandals Royal Bahamian, starting with Kimonos. This fan favorite sets the stage around the grill as you participate in Teppanyaki with the talented chef for a memorable meal. Next, discover the heart of France at Parisian-inspired La Plum, where exciting dishes are balanced with a warm and inviting vibe. The Butch's Island Chop House offers seafood seasoned to perfection and prepared the way you like it. For show-stopping views on the pier and upscale dining that takes grilled cuisine to a whole new level, take a seat at Gordon's On The Pier, located on the tip of the resort's pier and surrounded by turquoise blue waters.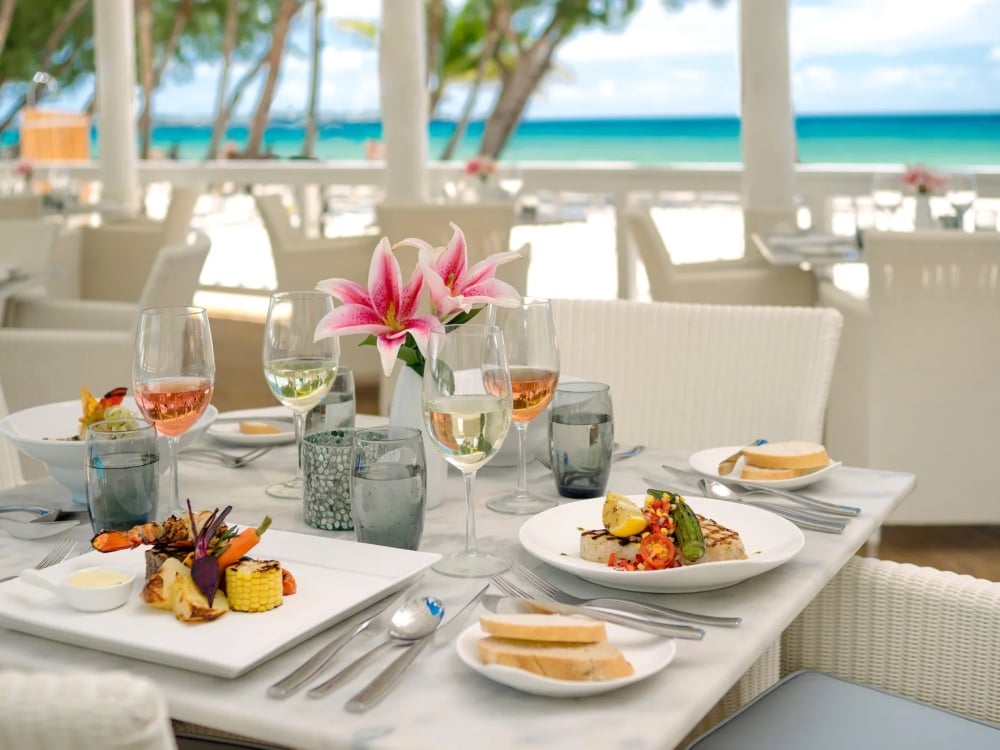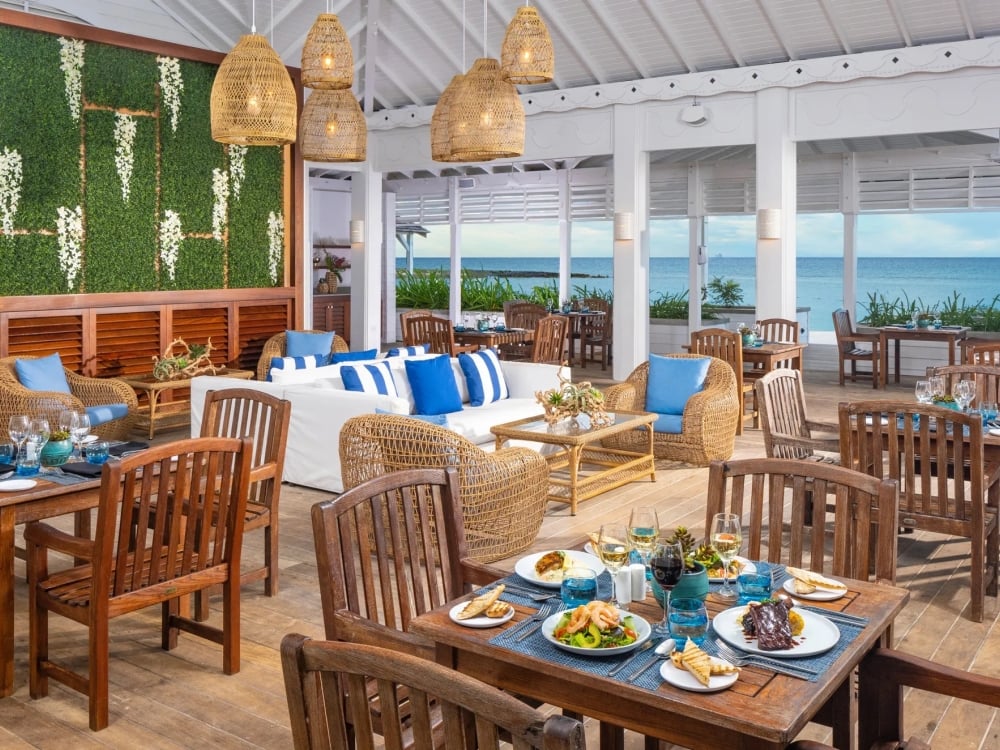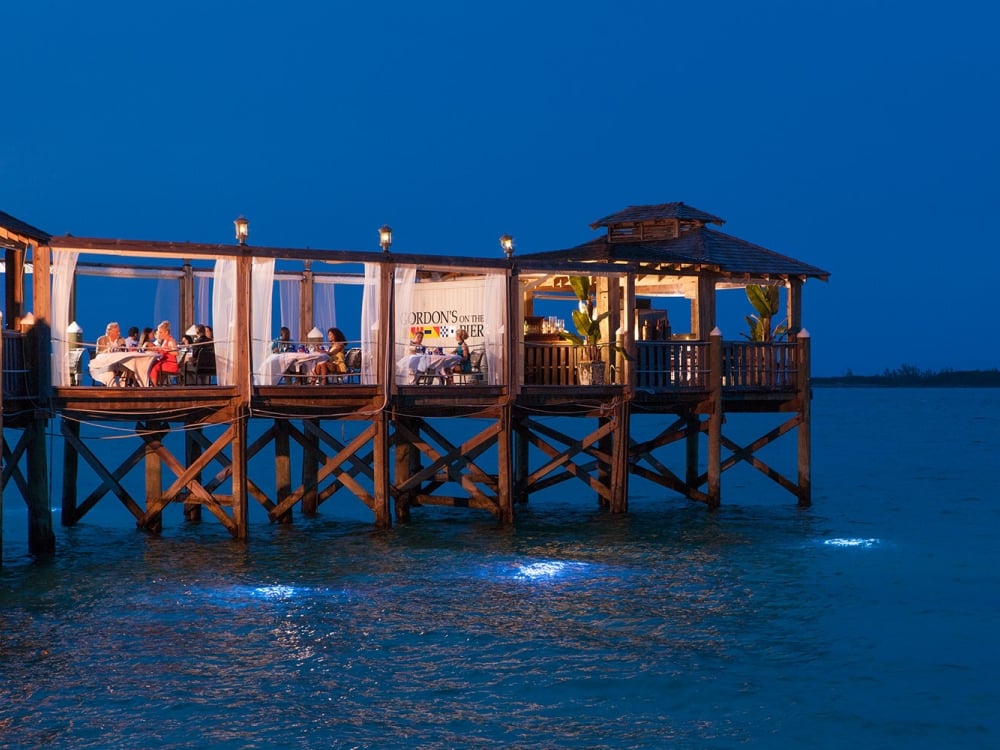 Goldwynn Resorts & Residences
Goldwynn Resorts & Residences is one of Nassau's newest luxury resorts featuring a pristine stretch of Cable Beach. This private setting offers many amenities while remaining elegantly secluded. The dining scene at Goldwynn Resorts & Residences boasts upscale and trendy options as well as casual and welcoming locations that complement the resort's welcoming atmosphere.
Find casual dining and drinks at Atria, serving the best coffees, frothy cappuccinos, blended fruit smoothies, and other delights, making it an ideal place to grab and go on a busy day. Lounge and dine outdoors at Amara, an inviting open-air eatery. Sip on a refreshing cocktail, or sample the array of international tapas, snacks, and Bahamian food with non-stop beautiful ocean views.
Goldwynn Resorts & Residences features one bar that checks every box. Bar Paul is the ultimate gathering place to end the night and sip a signature cocktail. A relaxed bar and lounge by day, Bar Paul transforms into an energetic entertainment space by night.
For more upscale specialty dining, visit the OIA Restaurant — Influenced by a fusion of Mediterranean and Asian cuisine. The resort's premier restaurant delivers the best locally sourced and imported seasonal ingredients to create an unforgettable dining experience.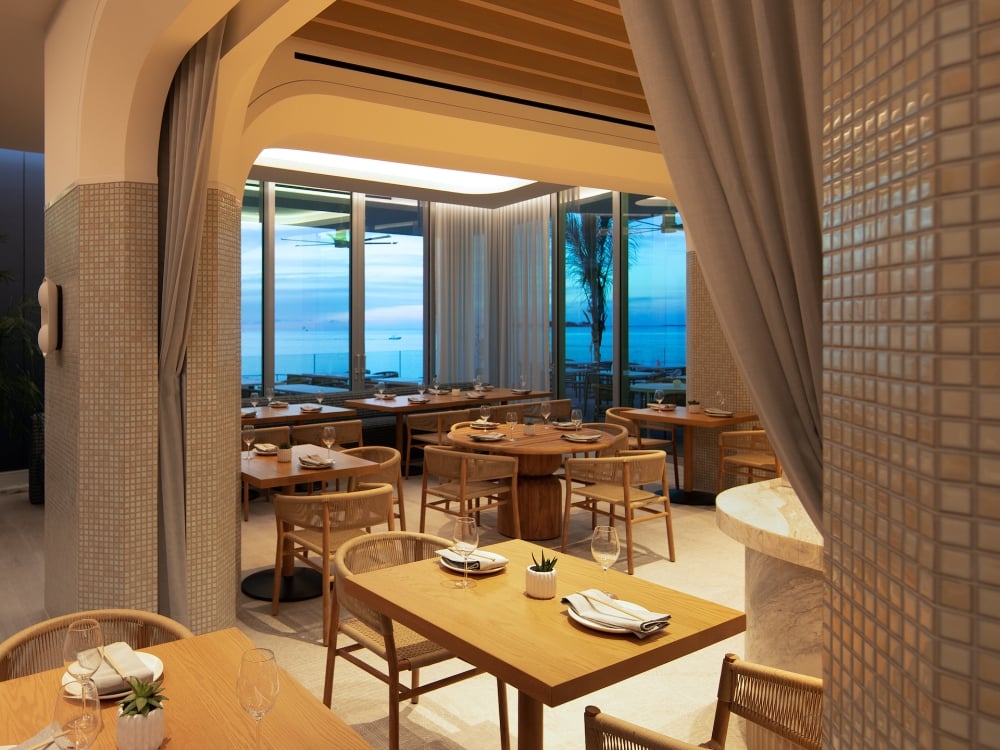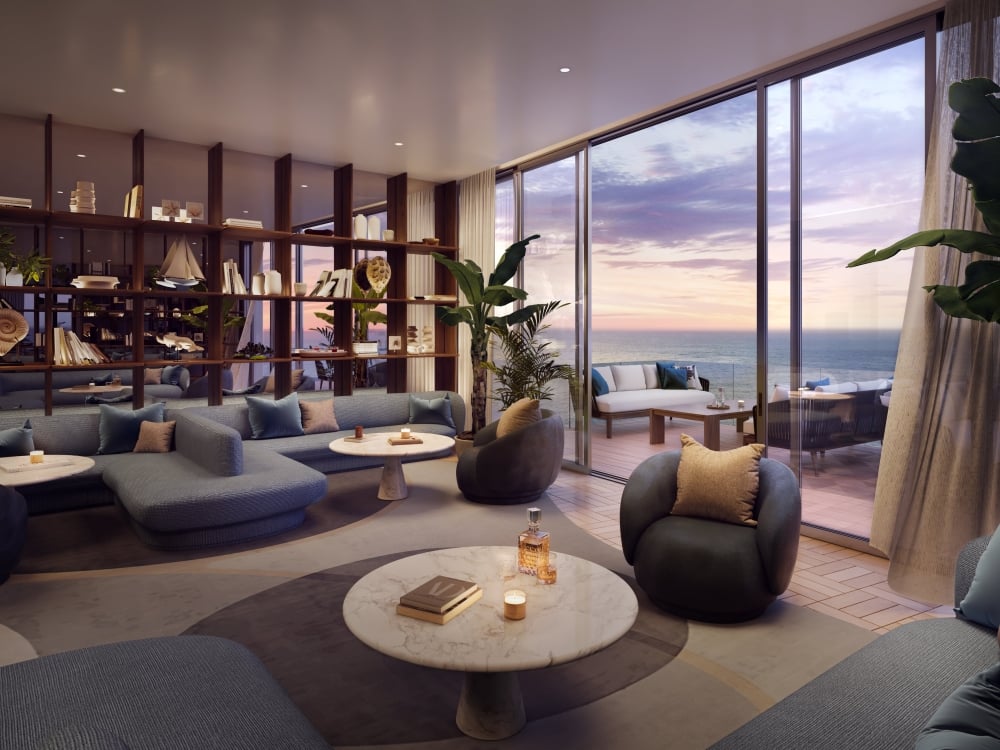 Margaritaville Beach Resort
Margaritaville Beach Resort brings a mix of luxury and adventure to your Island getaway. Inspired by the legendary music and lifestyle of Jimmy Buffett. The resort offers a variety of world-class eateries with foods from around the world.
Find your everyday casual dining spots around the resort to keep yourself satisfied between the hustle and bustle of lounging poolside. Vacation Cafe offers all essentials like continental breakfast, lunch, and evening feasts available 24 hours for every craving. Elsewhere, you can grab a slice of pizza or savor traditional Italian at Frank & Lola's Pizzeria.
Margaritaville Beach Resort has a vast selection of bars and lounges to relax at with a drink in hand. The S.O.S Bar delivers cocktails and tasty bites for an easy going day in the sun. Find light bites and frozen cocktails at the laid-back Changes In Latitude Bar, or soak up the sun and the breezy Bahamian 12 Volt Bar, steps away from the bustling Junkanoo Beach. Here, you will find everything from conch salad to ice-cold drinks to enjoy in the beautiful weather.
Savor quick bites around the resort, from grilled classics to cafe essentials. The Pointe Market is your one-stop shop for grab-and-go snacks and light bites that always satisfy, such as handcrafted pizzas. There's also Feeding Frenzy, located poolside for convenient snacking under the sun. They serve everything: cocktails, cold beers, burgers, and sides. If you're searching for a hot cup of coffee and cafe favorites, Joe Marchant's Coffee & Provisions offers a variety of snacks and drinks.
Try Margaritaville Beach Resort's specialty dining at the laid-back, luxe JWB Prime Steak and Seafood restaurant. Featuring a contemporary menu including premium cuts of steak, seafood, and an assortment of drinks to satisfy your palate.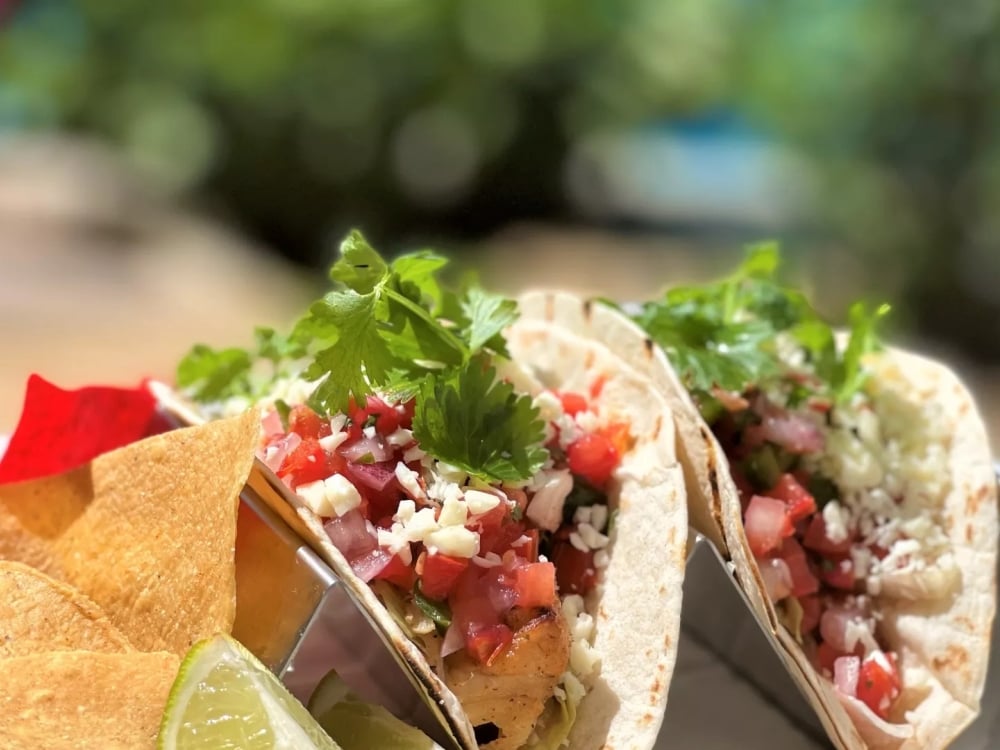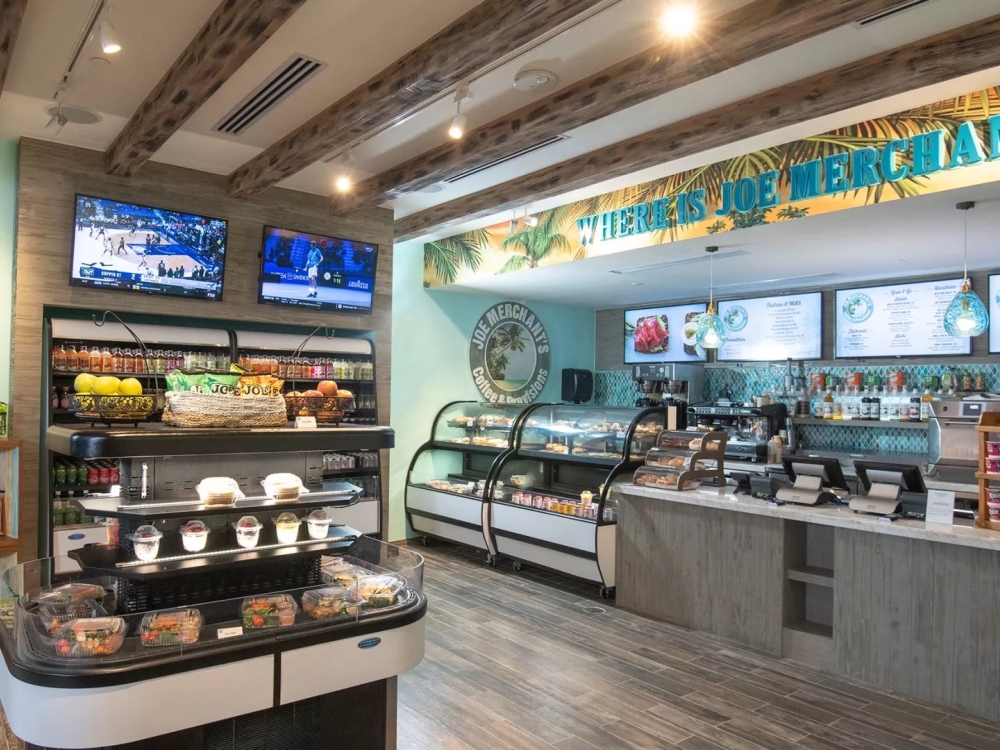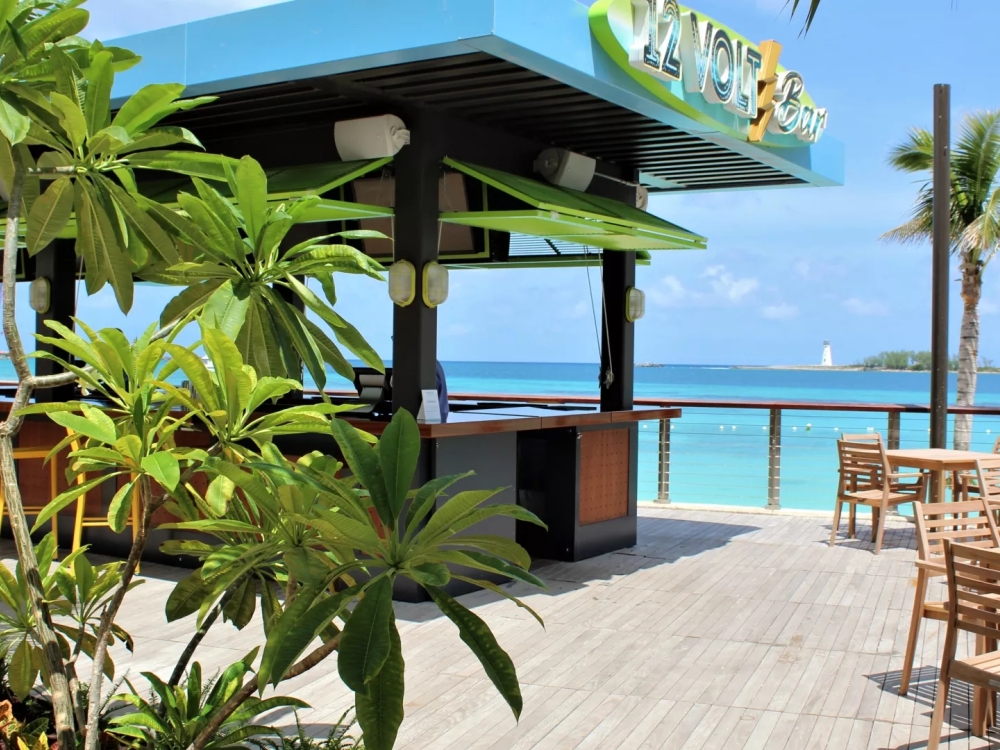 The Ocean Club - A Four Seasons Resort
The Ocean Club features timeless glamor set along five miles of pristine white sand beach on Paradise Island. This private oasis offers a collection of five-star restaurants and bars, providing a memorable outing for all.
Starting with superb casual dining, Ocean Blue is just steps from the beach with idyllic views. Their menu items include grilled fare for every appetite, including sandwiches, burgers, tacos, pizzas, and more! You'll also find two bars and lounges here. The Martini Bar & Lounge — famously featured in the 2006 James Bond film Casino Royale — is well known for its martinis (shaken or stirred). The DUNE bar is another luxurious spot with panoramic ocean views commanding one of the best locations on Paradise Island. Here, sip on iconic Bahamian cocktails and nibble light bites while enjoying live entertainment in the evenings.
Regarding specialty dining, the resort's signature restaurant, Dune by Chef Jean-Georges, delivers a blend of French-Asian cuisine with a Bahamian twist that will excite the palate. The restaurant is set along dramatic ocean views creating a serene aura for a memorable evening.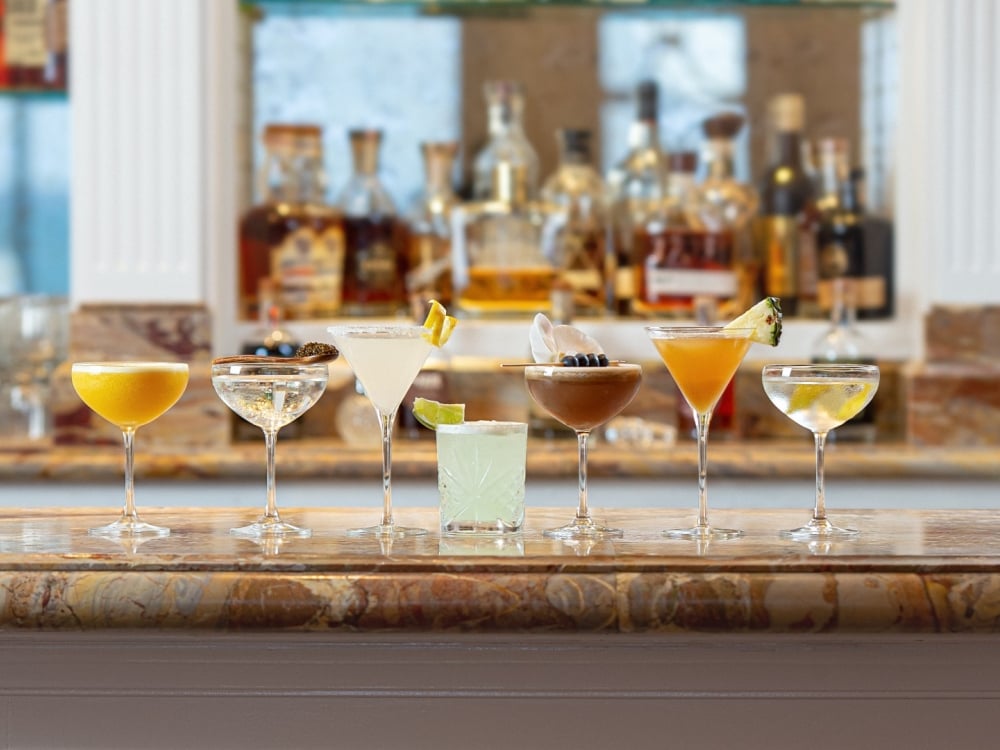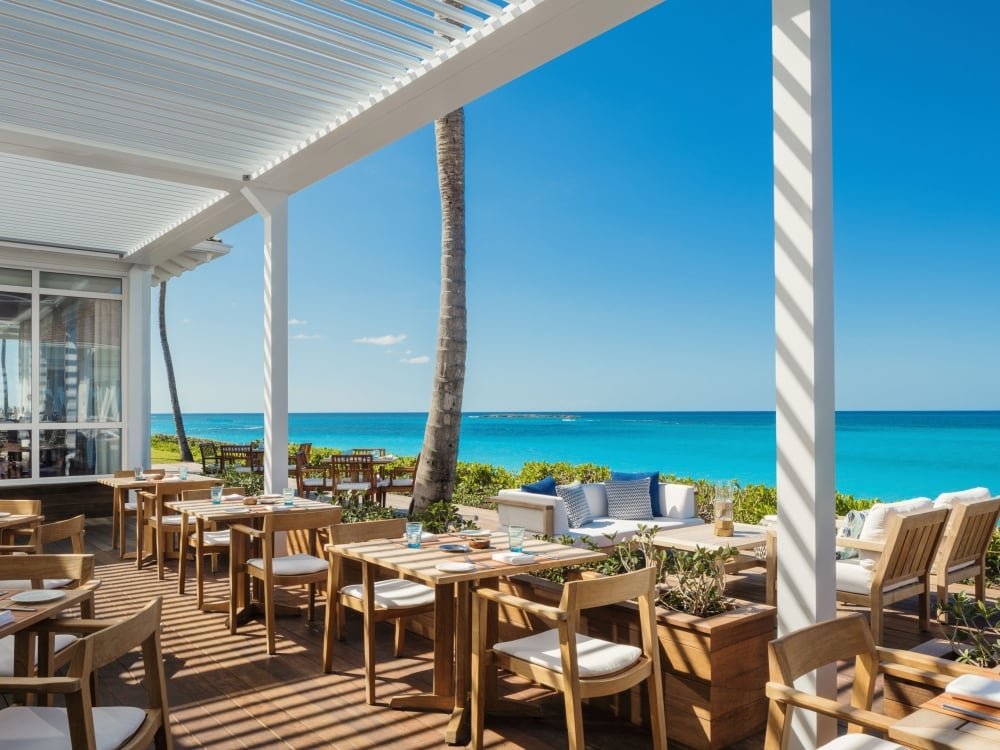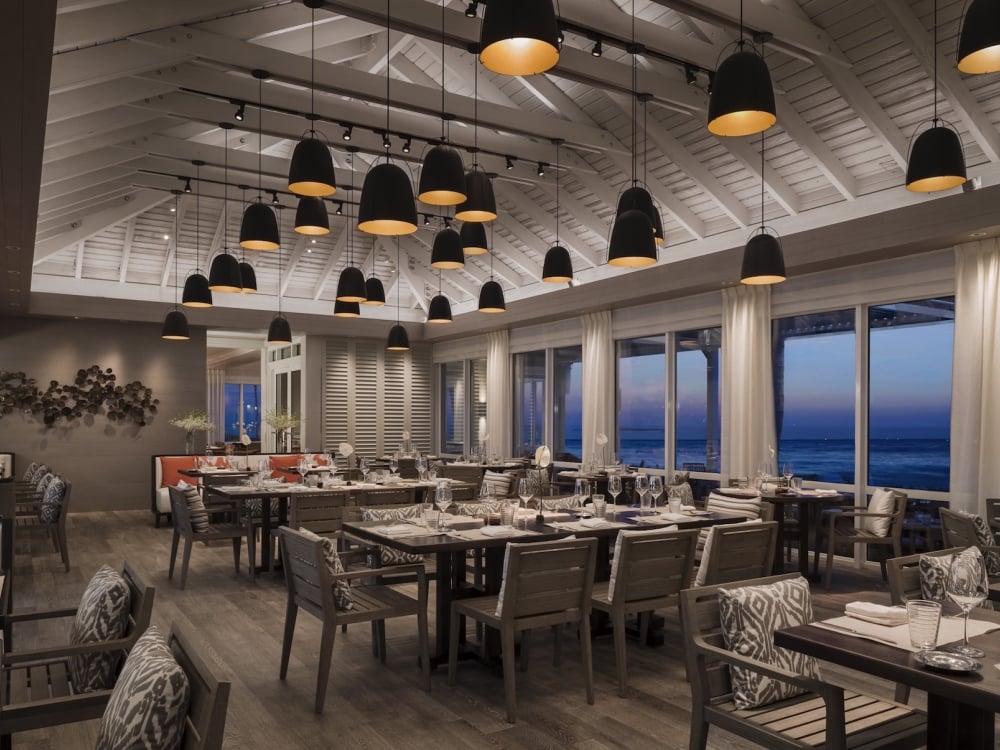 Remember to Pack Your Appetite
Nassau Paradise Island is filled with incredible dining experiences. Whether you crave tastes from around the world or those unmistakable Bahamian specialties, you'll quickly discover that meals out are Better in the Bahamas. If you're ready to taste the incredible food Nassau Paradise Island has to offer, explore our deals and start planning your next culinary adventure today.