Eight Fun Facts About Ardastra Gardens & Wildlife Conservation Centre
During your next Bahamas vacation, why not take a walk on the wild side? At Ardastra Gardens and Wildlife Conservation Centre, visitors can strut with a flock of brilliant pink flamingos, feed chatty parrots, and stroll through an impressive array of colorful Bahamian plants and flowers. Take a break from the beach and discover this beloved family-friendly destination in Nassau. To help you get ready for your day at the only zoo in The Bahamas, here are eight fun facts about Ardastra Gardens and Wildlife Conservation Centre. 
Ardastra Gardens is celebrating 80 years this year.
Ardastra Gardens opened in 1937. It was a project of Jamaican horticulturalist Hedley Vivian Edwards, whose goal was to create a lush tropical garden in the heart of Nassau. Thanks to the area's damp, marshy ground, he had his work cut out for him, but his efforts paid off and the gardens are still intact eight decades later. Edwards chose the name Ardastra after the Jamaican defence force motto, which translates from Latin and means "Striving for the stars".
Ardastra Gardens welcomed its first flamingo guests during the 1950s.
The national bird of The Bahamas, the flamingo, was nearly extinct in the 1950s. As part of conservation efforts, the Bahamian government decided to try breeding flamingos in captivity and chose Ardastra Gardens as a home for the birds. During the breeding experiment, the flamingos became a popular attraction, and Edwards trained the flamingos to march for visitors. In October 1957, the flamingos of Ardastra Gardens were featured in National Geographic – their comfort with people made them a marvel in the animal world.
The flamingos are still marching today – catch their world-famous show daily at 10:30 a.m., 2:15 p.m., and 4:00 p.m.
The zoo was added to Ardastra Gardens during the 1980s.
In 1980, the gardens were purchased by Norman Solomon, who was passionate about wildlife and conservation. Solomon added more animals to the mix, and the zoo was born. Today, Ardastra Gardens and Zoo is home to 135 animals, both exotic (jaguars and Madagascar lemurs) and domestic (don't miss the friendly rabbits in the petting zoo!)
Ardastra Gardens span four acres of Caribbean plants and flowers.
Filled with winding paths, shady places to grab a seat and take a break, and regional and indigenous plants and flowers, Ardastra Garden is a beautiful spot to enjoy a time out during your vacation in Nassau Paradise Island. Check out the idyllic Secret Garden or keep your eyes open for yellow elder, the national flower of The Bahamas. No matter what time of year you visit, the Gardens are packed with bright color and lush tropical foliage.
Daily programs and events at Ardastra Gardens provide fun for the whole family.
In addition to the daily flamingo shows, Ardastra's programs and events mean every day at the zoo is educational and entertaining. Check out a free 30-minute lecture about wildlife conservation or animal classification. Or get up close and personal with lory parrots at 11:00 a.m., 1:30 p.m., and 3:30 p.m. each day, when guests have the opportunity to feed the birds apples. Don't forget your camera – lories love to perch on visitors' heads, making for some cool photo ops!
Ardastra Gardens and Wildlife Conservation Centre is home to some chatty birds!
Striking up a conversation with guests, showing off with some impressive tricks – the birds of Ardastra Gardens and Zoo are social and smart! Stop by the macaw exhibit and you might end up sticking around for a chat or a display of clever tricks. Another resident bird, the Eclectus parrot, will occasionally greet guests with a "hi" or "bye" if you catch her in the right mood. And don't forget to take a picture with George the kissing cockatoo.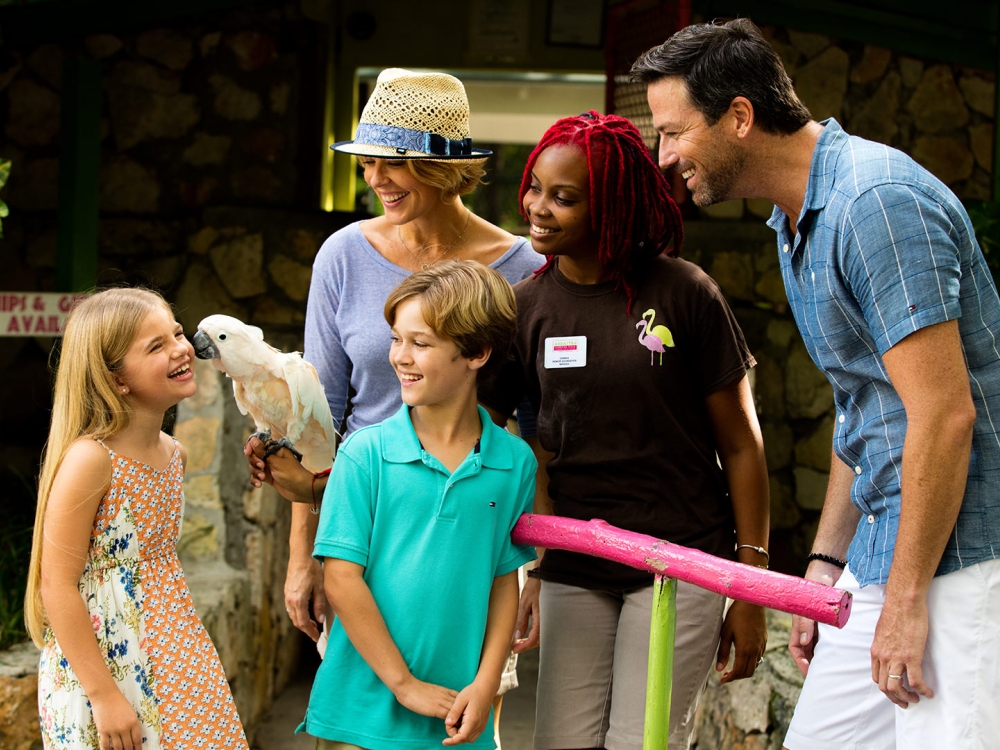 Check out the Bahamian Boa Constrictor.
This species is native to The Bahamas and found on almost all the major Bahamian islands. This non-venomous snake can grow up to 10 feet long! Bahamian folklore states that this snake is a threat to humans, so it's often seen as a dangerous animal – and sadly, the Bahamian boa constrictor is now at risk of endangerment as a result. At Ardastra Gardens and Wildlife Conservation Centre, visitors can meet Jackie, Chunk, and Slim, who are all between six and seven feet in length.
Ardastra Gardens' petting zoo is fun for kids of all ages.
Children (and adults!) will love to pet and feed the animals in the petting zoo at Ardastra Gardens. Here, critters such as rabbits, sheep, pigs, and goats love meeting visitors – especially if these visitors have food! This is another great way to interact with some of the zoo's animals.
Ready to take a walk on the wild side and discover Ardastra Gardens and Wildlife Conservation Centre for yourself? It's open daily from 10:00 a.m. to 3:00 p.m. and centrally located in Nassau, just a quick cab ride from any of Nassau Paradise Island's hotels and resorts.