Five Unforgettable Date Nights in The Bahamas
A destination wedding, a Caribbean honeymoon, an anniversary celebration, or simply a quick romantic getaway for two–there are plenty of reasons why The Bahamas is a popular destination for couples. There's something about powdery-soft sands, postcard-perfect views, and warm ocean breezes that inspires feelings of romance! And with delectable dining, high-energy nightlife, luxe accommodations, and plenty of one-of-a-kind experiences, Nassau Paradise Island is the perfect place to get away from it all with someone special.
Elevate your next date night from the classic dinner-and-a-movie routine with one of these unforgettable evenings in The Bahamas.
Dinner for Two–With a View
In Nassau Paradise Island, you'll find dining options to satisfy any palate–and in many cases, the views are every bit as enjoyable as the food!
Reserve a patio table at Dune by Chef Jean-Georges and watch the sun set over the water as you sip on a refreshing cocktail (try the mojito!) and savor delectable French-Asian cuisine. Before or after dinner, take a stroll around the manicured grounds at The Ocean Club or along the pristine stretch of soft white sand that flanks the property.
Take a step back in time to a more refined era when you dine at Café Martinique. The original café was made famous by its appearance in the 1965 James Bond film Thunderball, and today's restaurant replicates the old-world style paired with a mouthwatering menu of French and Mediterranean dishes. Snag a table by one of the etched glass windows for stunning resort and harbor views.
Get Lucky in Paradise
Try something different for date night and try your luck in one of the Caribbean's largest, most exciting casinos!
With 85 table games, more than 700 slot machines, and a Race and Sports Book, there's plenty of fun to be had at Atlantis Casino. Try a table game like blackjack, baccarat, or roulette, or spend some time playing the slots–no matter how you play, having fun is guaranteed, and you'll feel like high rollers in the casino's opulent setting.
Spanning 100,000 square feet, Baha Mar Casino is home to table games, more than 1,100 slot machines, and gorgeous ocean views through floor-to-ceiling windows. Grab a cocktail and enjoy a date with Lady Luck! Whether you prefer penny slots or private gaming salons, there's something for everyone at Baha Mar Casino.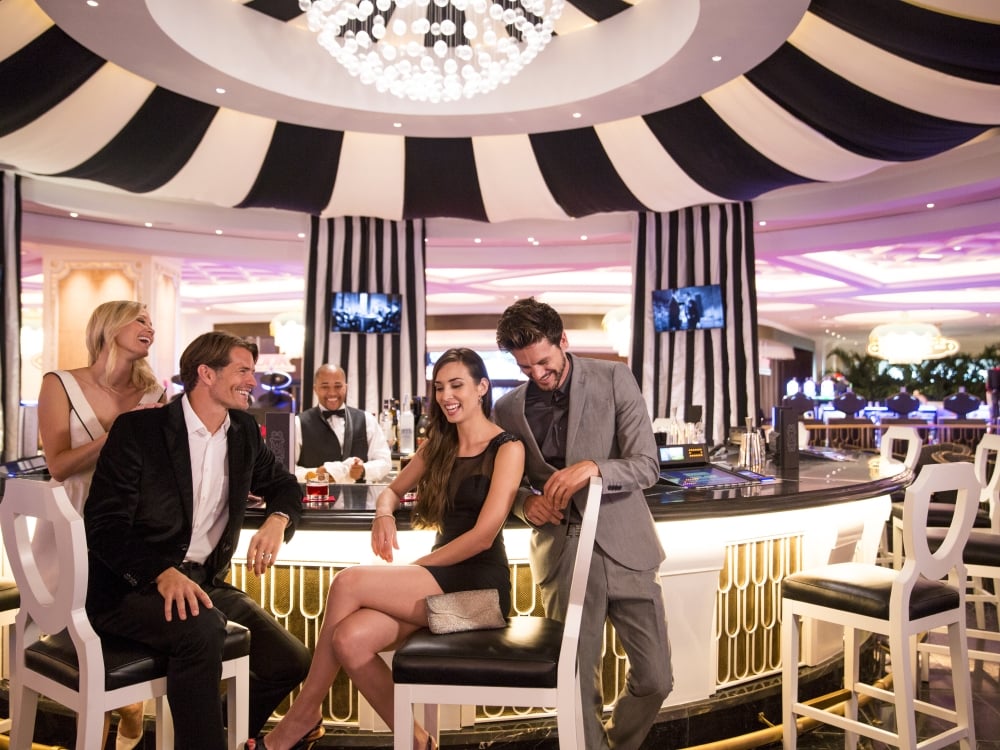 Take a Sunset Stroll
A hand-in-hand walk on the beach is a great way to pass the time during the day–but what to do after dark? For a change of scenery, head to Marina Village, where you and your date can window-shop, grab an ice cream or a coffee, and check out the luxurious yachts docked there.
Pop into one of the shops or check out the local vendors for a special trinket or souvenir, cap off the night with dinner and drinks, or simply enjoy the warm breeze and laid-back vibe of this colorful outdoor marketplace.
Grab a Nightcap
What's your drink of choice? Whether you're a wine aficionado, a beer lover, or a cocktail connoisseur, you'll find the perfect refreshing beverage in one of Nassau Paradise Island's bars and lounges.
Located at The Cove at Atlantis, Sea Glass Lounge features the best of all worlds – a slick club-like interior, an outdoor patio, gaming tables, and breathtaking views. Delicious appetizers and snacks are the perfect complement to Sea Glass' cocktail selection.
Unwind with a tasteful night out at T-Squared, located at Grand Hyatt Baha Mar. Relax in a sophisticated setting with a wide offering of cocktails, wines, and champagnes as well as a collection of premium cigars.
Feel like dancing? Aura Nightclub at Atlantis and Bond at Baha Mar both boast sleek, stylish interiors, dance floors big enough to accommodate all your moves, and the latest beats until the wee hours of the morning.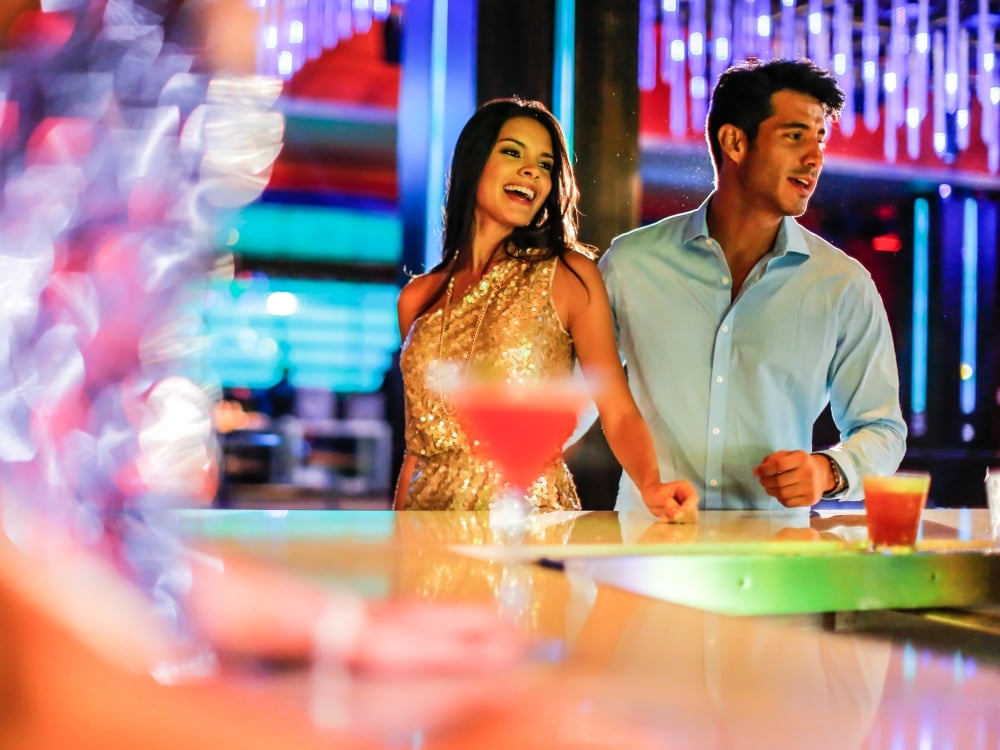 Make a night of it and discover Paradise after dark with Nassau Paradise Island's decadent bars and lounges.
Be Entertained and Inspired
Laugh out loud at a comedy show at Joker's Wild or see your favorite musical acts perform at Atlantis' Imperial Ballroom–there's always something new and fun happening on stage in Nassau Paradise Island. For a taste of authentic Bahamian arts and culture, check out one of Atlantis' Art Walks, featuring arts, crafts, and music by local artisans, or stroll through the latest exhibit at The Current art gallery at Baha Mar. And if an evening at the movies is just the ticket, you and your sweetheart can catch the latest blockbuster in the Atlantis Theater.
Want to know what's happening in Nassau Paradise Island? Keep an eye on these upcoming events.
No matter what the occasion, a getaway to Paradise is the perfect way to celebrate somebody special. Learn more about couples' vacations in The Bahamas, and start planning your escape!