Hit the Open Water with Powerboat Adventures!
The warm, turquoise waters of The Bahamas are just begging to be explored! Add some exhilaration to your vacation by taking the adventure off the beach and into the open water with Powerboat Adventures!
Step aboard and set sail for Ship Channel Cay, a stunning, secluded destination in the Exuma Cays located 38 nautical miles from Nassau. Hold on tight! This is a powerboat, after all, so get ready to make waves as you hit speeds of up to 40 miles per hour. After an adrenaline-pumping boat ride, get ready to relax with a luxurious day at Ship Channel Cay.
Powerboat Adventures offers the best of both worlds: a secluded island experience, with all of the amenities! Ship Channel Cay is a small, private island that is two miles long and half a mile wide. No matter which direction you look, you'll be surrounded by stunning tropical scenery. Take in the breathtaking views while relaxing on one of the island's decks. Enjoy a refreshing drink from the fully stocked bar and fuel up with a delicious meal that's included in your excursion.
The exciting adventures don't stop once you've disembarked from your speedboat! Once you've arrived at Ship Channel Cay, you'll discover a world of unique and exciting experiences. First up: feeding stingrays from the palm of your hand! Wade into warm, shallow waters where your guide will show you how to interact with the friendly, graceful sea creatures that will soon appear to say hello and grab a bite.
Stingrays aren't the only sea creatures you'll get to see up close at Ship Channel Cay! The adjacent reefs and waters are home to Caribbean reef sharks, nurse sharks and lemon sharks, and Powerboat Adventures' expert handlers know just how to lure them towards the beach so you can see these majestic predators in person.
While the stingrays and reef sharks get their lunch, the chefs at Ship Channel Cay are busy preparing yours! A Bahamian barbeque is on the menu, with menu items including grilled fish and steaks, pasta and salads, hot dogs, cheese platters, tropical fruit, and more! The staff at Powerboat Adventures is more than happy to cater to any dietary needs you may have, and the bar is open all day long!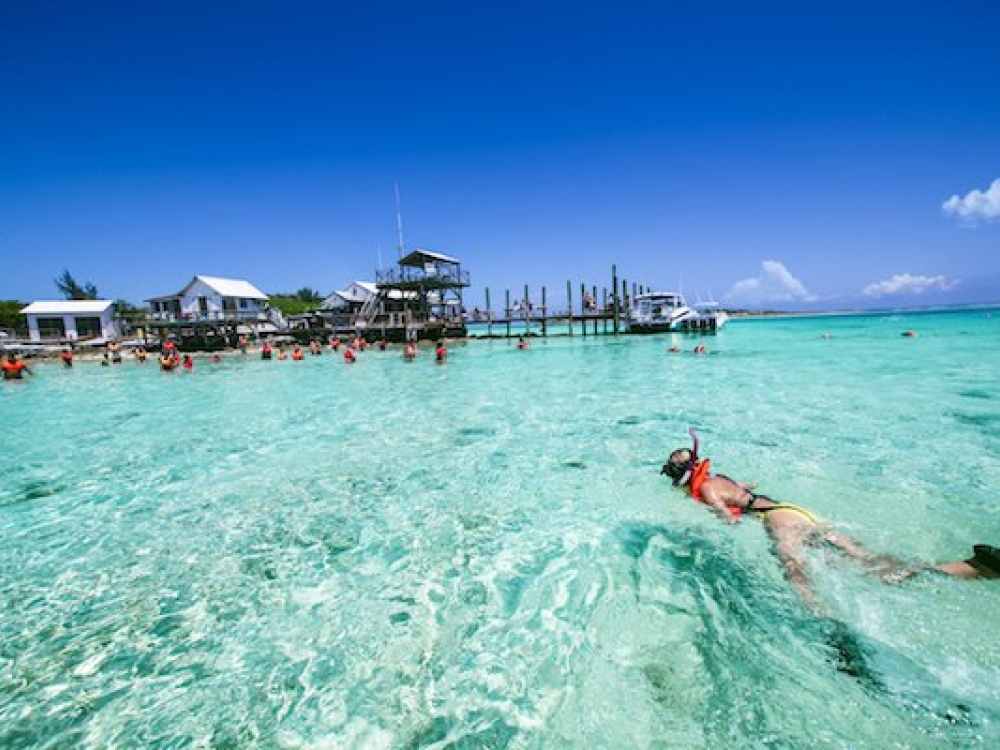 If you're a true foodie, you'll love the conch experience Powerboat Adventures offers. Conch is a classic Caribbean ingredient, and conch salad is a Bahamian favorite! Learn how to make this delicious treat in the waters where the conch is found. It doesn't get much fresher than that!
After you've dined, the afternoon is yours to enjoy. Relax on the white sand beaches, hang out in the shade on one of our decks, splash around in the warm, shallow waters, or grab some snorkel gear and head to the offshore coral reefs to catch a glimpse of the reef's tropical fish while drift snorkeling through the beautiful coral habitats.
Powerboat Adventures is just one of the many Bahamas tours offered in Nassau Paradise Island and it's definitely one of the most exciting and memorable ways to explore the crystal waters and beautiful islands of The Bahamas! Make a Powerboat Adventures tour part of your next Bahamas vacation—visit our travel deals and start planning today!