Itinerary:
Multigenerational Family Trip
Exciting adventures for the children, relaxing moments for the parents, educational excursions to please all generations — Nassau Paradise Island has it all. With many opportunities to make genuine memories for the young and the young at heart, there's no doubt about it, family vacations are better in The Bahamas. And to help you plan your days together, we created this itinerary for a long-weekend multi-generational family vacation. Read on to find the perfect ways for everyone to spend their days in Paradise.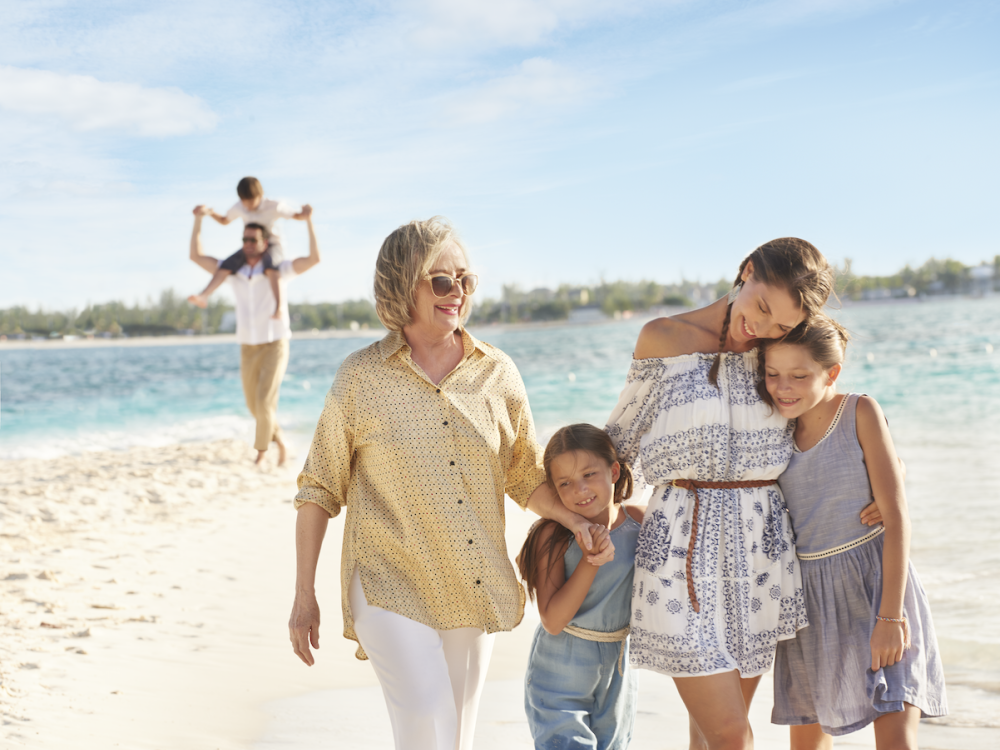 Day One: Experience the natural beauty of Nassau Paradise Island 
Morning: Nassau Paradise Island Beaches
Morning is the ideal time to visit the beautiful beaches of Paradise. The temperatures are cooler, and there are fewer people. With so many stretches of breathtaking beaches — and miles upon miles of powdery white sand — there's always an excellent place for you to lie back, relax, and enjoy The Bahamas. And with water temperatures averaging 80 degrees, you can take a pleasant swim or explore our colorful coral reefs. The beaches offer options for every traveler in your group — whether you want to make a splash, build a fantastic sandcastle, or simply curl your toes in the sand and relax. 
Afternoon: Snorkel The Ruins of Atlantis
One of the most popular activities in The Bahamas is exploring an ancient city underwater! Snorkel the Ruins of Atlantis features a thrilling 30-minute snorkeling venture amid the sunken ruins and artifacts of the lost city. Plunge through the water and take in the sights — including over 20,000 different fish, spotted rays, and sharks — while snorkeling with your crew during the trek. 
Evening: Private Sailing Cruise with dinner onboard
Sail away your first day in Paradise with Barefoot Sailing Cruises. Take the whole family away on a private dinner cruise and watch the sunset from the water for a memorable evening! This three-hour private cruise includes appetizers, a delicious surf n' turf menu, and a dessert selection. Oh, and, of course, wine is served with dinner, so you can raise a glass and toast to your first full family day in Paradise.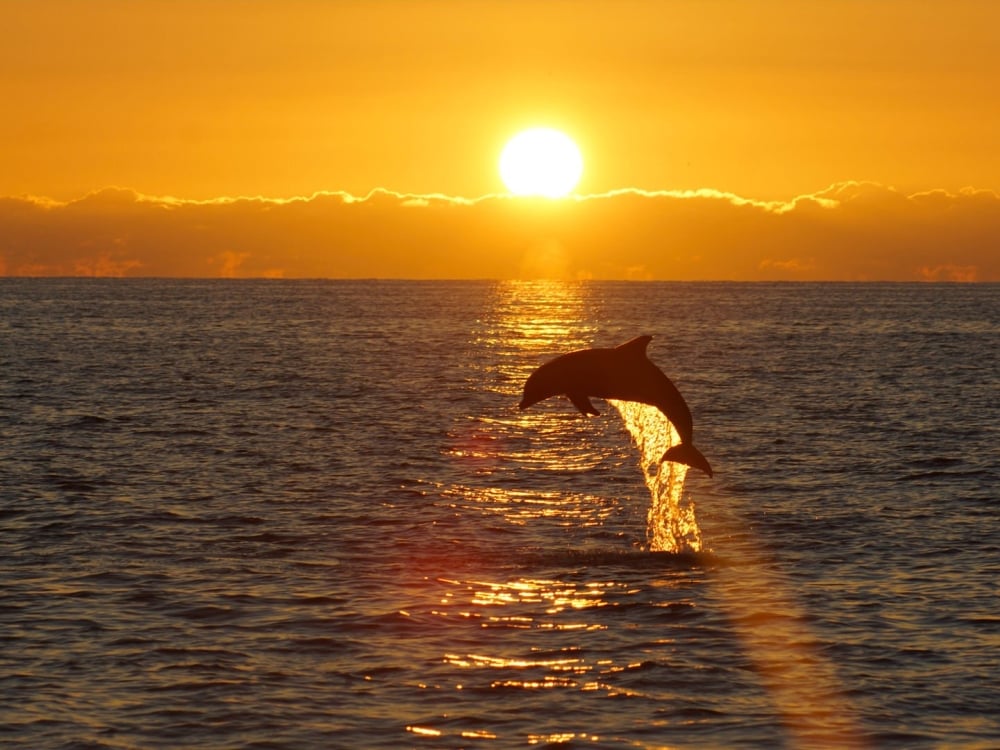 Day Two: Discover the deep Bahamian Culture 
Morning: Harbour Safari Cruise 
Kickoff day two with an exhilarating ride on the water! Book a cruise with others or a private boat charter with your close family to explore the many destinations of Nassau Paradise Island with Harbour Safari Cruise. Embark on a journey to Rose Island, The Exuma Cays, Andros, Eleuthera, or Spanish Wells ⁠— all gorgeous destinations in The Bahamas. Discovering the turquoise waters while barrelling up and down the coast is an adventure like no other! 
Afternoon: Shop Local Bahamian Treasures 
For the afternoon, treat yourself to something special! Nassau Paradise Island has numerous shopping boutiques, stores, and vendors right in the heart of the city. Stroll down quaint streets to track down souvenirs for your loved ones back home, pick up Bahamian jewelry to wear on your sunset date, or grab the family matching shirts for the plane ride home. With such a wide variety of shops, you'll find shopping experiences for every family member. 
Evening: Dinner & Sunset Chasing
Bon appetite! Visit Olives at Atlantis Paradise Island for dinner. Savor the rich flavors of Bahamas Mediterranean cuisine in an exciting environment. Olives is known for its open kitchen, creating a memorable experience for all of those involved, the entire family will enjoy watching their meals be cooked on the large open grill in plain sight. Chef Todd English's signature dishes will leave you wanting more, with scrumptious pastas, wood-fired flatbreads and exceptional seafood dishes fresh from our coastal waters! After some delectable dinner, finish your second day in The Bahamas with a magnificent sunset as a family on the beach.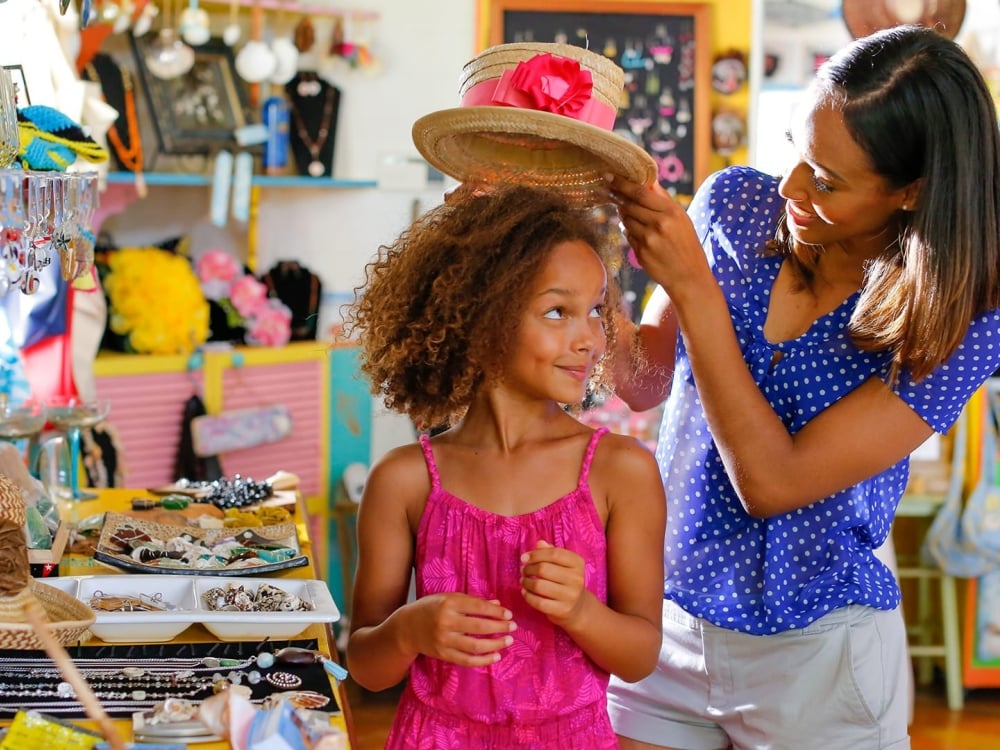 Day Three: Indulge in the best of Nassau Paradise Island
Morning: Marcus at Baha Mar Fish + Chophouse Brunch
Day three in Paradise begins with a family brunch! On Saturdays or Sundays, head to Marcus at Baha Mar Fish + Chophouse for some delicious and original Bahamian food. Here, enjoy an extensive array of seafood offerings, breakfast classics, and unique dishes. And best of all, kids under five eat for free! This is an excellent restaurant for a family get-together if you have a young family. 
Afternoon: National Art Gallery of the Bahamas
After getting fueled up for the afternoon, visit the National Art Gallery of the Bahamas. The Gallery features renowned artists and up-and-coming new talent — showcasing authentic contemporary Bahamian art while educating and inspiring guests. The Gallery will immerse you in The Bahamas' past and inspiring art with guided tours, interactive workshops for children, and plenty of opportunities to roam through the four distinctive spaces filled with historical pieces.  
Evening: Blackbeard's Revenge Pirate Ship Tour
Ahoy matey! Transport your family back in time and live the swashbuckling life as a pirate on Blackbeard's Revenge Tour. The boat is a replica of an 18th-century pirate ship. It offers live demonstrations, giving guests a taste of the golden age of piracy in Nassau Paradise Island. 
Take in the Sunset evening tour featuring water cannon blasts and nightly pirate parties for the whole crew, and watch the dramatic views of the ocean. With three decks, two fully stocked bars, a VIP Captain's Lounge, and more, Blackbeard's Revenge combines a little bit of history with a whole lot of fun to cap off a wonderful weekend.
With something for everyone, Nassau Paradise Island is a fantastic place to bring the whole family! We look forward to welcoming all of you to Paradise soon. Plan your getaway today!