Paradise is Closer Than Ever!
One of the best things about choosing Nassau Paradise Island as a vacation destination is its proximity. Geographically, the Bahamas is very close to the southeastern coast of the United States, and getting here is relatively quick and easy, especially compared to many other Caribbean islands. In fact, you may be surprised to learn just how quickly you can be experiencing the best of what The Bahamas has to offer! Less time traveling means more time swimming, exploring, relaxing – whatever your perfect vacation consists of.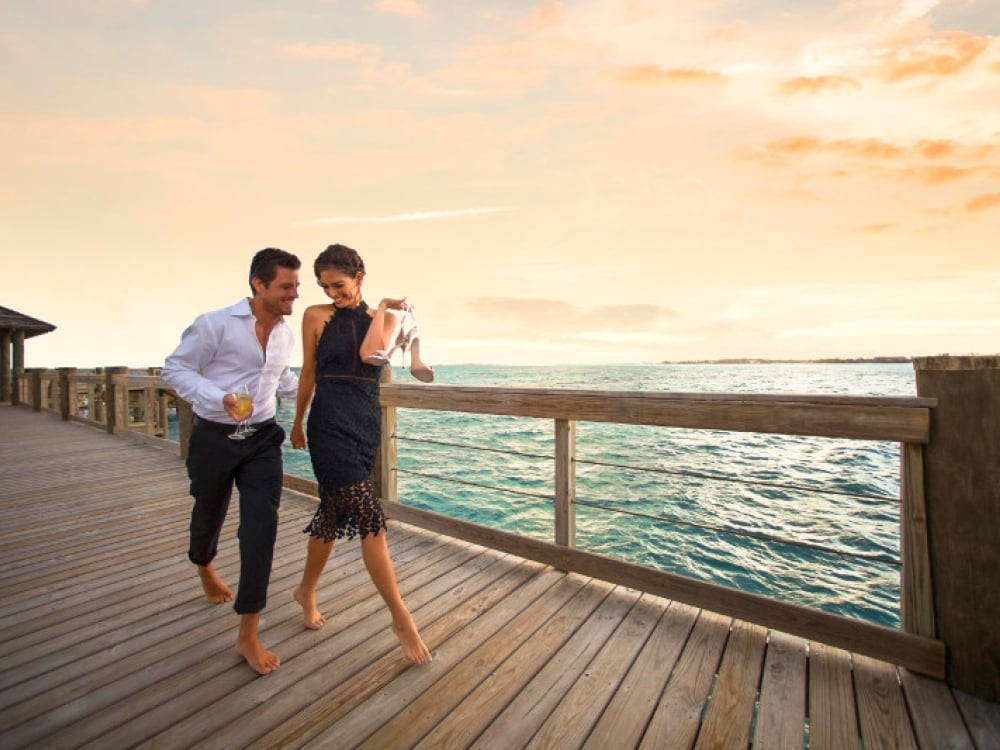 Here's why Nassau Paradise Island is the best place for a stress-free vacation to minimize travel time and maximize fun.
Nonstop Flights to The Bahamas
Imagine waking up in the morning, heading to the airport, and being on the beach by noon. It might sound too good to be true, but if you're traveling to The Bahamas it's possible! Getting to Nassau Paradise Island is easier and faster than many other sunny destinations.
If you're traveling from a major city in the U.S., there's a good chance you can hop on a convenient nonstop flight to Lynden Pindling International Airport in Nassau. Atlanta, Boston, Chicago, Houston, New York, Philadelphia, and Washington, D.C. are some of the cities offering nonstop flights to The Bahamas, as well as several options in Florida. Many other cities offer convenient connecting flights. Check out our Getting Here map to see flight options for your region.
Less Time Getting Around = More Time For Fun
Maximizing vacation time is important – you want to spend your days off relaxing and having a great time, not sitting in traffic! Fortunately, once you touch down in The Bahamas, you'll be arriving at your hotel or resort in no time. The airport is a quick 20-30 minute drive to many of Nassau Paradise Island's hotels, so you don't need to spend a lot of time in transit.
Nassau Paradise Island is a small area – New Providence, where Nassau is located, is 21 miles long, and Paradise Island is only 1.1 square miles in size – so everything you need for the perfect getaway is located within walking distance or a short cab ride. And with so many great attractions and activities located within a small area, it's easy to pack a lot of fun into your vacation, even if you're only spending a couple of days in The Bahamas!
Spending a long weekend in Nassau Paradise Island with a special someone? Check out this three-day itinerary, which features some couple-friendly activities paired with lots of downtime for the perfect romantic retreat. Or, if relaxation is your goal, here's a guide to feeling refreshed, rejuvenated, and reset in just three days in The Bahamas. If you're visiting with a group of girlfriends, our fun long weekend itinerary lets you experience the best of Nassau Paradise Island's daytime attractions and evening experiences.
Getting Home is Easier, Too
Nassau Paradise Island is one of few Caribbean destinations that provides pre-clearance for US travelers. This means return flights from The Bahamas can enter the United States and bypass the usual U.S. Customs and Immigration clearance encountered on most returns from an international destination. Spending less time in an airport is always a bonus – simply grab your luggage upon landing and head home! 
Quick flights, painless customs clearance, and so much to see and do – making the most of your vacation time is easy in Nassau Paradise Island. Start planning your getaway in The Bahamas today and see just how stress-free and simple it can be!