Sweet Tooth? Our Favorite Desserts in Nassau Paradise Island
Vacation is all about treating yourself, and sometimes that means doubling (or tripling!) up on dessert. In Nassau Paradise Island, you'll find treats to satisfy every sweet tooth at an array of eateries that will please any palette. The cherry on top? All are set against one of the Caribbean's most breathtaking backdrops.
There's no doubt about it, even desserts are better in the Bahamas.
Rum Cake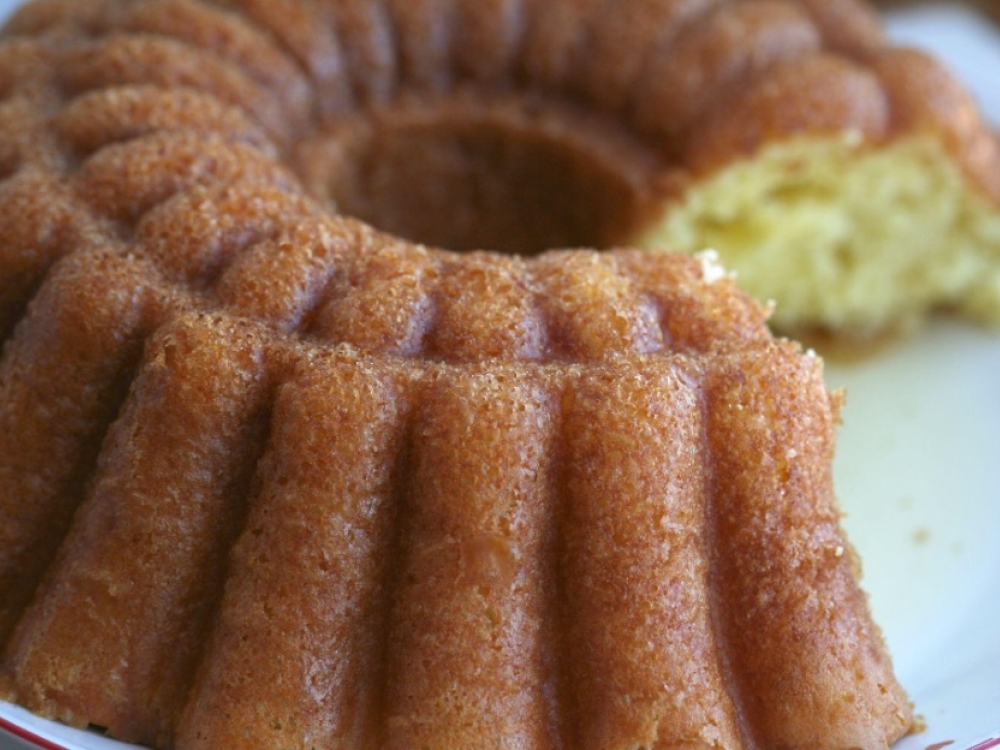 When it comes to beloved Bahamian desserts, this one takes the cake. Most of the world's rum is produced in the Caribbean and Latin America, and the history of this spirit in The Bahamas is especially colorful. Light, dark, or spiced, it's no surprise that this island specialty is featured in many long-loved recipes.
Try a chef-inspired interpretation of this iconic dessert at Café Boulud, Rosewood Baha Mar — featuring Chantilly cream and confit pineapple — following your French-influenced feast. Top off an authentic fish fry at Frankie Gone Bananas in Marina Village with their take on rum cake, served with ice cream. Or, pick up a local favorite to-go at Tortuga Rum Cakes while shopping in Nassau.
Get a taste of the rich history of rum in The Bahamas with a tour of Luna Rum Distillery. This experiential destination began as a long-loved rum cake factory and started distilling their own rum in 2020. Tour their state-of-the-art facility, sip on craft spirits, and pick up one of their famous cakes as a tasty memento.
Guava Duff
Fresh guava rolled in soft, steamed dough and drizzled with a decadent rum butter sauce — you can imagine why this fruity delicacy is the national dessert of The Bahamas. In Nassau Paradise Island, you'll find Guava Duff in a selection of delightfully different settings.
Try celebrity chef Marcus Samuelsson's take on this traditional Bahamian dessert at Marcus at Baha Mar Fish + Chophouse, topped with caramel popcorn and pink guava sorbet. Finish off your family feast at Crusoe's Restaurant, Comfort Suites Paradise Island with their coconut-infused take on Guava Duff.
Extravagant Indulgences at The Sugar Factory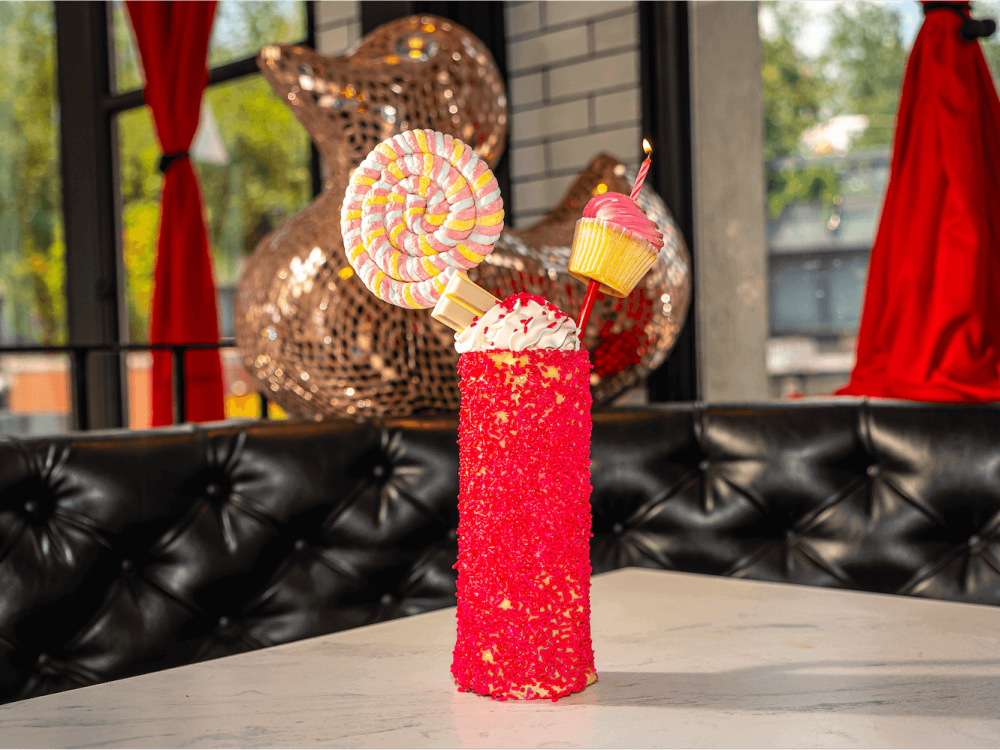 Rainbow pancakes piled high with toppings galore, over-the-top milkshakes, decadent cheesecakes, and sundaes that serve a crowd. If extravagant were an eatery, it would be The Sugar Factory at Baha Mar. Part candy shop, part restaurant, this worldwide sensation serves up unique savory dishes, countless creative treats, and over 40 oversized goblet cocktails. Talk about a sweet spot.
Named one of the world's most Instagrammable restaurants by Food & Wine Magazine, its kaleidoscope décor makes the perfect backdrop for making memories and taking Insta-worthy pictures! Remember to take home some one-of-a-kind confections for future cravings on your way out.
 
Coconut Creations
In Nassau Paradise Island, you'll gaze up at a coconut palm in nearly every beach chair you laze in. Plentiful and versatile, It's no wonder these tropical fruits have been transformed into delicious desserts of all types, from tarts to truffles.
The Coconut Gateau at Kanoo, Sandals Royal Bahamian, tastes like an island vacation, and the Warm Chocolate Cake With Coconut Sorbet at DUNE by Chef Jean-Georges Vongerichten makes a worthy final course for any sophisticated soirée. For a finale to an evening of Japanese cuisine, opt for the Sticky Coconut Rice at Kimonos, Sandals Royal Bahamian.
Cool Confections at Sun & Ice
Chill out on hot days with a scoop or two of Sun & Ice's fresh ice cream, gelato, or sorbet, made in-house daily in the lobby of The Coral at Atlantis. This isn't your everyday ice cream parlor. Inspired by his sweet childhood memories, Bahamian Chef Wayne Moncur created this farm-to-table cold treat experience with a foundation in the simple goodness of fresh milk, cream, egg yolks, and pure cane sugar.
Sun & Ice goes far beyond the typical chocolate and vanilla. Sample unique and locally-inspired ice cream flavors like Soursop, Caramelized Sugar Banana, Allspice Potato Bread, and Coconut Candy. Or, opt for a refreshing Pineapple & Thyme sorbet or smooth and rich Mango Skin gelato.
Bahamian Chocolate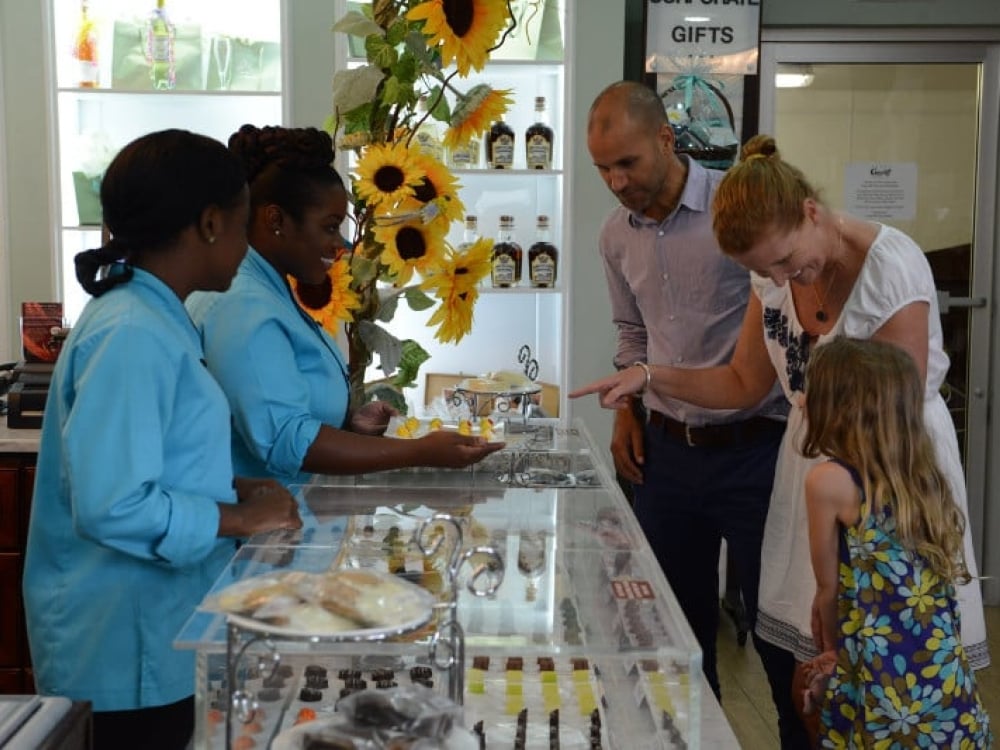 This one's for the chocoholics. At the Graycliff Hotel in Downtown Nassau, embark on the Graycliff Art of Chocolate Factory Tour to watch master chocolatiers create gourmet creations — from bean to box — in a historic mansion surrounded by lush gardens. After, you'll be invited to create your own chocolate confections with the help of your guide, and indulge in their artisanal chocolates. Expect unexpected flavors, like mango, lime, sweet-tomato basil, and bacon.
Your Sweet Escape Awaits
Craving more? Planning your Nassau Paradise Island escape — and your dessert bucket list — is a piece of cake. Discover our special offers and vacation packages to sweeten your stay and find your Island home right next door.