Waterparks in Nassau Paradise Island: ​​Our Guide to the Most Thrilling Rides
The wonderful waterparks of Nassau Paradise Island are something to explore! Perfect for the young and the young-at-heart, we have three waterpark options for you to enjoy. From thrilling adventures to relaxing rivers — let's dig deeper into what's making waves at our waterparks.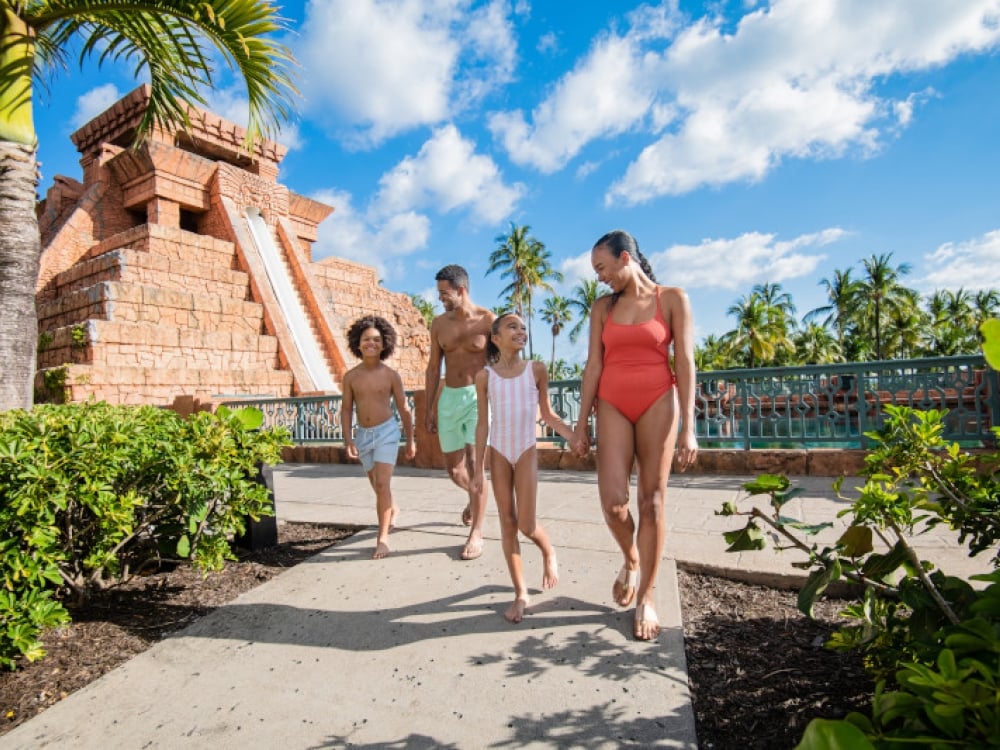 Aquaventure at Atlantis Paradise Island
Looking for an unforgettable water adventure that will leave you in awe? Look no further than Aquaventure at Atlantis. The sprawling waterpark spans a massive 141 acres of pure aquatic fun! Whether you're a water enthusiast seeking thrilling slides or simply wanting to relax by the pool, there's something for everyone. With more than 20 swimming areas and 11 distinct pools, Aquaventure is a water lover's dream come true. Let's dive into some features worthy of exploring on your next visit.
Leap of Faith
If you crave an adrenaline rush like no other, brace yourself for the famous Leap of Faith! Ascend the mighty Mayan Temple, and get ready to take the plunge down a nearly-vertical, 60-foot body slide. As you zoom through the slide, an extraordinary sight unfolds before your eyes — a transparent tunnel surrounded by mesmerizing marine life. It's a thrilling adventure combining heart-stopping excitement and an up-close encounter with sea creatures.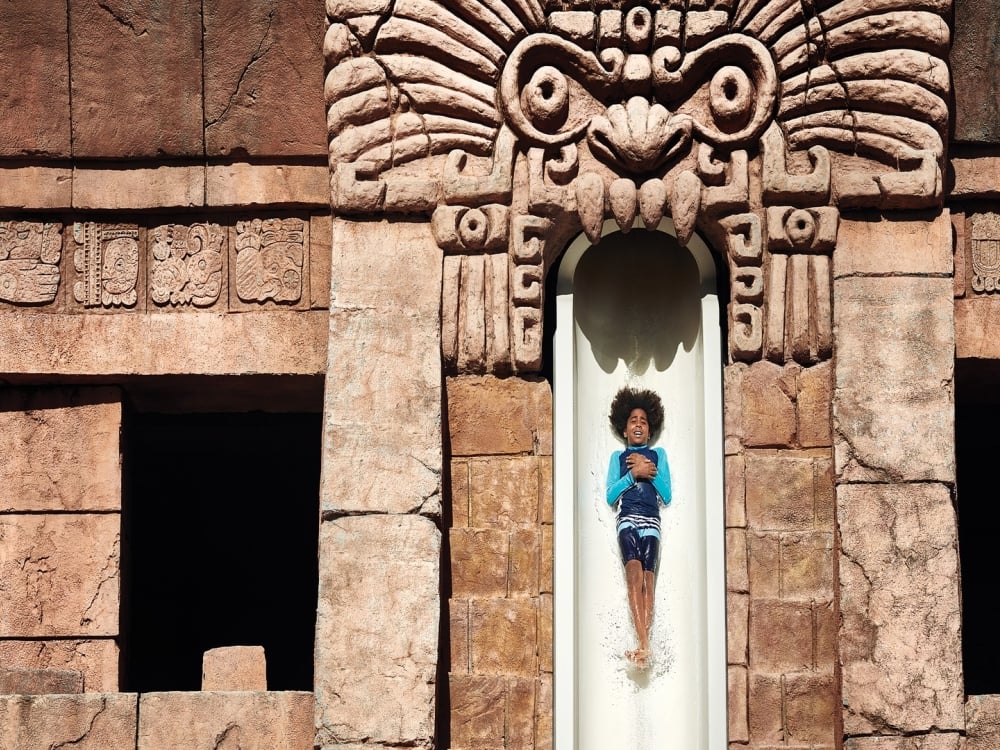 Serpent Slide
For those seeking a twisty and turny adventure, the Serpent Slide is calling! Spiraling down the five-story core of the Mayan Temple, this high-speed slide takes you on an exhilarating journey. But fear not, after the intense speed, you'll get a chance to catch your breath as you slowly pass through a transparent tunnel surrounded by the wonders of the marine world. You won't believe your eyes as sharks swim by you!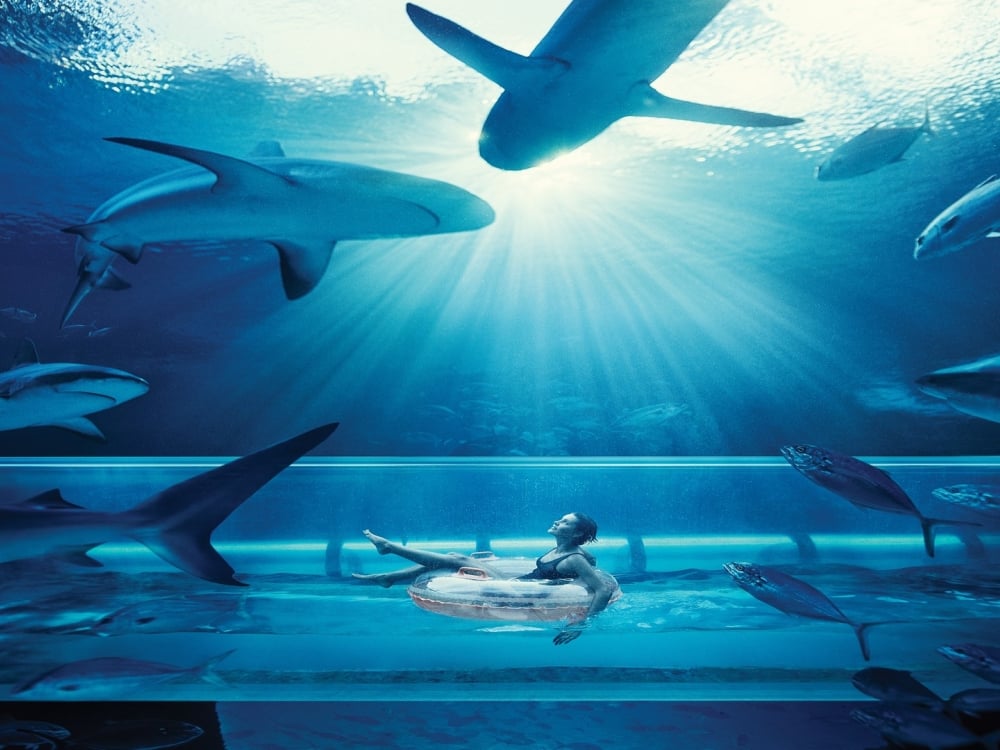 Challenger Slide
Prepare for a high-speed challenge on the Mayan Temple's twin Challenger Slide! Race against your friends or family as you zip down the thrilling slides side by side. The excitement builds as you approach the splashdown zone, where the winner is decided. Will you be crowned the champion? Remember to check the race times at the bottom and aim for a new personal best!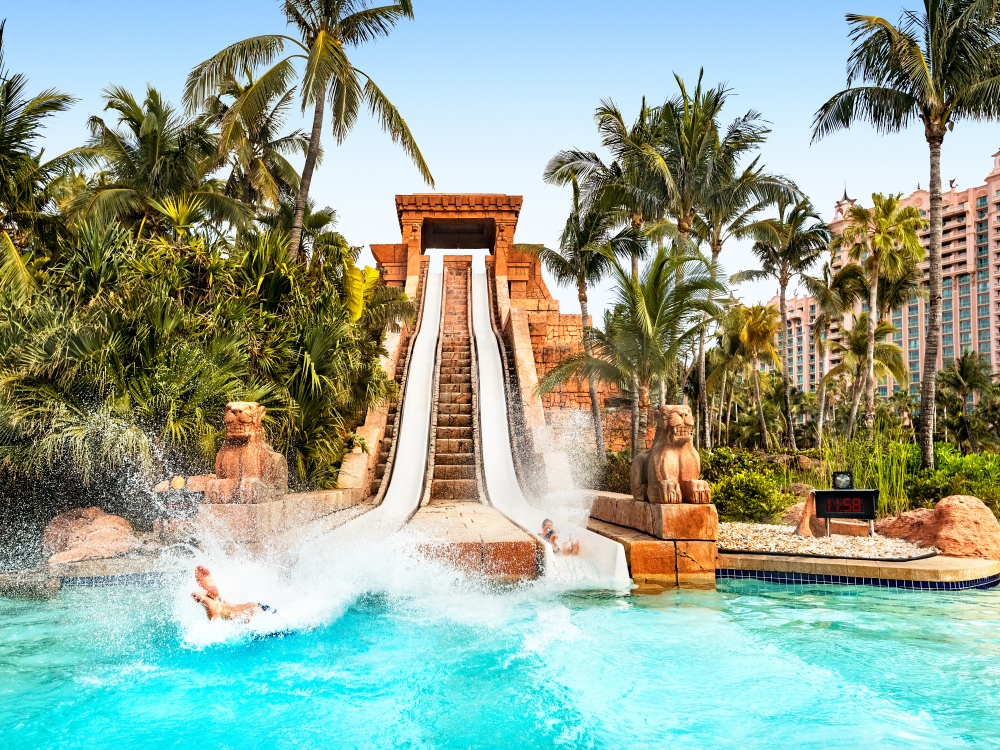 Rapids River
Need a break from the heart-pounding thrills? Take a scenic ride on the Rapids River, the longest river in The Bahamas. Embark on a mile-long loop, where wave surges can reach up to an astonishing seven feet, providing a fun and exciting experience. Marvel at the stunning scenery as you float along, and don't forget to enjoy the exhilarating white rapids section that adds a splash of adventure to your journey.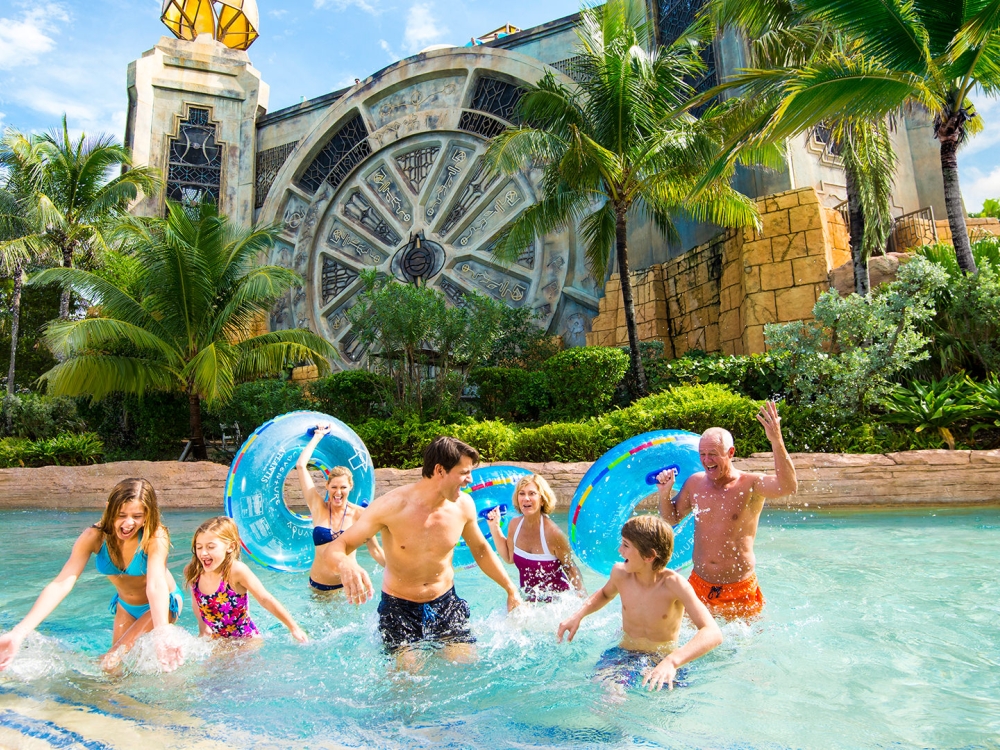 ​​Aquaventure at Atlantis is where thrills and relaxation collide, offering an experience you won't soon forget. Whether you're an adventure seeker, a family looking for fun, or someone who simply wants to enjoy the beauty of the water, this remarkable water park has it all. Dive in and make unforgettable memories in the heart of The Bahamas!
Baha Bay at Baha Mar
Nestled on 15 breathtaking beachfront acres, Baha Bay at Baha Mar is a tropical haven like no other. This exclusive water park is designed to offer an exhilarating experience while surrounded by the beauty of The Bahamas. From relaxing river rides to heart-pounding water coasters, Baha Bay promises endless fun for visitors of all ages.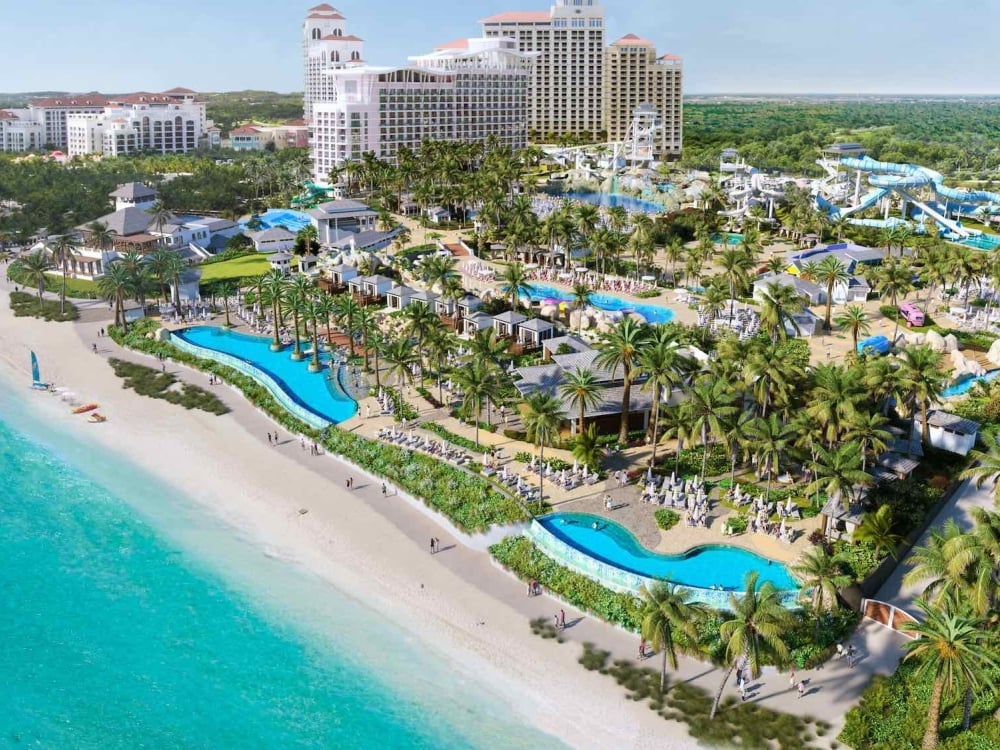 The River
Take a journey down The River, an epic waterway stretching over a quarter of a mile. This adventure is perfect for kids and adults, starting with a soothing drift that lulls you into relaxation. But don't be fooled! As the current picks up, you'll find yourself amidst lush tropical foliage and thrilling twists that awake your senses. It's anything but lazy — The River is an exciting escapade where every turn brings a new surprise.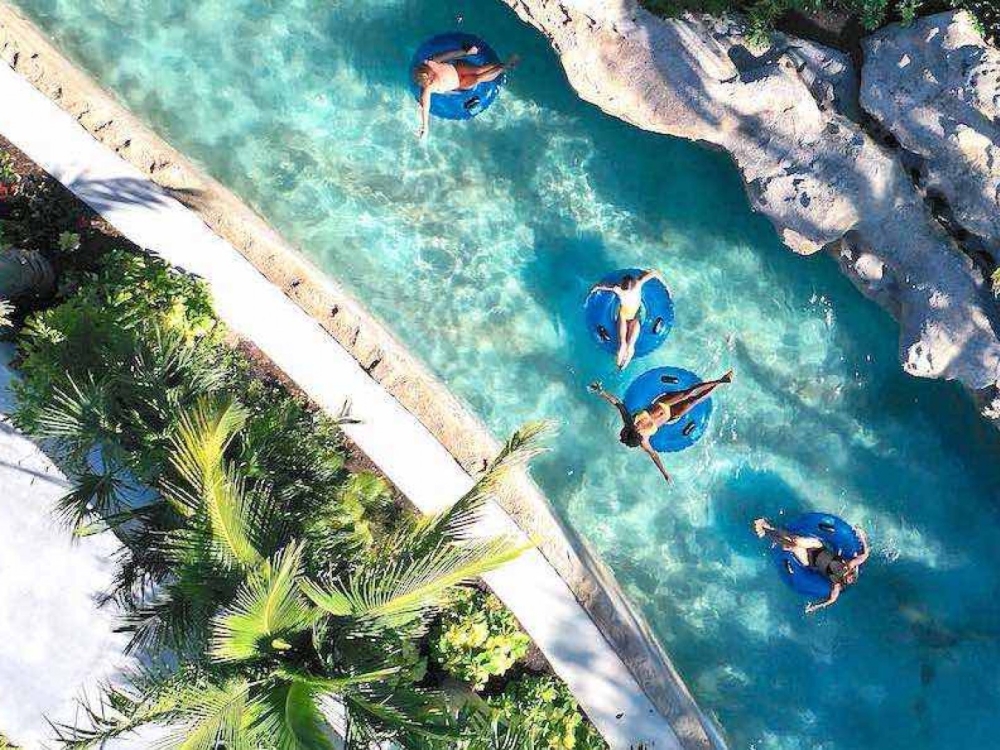 Dueling Riptide Coaster
For adrenaline junkies seeking the ultimate rush, the Dueling Riptide Coaster is an absolute must-try. As the only double water coaster in the entire Caribbean, it's a one-of-a-kind experience that combines the speed of a coaster with the splashes of a water ride. Jet propulsion technology propels you up steep hills, wild ascents, dizzying turns, and stomach-sinking drops. Just when you think you know what's next, another twist awaits, making it a thrilling rollercoaster on the water.
Cyclone Rush
Gather your friends for an unforgettable ride on Cyclone Rush, a multi-person raft adventure that promises laughter and excitement. Glide through dark tubes and openings, unsure of what awaits around each corner. But the real thrill comes when you reach the 40-foot-wide open bowl — the vortex. Experience the adrenaline rush as you swirl and spin before embarking on an exhilarating climb up a 2-story tall wave wall. It's a bonding experience you'll cherish forever.
Devil's Backbone
For the boldest of adventurers, Devil's Backbone is the ultimate challenge. Summon your courage as you step into the trap door, and then brace yourself for a plummeting body slide that will get your heart racing. Feel the rush of high-speed curves, tight 360-degree loops, and unexpected surprises along the way. It's a devilishly daring ride that leaves you breathless and craving more.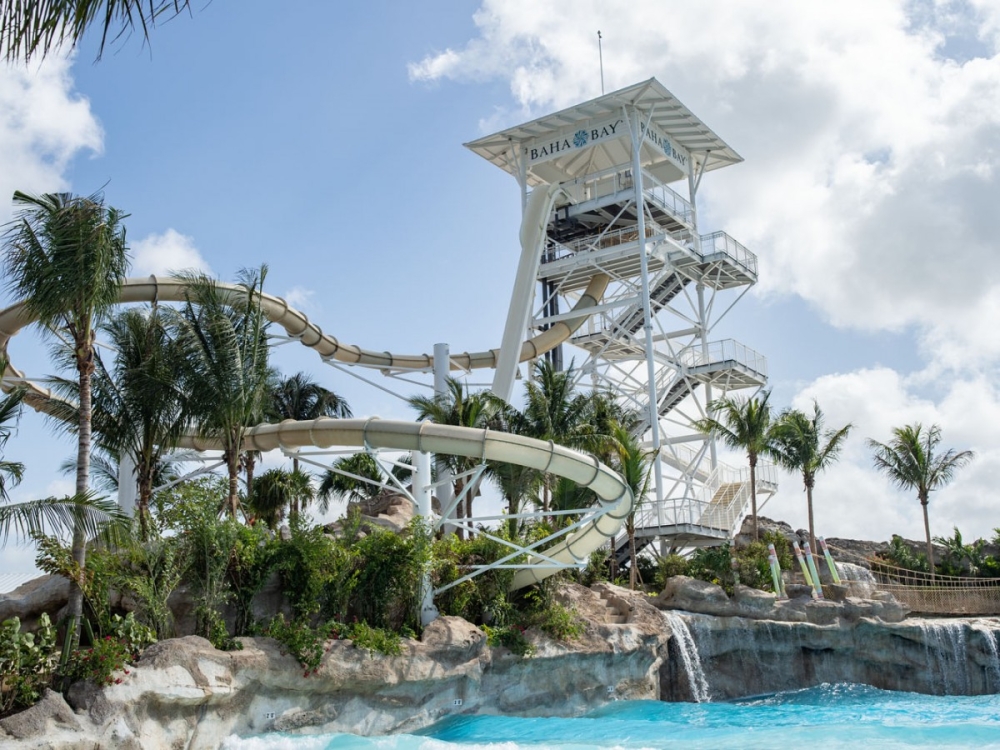 Baha Bay at Baha Mar is a water wonderland that perfectly blends relaxation and excitement. Whether you want to unwind on The River or embark on hair-raising adventures like the Dueling Riptide Coaster and Devil's Backbone, this water park offers an array of unforgettable experiences. Get ready to make lasting memories in this tropical paradise!
Fins Up! At Margaritaville Beach Resort, Nassau
Get ready to make a splash at Fins Up! — Margaritaville's ultimate aquatic playground. Lounge by the poolside, soak up the warm rays and take refreshing dips in the crystal-clear waters. Whether you're seeking some quiet time alone or quality moments with family and friends, there's something for everyone!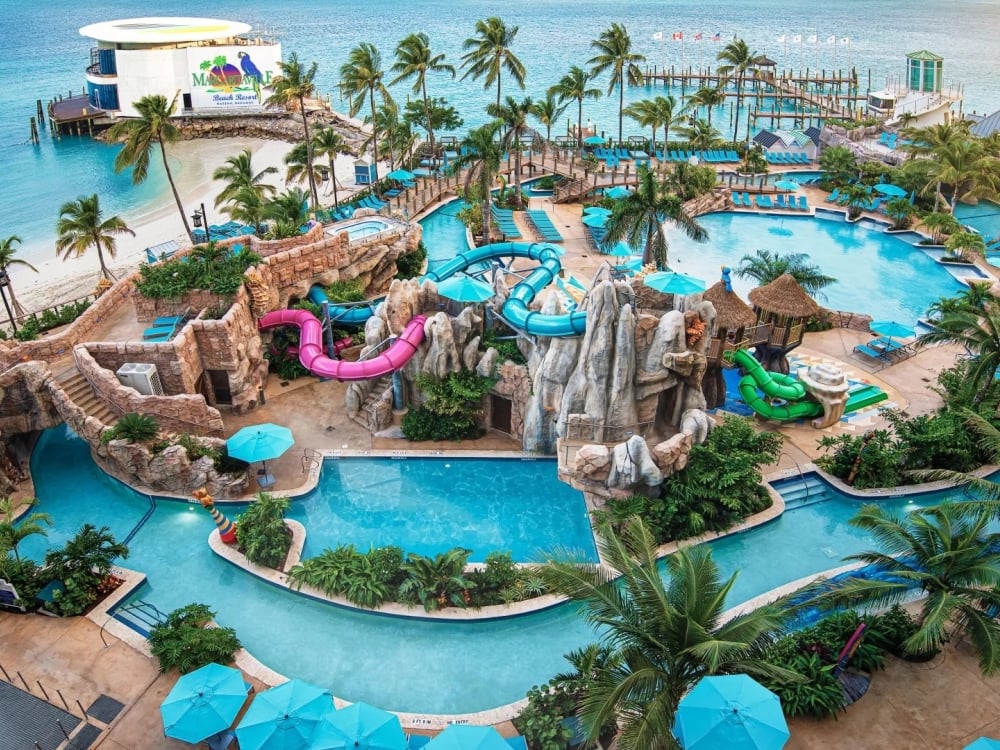 Lazy River
For a truly relaxing experience, hop on a tube and float along the Lazy River's leisurely flow. Perfect for all ages, this gentle current allows you to unwind and take in the surroundings at a leisurely pace. Bring your family and friends along, and enjoy the soothing journey as you're gently carried along the waterway.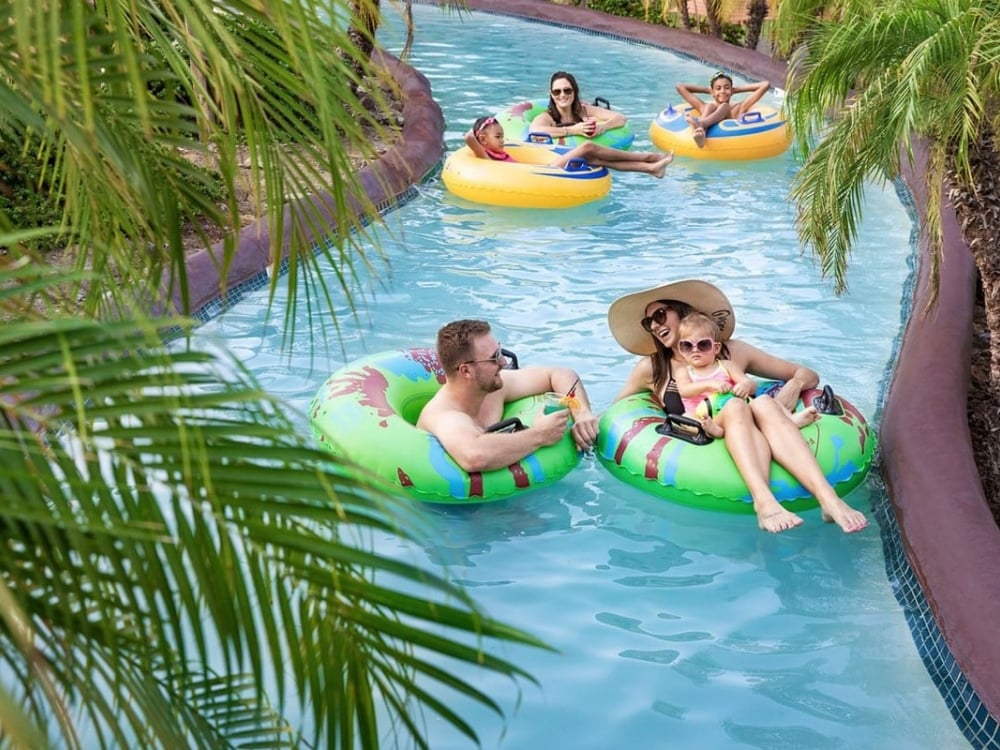 FlowRider® Surf Simulator
Looking for an adrenaline-pumping challenge? Head to the FlowRider® Surf Simulator, where you can test your boogie boarding skills on an exhilarating wave simulation. Whether you're a newbie eager to learn the art of riding the waves or an experienced surfer seeking a thrilling experience, this attraction promises to deliver waves of excitement.
Thrilling Waterslides
Prepare for high-speed excitement as you take on the thrilling waterslides at Fins Up! With separate slides designed for younger kids and adults, there's no shortage of aquatic adventure here. For the little ones, the kid-friendly slides promise delightful fun, while the adrenaline junkies can't get enough of the exhilarating rush as they speed through the adult slides.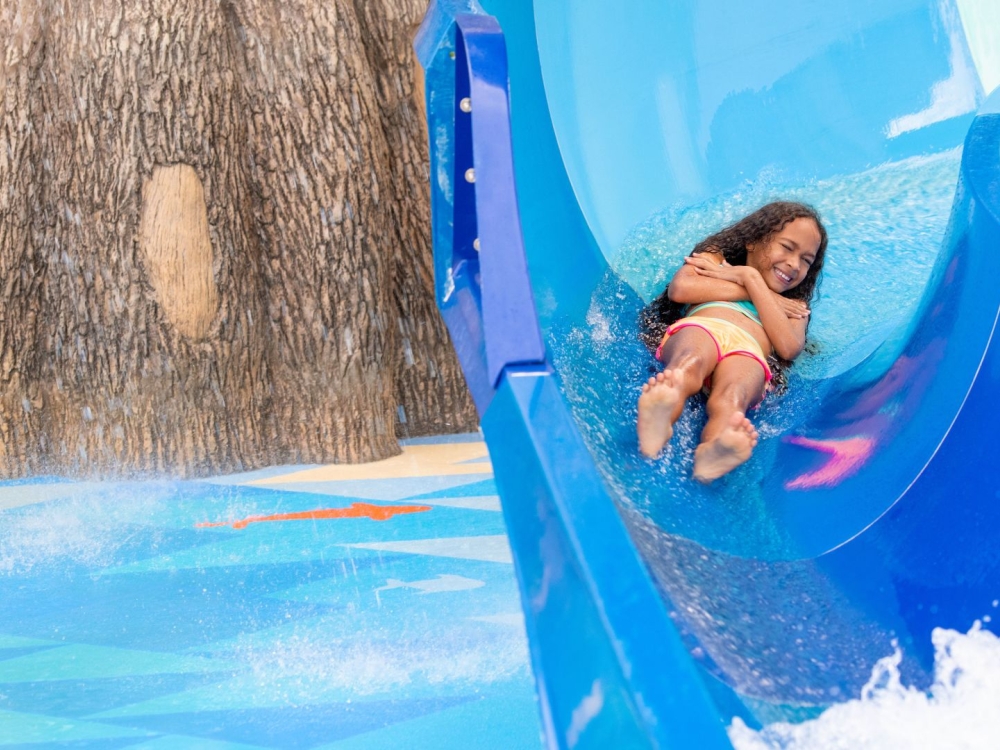 Fins Up! is a water wonderland where the motto is all about fun, relaxation, and creating unforgettable moments. Whether you want to laze around in oceanfront pools, drift along the Lazy River, challenge yourself on the FlowRider® Surf Simulator, or experience the thrill of the waterslides, this destination caters to all ages and interests. So, dive into the excitement for the perfect blend of adventure and relaxation by the sea!
Get Ready to Make a Splash
What are you waiting for? A vacation in Paradise is already an adventure in itself, but adding the thrill of a waterpark is a must—no matter your age! Want a sneak peek at these attractions? Check out our video on Instagram here, and start booking your thrilling vacation to Nassau Paradise Island.