What To Expect During a Scuba Diving Trip in The Bahamas
It's not surprising that "scuba diving" is a must-do item on many bucket lists. Just imagine: swimming through warm, sparkling waters, spotting colorful tropical fish and vibrant coral reefs, exploring shipwrecks...doesn't it sound like an incredible experience? Here in Nassau Paradise Island, there are plenty of scuba diving tours available for both first-timers and expert divers. But what can you expect when you sign up for a scuba excursion? 
Here's our guide to scuba diving in Nassau Paradise Island: where to go, what to pack, what to expect, and what you might see beneath the surface. Get ready–it's going to be an amazing adventure! 
Why Dive in The Bahamas? 
The Bahamas is positioned perfectly for scuba diving. Perched on the Tongue of the Ocean–a deep-water trench that's part of the Great Bahama Canyon–and with the spectacular shallows of the Great Bahama Bank nearby, Nassau Paradise Island is surrounded by waters that are teeming with tropical fish and marine life, exquisite coral reefs like the Fish Hotel, and historic shipwrecks. Bonus: since the waters are so clean and clear, diving visibility is great, too, and you'll be able to see distances of up to 100 feet underwater. 
Where to Dive 
The Fish Hotel 
This popular dive site, located about 45 feet below the water's surface, is home to dozens of varieties of tropical fish. Grunts, sea fans, and goatfish are all commonly-spotted species here. And even though it's a fairly simple dive for novices, advanced divers love the Fish Hotel simply because there's so much to see!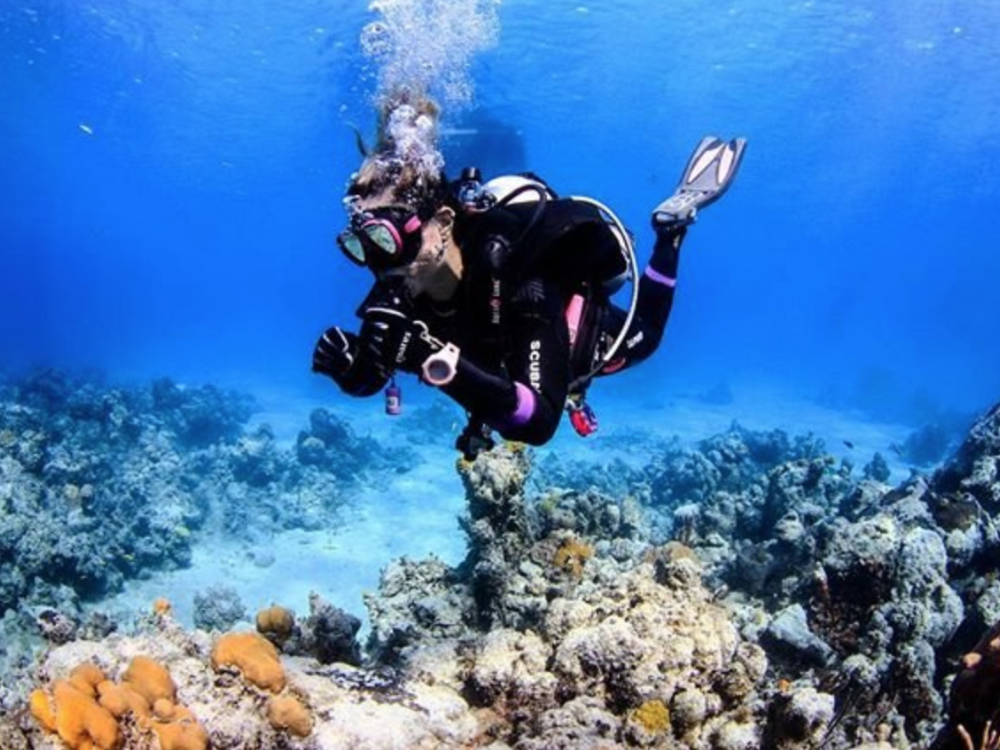 The Lost Blue Hole
Experienced divers will want to explore this site, one of the most famous in The Bahamas! The swimming hole is actually an oceanic crater that's more than 100 feet wide, and you're likely to spot angelfish, grouper, rays, and turtles in its waters. To dive the Lost Blue Hole, you must have an open water certification or higher. 
James Bond Wrecks
It's been years since the James Bond films Thunderball and Never Say Never Again were released, but you can still experience a snippet of the films' history underwater in Nassau Paradise Island! The 92-foot tug boat Tears of Allah was sunk during the filming of Never Say Never Again. With its shallow depth, it's a fairly easy dive for new divers, who can even swim inside the boat to see the coral growing inside. Nearby, divers can explore the wreckage of a Vulcan bomber plane that was featured in the original Thunderball movie. On clear days, both wrecks can also be seen by snorkelers on the water's surface. 
Piece of Cake
As the name suggests, this dive is fairly simple for newer divers, but it's a rewarding adventure, too! Here, divers can spot sea fans and other soft corals, as well as colorful fish such as snapper, blue tangs, and parrot fish. 
Thunderball Reef
Another diving site that harkens back to James Bond movies, Thunderball Reef has been featured in underwater scenes with 007. Its shallow waters, typically ranging from five to 25 feet, are popular with snorkelers as well as scuba divers. Colorful corals and fish make for a stunning, picture-perfect display. 
What to Pack
When you book a guided scuba diving trip, your tour company will provide tanks, weights, and weight belts. Additional dive gear and wetsuit rentals are also available on site. Many scuba tour providers offer drinking water on board the boat, but it's a good idea to bring a snack–after all, you'll work up quite an appetite! If you've got an underwater camera, bring it along so you can capture the sights underwater. 
For the boat ride, you'll want to bring along your typical sun protection gear–sunscreen, a hat, and sunglasses–in addition to a swimsuit. Don't forget to pack a towel or two. Lastly, a small waterproof bag will be handy for storing your valuables (wallet, room key, phone) while you're diving.  
What to Expect
Located on the southwestern side of New Providence Island, Stuart Cove's Dive Bahamas offers half-day and full-day diving trips. Since 1978, Stuart Cove's instructors have been teaching visitors how to scuba dive, and their fleet now includes seven dive vessels, a "Learn to Dive" program for beginners, and a variety of tours for more experienced divers.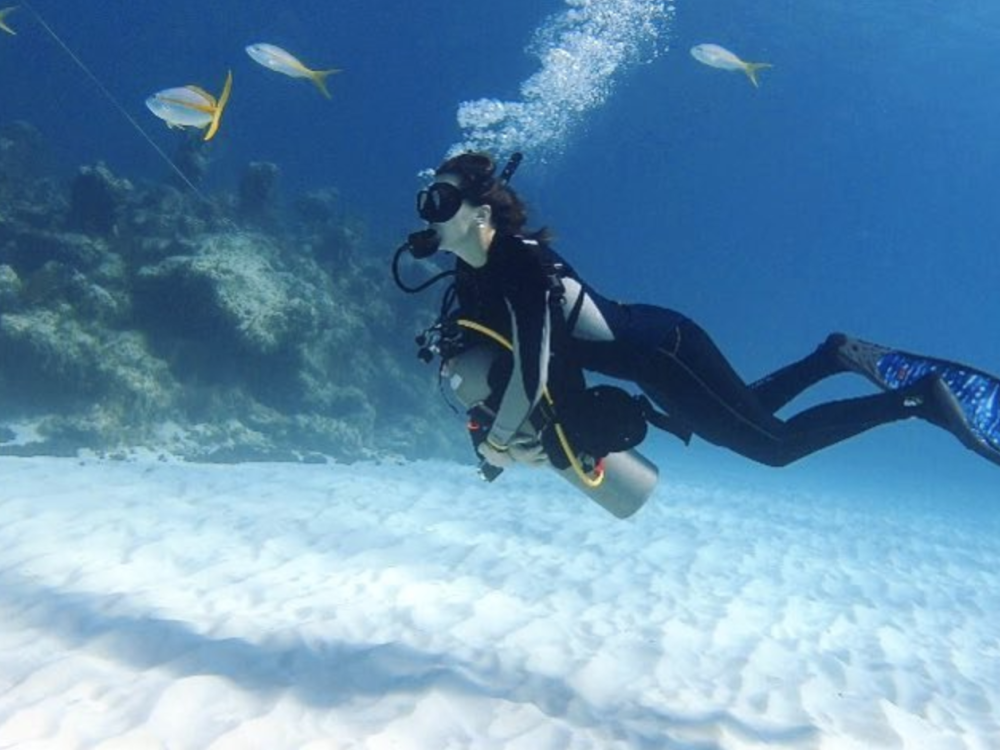 A typical Stuart Cove's excursion starts with a water safety review at the beach or in the pool before participants even get on the boat. Generally, the first dive of the day is a deeper dive–around 80 feet–for about 30 minutes. You'll spend longer at the second site, which is typically shallower. 
Children and teens ages 10 and up can learn to dive with Stuart Cove's, so consider bringing them along. Kids ages 4-10 are also welcome aboard as snorkelers or "bubble watchers" who can stay on the boat and observe the dive (with a parent or guardian's supervision). 
Bahama Divers is another popular diving company in Nassau Paradise Island. Each day, they provide a variety of diving excursions for different skill levels. During a morning dive, participants check in at 8:30 a.m., then enjoy a scenic boat ride to the first dive location, the Lost Blue Hole. Next, continue to Barracuda Reef, one of the most beautiful reef systems in The Bahamas. At the end of the morning guests return to the dive shop, where they can purchase a DVD copy of their dive–the perfect souvenir! 
Both Stuart Cove's and Bahama Divers offer complimentary transportation to and from guests' hotels, plus water to drink on board the dive boat. 
Other Water Activities
Not quite ready to take the plunge? There are plenty of other ways to enjoy The Bahamas' brilliant blue waters, such as snorkeling and sailing. Explore our snorkeling options and other ocean activities.