Tour Local Forts
Take down the drawbridge, storm the ramparts and get thrown into the dungeons…for just a minute or two! When you explore the forts of Nassau, you'll be taken on a magical history tour sure to entertain the young and young-at-heart. With the forts' spectacular seaside locations and stunning views, they will also provide some pretty fantastic pictures to share with family and friends back home, too!
Fort Charlotte
The largest of the three forts found in Nassau, Fort Charlotte was built in 1789 by Lord Dunmore and it was named in honor of the wife of King George III. Located just a short walk west of downtown Nassau, it includes a water-less moat, drawbridge, ramparts and dungeons, as well as fantastic views of Nassau Harbor. There are also family-friendly tours conducted throughout the day.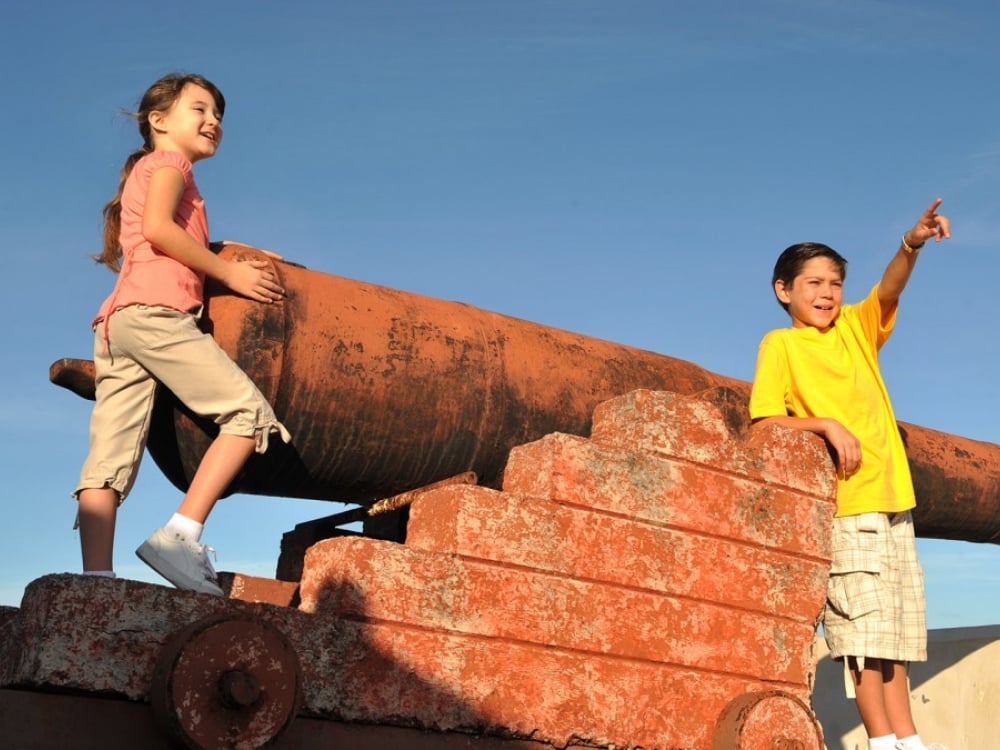 Fort Fincastle
Erected in 1793, Fort Fincastle was named after British captain Lord Dunmore—and his second title, Viscount Fincastle—who had it built to protect Nassau Harbour and watch for encroaching pirates. Since it was located atop Bennet's Hill, the highest point on New Providence Island, the fort provided fantastic views of Nassau and Paradise Island as well as the eastern approaches to New Providence. Its appearance alone must have been daunting enough to all would-be marauders since its cannons were never fired! Open seven days a week, 8:00am to 4:00pm. (Did you know that Fort Fincastle was constructed with the limestone that was cut out of the stones from the Queen's Staircase? Climb the Staircase to get to the Fort!)
Fort Montagu
Located on Nassau's eastern seaside—just off East Bay Street, overlooking Nassau Harbour and about a mile from the city center—Fort Montagu dates back to 1725, although the present fort was built between 1741-42 to defend the British possession from Spanish invaders. It's more famously known, however, for being the site of the United States Marine Corps' first military action, when in 1776, eight ships were sent to Fort Montagu to capture a large supply of gunpowder the British had stored there. (Although it turned out the gunpowder was elsewhere, The Bahamian militia retreated and Fort Montagu fell unopposed to the United States Marines.