Multigenerational Family Vacation Planning Guide
In The Bahamas, multigenerational family vacations are as easy as a walk on the beach. Cloudless skies, easy-going people, and a huge selection of family-friendly accommodations and activities make Nassau Paradise Island the perfect place for families to make memories. 
From babies and parents to teens and grandparents, a visit to The Bahamas will put a smile and a tan on everyone's face. So let us help you in planning a multigenerational vacation that will linger in everyone's memories for years to come.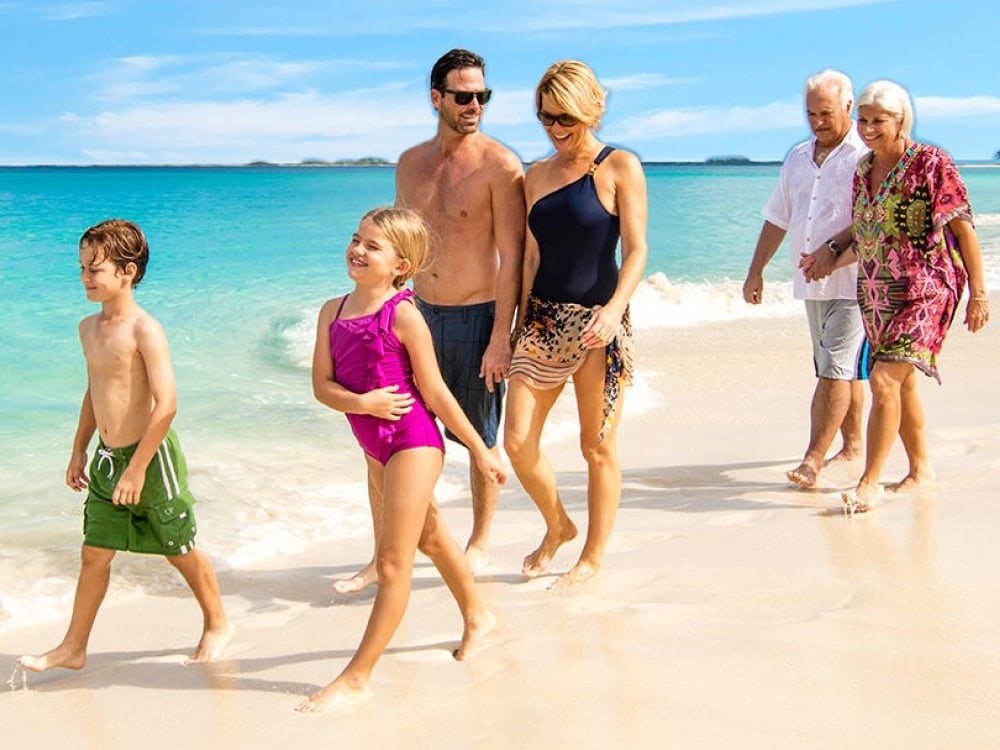 Family Style Digs 
There are plenty of accommodations on Nassau Paradise Island that'll be perfect for the whole family. Take, for example, the residential-style villas at Harborside Resort at Atlantis. These villas provide the perfect family-style stay, with up to three rooms for the family to expand and share. The villas come with fully equipped kitchens while still providing every comfort of a full-resort experience. That means you can opt to cook the family's favorite dishes or order in. The perfect home away from home. 
If you're looking for accommodations steps away from the beach, look no further than Paradise Island Beach Club. Located on a spectacular stretch of white sand beach, these villas feature two bedrooms (each with private baths), a living room, and a dining room to share family meals while in Paradise. 
Looking for a little bit of privacy? Atlantis Paradise Island is a favorite amongst families who want to enjoy time together while still being able to enjoy a quiet retreat in their own rooms. Here, you'll find amenities to keep everyone in the family happy. There's the spa for complete relaxation, the golf course for a little friendly competition, and plenty of fun in the sun for the kids, no matter the age!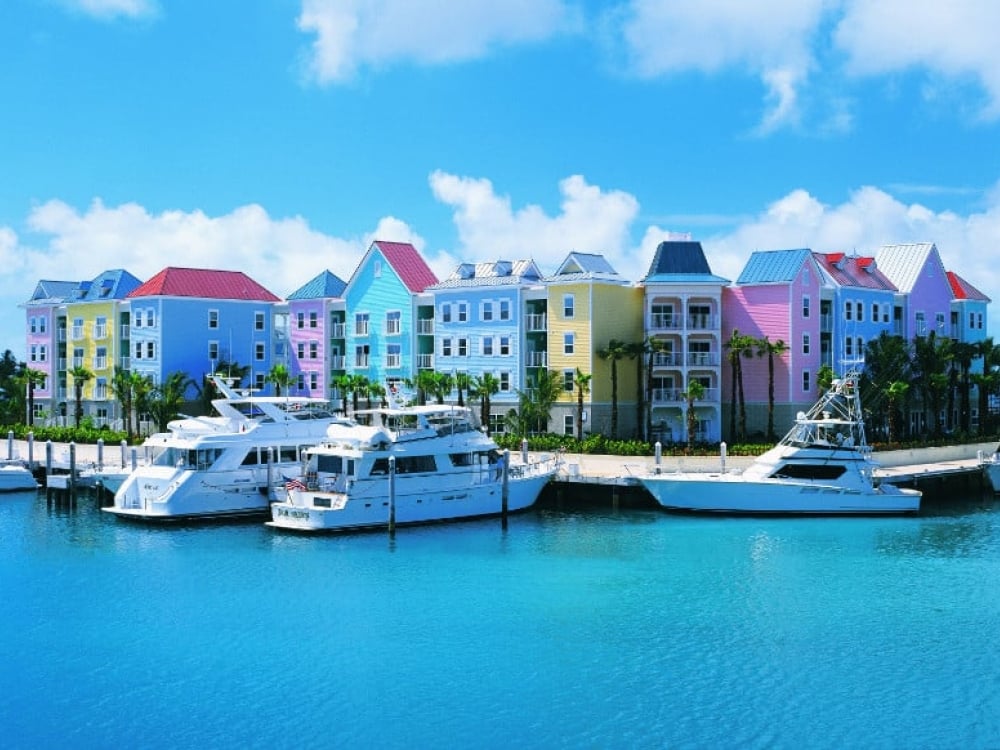 Strut Your Stuff with Flamingos at Ardastra Gardens Zoo
Accommodations are easy breezy while in Nassau Paradise Island, and we also have attractions to keep everyone entertained. In The Bahamas, multigenerational fun comes in many different packages. 
Young and old alike will love a day spent at the Ardastra Gardens & Wildlife Conservation Centre. This delightful destination features more than four acres of exotic tropical gardens home to a dazzling variety of animals, including the national bird of The Bahamas, the tropical flamingo. You can spend your day wandering around the grounds and learning about the plants and animals at your family's pace. Or, you can attend a wide variety of educational programs and events to entertain and educate the young and the young-at-heart. 
Find your Adventures at Aquaventure at Atlantis Paradise Island
Everyone in the family will be able to take their pick of blockbuster experiences at Atlantis Paradise Island. Starting with snorkeling amid the replica underwater ruins of the lost city of Atlantis. Then, of course, there's  Aquaventure, the resort's 141-acre waterpark that features a 120-foot tower with four adrenaline-inducing slides and the Mayan Temple for even more slides to entertain everyone in the family.
If you prefer a more mellow aquatic experience, we have you covered. The lazy river is the perfect place to relax in the water. Everyone in the family will be able to enjoy the scenery as you float on by the quarter-mile loop through a lush tropical landscape. There are more than 20 different swimming areas, including three pools designed specifically for kids. 
Aquaventure it's definitely a kid's nirvana, but The Cove Pool is adults-only, so you can unwind with a drink in your hand while the kiddos are entertained. There are also plenty of private cabanas that can be rented out for the day so you can relax under the sun.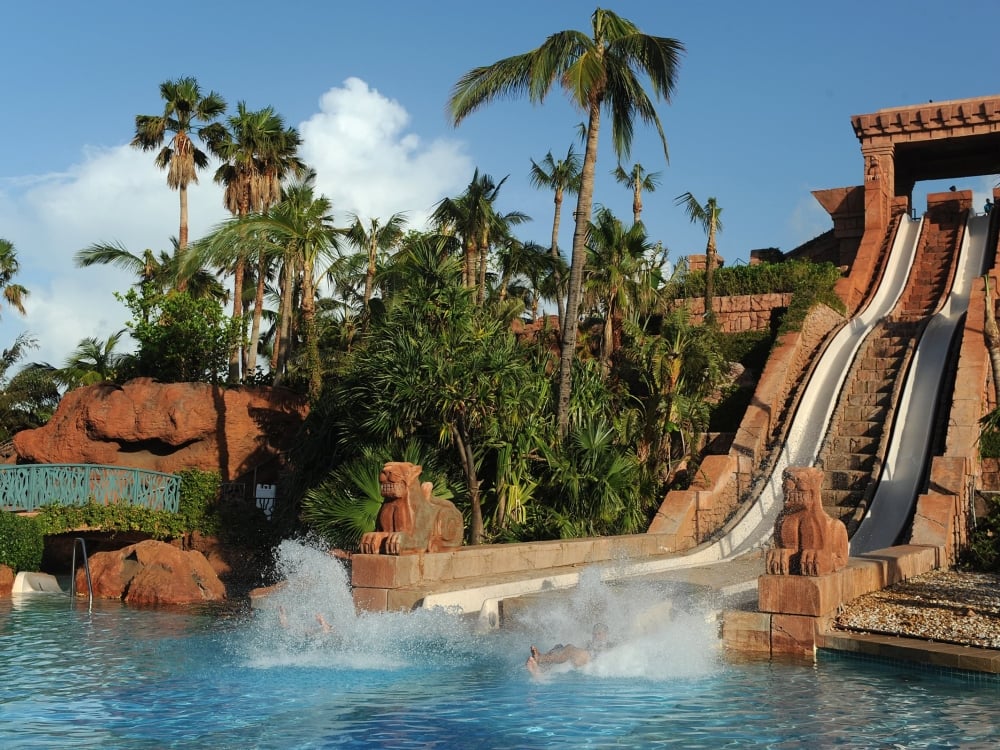 Make Memories Underwater  
If scuba diving is on your must-do list, then The Bahamas is an excellent place to check it off. First, families can take a PADI course before leaving home (kids can get certified at age 10). Then, you can complete your certifying dives in the warm Caribbean waters with a professional dive shop like Stuart Cove's Dive Bahamas.
Suppose snorkeling is more your family's speed. In that case, there are a variety of excursions that you can take together. Swim with dolphins, explore a sunken boat wreck, peruse an underwater art museum, or just swim amongst a kaleidoscope of tropical fish. 
If your kids love the open water and there are fishing aficionados in your party, consider a boat excursion with Powerboat Adventures. The whole family will be thrilled to experience an ocean expedition, complete with snorkeling through crystal reefs and fishing time for those in your family who like to cast a line.  
Live the Life of a Pirate 
Everyone in the family can travel back to 1716, to the Golden Age of Piracy at the Pirates of Nassau Museum! Did you know that The Bahamas was the headquarters and home to some of the most infamous pirates that sailed the ocean? It's true! At the Pirates of Nassau Museum, you'll be able to learn all about Blackbeard, Calico Jack, and even the notorious female pirates, Anne Bonny and Mary Read, through interactive exhibits perfect for the whole family. Board Blackbeard's ship, The Revenge, and explore what pirate life was like. 
After you've learned everything you need to know about pirates and their adventurous lives, walk down the street to the Straw Market in the middle of Nassau's Bay Street. You'll be able to find many locally made treasures to bring back home as a reminder of your family vacation!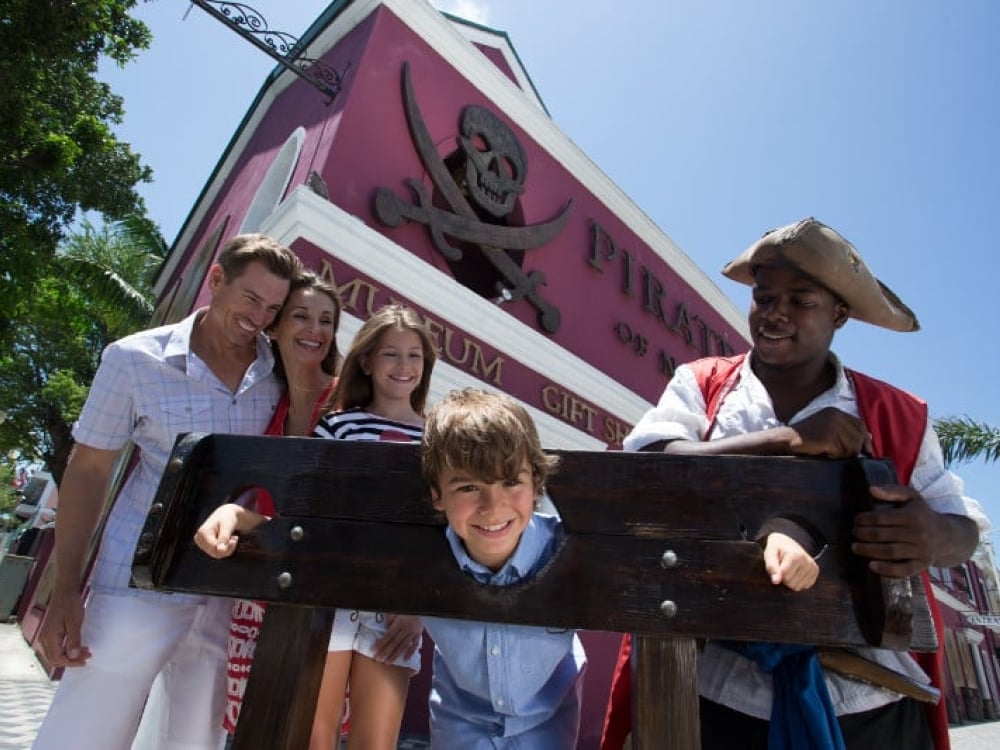 Live Out Your Chocolate Factory Dreams
Graycliff Hotel in Nassau is a perfect place to explore history, fine cuisine, and even a chocolate factory worthy of any kid's dreams. Graycliff Chocolatier is The Bahama's first interactive chocolate experience. You'll be able to learn about how cacao beans are processed to create the delightful chocolate concoctions sold at Graycliff. Everyone in the family will also be able to make their personalized chocolate treats at the end. At Graycliff Chocolatier, it is okay to have dessert first! 
For a more adult experience, you can take the chocolate and spirits pairing tour. Adults can entertain themselves and their taste buds as they learn about the art of handcrafted chocolate while pairing them with premium signature Graycliff spirits. 
Spend a Day at the Beach
No vacation to Nassau Paradise Island is complete without spending a laid-back day of fun in the sun along our beautiful expansive beaches. Spend the day strolling along the white sand, building sandcastles, trying your hand at surfing, snorkeling, or even horseback riding. Don't forget to bring your camera and catch the beautiful Caribbean sunset.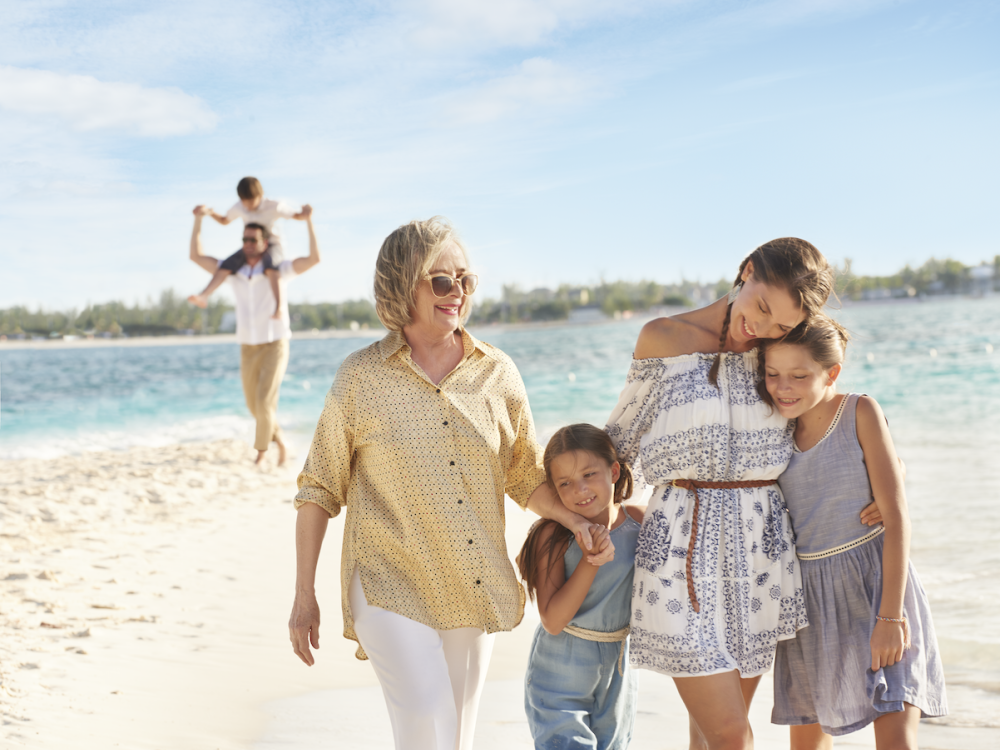 Paradise with Your Family 
Like the crystalline waters of Nassau Paradise Island, it's clear that family vacations are Better in The Bahamas! Thankfully, with nonstop flights to both Nassau and Paradise Island, it's always easy getting here and meeting your loved ones for a wonderful family getaway. Check out the current deals, and read up on more family vacation tips to prepare you for your Paradise getaway!