Your Guide to Fishing in The Bahamas
The picture-perfect turquoise waters of The Bahamas are abundant with marine life, providing the perfect environment to test your angling skills. Famous for its deep-sea fishing and record-breaking catches, anglers are drawn to Paradise in search of their next big catch. And it's easy to see why!
Thinking about making a fishing trip part of your Nassau Paradise Island vacation? Check out this guide to fishing in The Bahamas. You'll learn the best times to cast your line, what kind of fish you might catch, what to bring on board, and which fishing charters are offered in Nassau Paradise Island.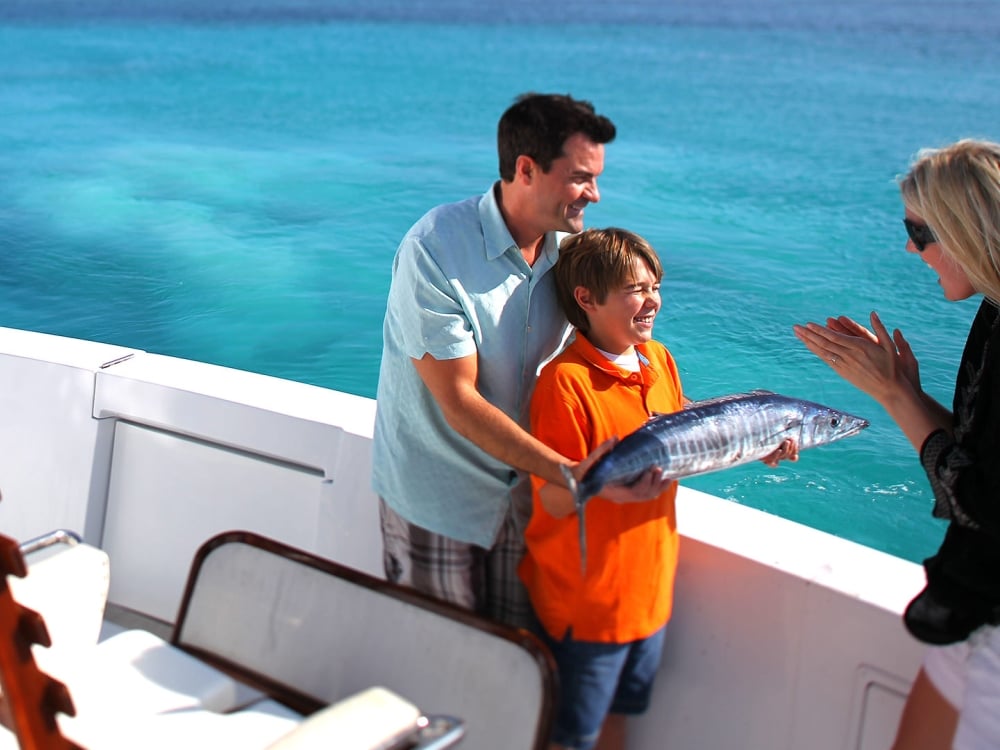 Fish the Flats & Reefs

The Bahamas boasts world-famous fishing flats with miles of shallow water along the shore and mangroves. When fishing in the flats, it's important to pay attention to the impact of the tides. At high tide, water is flooded into the mangroves. During this time, fish swim into the mangroves for shelter and are less accessible. During low tide, many of the flats dry out, causing fish to group together in the entrance to the channels in deeper waters. When fishing on the flats, expect to find bonefish, permit, and tarpon. 
Try reef fishing and enjoy a day on the water with friends and family. The shallow waters surrounding the reefs are full of grouper, snapper, triggerfish, and mutton snapper. You'll find the best snapper and grouper action when the water is warmer, during spring and summer. Reef fishing boasts a great variety of delectable fish. Test your luck and see if you can catch your dinner without losing sight of the shore! 
 
Take Your Adventure Deeper

Discover a deep-sea fishing experience and fish for a record-breaking catch. Anglers of all skill levels love the challenge of reeling in remarkable predators that outweigh them. As the old saying goes, there are plenty of fish in the sea. And you might get lucky and end up reeling in marlin, sailfish, bluefin and blackfin tuna, and Mahi Mahi on your deep-sea fishing. Of these fish, the marlin is the most well-known here. In fact, it's the national fish of The Bahamas and is even featured on our Coat of Arms! Marlins can reach weights of more than 1,000 pounds. The largest of all tuna species, Bluefin tuna can weigh more than 500 pounds and stretch more than six feet in length. In The Bahamas, only six tuna species per boat can be caught and kept — any extra fish must be caught and released for conservation purposes.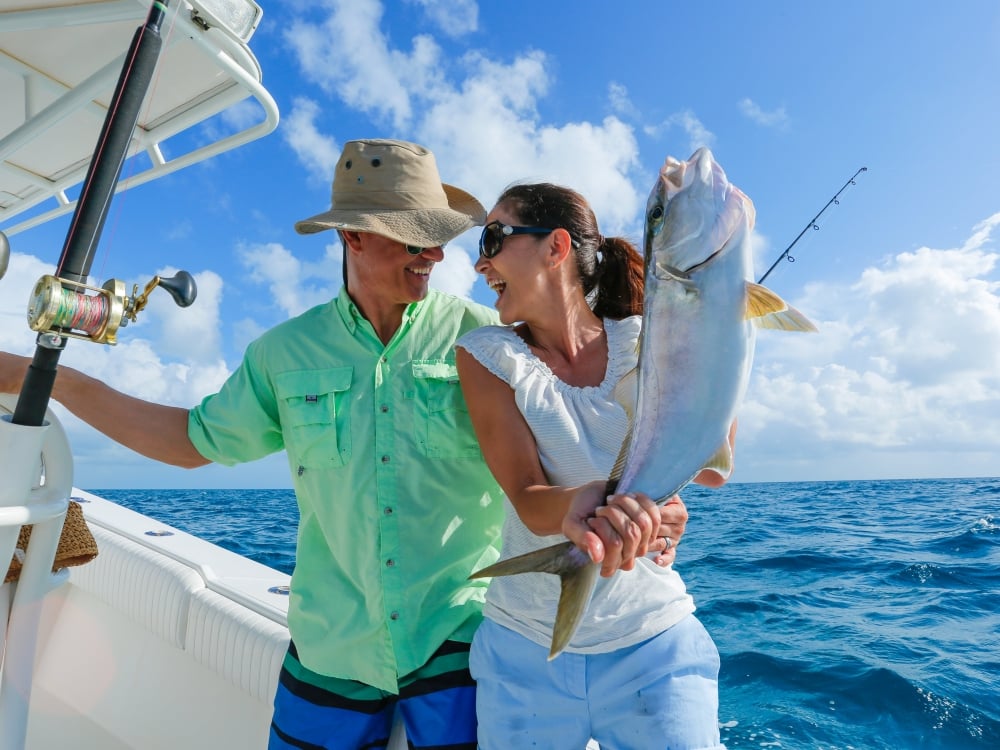 Best Time for Fishing 
Most of the year, you can find calm seas here in The Bahamas and fishing grounds less than a quarter-mile from Nassau Paradise Island. Year-round fishing, paired with some of the most favorable conditions, makes The Bahamas an ultimate fishing destination. 
The best time for fishing is in the morning. Since many fish feed in the early morning hours, fish action will be at its peak! So if you have your heart set on catching a deep-sea tuna or marlin, this is the time to head out. That said, you can still find excellent fishing in the afternoon. Most bonefish charters offer morning and afternoon tours. Bonefish are among the most famous fish in The Bahamas, and they are prominent all day long. Some anglers will choose to get their fishing trip in earlier because the temperature is highest in the afternoon. If you love the heat, you may have less competition on the water if you go for an afternoon charter.
 
What to Bring on a Fishing Boat?
Most fishing charters in Nassau Paradise Island provide everything you need to catch a fish, and some even provide lunch. When you book your excursion, ask if there are any necessary items you need to pack. Make sure to bring sunscreen, sunglasses, and a hat for sun protection. Bring a light sweater in case there's a chilly sea breeze, a towel, and flat, non-slip shoes. If you suffer from sea sickness, pack some anti-nausea medication or pick up a pair of sea-band wristbands that help alleviate your reaction to the motion of the ocean.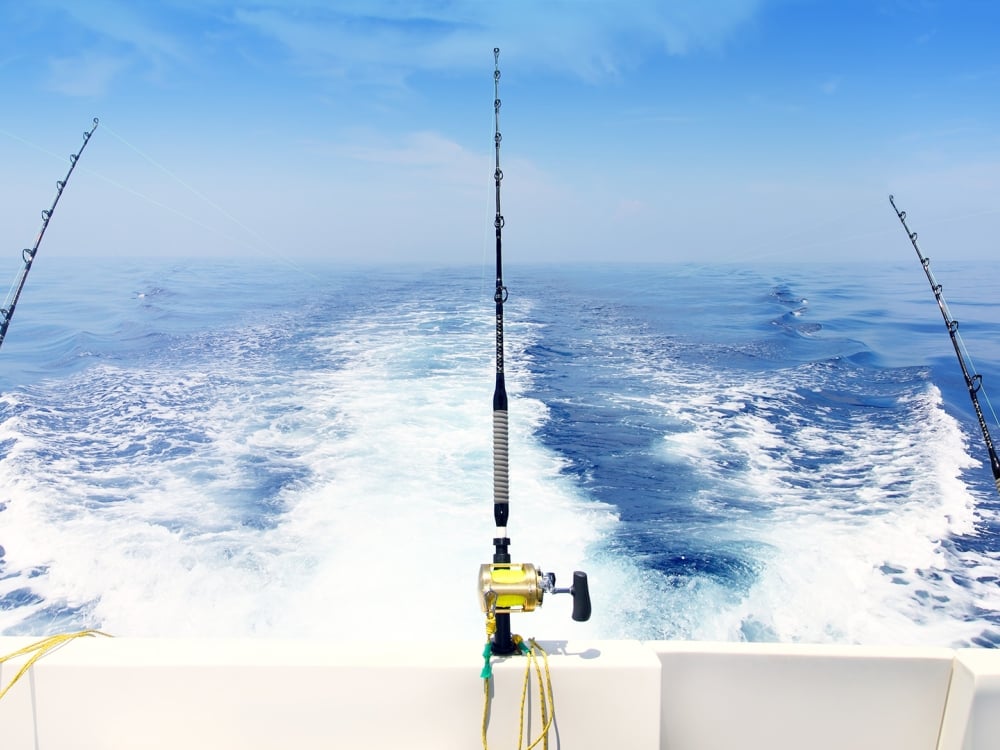 Partner Fishing Charters
The waters surrounding Nassau Paradise Island are home to many different species of fish. With warm breezes, sunny skies, and plenty of fishing charters available for short trips and longer excursions, Nassau Paradise Island is great for experienced fishers and beginner anglers.
Looking to reel in the catch of the day in luxury? First Strike Charters combines a grand voyage with the excitement of landing the big one. Your captain will guide you through the best fishing spots surrounding Nassau Paradise Island. You can choose to have your catch grilled and prepared at the Green Parrot restaurant, have it mounted and sent home, or donate to a family in need. 
Want to enjoy world-class sport fishing in the blue Bahamian sea? With Hunter Charters, you're a mere 15 minutes from catching marlin, sailfish, Mahi Mahi, and more! Specializing in offshore deep sea fishing, the company has five boats to take you to some prime Bahamas fishing spots. 
Born Free Fishing Charters offers half-day and full-day charters. Choose from trolling for large trophy fish or getting in on the action with light tackle in more shallow waters. Born Free Charters even offer a "no fish, no pay" policy on their full-day charters! 
World-Class Fishing is Calling
Are you ready to reel in the fishing adventure of your dreams? View our latest travel deals and start planning your escape today. Nassau Paradise Island's picture-perfect turquoise waters and sunny skies await.