Conservation in The Bahamas
If you've traveled to The Bahamas before (or spent some time scrolling through our Instagram feed!), you know how naturally beautiful Nassau Paradise Island is. Our crystal-clear waters, lush greenery, and colorful tropical plants are much more than just a vibrant background for photo ops–they're also home to hundreds of species of animals, fish, and birds, and part of a delicate ecosystem that needs protection.
Luckily, our partners are working hard on initiatives that will help protect our islands and the waters that surround them, keeping them clean and pristine for generations to come. Read on to learn about some of the conservation initiatives that are underway in The Bahamas.
The Atlantis Blue Project Foundation
With the world's largest marine habitat which houses 50,000 marine animals from more than 250 species, the team at Atlantis is working hard to educate guests about marine life while providing entertaining, engaging experiences. When you participate in marine interactions or experiences at Atlantis, Paradise Island, your admission fees are helping to support The Atlantis Blue Project Foundation, a program that's committed to saving sea species and their habitats throughout The Bahamas and the surrounding waters.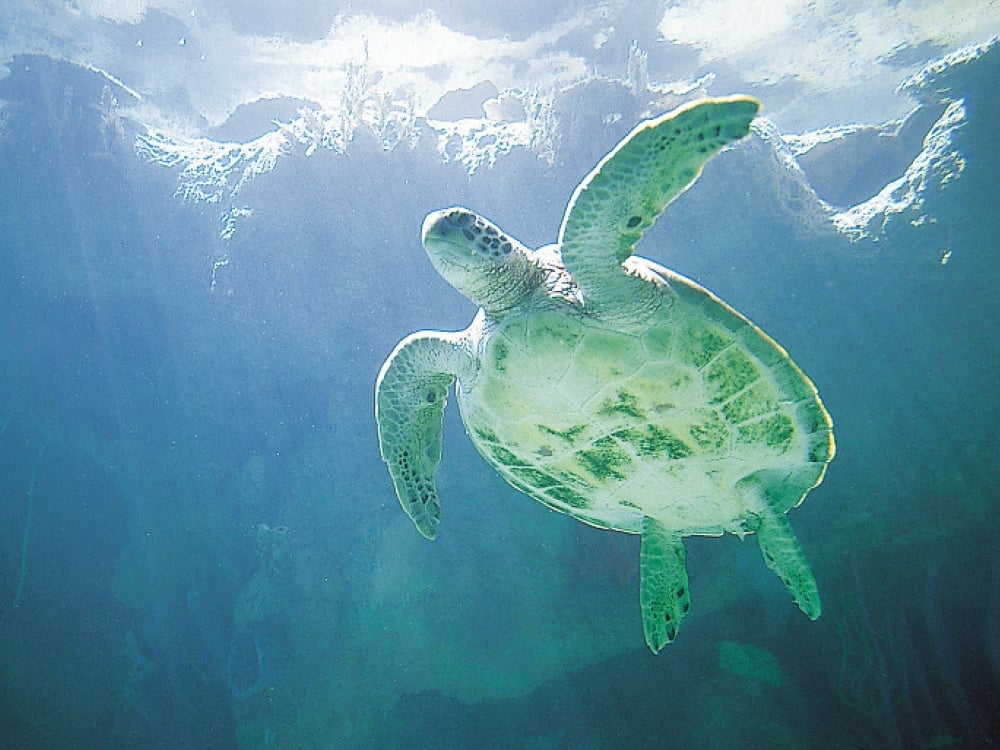 The Atlantis Blue Project Foundation supports and funds a number of conservation and community outreach programs as well as scientific research. In particular, the Foundation supports the creation and promotion of solutions for marine conservation challenges such as habitat degradation and species in decline. Their partners include the Bahamas Marine Mammal Research Organisation, Bahamas Reef Environment Education Foundation, and Perry Institute of Marine Science.
So far, the work done through the Atlantis Blue Project Foundation has helped to increase marine park boundaries on the west side of Andros from 185,000 acres to 1.4 million acres, creating a large protected area for many native Bahamian species. Coral reef areas are being replenished, and numerous marine animals have been rescued and rehabilitated around The Bahamas, including manatees, sea turtles, and sharks.
Learn more about The Atlantis Blue Project Foundation and the interesting work they're supporting!
Baha Mar Foundation
Built on the pillars of Community, Culture, and Conservation, the Baha Mar Foundation's goals are to lead sustainable conservation efforts, celebrate and honor authentic Bahamian traditions, arts, and crafts, and strengthen the local and regional community through improvements in education. The Foundation relies on volunteerism and financial donations. Guests at Baha Mar can see one of the Foundation's conservation-focused initiatives in action at The Sanctuary, an interactive marine habitat located on the resort property. Visitors of all ages can participate in hands-on activities, such as animal encounters in a setting that's both fun and educational. If you prefer, simply sit back and observe the animals from a distance. Sea turtles, nurse sharks, and more are waiting for you to come visit!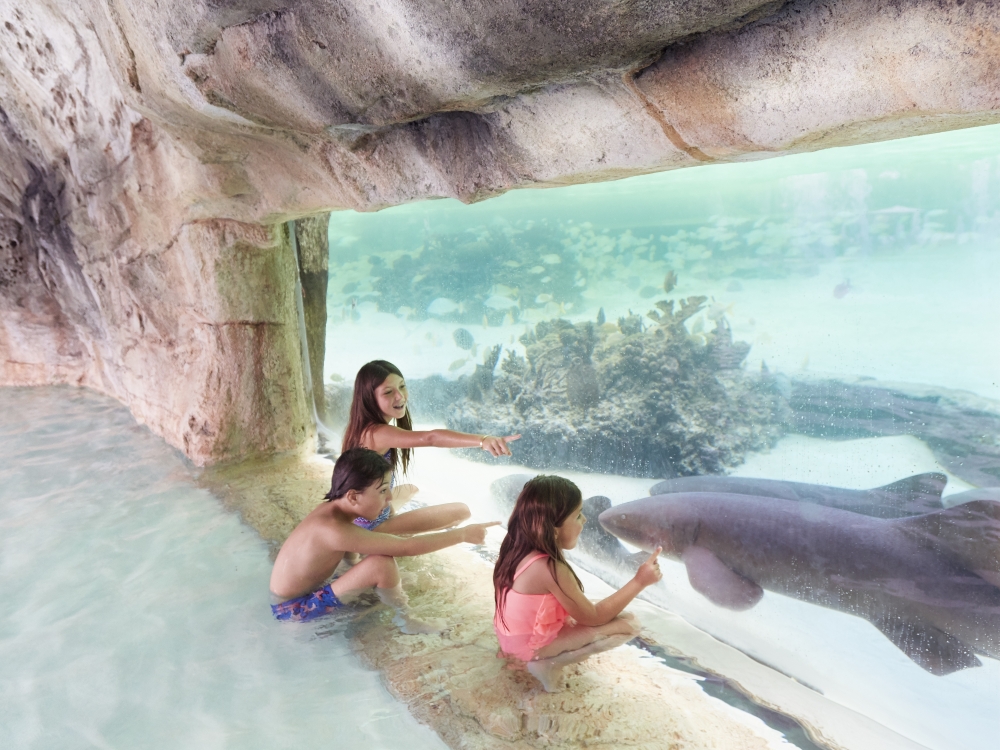 Read more about The Sanctuary and see how you can schedule your own animal interaction.
On the Menu: Lionfish
Sometimes conservation can mean reducing one species that's causing harm to others. Lionfish are a spiny, invasive species that can cause significant damage to The Bahamas' delicate coral. Although they're not native to Bahamian waters, they were recently introduced to the area and have the potential to become quite problematic if their population swells.
To help counteract the harm that lionfish can cause, fine dining restaurant Fish by José Andrés has made lionfish its specialty menu item–and, when you enjoy a delicious lionfish dinner, a portion of your bill supports the Atlantis Blue Project Foundation. Got a seafood craving? Choose lionfish and feel good not only about a tasty main course, but also about helping to protect coral reefs.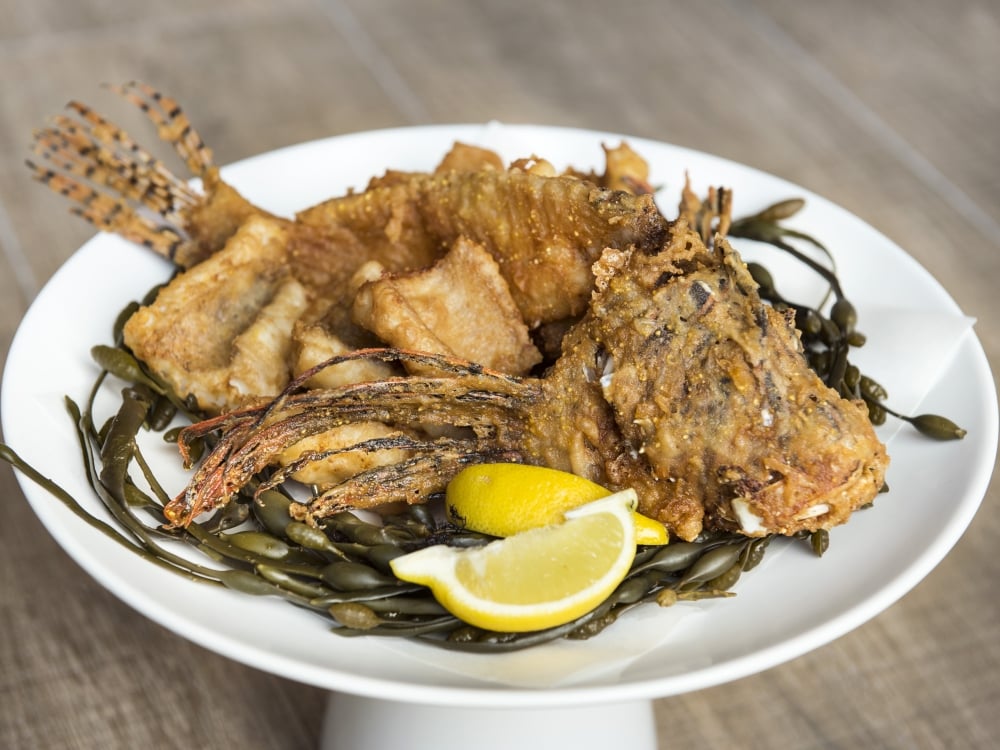 Reserve your table at Fish by José Andrés now, or check out highlights from the dinner menu.
Tips for Sustainable Travel
Aside from booking a marine interaction or digging into a lionfish dinner, how can you do your part to protect The Bahamas' natural beauty? There are lots of ways to be an eco-aware traveler.
Choose a sunscreen that's reef-friendly. While many sunscreens contain chemicals that are harmful to reefs and oceans, newer formulas are often biodegradable and reef-friendly. Make sure you pick a brand that offers a high SPF so your skin (and our waters) stay protected!
Be eco-aware in your room. Hang your towels to dry overnight so they won't need to be laundered daily, turn off lights and electronics when you leave your room for the day, and turn the air conditioner's thermostat up seven to 10 degrees when you're not in the room.
Consider earth-friendly travel methods. One of the best ways to explore Nassau is on foot, so choose a walking tour to really soak up the city's vibe. To take your earth-friendly exploration even further, sign up for a Nassau Paradise Island eco-tour! Enjoy nature, observe wildlife, get some exercise, support conservation efforts, and have a great time on vacation.
Leave it the way you found it. While shell collecting and rock hunting may be fun, it's best to leave these items behind at the end of your beach day. It doesn't take much to disrupt a delicate ecosystem, so "leave it as you found it" is a good rule to follow, no matter where you go! And it goes without saying, but make sure you don't leave any litter behind.
Follow these guidelines to help us keep Nassau Paradise Island looking picture-perfect when you visit. We (and our fish, birds, animals, and plants) thank you!