Everything You Need To Know For The Ultimate Beach Vacation in Paradise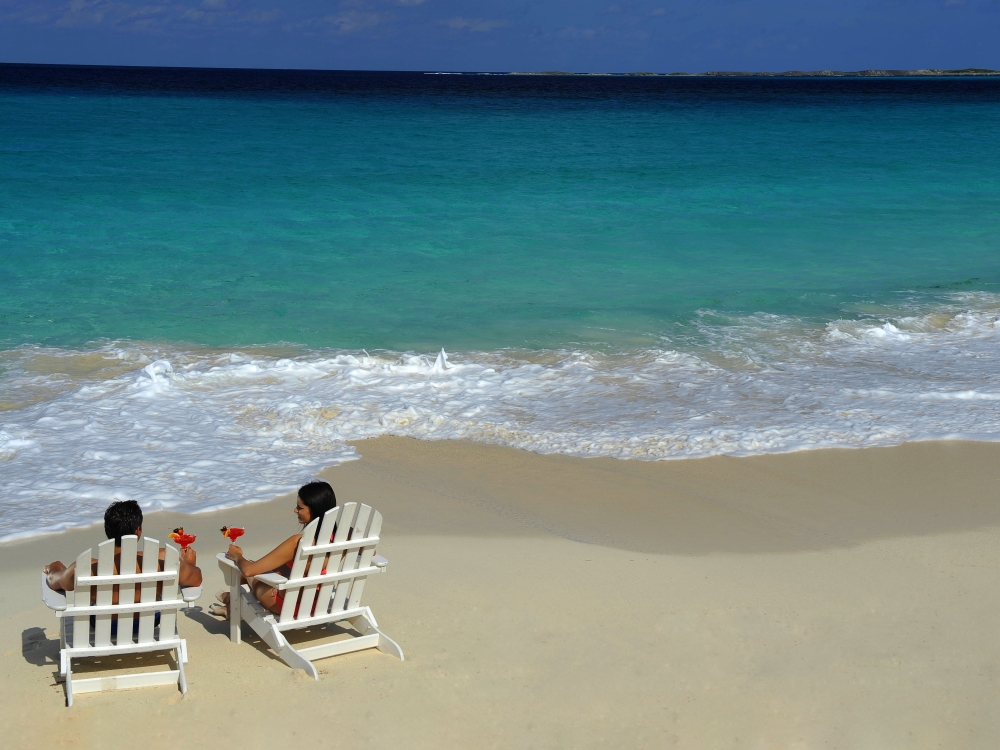 Vacationers from around the world are drawn to the beaches of The Bahamas. With water temperatures averaging 80 degrees year-round, powdery white sand for miles, and turquoise waters so vibrant they can be seen from space, who could blame them?
In Nassau Paradise Island, we have 17 beaches to choose from—each more beautiful than the next. Find out more about our beach lover's paradise and how to plan the perfect beach vacation.
Where to Stay
No matter where you stay in Nassau Paradise Island, you are mere minutes from the ocean. But for travelers truly beach bound, there's no better vacation accommodation than a beachfront resort or hotel. After all, what could be better than starting the day with the sounds of the ocean and ending it with a view of the sunset over the water? Ocean views aren't the only perk of beachfront accommodation. Many resorts have a private beach area for guests, including lounge chairs, snorkeling gear, as well as water sports and activities—meaning you'll only share the sand with other guests and resort day-pass holders.
What to Bring
If you've got your favorite swimsuit, sunglasses, and flip flops, you're practically ready to go. But for the perfect beach day, it's all about the beach bag essentials, including:
Water: When having a day in the sun, don't forget to stay hydrated.
Sunscreen: Choose a formula with SPF 30 or higher, and be sure to reapply every two hours or after swimming.
A good book: What better way to unwind on the beach than with your favorite reading material? Here are our top picks!
A towel: You'll need one after splashing around in the waves. Tip: Check to see if your resort offers complimentary beach towels.
Where to Play
Whether you spend the day basking in the sun or diving into ocean adventure, you'll absolutely love the beaches of Nassau Paradise Island. From secluded shorelines that define the word "getaway" to lively beaches overflowing with the energy of the island, choose from any of the beautiful beaches in paradise. Here are some beaches to add to your bucket list:
Love Beach (Western Nassau): Located 12 miles west of downtown Nassau, Love Beach is the perfect place to retreat from the crowds. This beach offers over 40-acres of coral reef just off shore, so be sure to bring your snorkeling gear.
Caves Beach (Western Nassau): This location gets its name from the limestone caverns, sculpted by waves, that appear alongside the beach. Its setting, just outside of Nassau and Cable Beach area, make it a great place to escape tourist traffic and enjoy some peaceful beach bliss.
Jaws Beach (Western Nassau): As part of the Clifton Heritage Park acreage, Jaws Beach is the island's best-kept secret. With minimal crowds, shallow swimming water, and shaded areas, this beach is perfect for families. And the reefs that sit close to the coast are a snorkeler's dream.
Cable Beach (Central Nassau): Widely considered one of the best beaches in The Bahamas, Cable Beach is located in the heart of Nassau with plenty of hotels, bars, restaurants, and shopping close by. The beach is known for its fine white sand and crystal-clear water. As you can imagine with its popularity, lounging space is at a premium.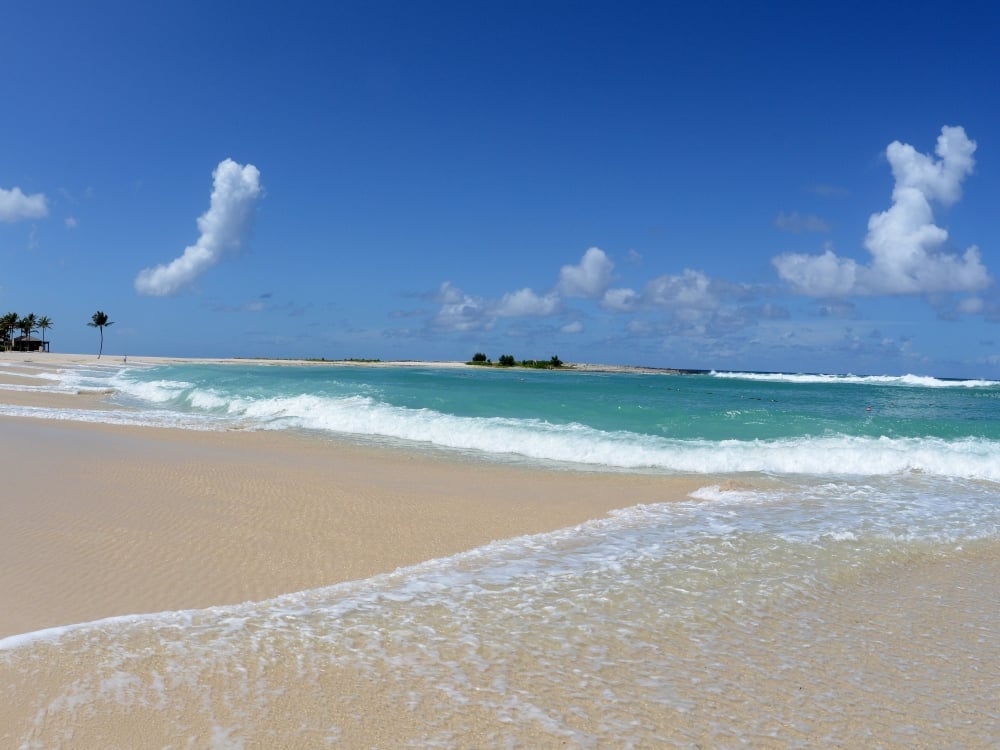 Saunders Beach (Central Nassau): Saunders Beach has become a hot-spot for locals and tourists alike. It's particularly a hit with families thanks to its central location, calm swimming water, restrooms, dining options nearby, and an on-site playground.
Goodman's Beach (Central Nassau): This beach can be found in Goodman's Bay, along with a local park and on-site facilities. From the warm waters and family-friendly recreation to the occasional live music and fish fries, this beach has become popular among visitors looking for fun in the sun.
Junkanoo Beach (Central Nassau): Otherwise known as Western Esplanade or Lighthouse Beach, and nicknamed "Spring Break Beach" for its lively environment, Junkanoo Beach is a great spot for a good time. From authentic food and drink to local entertainment, it is one of the best beaches on the island to experience Bahamian culture. Its proximity to Arawak Cay, downtown Nassau and the cruise ship docks, as well as public restrooms and a snack bar, make it a convenient stop for vacationers.
Paradise Beach (Paradise Island): With mile-long pristine powder white sand, warm crystal-clear water, palm trees, and thatched huts perfect for shade, this beach is one of the best on Paradise Island. It is a great beach for active travelers, offering snorkeling, and even parasailing. However, much of the beach is exclusively for guests, or day-pass holders, of Atlantis Resort.
Cabbage Beach (Paradise Island): Named one of the best in the world, Cabbage Beach stretches for over a mile and a half, and fronts several large hotels, bars, and restaurants. The beach itself offers white sands, aquamarine waters, palm trees, tiki structures, as well as several places to rent water-sports equipment. It's no surprise that the beach is bustling from sunrise to sunset.
What to Do
The beaches of Nassau Paradise Island offer as much or as little activity as you would like. Spend the day basking in our tropical temperatures and watching the waves lapping on the shore. Find your inner child by building the perfect sandcastle or going for a beach bike ride. If the warm waters of The Bahamas are calling your name, dive in for a swim or go on a snorkeling adventure to see some of the best reefs and marine life around. No matter what you choose, once you've experienced a beach day in The Bahamas you'll never want to leave!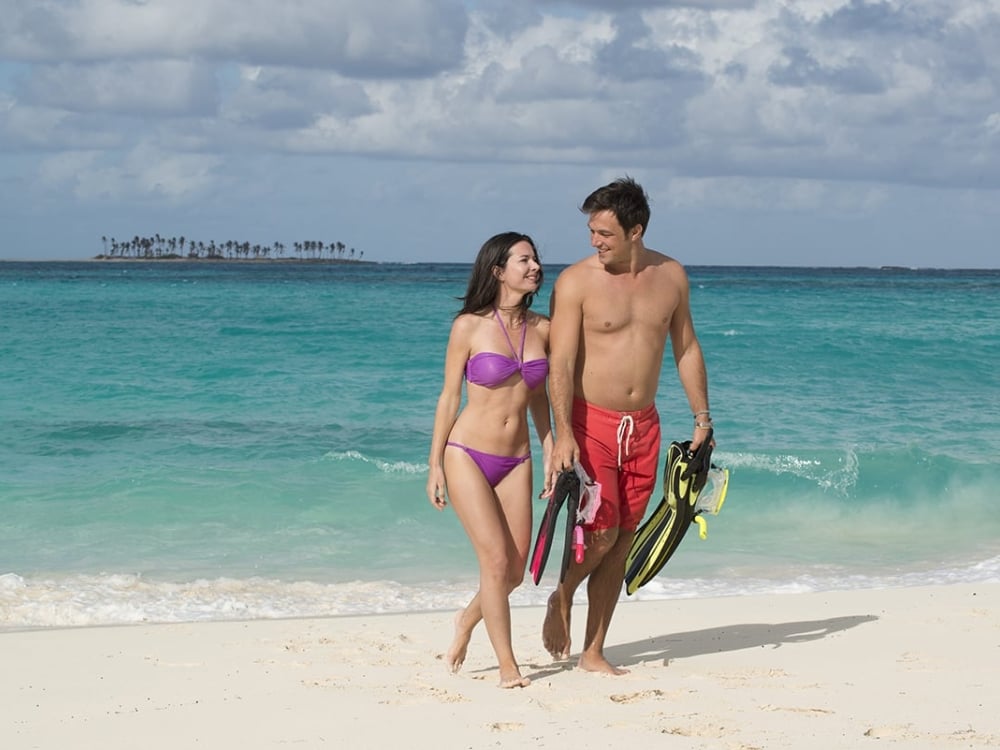 Check out our snorkeling tips here.
Where to Eat
For a delicious meal in Nassau Paradise Island, you barely need to leave the beach. From fine dining to casual al fresco island meals, the beachfront restaurants in paradise promise a meal to satisfy every appetite. What better place to enjoy an authentic Bahamian meal than set against the most beautiful backdrop on the island?
Do we have you daydreaming of a beach escape? Check out our travel deals and start planning your trip to Nassau Paradise Island. For more beach vacation inspiration, follow us on Pinterest!