How to Host a Bahamian-Themed Party
There's nothing quite like a vacation in Nassau Paradise Island. The memories you make on the shores of paradise last a lifetime and we know that once you've visited Paradise, you'll be dying to return. To reminisce about your Bahamas vacation, or to help get you excited for your upcoming beach escape, plan a Bahamian party! Invite the atmosphere of the Caribbean into your home, and share your love of all things Bahamas with your friends. Our tips will have you dancing to a Junkanoo beat and dreaming of Bahamas breezes.
The Vibe
Guests often comment about how friendly and approachable Bahamian locals are, so inject that easy-going spirit into your party by keeping things casual and laid-back.
The Décor
What do you think of when you think of Nassau Paradise Island? Pristine white sand beaches? Stunning turquoise water? Conch shells? Palm trees? Goombay drums? Incorporate your favorite paradise sights into your party's décor for an elegant tropical escape.
White Sand: Regardless of whether you're planning on hosting your party indoors or out, some well-placed candlelight never goes amiss. Fill the bottom of a glass container—we like the idea of a hurricane vase, or a mason jar for a more casual, funky look—with some sand, center your candle in the middle, and add a couple of sea shells for an added beach-inspired touch.
Turquoise Water: While the brilliance of the crystal-clear waters of The Bahamas is unlike anything else, some turquoise touches will bring the essence of our vibrant waters to your party and add some Caribbean color to your décor. Try some turquoise napkins or serving dishes, or add some turquoise marbles or sea glass to your candles and centerpieces.
Palm Trees: Is there anything better than a Bahamas breeze flowing gently through some palm trees? A couple of palm fronds are an easy way to bring a classic Paradise Island plant to your party. Lay some on your buffet table, or throw a couple in a tall vase. Voila!
Check out more décor ideas on our Pinterest page.
The Food
No party is complete without some delicious food! Lucky for you, we've rounded up some recipes of some of the most popular Bahamian dishes so you can serve authentic food that's just like what you'd find on the Island.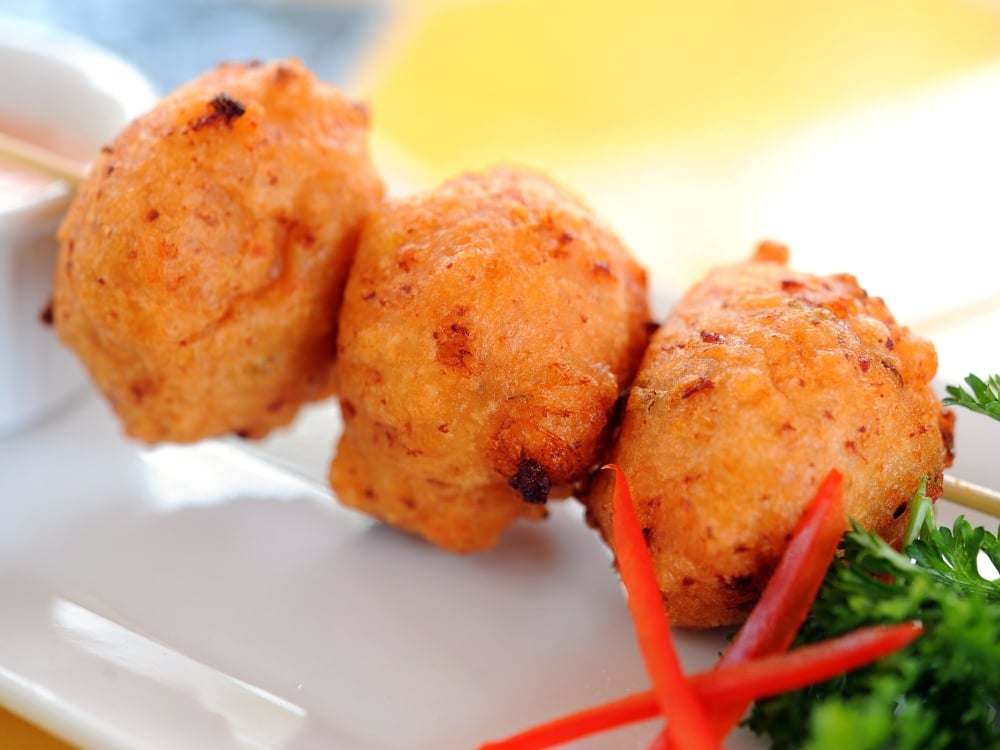 If you'd like to serve up a full meal to your party guests, we've got the perfect menu: a fish fry! Use these recipes to recreate a dish just like one you'd get served up at Arawak Cay.
If you prefer to share smaller snacks, a buffet of Bahamas-inspired bites is just the thing! Make a play on conch salad with a fresh vegetable salsa, or try your hand at making your very own conch fritters. Bahamian Johnny Cake has only six ingredients and takes less than half an hour to bake. It's the perfect side to accompany your Bahamian-inspired dishes. Or, up your game and recreate your favorite Tortuga Rum Cake with this rum cake recipe. Add some fresh, tropical fruits, and you've got a spread ideal for a hot Bahamas night.
The Drinks
One thing's for sure: a Bahamian party needs rum. Even if you don't have the handcrafted rums of John Watling's Distillery, these classic Bahamian rum cocktails are sure to be a party pleaser!
Bahama Mama Cocktail
¼ oz coffee liqueur
½ oz dark rum
½ oz coconut liqueur
¼ oz light rum
Juice of ½ lemon
4 oz pineapple juice
Cherry for garnish
Pour all ingredients into a cocktail shaker filled with ice. Shake well. Strain into a glass over ice and garnish with a cherry.
Goombay Smash
1 oz pale rum
1 oz coconut rum
2 oz pineapple juice
2 oz orange juice
Dash Grenadine
Fill a hurricane glass with ice. Pour liquid ingredients individually and stir. Garnish with an orange slice and a maraschino cherry and serve.
Want to get really fancy? Serve your drinks in coconuts – just like you'd get them on Junkanoo Beach. A fruity, tropical punch makes for a thematic non-alcoholic drink option.
The Music
No party is complete without the perfect playlist. Check out some of our favorite Bahamian tunes perfect for getting the party started in Junkanoo style!
Caribbean Summer Playlist from Nassau Paradise Island on 8tracks Radio.
We think these décor and party tips are perfect for a summer Bahamian-themed party, but you could also use them to throw a wedding shower for a bride and groom who are getting married in Nassau Paradise Island, or as inspiration for your own destination beach wedding décor! Get more Bahamas party inspiration with our custom Pinterest board. Looking for the real deal? Check out our travel deals and start planning your next Bahamas vacation.