Long Weekend Getaways are Better in The Bahamas
Itinerary: A Fun-loving Girls' Getaway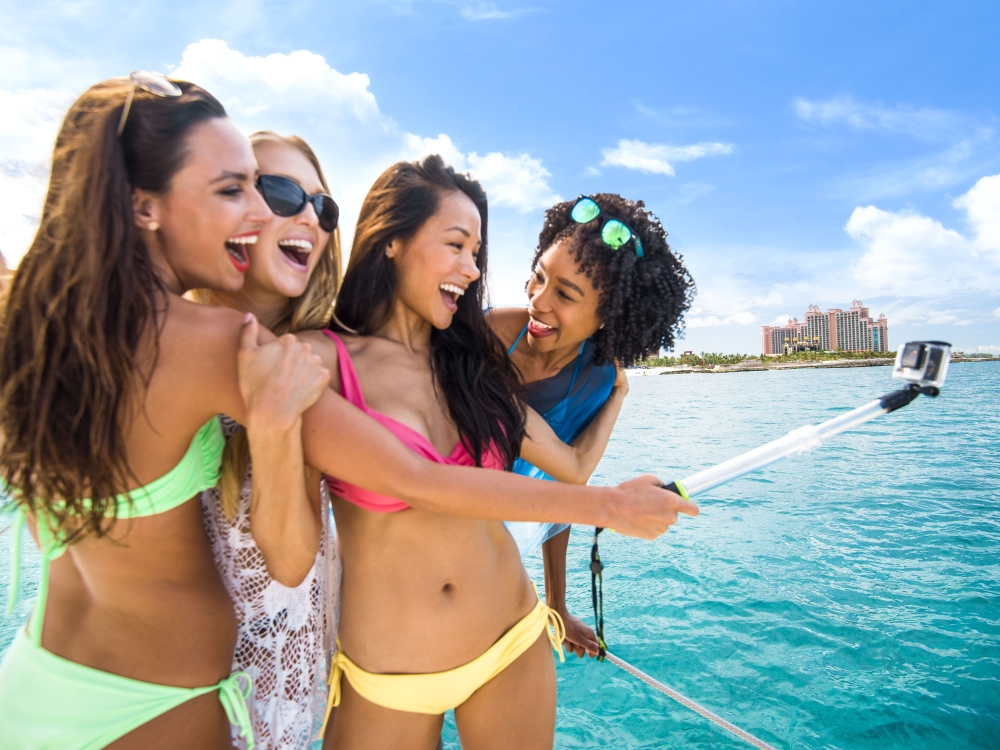 Is there anything better than taking the time to reconnect with friends? Nassau Paradise Island is the perfect destination for a weekend getaway! Several airlines, including American, Delta, JetBlue, United, and Southwest, offer non-stop flights from many major cities, so instead of sitting in traffic, why not fly to the lush white sands and warm turquoise waters of Paradise? There are many reasons to plan a Bahamas weekend getaway, but our favorite reason might just be no reason at all!
There's so much to do in Nassau Paradise Island that it can be challenging to decide where to start. To inspire your next long weekend escape, we've prepared a three-day itinerary to help you make the most of a weekend girls' getaway in The Bahamas.
Day One
Afternoon: Hit the beach!
It's tempting to run straight for our warm, turquoise waters as soon as you've checked into your hotel, and we don't blame you! Whether you enjoy the beach at your beachfront resort or head to one of our popular public beaches, you'll be greeted by fine white sand and breathtaking scenery. Take a deep breath. Are you feeling relaxed yet?
Evening: Dress to impress and dine out on the town.
From chill beach vibes to hot summer nights, you're in for a night to remember when you head out on the town with your best girlfriends. For starters, Nassau Paradise Island dining options offer something for everyone! Looking for creative Caribbean dishes? Head to Dune at The Ocean Club. Craving classic French cuisine? Indulge in a sumptuous setting at Café Martinique. Searching for out-of-this world sushi? Take your pick from Nobu at Atlantis, Paradise Island or the newly opened Katsuya at Baha Mar.
Once you've wined and dined, head to one of our impressive casinos for a night of Vegas-style fun in The Bahamas!
Day Two:
Morning: Set sail on a Bahamian adventure.
Spend some quality time, see some of the other beautiful islands of The Bahamas, interact with wildlife up close, and experience something entirely different. Your Exuma Escapes excursion leaves at 8 a.m. so make sure you're up and at 'em! Next thing you know you'll be zooming across our turquoise seas on a 150 nautical mile journey through the Exuma cays. Feed iguanas, stop at Pig Island to see the swimming pigs, and enjoy lunch in the sun before returning to Nassau late in the afternoon. 
Evening: Taste the world.
Traveling the high seas, feeding iguanas, frolicking with pigs, and swimming with sharks can really work up an appetite! For your second night in Paradise, indulge in an Italian feast! There are some divine Italian restaurants to choose from. Olives is an excellent Italian restaurant option at Atlantis, Paradise Island for an impeccable dinner and a beautiful view.
Day Three:
Morning: Shop 'til you drop.
After a leisurely breakfast at your all-inclusive resort or Bahamas hotel hit the streets—and the shops! Find a unique souvenir or artwork at Bahamas Art & Handicraft, Bahamas Craft Centre, or one of the many independent shops in Nassau. If you're on Paradise Island, head to Marina Village to explore its array of stores.
Afternoon: Enjoy a Bahamian classic. 
You can't leave Nassau Paradise Island without trying some conch! You'll see it on menus all over town, but our go-to place is Arawak Cay. It's an authentic Bahamian Fish Fry that serves fresh seafood and other traditional Bahamian dishes in an open-air setting. It's the perfect spot to soak up some authentic Bahamian vibes before preparing to pack up and head back to reality.
 There you have it! A fun-loving long weekend itinerary perfect for a girls' getaway. Take a look at your calendar, call up some gal pals, and check out our travel deals. Paradise is waiting for you, and getting here is easier than you think.