Photo Roundup: Fun With Animals in The Bahamas
If you've ever watched a brilliant pink flock of flamingos marching in a parade, fed a friendly dolphin, or witnessed The Bahamas' famous swimming pigs, you know how magical animal encounters in Nassau Paradise Island can be. And if you haven't…what are you waiting for? There are plenty of ways to take a walk (or a swim!) on the wild side here in Paradise. See for yourself with these photos we've collected from our visitors.
Strut With Flamingos
The national bird of The Bahamas is the flamingo. In the 1950s, the Caribbean flamingo was in danger of becoming extinct, and the population plummeted from 100,000 to just 3,000 birds. The Bahamian government passed a law prohibiting flamingo hunting, and today the flamingo population is once again thriving as a result. And with their long legs and bright pink feathers, flamingos have a distinctive appearance and make for great photo ops!
If you're a guest at Baha Mar, take a stroll to Flamingo Cay to check out the flamingos who live on the resort property. Flamingo parades happen twice a day. Resort guests can also take part in a private flamingo meet and greet or hand-feed baby flamingos for a fee! Check out this photo by @neilwestfall76.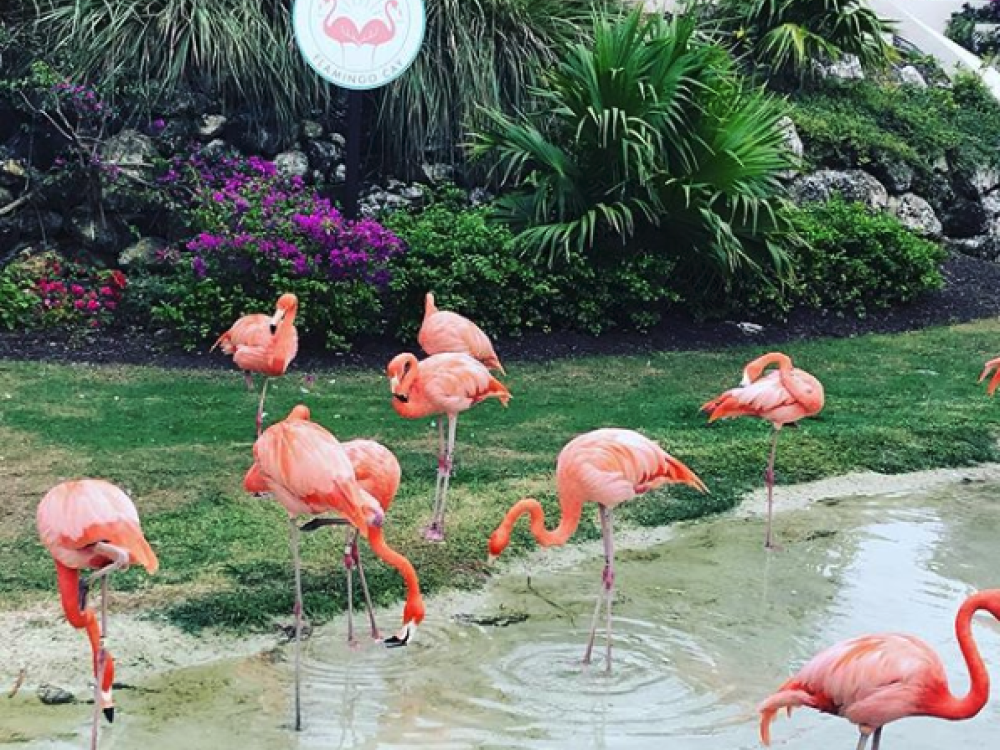 Flamingo fans won't want to miss Ardastra Gardens–the daily flamingo parade is something to see! You can even hop in the line and strut your stuff along with these beautiful birds, like @sadface_no.14 did.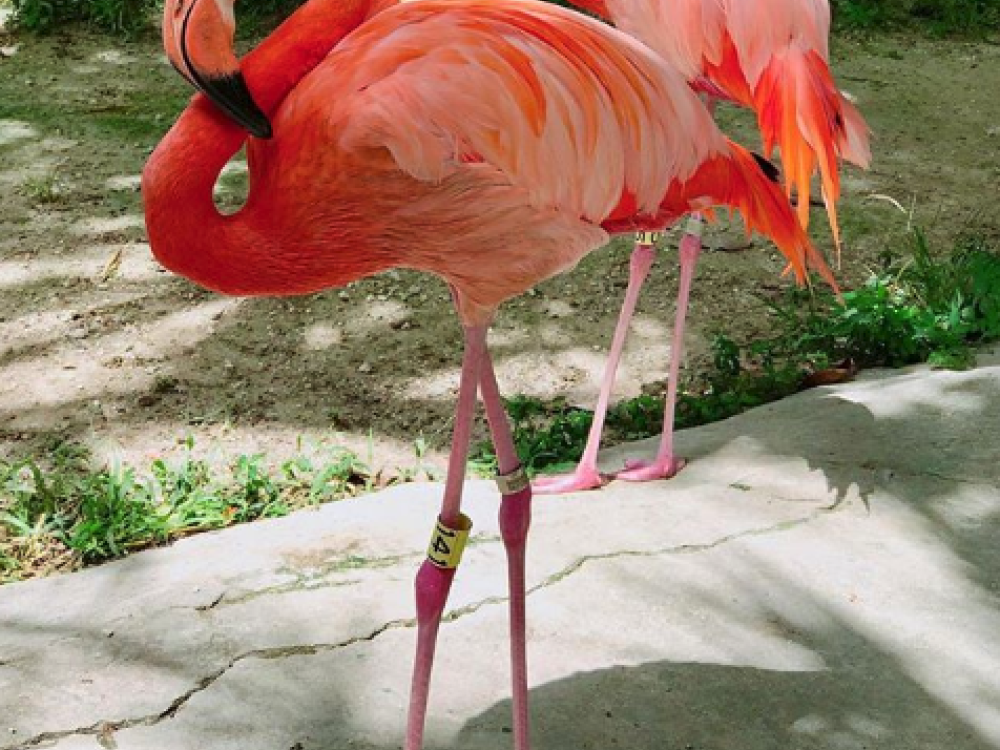 Want to march with the flamingos yourself? Learn more about Ardastra Gardens' exhibits and programming.
Swim With Pigs
One of the most popular excursions in The Bahamas is spending a day with the famous swimming pigs. No one knows for sure how the pigs came to live on Bahamian beaches, but there are plenty of theories about their origins. Regardless of how they arrived, the pigs have become a beloved attraction–they even appeared on an episode of The Bachelor!
From Nassau Paradise Island, it's easy to get to Sandy Toes Rose Island for a swimming pigs excursion. A quick, 25-minute boat ride will whisk you off to an uninhabited private island where you can swim with the pigs, relax in a hammock, unwind on the beach, or snorkel or kayak in the crystal-clear waters surrounding the island.
Friendly and social, the swimming pigs love to pose for photos, especially if you have a snack. Be sure to pay attention to your guide's instructions for interacting with the pigs before you say cheese. 
See how you can plan your own swimming pigs excursion in Nassau Paradise Island!
Saddle Up!
Horses may not be the first animals you think of when you picture Bahamian wildlife, but you can still spend time with these beautiful creatures in Nassau Paradise Island! Head to Happy Trails Horseback Riding, like @alyson_fisherr did, where a trained guide will lead you through a leisurely ride on a picturesque beach.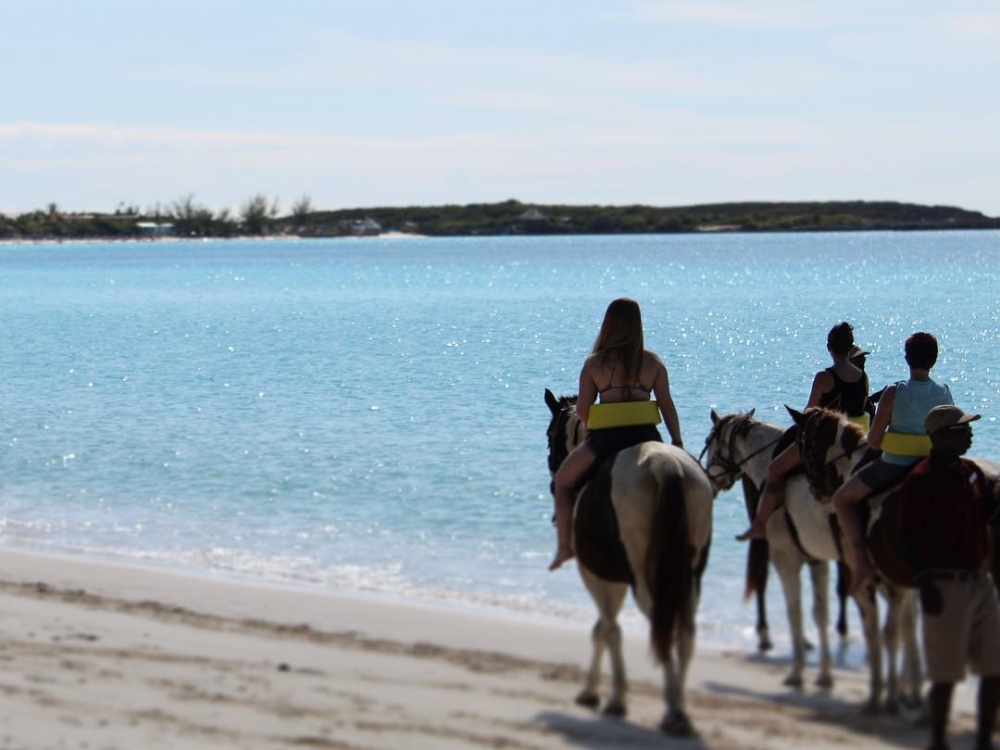 Read more about Happy Trails Horseback Riding, or book your own trail ride today.
Go Under The Sea
Scuba diving is an incredible way to discover life beneath the water's surface. Because of Nassau Paradise Island's location close to the Tongue of the Ocean and Great Bahama Bank, the snorkeling and diving here is incredible. Haunting shipwrecks, breathtaking coral reefs, and the Lost Blue Hole, a 200-foot-wide natural opening in the ocean floor, are home to colorful tropical fish and marine animals.
Not an experienced diver? No problem! There are plenty of diving programs for beginners, plus options like snorkeling and snuba that are perfect for novices. Check out these stunning shots for a little inspiration!
Ready to dive in? These diving and snorkeling adventures will enable you to explore the beautiful world that awaits under the sea.
Are you ready to go wild in Nassau Paradise Island? Have a look at our current travel deals, then start planning your very own getaway in Paradise–and don't forget to include some animal encounters in your itinerary for fantastic photo ops and unforgettable memories.