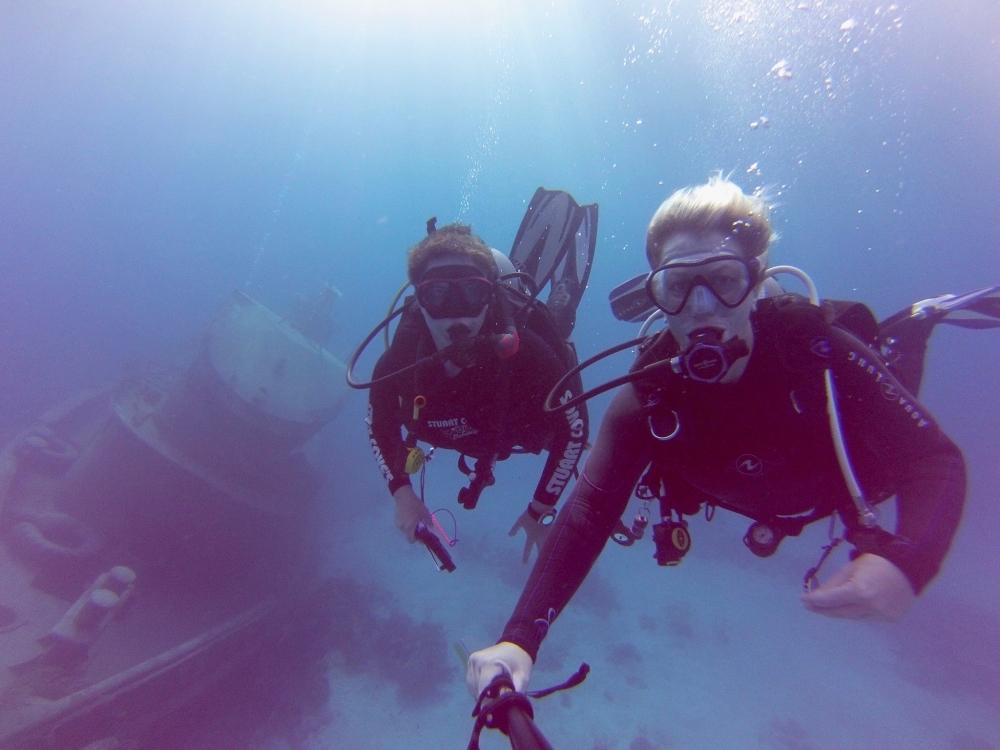 The warm, crystal-clear waters of The Bahamas are a haven for a myriad of tropical fish, stingrays, turtles, coral, and reef sharks, and a paradise for scuba divers. Learn the basics of scuba diving and discover some of the sights and natural wonders you'll see when you scuba dive in Nassau Paradise Island.
The Gear
One of the first things that you'll learn when you're taking a scuba diving certification course, like the ones offered by the experts at Stuart Cove's Bahamas or Bahama Divers, is all of the scuba gear you will need and how to use it. Here are the basics:
Dive Mask and Snorkel: Your mask creates a pocket of air in front of your eyes and nose to allow you to see while equalizing the pressure in your ears and sinuses. Your snorkel attaches to the left side of your mask and allows you to breathe through its tube when swimming on the surface.
Regulator/Octopus: Your regulator lets you breathe underwater. Its hose connects to the tank on your back and delivers air to your mouth when you inhale. Your octopus is your backup regulator. It's usually bright yellow, so it can be easily found.
BC/Power Inflator: BC stands for buoyancy compensator. It fits like a backpack and helps you control your depth while in the water. The control buttons for your BC are on your power inflator. Add air to your BC and you'll rise towards the surface, vent air from it and you'll sink to the bottom.
SPG/Depth Gauge: Your SPG (submersible pressure gauge) tells you how much air is left in your tank, while your depth gauge tells you your underwater depth. These gauges are key parts of your instrument panel.
Dive Computer: This is an electric version of your instrument panel that is often used alongside your SPG and depth gauge. It displays information about how long you've been in the water and how long you can safely remain there.
Scuba Fins: You'll be swimming like a fish with these on your feet! Your scuba fins should fit like shoes–not too tight, not too loose.
Wetsuit: Your wetsuit is your insulator, allowing you to stay comfortable and warm for a long period of time while underwater.
The Sights
The waters surrounding Nassau Paradise Island have a variety of exciting landscapes to explore and a remarkable number of marine life to see! Depending on your location and ocean depth you could encounter tropical fish such as grunts, snappers, goatfish, angelfish, Giant Southern and Spotted Eagle rays, conch and Bahamian Rock Lobster, turtles, sharks, and dolphins.
The Sites
When you first learn to scuba dive, you'll be in shallow waters but as your knowledge, certification level, and confidence grows, a whole new world of experiences become available. Here are some scuba diving sites in The Bahamas to add to your bucket list: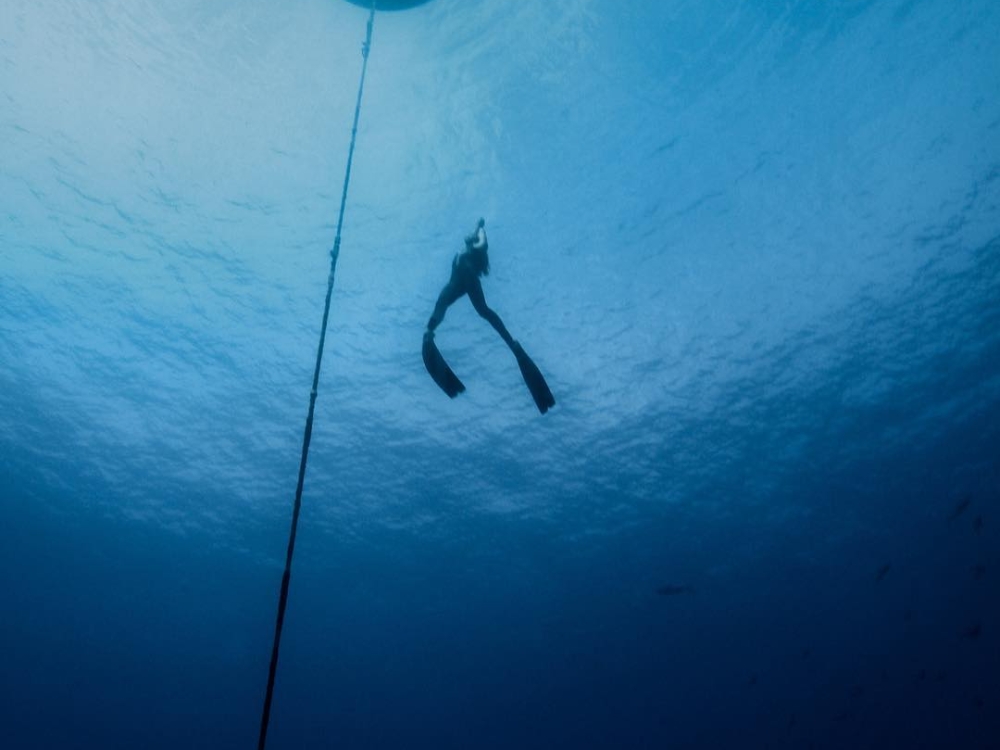 Shallow reefs and coral gardens (Depth: 15-30 ft)
The reefs and gardens that lie just offshore are ideal for first-time divers. The site isn't too deep and our crystal-clear waters allow perfect viewing of the tropical fish, lobster, and coral that reside in them.
The Fish Hotel (Depth: 45 ft)
Named for the large schools of fish that inhabit this area, The Fish Hotel is home to dozens of varieties of tropical fish. If you've got an underwater camera, you'll want to bring it with you for this dive!
The Lost Blue Hole (Depth: 200-300 ft)
Likely the most famous dive site in The Bahamas, this natural hole located off the shores of Nassau is so unusual it attracts divers from all over the world. You'll be amazed at the size of this swimming hole (it's over 100 feet wide!) and marvel at the marine life in its massive underwater caverns. This site is suitable for divers with their open water certification or higher.
The LCT Barge or "Thunderball" Wreck (Depth: 20 ft)
The LCT Barge was a landing craft used during World War II to ferry freight and troops from Paradise Island to Exuma. This easily accessible wreck sits upright in 25 feet of water and was featured in the 1965 James Bond film Thunderball, from which it gets its nickname.
Learn to Dive in The Bahamas
If you're ready to jump into the world of scuba diving, sign up for a scuba certification course in Nassau Paradise Island. Stuart Cove's Dive Bahamas and Bahama Divers both offer a variety of PADI certification courses—some of which will have you diving within one day! PADI stands for Professional Association of Diving Instructors and is internationally recognized. Once you've learned to dive in the waters of Nassau Paradise Island, you'll not only be able to return back to see all of the shipwrecks and diving sites in The Bahamas, you can take your scuba skills around the world.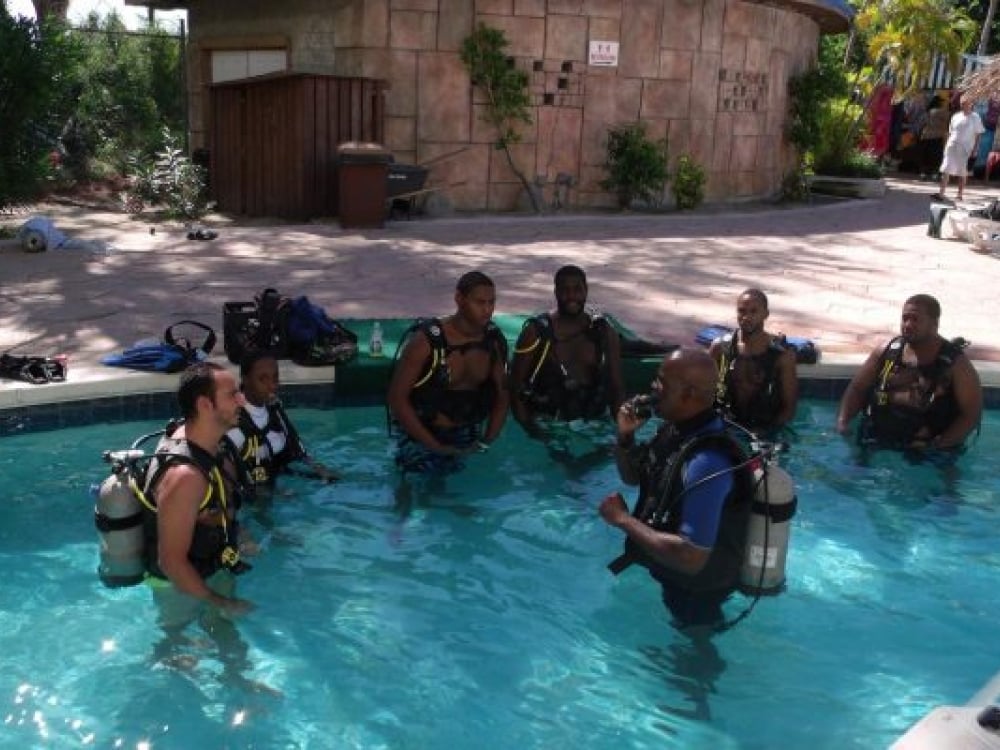 If scuba diving sounds just a bit too thrilling for you, don't worry! There are plenty of other options for exploring the marine life and turquoise waters of Nassau Paradise Island. Try snorkeling for the exhilaration of a scuba experience without the required training time.
Have you ever been scuba diving in The Bahamas? Tell us about it! And don't forget to share your photos with #InstaParadise.