Wildlife Conservation in Nassau Paradise Island
Bahamas visitors and locals escape to Nassau Paradise Island for the beautiful white sand beaches, lush terrain, and glistening waters. However, people aren't the only ones that call The Bahamas home — the tropical Island serves as a refuge for wild animals and sea creatures. Throughout the Island, Wildlife Conservations protect the native species to maintain and restore natural ecosystems. Read along to discover some of the inspirational programs and experiences that await you in Nassau Paradise Island. 
Ardastra Gardens & Wildlife Conservation Center
Flock over to Ardastra Gardens & Wildlife Conservation Center for a unique and educational outing. In the heart of Nassau, four acres of tropical gardens are occupied by Caribbean flamingos, African servals, parrots, peacocks, and more. Visitors are invited into the reserve to take in the restorative gardens, appreciate the animals, and marvel at the storybook flamingos. 
Ardastra Gardens & Wildlife Conservation Center strives to enrich the lives of the animals they care for and help future generations of endangered species thrive through dedicated breeding programs. Their current goal is to improve the flamingos' breeding habitat, which will help the beautiful creatures live on for many years to come.  
The Center offers daily famous flamingo marches, keeper cultural talks, and private tours for groups that help them fund the habitual centers. The Center also has weekly events, including outdoor movies under the pavilion. Visitors can find Ardastra Gardens & Wildlife Center at Chippingham Rd, Nassau, Bahamas. They're open Friday to Sunday from 10 am until 3 pm.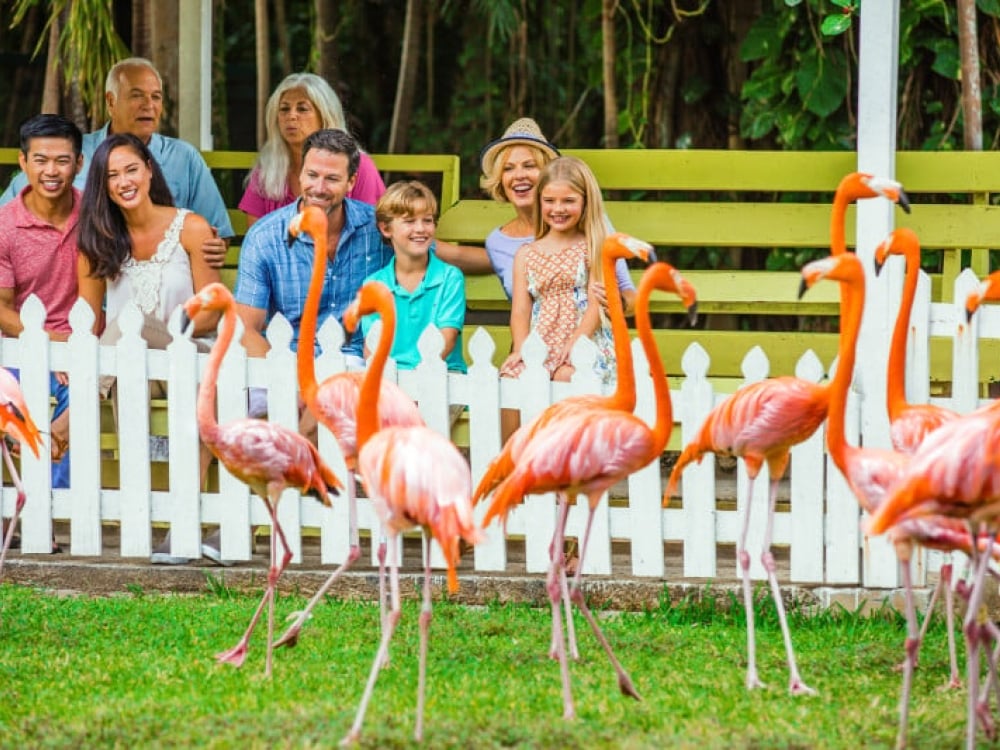 The Sanctuary at Baha Mar
Celebrate nature and conservation at The Sanctuary at Baha Mar. The BEACH Sancutuary is an acronym meaning Baha Mar Ecological Aquatic Conservation Habitat. The conservation area includes a marine wildlife sanctuary, a flamingo sanctuary, and an aviary for Bahamian bird species. This spectacular space aims to educate guests about local conservation efforts, inspire action to make a difference, and create passionate stewards of the Bahamian environment in a fun and picturesque setting! 
The BEACH Sanctuary shares wildlife education and conservation initiatives with Baha Mar resort guests, and coordinates strategic partnerships with environmental organizations, and collaborations with scientific research universities. Learn more about Baha Mar's Resort's Foundation that champions sustainable conservation efforts, celebrates the diverse cultural traditions and artistic expressions of The Bahamas, and strengthens the community through improvements in education. 
Immerse yourself in nature by observing turtles, stingrays, nurse sharks, and reef fish, or join the guides on a tour of the area. Or, if you're more interested in seeing tropical birds, head over to Flamingo Cay or take a flight at The Aviary. The Baha Mar Sanctuary is in Baha Mar, with tours offered daily.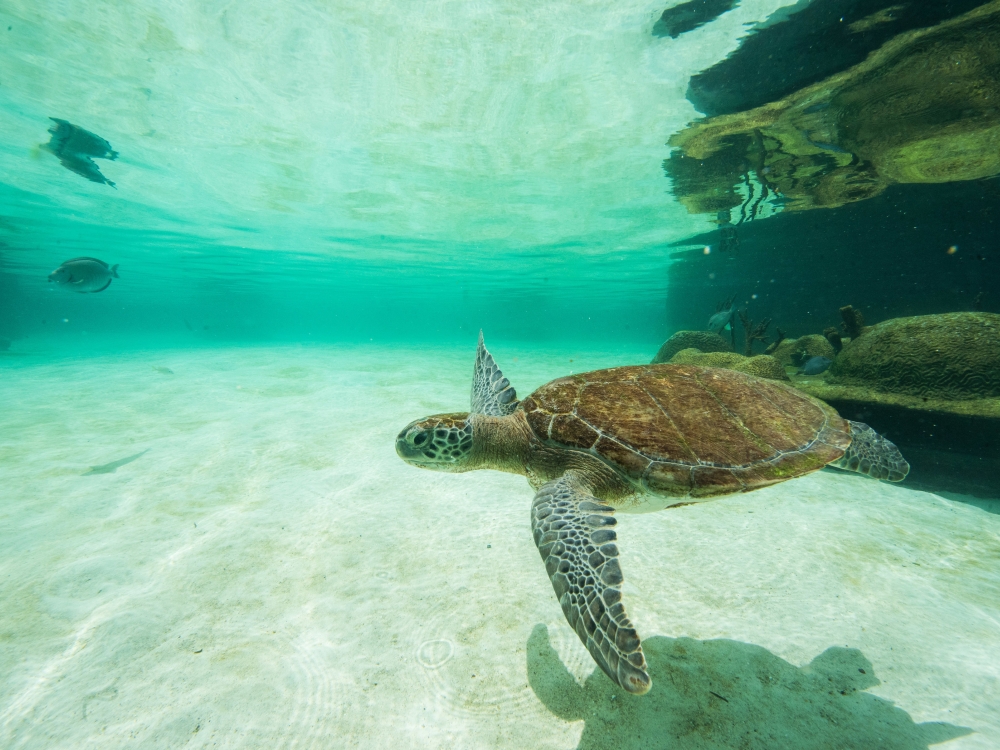 Dolphin Cay at Atlantis
See serene creatures in a safe and beautiful environment at Atlantis! Dolphin Cay at Atlantis is one of the largest and most sophisticated marine-mammal habitats globally. The first residents were 17 stranded dolphins and ten sea lions whose home in Gulfport, Mississippi, was destroyed by Hurricane Katrina. Over the years, many other stranded marine animals have found refuge in the sanctuary.
Every visit to Dolphin Cay supports the Atlantis Blue Project Foundation. The foundation creates and promotes solutions for a wide range of critical environmental challenges, from coral reef and habitat conservation to improving the health of marine life. In particular, the foundation supports the creation and promotion of solutions for animal conservation challenges such as habitat degradation and species in decline. Their partners include the Bahamas Marine Mammal Research Organization, Bahamas Reef Environment Education Foundation, and Perry Institute of Marine Science.
The animals at Dolphin Cay are cared for around the clock by a highly trained team of marine-mammal specialists and veterinarians. The facility is also the Caribbean's premier marine animal rehabilitation facility.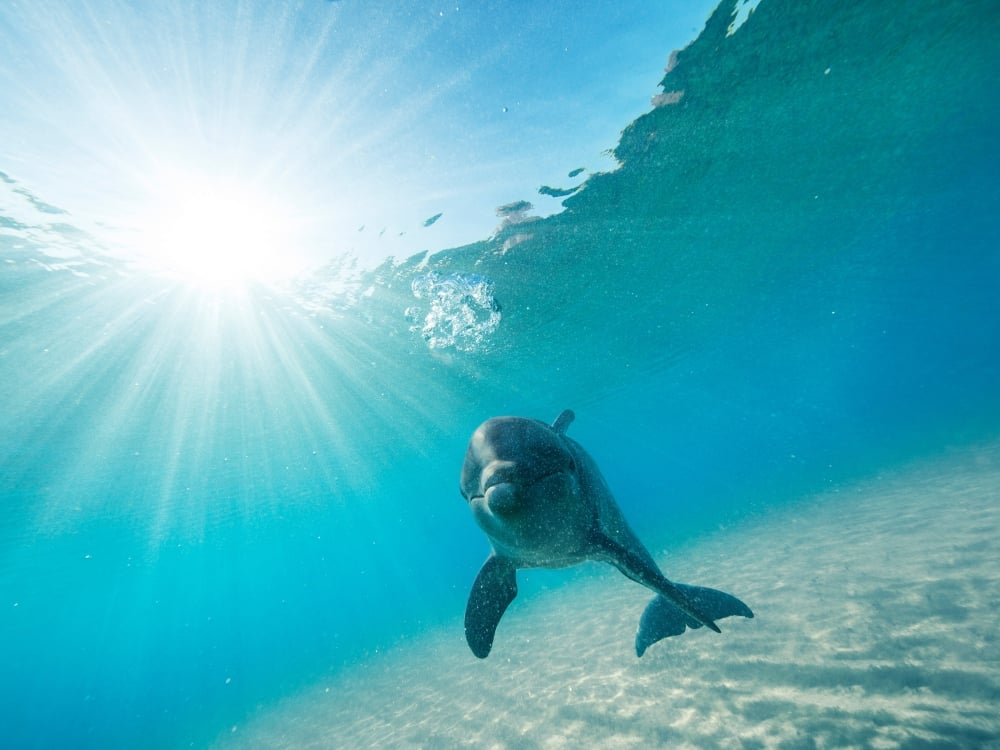 Adventure Meets Nature
Nassau Paradise Island is the perfect destination for vacationing, supporting, and learning about wildlife conservation. To start planning your escape to Paradise, check out our current Bahamas Travel Deals, and learn more about the safe haven for animals here.